July 25, 2016
Mint Aero Rocky Road!
*This post may contain affiliate links. Please see my disclosure for more details!*
Quick, Easy, and Delicious Mint Aero Rocky Road. Chocolate Traybake Filling with Biscuits , Mini Marshmallows and Oodles of Mint Aero Goodness!
I utterly adore Mint Aero Bubbles. Like, if someone gave me the bag, I would happily finish it within minutes (and thats being slow). My No-Bake Mint Aero Cheesecake recipe that I posted recently made me realise that you all utterly adore the delicious treat too! Therefore, another Mint Aero related recipe simply HAD to happen. Hello, Mint Aero Slice.
I wasn't entirely sure what to name this as I use the same chocolate mix as my Rocky Road recipes with the Chocolate, Butter, and Syrup and this is purely because I much prefer the taste of it compared to using just melted chocolate.
I find it easier to eat as its not as solid, and it just tastes so delicious. As I already have my recipe for my Mint Slice on here, which is a mix of a Biscuit Base, a Peppermint Creme, and Chocolate.. I couldn't call it that.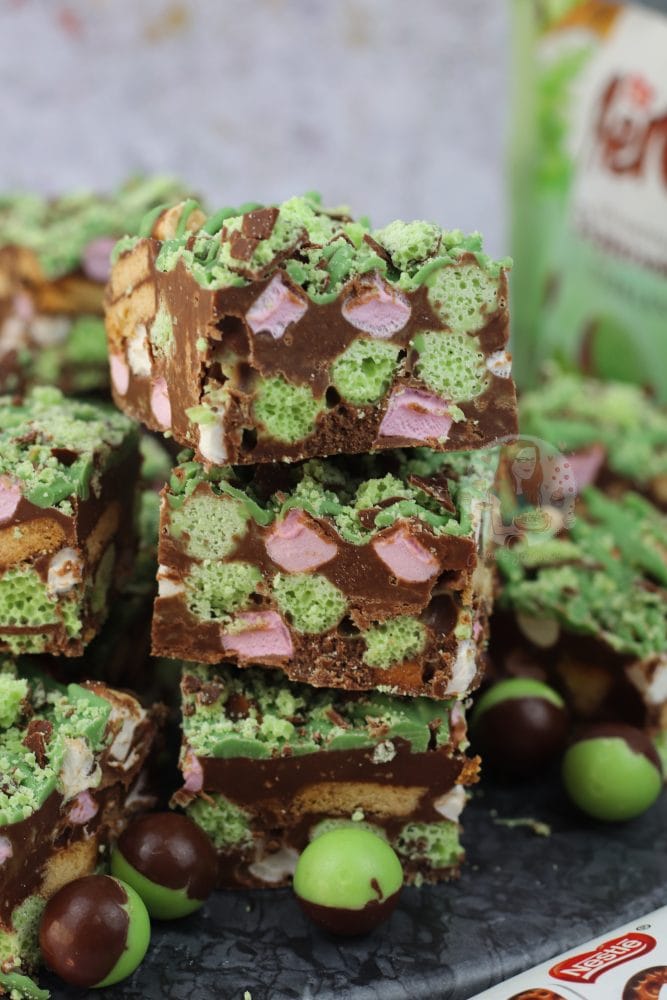 I've finally remade this recipe after nearly two years of forgetting to have put marshmallows in the first time, so thats all that is different in this updated version! Honestly this recipe is such a crowd pleaser whether it has marshmallows in or not, so its down to you if you include them! Luckily, its easily adaptable.
I decided to make this treat on the Hottest Day of the Year so far which might have been a mistake, but it was so quick and easy to make it didn't really matter. My Chocolate mix was just quite soupy is all!
It still set perfectly fine after being in the fridge over night and it still tasted perfect. I do recommend (as noted in the method) to leave the chocolate mixture to cool slightly, especially if you have melted it over a Double Boiler which I prefer using anyway.
This is to prevent the Mint Aero Bubbles from completely melting into the mix, as I like seeing them and having the chunks of them throughout! I did add in some digestives to this treat as well, as I like having the crunch and something slightly less sweet, but you can easily use any biscuit you please!
If you don't like Mint, you can 100% use the normal Aero Bubbles, or swap it to a chocolate treat of your choice. However, I couldn't love Mint Aero anymore than I already do, so this is already one of my favourite recipes.
I decided to drizzle mine in a mint colouring white chocolate drizzle as I wanted it to actually look minty, and this allowed me to stick extra Aero bits to the top! I honestly utterly adore this simple yet delicious No-Bake Treat, and I know you all will too! Enjoy!
Mint Aero Rocky Road!
Quick, Easy, and Delicious Mint Aero Rocky Road. Chocolate Traybake Filling with Biscuits , Mini Marshmallows and Oodles of Mint Aero Goodness!
Print
Pin
Rate
Ingredients
400

g

Milk Chocolate

125

g

Golden Syrup

125

g

Unsalted Butter

150

g

Digestives

150

g

Mini Marshmallows

300

g

Mint Aero

75

g

White Chocolate

Green Food Colouring

Extra Mint Aero
Instructions
Line a 9×9″ Square tin with Parchment paper and leave to the side.

In a Large bowl, add in the Chocolate, Golden Syrup, and Butter – melt on a low heat over a Double Boiler, or in the Microwave on low, in short bursts until fully melted – stir till smooth!


Alternatively, add the syrup and butter to a pan and melt. Add in the chocolate (off heat) and stir till combined and the chocolate is melted.

Once its melted and combined wait 5 minutes for the chocolate mix to cool a little. Add in the chopped biscuits, mini marshmallows, and Aero Bubbles and quickly fold together – pour into the tin and spread so its even and refrigerate until set.

Melt the White Chocolate on short bursts in a microwave, or over a double boiler until melted.

Add in a bit of green food colouring to get a 'minty' colour and drizzle it all over the traybake. Supermarket colouring doesn't work - I recommend a good quality colouring such as progel, or sugarflair!

Sprinkle on the crushed Mint Aero pieces so they stick and refrigerate again till set.

Chop up the pieces into either 4×4 for 16 larger pieces, or 5×5 for 25 smaller pieces. Enjoy!

Notes
I really would recommend using just Milk or Dark Chocolate for the base of this recipe as it melts better than White Chocolate. The White Chocolate might mix/split when mixing it with the Golden Syrup or Butter, which I have had happen to me several times!
I often use either Cadburys Milk Chocolate or Callebaut Milk Chocolate – Even supermarket own chocolate works well!

If your mixture splits, it's probably over heated or been over mixed - take it off the heat, and whisk in some whole milk to bring it back!

You can easily half the recipe for less, but these are so moreish you will want the large piece! Trust me!
This recipe will last in the fridge for up to two weeks, IF it happens to last that long!
ENJOY!
Find my other Traybake Recipes on my Recipes Page!
You can find me on:
Instagram
Facebook
Pinterest
Twitter
Bloglovin'
Youtube
J x
© Jane's Patisserie. All images & content are copyright protected. Do not use my images without prior permission. If you want to republish this recipe, please re-write the recipe in your own words and credit me, or link back to this post for the recipe.
SaveSave