January 25, 2018
No-Bake Toblerone Tart!
*This post may contain affiliate links. Please see my disclosure for more details!*
An easy, delicious, show stopping no-bake Toblerone tart with a biscuit crust, a Toblerone filling and more!
Toblerone tart
So, after the downright and continued success of my no-bake Terry's chocolate orange tart, I thought I would do another. I will admit that you can do pretty much whatever flavour you want of one of these, but I know some people occasionally need a bit of inspiration… so I did another favourite chocolate bar of mine; Toblerone.
I just simply adore being able to do something so simple, but it is such a massive hit for everyone. A simple biscuit crust (I use digestives, but you can use pretty much whatever biscuit you like) with butter, just like a cheesecake crust, is perfect for this. You can easily use a pastry crust such as in my salted caramel chocolate tart, but I really do want recipes to be simple sometimes.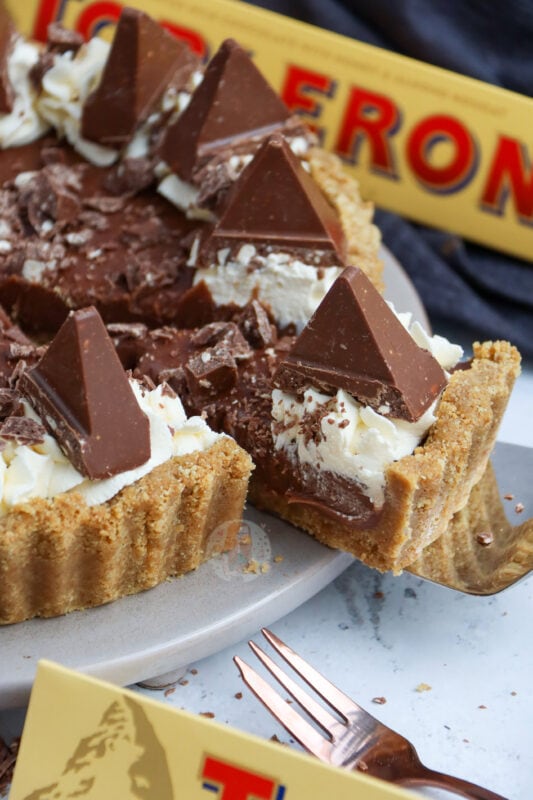 Filling
Just like my no-bake Terry's chocolate orange tart, I went for the simplest filling I could… which has three ingredients. Toblerone, double cream and butter. This is a similar idea to my salted caramel chocolate tart, because it's a luxurious delicious filling that I am obsessed with.
Toblerone is naturally thinner than most chocolates once is melted because of the other ingredients that are in it, but it's not a bad thing. You can't completely avoid lumps in this recipe because of the little pieces of nougat in the actual Toblerone, but I love them. It literally just becomes a mousse version of a Toblerone.
Recipe adaptations
You could easily just use a bar of milk chocolate if you wanted, and add in pieces of nougat (but I just don't think it will taste the same), or you can use one of the many other Toblerones that are now available such as the dark, white, fruit and nut etc!
Maybe not the massive 4.5kg one they had for sale over Christmas though… (£50-£60 for a Toblerone is a bit steep, even for me). If you wanted to try this out in a different flavour, you really can! You could use Cadburys fruit and nut, Cadburys plain chocolate, or Galaxy, or Galaxy cookie crumble etc!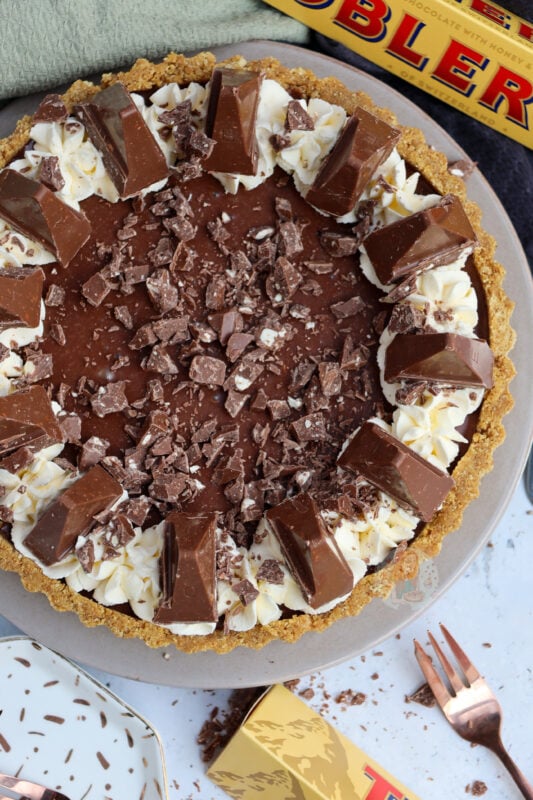 The only thing I wouldn't recommend is using a bar of filled chocolate such as one with caramel in, as they will behave differently. Also, often ones with a filling don't melt in the same way either. However, if you have a go and they work, I'd be intrigued to know how you get on!
Recipe updated April 2022
Original recipe used 360g Toblerone, 300ml double cream and 75g icing sugar. The method involved melting the Toblerone, whipping together the cream and icing sugar, and folding through the melted chocolate. It is such a delicious method, but I do prefer this new one!
I really do adore this recipe, and I hope you do as well. Enjoy! X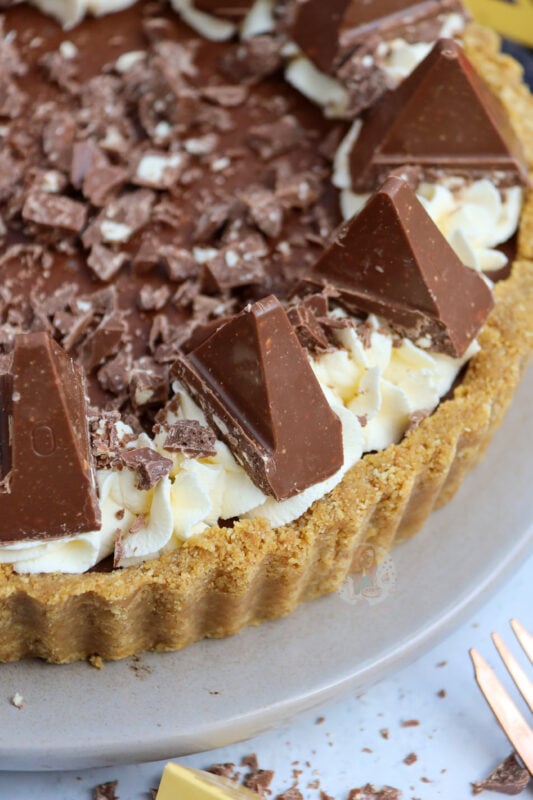 No-Bake Toblerone Tart!
An easy, delicious, showstopping no-bake Toblerone tart with a biscuit crust, a Toblerone filling and more!
Print
Pin
Rate
Ingredients
Biscuit Base
300

g

digestives

150

g

unsalted butter
Tart Filling
360

g

Toblerone

(chopped)

300

ml

double cream

50

g

unsalted butter
Decoration
150

ml

double cream

2

tbsp

icing sugar

150

g

Toblerone pieces

(chopped/pieces)
Instructions
Get a loosed bottomed 23cm tart tin.

In a food processor, blitz the digestive biscuits to a fine crumb.

Melt the unsalted butter, add it in, and blitz again until combined. 

Press into the base and sides of the tart tin so that its all evenly covered but also firm. Refrigerate for now.

In a large heatproof bowl over a pan of simmering water, add the 360g of Toblerone (chopped), double cream and butter and melt slowly, occasionally stirring. 

Once smooth and melted, pour this onto the biscuit base and refrigerate for 2 hours.

Add the double cream and icing sugar into a bowl and whip.

Once whipped up, pipe onto the tart.

Decorate with some smaller pieces of Toblerone on the cream swirls, and then some chopped Toblerone pieces. 
Notes
You can use a cake tin for this, or a larger tart tin, but these amount of ingredients perfectly fit a 23cm tart tin, thats about 1.5-2 inches deep.
I used one of the 360g (standard larger bars) of Toblerone for the filling, and then a 150g (standard smaller bar with the funny gaps in it) of Toblerone for the decoration. I use the actual triangles to go on the cream swirls, and the offcuts in the middle is what I chopped up to decorate with.
This dessert will last in the fridge for 3 days once set.
If your chocolate goes into small solid 'bits' in the tart, its likely cooled slightly too much so has seized. Next time you make it, don't let it cool slightly as much. 
Enjoy!!
Find my other recipes on my Recipes Page!
You can find me on:
Instagram
Facebook
Pinterest
Twitter
Youtube
J x
© Jane's Patisserie. All images & content are copyright protected. Do not use my images without prior permission. If you want to republish this recipe, please re-write the recipe in your own words and credit me, or link back to this post for the recipe.
SaveSaveSaveSave
SaveSaveSaveSave