October 10, 2018
Toffee Apple Cake!
*This post may contain affiliate links. Please see my disclosure for more details!*
A two-layer toffee apple cake with apple cinnamon sponges, toffee buttercream frosting, and a delicious toffee themed topping!
Autumn!!
As its truly in the thick of Autumn now, I thought I would post something that tastes like Autumn in your mouth – not literally, who knows what that actually tastes like!
Toffee apples
Toffee apples are definitely autumnal. Halloween, bonfire night, covered in sticky chewy toffee, or these days covered in chocolate – either way, they're a big hit and I am a huge fan.
I decided to make this toffee apple cake because as you can tell, toffee apples are one of my favourite things to make around Halloween time. They're sticky and delicious, so this flavour as a cake – I didn't need to think twice about doing this recipe!
Based on previous recipes
The cake is basically the exact same as my apple crumble cake, but without the crumble part. In a nutshell, I didn't want to mess with a really successful and yummy sponge.
My apple crumble cake has been popular since I posted it, and often people just bake the sponge part because it bakes perfectly with the cooking apples inside with the smidge of cinnamon as well.
Butterscotch vs toffee
After posting my butterscotch cheesecake not so long ago, and explaining the difference between butterscotch and toffee in detail, I decided to skip over all of that and roll with 'toffee apple' rather than 'butterscotch apple' because everyone knows of a toffee apple. To be fair, when googling toffee apples, they are often called candy apples (oops) but you get the theme!
Because the sponge is wonderfully apple flavoured, I thought the only way to make the cake more toffee like without ruining the sponge, was to make the frosting toffee flavoured.
The first time I made this I used up the rest of my butterscotch sauce, and the second time I used toffee sauce from the supermarket. Both worked in the same way, and both were yummy.
Decoration
With the bake in the photographs, I decorated with some toffee sauce, bronze crunch sprinkles and some toffee coated popcorn – YUM!
When I have made this cake before and attended a bonfire night party with some close friends, I decorated the top of the cake with homemade toffee apples and it went down a treat!
It makes the cake more of a party showpiece but also, people were just helping themselves to the apples and loving them! So whatever your baking this cake for, you can really adapt the decoration to suit.
Apples
I used Bramley apples for the sponges. It's important to using baking/cooking apples as other apples will be too soft when baking, however you can use whatever apple you like if you are going to make your own toffee apples for the decoration.
Making the bake Halloween themed
You can easily elevate this recipe into something a bit more spooky for Halloween by making the toffee apples red (with red food colouring) or string across some melted marshmallow to get a spiderweb effect.
Im sure you could always get some Halloween themed toffee flavoured sweets to use instead of popcorn but I personally think this looks utterly scrumptious as it is, but I get that some people will want to make this more Halloween themed! Enjoy!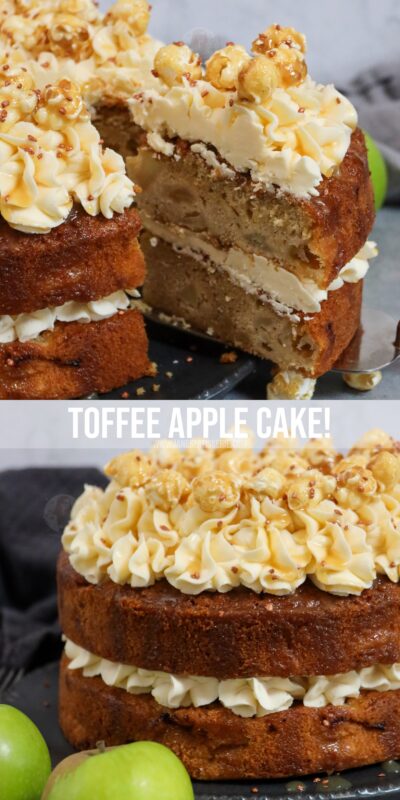 Toffee Apple Cake!
A two-layer toffee apple cake with apple cinnamon sponges, toffee buttercream frosting, and a delicious toffee themed topping!
Print
Pin
Rate
Ingredients
Cake
500

g

cooking apples

(peeled & chopped weight)

300

g

unsalted butter

300

g

light brown sugar

(+ 50g)

300

g

self raising flour

6

medium

eggs

1

tsp

ground cinnamon
Buttercream
200

g

unsalted butter

500

g

icing sugar

100

ml

toffee sauce
Toffee Apples/Decoration
Toffee popcorn

Sprinkles

Toffee sauce
Instructions
For the Cake
Preheat your oven to 180C/160C Fan, and line two 8" tins with parchment paper.

Peel and core the apples, and chop into 2cm size pieces.

Cover the apples with the 50g extra light brown sugar and leave to the side for now. 

Beat together the unsalted butter and light brown sugar until light and fluffy.

Add in the self raising flour, eggs and cinnamon and beat until smooth - it won't take long at all. 

Fold through the apple, and separate between the two tins.

Bake the cakes in oven for 40-45 minutes, or until baked through. A skewer should come out clean, and the cake shouldn't be making a bubbling sound.

Leave the cakes to cool in the tins for 10 minutes or so, then move to a wire rack to cool fully.
For the Frosting
Make sure your butter is at room temperature.

Beat the butter on its own for a couple of minutes to make sure its nice and smooth.

Add in the icing sugar 1/2 at a time, beating fully before adding in the rest. 

Add in the toffee sauce and beat again until its smooth and a lovely frosting has been formed! 
For the Decoration
Get your first cake, and pipe on half of the buttercream frosting.

Add on the second cake, and pipe on more frosting.

Top the cake with extra toffee sauce, some toffee popcorn and sprinkle over some cute sprinkles!
Notes
I used bramley apples (baking/cooking apples) as they're the best to use - regular eating apples will be too soft. 
You can use my butterscotch sauce for the frosting, or buy toffee sauce from the supermarket. 
This cake will last for 3 days in a cake box at room temperature. 
Buy enough apples for about 700g worth, so once you have removed the core and peel you'll have about 500g worth of apple. 
Find my other recipes on my Recipes Page!
You can find me on:
Instagram
Facebook
Pinterest
Twitter
Youtube
J x
© Jane's Patisserie. All images & content are copyright protected. Do not use my images without prior permission. If you want to republish this recipe, please re-write the recipe in your own words and credit me, or link back to this post for the recipe.