March 6, 2019
Nutella Stuffed Cookies!
*This post may contain affiliate links. Please see my disclosure for more details!*
Gooey Nutella stuffed cookies with chocolate chips – heaven in every bite!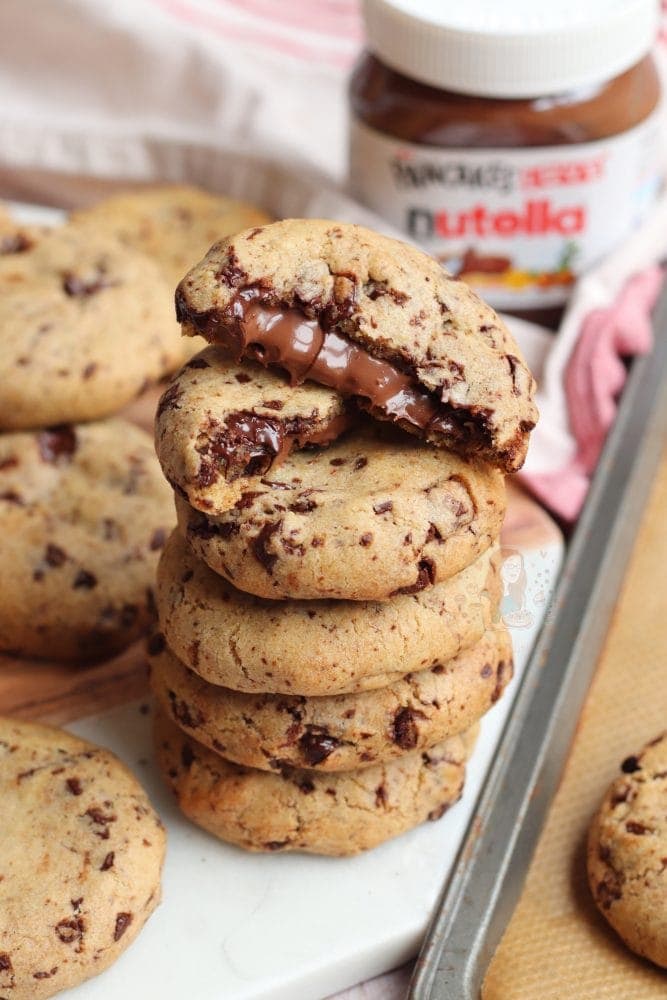 Sweet and savoury baking
So, we all know that cookies are generally one of my most favourite treats in the world… like, out of most bakes, I won't eat the whole thing. I know, what a shock right?! Just kidding. But most of the time when I bake a cake/dessert/whatever, I will have a few bites of a slice, and then give the rest away.
This isn't because I don't like what I'm baking, it's because I am realistic. I can often bake 3-4 bakes a day, and it gets a little sickening after a while! Also, side note, I actually prefer savoury food. OH MY DAYS the shock that must be on some of your faces whilst you read this… but genuinely, savoury food has my heart.

Nutella stuffed cookies

Anyway, one thing that I will often struggle not to eat the entire batch of, is something cookie related. Cookie bars, or cookies, or anything like that, I adore. I will devour so many, it's a struggle to move after. This is why I wanted to take cookies on my blog to the next level… gooey stuffed cookies. This time? NUTELLA STUFFED COOKIES.

These often sound like they would be a little complicated to bake, but really? They are so incredibly easy. Yeah, you have to wait a little longer as you have to freeze Nutella into little dollops to stuff inside the cookies, but other than that? They are just my usual cookies!
I definitely did not invent the idea of these, and they're often featured on cafe menus or in places like Starbucks, but I just adore them. They just always look utterly incredible in photos when the Nutella is still runny, and they are probably one of the main definitions of food porn. You just have to have a little faith when making them and don't be impatient.
Nutella
I usually get a jar of Nutella, and two teaspoons, and just take a little heap of Nutella out with one, and then scrap on to a lined tray with the other spoon. Stick them in the freezer until solid, and then you can make your cookies and bake to your hearts content. They are obviously best served warm and fresh, but you can reheat them. Or even just eat cold!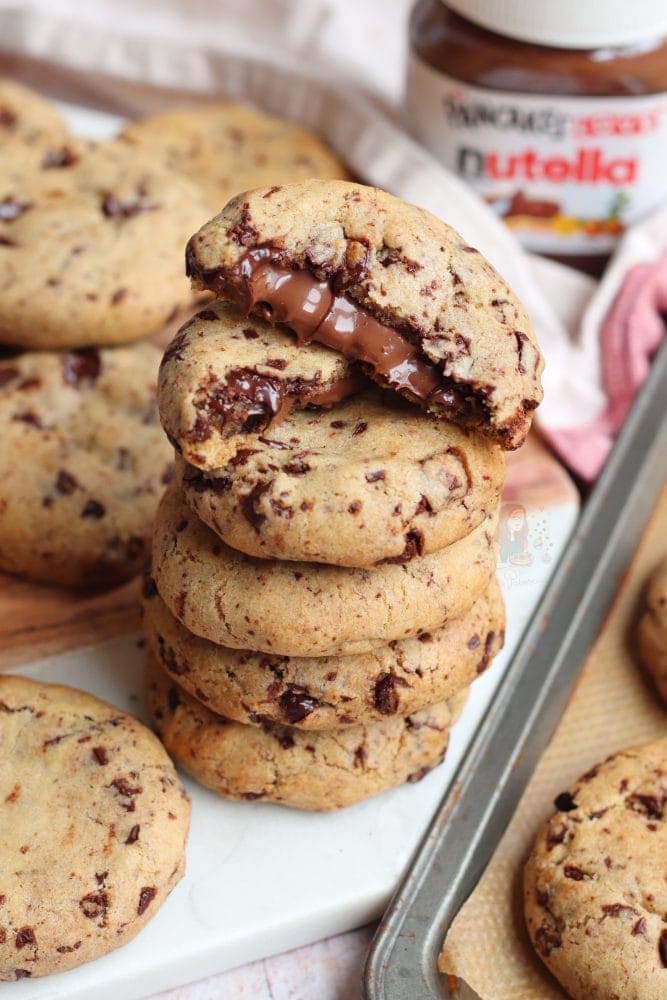 Cookie dough
I went for a 'vanilla' based cookie dough, aka one without cocoa powder in. I wanted to have more definition in-between the melted Nutella and the Cookie in the photos just you can easily see how delicious they are. You can of course make them into chocolate versions, by swapping out 25g of the flour, for 25g of cocoa powder.
Enjoy!
Honestly though, just imagine making a batch of these, leaving them to cool for a couple of minutes so that you don't burn yourself (trust me, straight from the oven is a mistake), but then having a nice cup of tea, and a warm gooey Nutella stuffed cookie on the side. Okay, maybe a few of them… enjoy! x
Nutella Stuffed Cookies!
Gooey Nutella stuffed cookies with chocolate chips - heaven in every bite!
Print
Pin
Rate
Ingredients
15

tsps

Nutella

(heaped)

115

g

unsalted butter

175

g

light brown sugar

1

tsp

vanilla

1

medium

egg

275

g

plain flour

1/2

tsp

bicarbonate of soda

1/2

tsp

salt

1

tbsp

cornflour

200

g

finely chopped chocolate
Instructions
Scoop heaped teaspoons of Nutella onto a lined tray, and freeze until solid. This usually takes 30-60 minutes!

Once the Nutella has frozen, make your cookie dough!

Preheat your oven to 190C/170C Fan!

Beat together your butter and sugar until fluffy, and then add in your vanilla and egg and beat again until smooth.

Whisk together your flour, salt, bicarbonate of soda and cornflour, and then add in to the other mix. 

Add in the finely chopped chocolate and mix until combined. 

Scoop your cookies with a cookie scoop to portion. 

As you scoop each cookie, flatten the dough slightly into a disc shape, and add a frozen lump of Nutella to the middle and then wrap the cookie dough around the Nutella fully so its covered!

They will be balls of cookie in the end!

Line 2-3 LARGE trays with parchment paper - and add 6 cookies to each tray. Each cookie might spread a bit whilst baking, so you want room for them to grow!

Bake in the oven for 11-13 minutes, or until golden. The more you bake, the less gooey they will be!
Notes
The freezing of the Nutella is important so it's easier to make, and to keep the Nutella gooey!
You can make these chocolate flavoured by taking out 25g of the flour, and adding in 25g of cocoa powder!
These are best fresh so that they are still warm and gooey, but will last for 3-4 days once made - you can easily microwave them so that they are gooey inside again!
They aren't designed to spread that much, but if you want you can flatten them if you can, but the Nutella being frozen makes it harder. I leave them as is. 
These are based on my Rolo cookies!
These will last for 3-4+ days once made!
You can find me on:
Instagram
Facebook
Pinterest
Twitter
Youtube
J x
© Jane's Patisserie. All images & content are copyright protected. Do not use my images without prior permission. If you want to republish this recipe, please re-write the recipe in your own words and credit me, or link back to this post for the recipe.
272 Comments