February 26, 2020
Biscoff Stuffed Cookies!
*This post may contain affiliate links. Please see my disclosure for more details!*
Gooey Biscoff stuffed cookies with white chocolate chips –heaven in every Biscoff bite!
Biscoff
So Biscoff is that thing, that (nearly) everyone will go OH MY GOD BISCOFF when you mention it or show them something to do with it… and I am one of those people. I am obsessed. Anyone who reads my blog will also know this.
Some of my readers describe me as the queen of Biscoff (thank you, thank you SO much!) and to be honest, I would take the crown if it was a thing.. but I know several people more obsessed than I am!
I just adore to make Biscoff recipes, because I know you all adore them too. To the (not really) weirdos who don't like Biscoff… sorry. I apologise again for posting "yet another" Biscoff recipe! But in all honesty? Am I actually sorry? Lol no.
Biscoff stuffed cookies
So basically… this recipe is whole heartedly inspired by my Nutella Stuffed Cookies – as it should be. They are on of my proudest recipes because they are just crazy good, and you all make them so good too! However.. I needed more.
Even when testing the Nutella stuffed cookies I tried Biscoff versions and so on, but decided to post the Nutella version first. Also, I wanted a little longer to hog these ones to myself because "errrrmmmaaahgodddd" was the sound I would make when I ate them.
Chocolate cookie dough
Honestly?! These are one of my favourite recipes ever! I am OBSESSED. I decided for these though to go down the chocolate cookie route as I wanted a better contrast in colour between the Biscoff and the cookie. Kinda like how my Nutella ones are a plain cookie! You can of course do these as a plain cookie if you fancied – and use whatever type of chocolate as the 'chip' but either way… they are the best.
Biscoff stuffing
I would recommend, annoyingly, not going too crazy with the scooping of the Biscoff, as the bigger the lump, the more likely they will break apart and fail in the oven!
Fails in the oven still led to some delicious experiments either way, but I wanted these to really have a Biscoff surprise, where it wouldn't leak through or anything. As these cookies did have to still incorporate the Biscoff, it is quite a dry cookie dough – but this is IMPORTANT.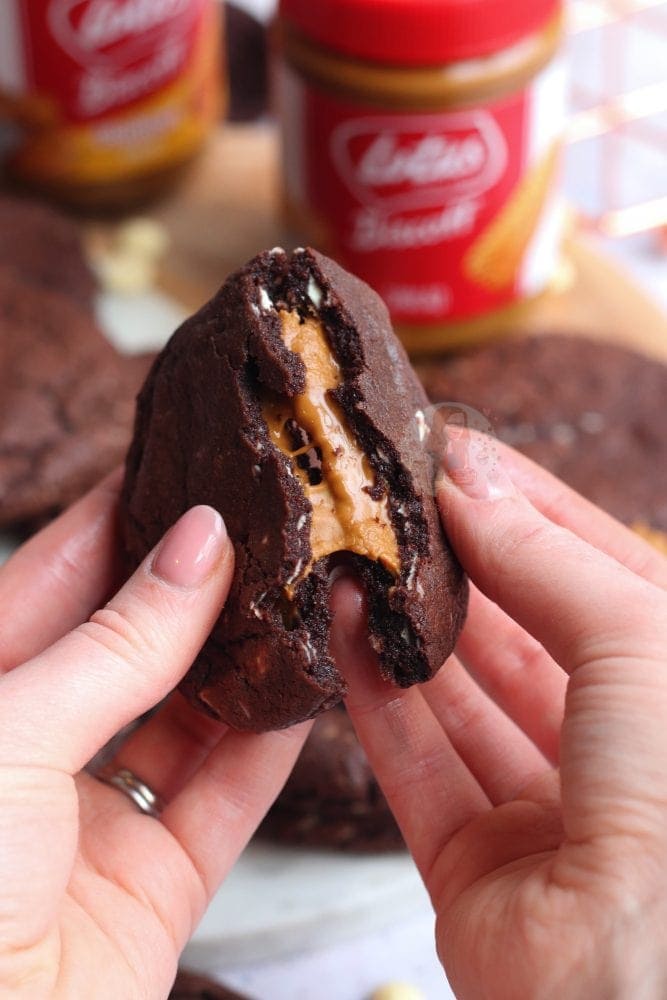 Recommendations
Please don't mess with the recipe, until you have it cracked. I don't want to be blamed for wasting Biscoff when it wasn't my fault – these are the new god of the cookie world, and I am HAPPY. I LOVE THEM.
I also recommend with the chocolate to really finely chop it, so it can flavour it nicely, but not ruin the cookie dough when you need to wrap around the frozen Biscoff! Also, yeah, the Biscoff MUST BE FROZEN.
Enjoy these beastly little treats, you Biscoff fiends! X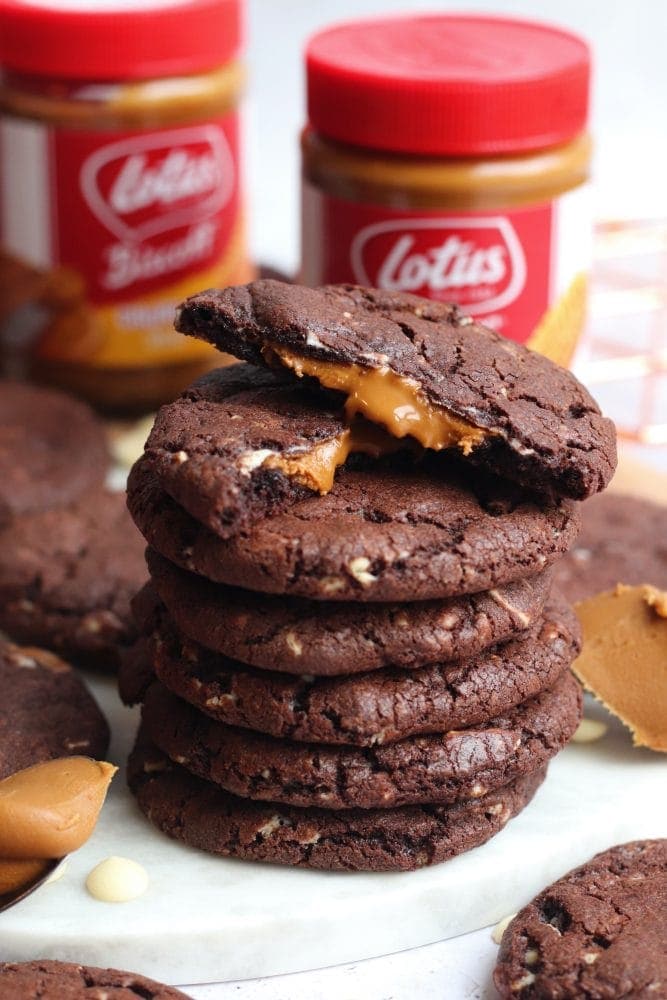 Biscoff Stuffed Cookies!
Gooey Biscoff stuffed cookies with white chocolate chips –heaven in every Biscoff bite!
Print
Pin
Rate
Ingredients
15

heaped tsps

Biscoff

(I used smooth)

115

g

unsalted butter

175

g

light brown sugar

1

tsp

vanilla

1

medium

egg

235

g

plain flour

40

g

cocoa powder

1/2

tsp

bicarbonate of soda

1/2

tsp

salt

1

tbsp

cornflour

200

g

finely chopped chocolate

(I used white)
Instructions
Scoop heaped teaspoons of Biscoff onto a lined tray, and freeze until solid. This usually takes 60 minutes!

Once the Biscoff has frozen, making your cookie dough!

Preheat your oven to 190C/170C fan!

Beat together your butter and sugar until fluffy, and then add in your vanilla and egg and beat again until smooth.

Whisk together your flour, cocoa powder, salt, bicarbonate of soda and cornflour, and then add in to the other mix. 

Add in the finely chopped chocolate and mix until combined. 

Scoop your cookies with a cookie scoop to portion. I portion mine all first, so the Biscoff is out of the freezer for the least amount of time.

As you scoop each cookie, flatten the dough slightly, and add a frozen lump of Biscoff to the middle and make sure the cookie surrounds the Biscoff fully!

They will be balls of cookie in the end!

Line 2-3 LARGE trays with parchment paper - and add 6 cookies to each tray. Each cookie might spread a bit whilst baking, so you want room for them to grow!

Bake in the oven for 11-13 minutes, or until delicious. The more you bake, the less gooey they will be!
Notes
The freezing of the Biscoff is important so it's easier to make, and to keep the Biscoff gooey!
I used the smooth one, but you can easily use the crunchy version!
You can make these plain flavoured by taking out cocoa powder and adding in the same weight of plain flour!
These are best fresh so that they are still warm and gooey, but will last for 3-4 days once made - you can easily microwave them so that they are gooey inside again!
They aren't designed to spread that much, so that the Biscoff stays in but if you want you can!
These are based on my Nutella stuffed cookies!
Enjoy!
Find my other Recipes on my Recipes Page!
You can find me on:
Instagram
Facebook
Pinterest
Twitter
Bloglovin'
Youtube
J x
© Jane's Patisserie. All images & content are copyright protected. Do not use my images without prior permission. If you want to republish this recipe, please re-write the recipe in your own words and credit me, or link back to this post for the recipe.biscof