March 30, 2019
Creme Egg Millionaires Shortbread!
*This post may contain affiliate links. Please see my disclosure for more details!*
Chocolate shortbread stuffed with Mini Creme Eggs, homemade caramel, and even more chocolate Creme Egg goodness! Creme Egg millionaires shortbread HEAVEN!
Creme Eggs!
Creme Egg millionaires – yes please! It's getting so much closer to Easter, and I am freaking out slightly at how quickly this year is going. Not only is it basically already Easter, but there is just so much going on!
I've mentioned this in the past, but Creme Eggs seem to be one of the most controversial of Easter Treats… and I can kinda understand why. They aren't my favourite, but I can definitely appreciate them. I have always been a Mini Egg girl, but some of you are Creme Egg OBSESSED!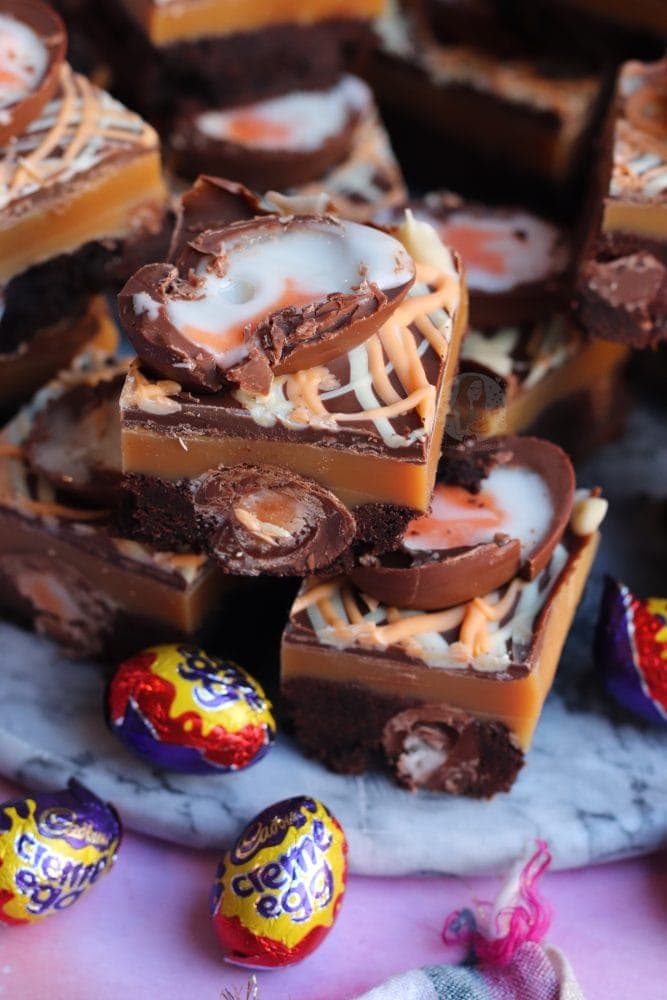 They are incredibly sweet, and that is probably what most people who don't like them think… so I thought I'd take that sweetness even further, and just flat out offend the Creme Egg haters.
Creme Egg millionaires
If you don't like sweet food, you are probably reading the wrong blog anyway… but this particular recipe?! It's a whole new level of sweet. Creme Egg stuffed chocolate shortbread, a delicious homemade caramel, and SO MUCH MORE CHOCOLATE. Heaven.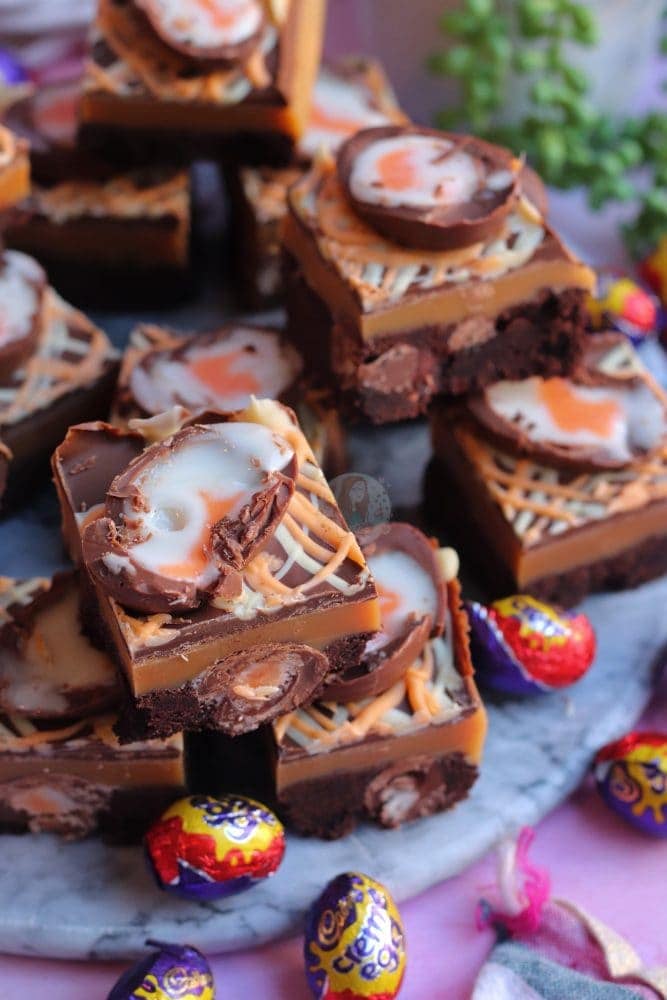 I've always stated how I prefer Creme Eggs to be baked into things, rather than eating them outright… and that might sound a little weird as… even more sugar makes them better?! Well… yeah it kinda does.
Base
The shortbread, even when stuffed with Creme Eggs is just wonderful. You can't go too overboard and add in endless amounts of Creme Eggs because it would get quite expensive, and it would most likely affect the bake. I use 3x the mini Creme Egg packets, and it works perfectly!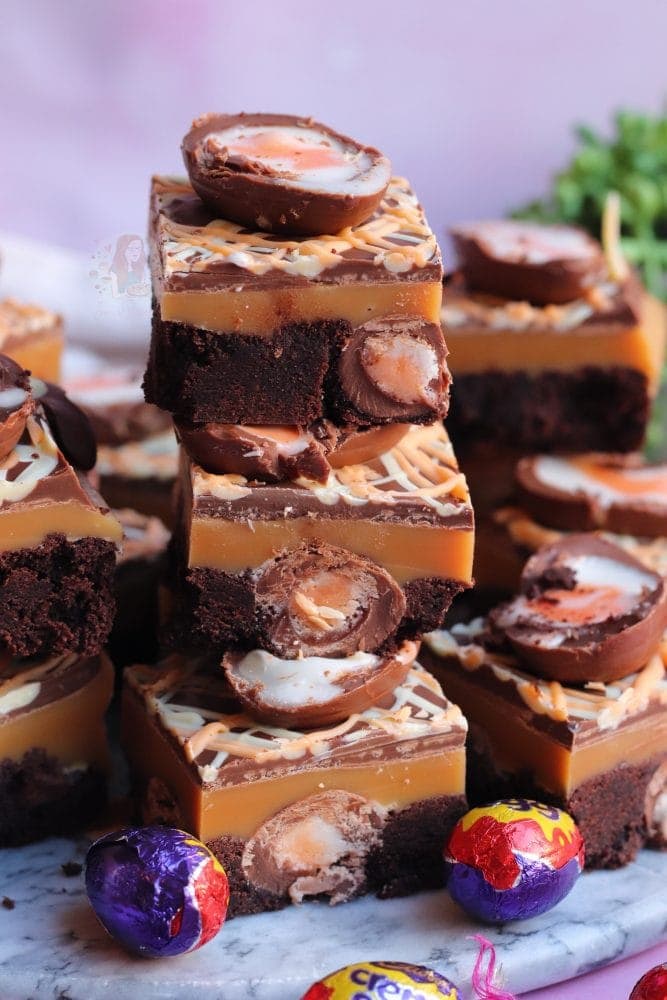 Caramel
I think its partly down to texture, and then the other flavours take away sweetness, or just alter it slightly to be able to not make my teeth ache too much. Yes, caramel is sweet, but I genuinely find that this kind of Caramel isn't too sweet at all!
If you think you're going to be smart, and switch the caramel to be an already made one (such as the Carnations caramel), then I really wouldn't. I've had people be all smartarse and say it, but then moan that it doesn't set solid. It's not designed to set solid, and THAT kind of caramel is SO sweet.
Caramel temperature
The caramel itself is something that you kinda just need to practice. I get the occasional comment saying "Why haven't you put the thermometer temperature it needs to reach" and that's because I don't make this kind of caramel to a temperature. It's literally based on time, and a medium-high heat.
Some people may do this differently, but any other millionaires shortbread recipe that I have looked at, has never made the caramel to a temperature either. Once you get the hang of making it, you'll never have an issue! The only thing I will say that personally, I find making it on a Gas hob SO MUCH BETTER.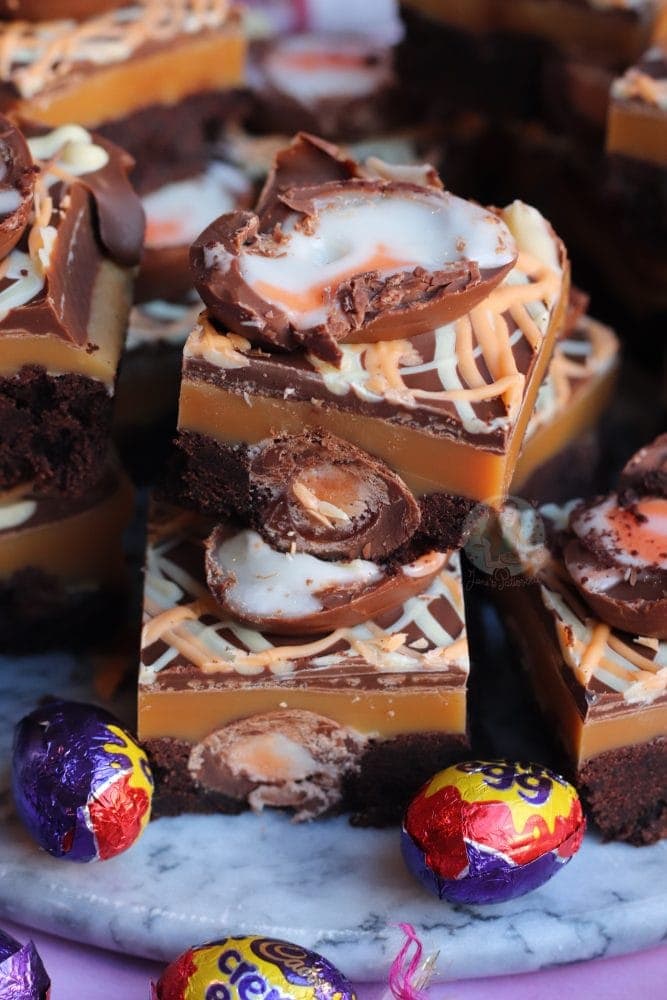 Decoration
The chocolate on the top of the millionaires is optional… but, wonderful. I usually obviously go for a chocolate top, and then the chocolate of choice sprinkled on top – but this time I thought I would attempt to decorate the top a smidge more – and colour the white chocolate to be Creme Egg themed.
Top tip!
One thing I do feel like I have to mention, is to LINE YOUR TIN. I would feel that this is obvious as I mention in the method, right at the beginning, but I must say it again… LINE THE TIN. Also, if you wonder what Tin I use – I recommend this 9″ square deep cake tin!
Other Creme Egg recipes
If you are a top Creme Egg fan, then you will definitely want to check out my other recipes on my blog! Theres a loaf cake, a layer cake and even brownies – my personal Creme Egg recipe favourite. I hope you love this recipe! Enjoy! x
Creme Egg Millionaires Shortbread!
Chocolate shortbread stuffed with Mini Creme Eggs, homemade caramel, and even more chocolate Creme Egg goodness! Creme Egg millionaires shortbread HEAVEN!
Print
Pin
Rate
Ingredients
Chocolate Shortbread!
225

g

unsalted butter

100

g

caster sugar

265

g

plain flour

50

g

cocoa powder

3x

Bags

mini Creme Eggs

(frozen)
Caramel
200

g

unsalted butter

3

tbsp

caster sugar

4

tbsp

golden syrup

397

g

condensed milk

(one tin)
Decoration
200

g

milk chocolate

100

g

white chocolate

Orange food colouring

8

Creme Eggs

(halved)
Instructions
Fo the Chocolate Shortbread!
Cream together your butter and sugar until fluffy, and then add in the flour and cocoa powder and beat again until a dough is formed! 

Add in your frozen mini Creme Eggs, and then add to the bottom of the cake tin. 

Bake in the oven for 25 minutes (and dry looking on the top).

Once baked, remove from the oven and leave to cool whilst doing the rest!
For the Caramel!
In a large heavy-based sauce pan, add your condensed milk, sugar, syrup and butter.

Heat on a low heat, stirring, so that the butter melts and the sugar dissolves.

Once everything is melted, turn your heat up to a medium-high heat (on the middle sized hob ring), and boil for 5-7 minutes whilst stirring constantly.

Be careful as you make it, because the caramel is very very very hot. It'll be ready when the mixture has turned to a darker golden!

Pour onto the shortbread, and leave to set on the side for a few hours, or in the fridge for an hour.
For the Decoration!
Melt your milk chocolate carefully, and then pour over the caramel. 

Melt the white chocolate, and split into two. Add a dash of orange food colouring to a half, and then drizzle both over the milk chocolate - the colours should resemble the insides of a Creme Egg.

Halve your Creme Eggs, and add on top of the chocolates - leave to set on the side for a few hours, or in the fridge for an hour or so! 
Notes
It is best to use unsalted butter for the caramel, and not a spread/baking spread. 
If you caramel goes grainy, the sugar probably hadn't finished dissolving at the beginning
If you caramel is extremely solid, you've over done it slightly. 
The Creme Eggs in the shortbread are optional, but very well received!
You can make this with a classic shortbread by taking out the cocoa powder, and adding in 25g more plain flour!
This will last for 1 week - in the fridge will be more solid. 
I recommend using this 9" square cake tin!
And I recommend using this orange food colouring! 
Find my other recipes on my Recipes Page!
You can find me on:
Instagram
Facebook
Pinterest
Twitter
Youtube
J x
© Jane's Patisserie. All images & content are copyright protected. Do not use my images without prior permission. If you want to republish this recipe, please re-write the recipe in your own words and credit me, or link back to this post for the recipe.