June 8, 2019
Triple Chocolate Cake!
*This post may contain affiliate links. Please see my disclosure for more details!*
Triple chocolate cake with dark, milk and white layers and a chocolate drip!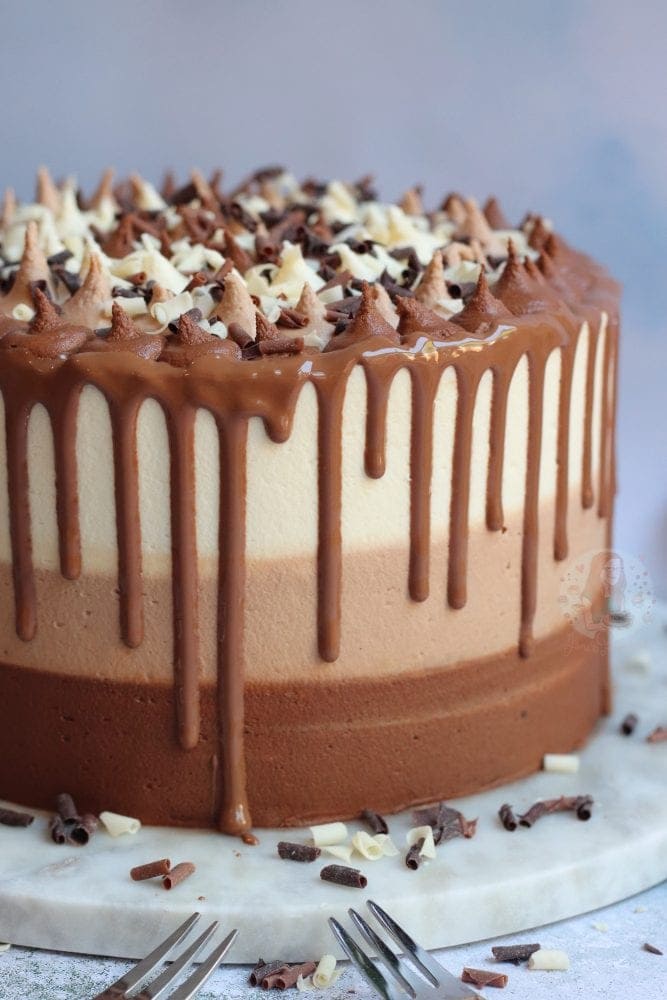 Triple chocolate cake!
Welcome triple chocolate cake! It's not midway through the year, and I thought it was about time to post a showstopper. I've made a few 'insane' bakes this year so far such as my millionaires cookie bars and my Lindt chocolate cheesecake, but nothing like this.
This is a beauty that I have made at home a few times, but as I started posting very similar cakes quite close to each other, I wanted to hold off a bit to post this one. I then swapped this up a bit, and ended up with something GLORIOUS.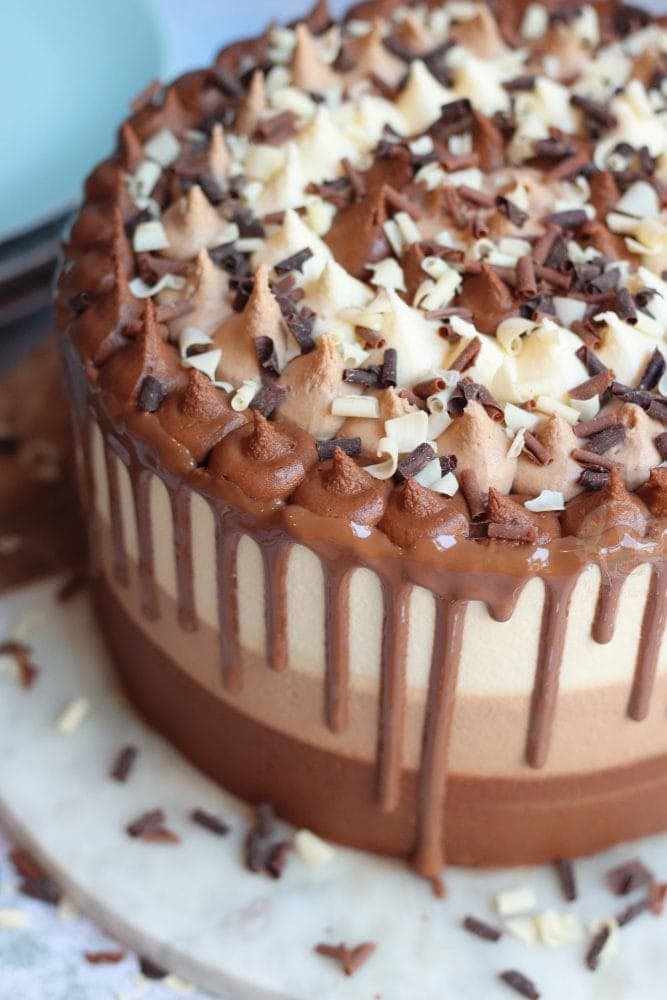 Triple chocolate heaven!
Anyway, JUST LOOK AT THIS BEAUTY. It's heaven in a cake, if you like chocolate. If you don't, this definitely isn't one for you, but who doesn't like at least one of the chocolates?!
I get that it's a bit of an intense looking cake, but I also find it quite satisfying. It literally is chocolate heaven in every bite. Triple chocolate sponges, triple chocolate buttercream, and a chocolate drip. Yum.
Combination of recipes
The look came from various other cakes I have done in my time, all combined together. My drip cakes so far have been one tone in frosting (such as my Oreo drip cake), but when I mashed the idea with my neapolitan cake, I knew I had a winner.
The method in which I decorate it, is a little faffy to explain, but you really just have to roll with it. I found it much easier to use a base crumb coat of just a basic buttercream, and then stick the three different flavours to it (rather than just going straight on to cake!)
Chocolate
Some people can say ' you can't taste the difference between the milk and dark layers', but that tends to be because you're using the incorrect chocolate. I use my favourite Callebaut chocolate in the recipe as I love baking with it and its tastes deeeeelicious!
Dark chocolate wise, I prefer to stick to 80%+, but 70% will do. Milk chocolate tends to come in at about 35% usually, so there is quite a difference. White chocolate isn't even really chocolate!
I decided to use slightly less cake mix in comparison to my other cakes, with only 350g of everything in comparison to 400g, because the chocolate gives extra weight to the mix.
It also makes the cakes slightly heavier, which is why I used the baking powder in this beauty. This is optional, but cake with chocolate in always turns a bit more madeira like (particularly the dark chocolate sponge)!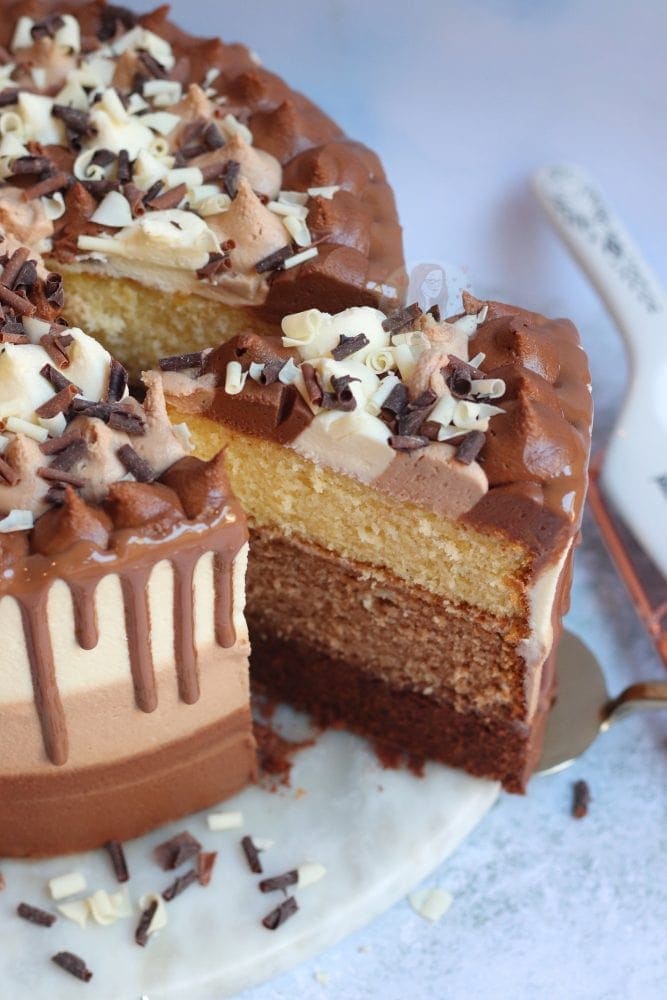 Bake
Baking wise, it's hard to get definitive layers because the outsides of the cake brown somewhat, which is why I went for surrounding the cake in frosting, so that it's obvious that there are three flavours! When you cut into the cake however, you get the definition!
One of the main 'issues' with this bake, is the pure amount of bowls that are required. It's slightly mad, but having to melt chocolate basically SIX times is a bit much. However, a bit of washing up never hurt anyone, and having a dishwasher is even better.
I personally think a bake like this is completely and utterly worth all the washing up, as its one of the most satisfying bakes to look at, and eat. I love it. And I hope you love it too! x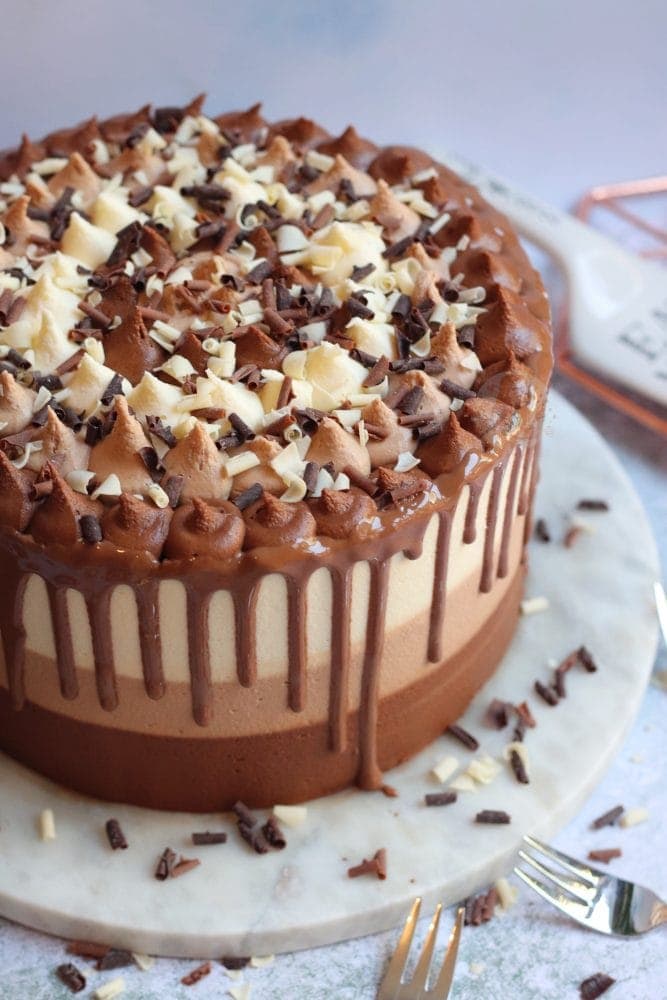 Triple Chocolate Cake!
Triple chocolate cake with dark, milk and white layers and a chocolate drip!
Print
Pin
Rate
Ingredients
Cake
350

g

unsalted butter

350

g

caster sugar

7

medium

eggs

350

g

self raising flour

2

tsp

baking powder

125

ml

whole milk

100

g

dark chocolate

100

g

milk chocolate

100

g

white chocolate
Buttercream
350

g

unsalted butter

(room temp)

750

g

icing sugar

85

g

dark chocolate

85

g

milk chocolate

85

g

white chocolate
Drip Ganache
75

g

milk chocolate

75

g

dark chocolate

150

ml

double cream
Instructions
For the Cake
Preheat your oven to 180C/160C Fan, and line three 8"/20cm cake tins with baking parchment.

Melt your dark, milk and white chocolates carefully, and leave to cool whilst doing the cake mix! 

In a stand mixer, or a large bowl, beat together your butter and sugar until light and fluffy and lovely!

Add in your eggs, baking powder, and flour, and milk and beat again until combined well. 

Split the mixture between three bowls, and to each bowl add one of the melted chocolates - mix until smooth.

Add your dark chocolate mix to one tin, your milk chocolate to another tin, and the white chocolate to the last tin. 

Bake the cakes in the oven for 35 minutes, or until baked through - check with a skewer to make sure they're done! 

Leave the cakes to cool in the tins for 10 minutes, and then take out and leave to cool fully on a wire rack!
For the Buttercream
Melt your dark, milk and white chocolates carefully, and leave to cool whilst doing the buttercream! 

Beat your butter on its own for minute or two, to soften it and loosen it. 

Add in your icing sugar 1/3 at a time, and beat fully after each addition - you shouldn't need to add any liquid in!

Take out about 150g of buttercream and leave separate. (This is for a crumb coat)

Split the rest of the mixture evenly between three bowls, and just like the cake mix, add each chocolate to its own batch of buttercream. 

Mix fully, until delicious.
Assemble
I started with my dark chocolate sponge on the bottom, and spread about 2tbsp of buttercream onto the cake.

My milk chocolate cake went second, and the white on top!

Use the spare buttercream to make a crumb coat around the cake and to make it smooth!

Add each flavour of buttercream to a large piping bag, and pipe rings around the cake - I did two layers of buttercream for each layer of cake (this is so hard to describe)

Once the three flavours are on the cake, scrape around the cake just like you would other drip cakes, and smooth it all over! Be careful when you are doing it as you'll be able to save the rest of the buttercream for piping!
Ganache
Add your chocolates and cream to a microwave proof jug/bowl, and heat for 30 seconds. Stir well, and microwave on 10 second bursts till the ganache is smooth, stiring each time.

Add your ganache to a piping bag and snip a small amount off the end of the piping bag

Pipe drips down the side of the cake, and then fill in the top and spread it over.
Decoration
Leave this to set for a minute, and then pipe the rest of the buttercream on top as decoration!

I finally sprinkled on some triple chocolate curls! 
Notes
I use supermarket own chocolate for all three layers, I wouldn't recommend stuff like Galaxy or Dairy Milk for the milk layers - just go with the cheap! 
This cake lasts for 3-4 days at room temperature!
For this Cake I used:
You can just slather the buttercream on in any which way, but I have tried to describe it as best as possible. You basically want the buttercream of each flavour, to match each sponge, and then wipe round so its all smooth!
Find my other recipes on my Recipes Page!
You can find me on:
Instagram
Facebook
Pinterest
Twitter
Youtube
J x
© Jane's Patisserie. All images & content are copyright protected. Do not use my images without prior permission. If you want to republish this recipe, please re-write the recipe in your own words and credit me, or link back to this post for the recipe.