May 22, 2019
Millionaires Cookie Bars!
*This post may contain affiliate links. Please see my disclosure for more details!*
Triple chocolate chip cookie bars, with homemade caramel, and a triple chocolate layer… millionaires cookie bars!
Millionaires cookie bars
So, once you know how much I adore everything millionaires related, you will understand why I am so unbelievably obsessed with this new recipe. I just couldn't resist it. Honestly, these are THE one!
As one of my other main loves in life is cookie bars, the marriage between those, and the caramel and chocolate from millionaires shortbread is HEAVEN in every single bite.
Combination of recipes
So… this recipe, is essentially a morph of several different recipes on my blog already. I can never resist using something that I adore already, such as the caramel from all my other millionaires shortbread, and using it to inspire something else.
I personally find something such as the caramel very easy to make now, but thats because I have made it so many times that I can't count. Literally, I tried once… and got lost/bored of counting!
Caramel
Either way, for me, its the only caramel recipe I will use for such a traybake any more, which is why it features on so many recipes such as my millionaires brownies, Terry's chocolate orange millionaires, and my Malteser millionaires.
Often I get messages about 'what temperature on the thermometer should my caramel get to', and the answer is I don't know. I never ever ever do it by temperature, and I have never seen another recipe that does either!
Cookie bars
For the cookie bar section, its also inspired by all my other cookie bar recipes on this blog! I just adore cookie bars. Like, I know it literally is just a batch of cookies baked into a traybake and then cut up, but I just love them!
Something wonderful about cookie bars is that I find them much easier and less faffy to make compared to actual cookies, but also they are just damn delicious!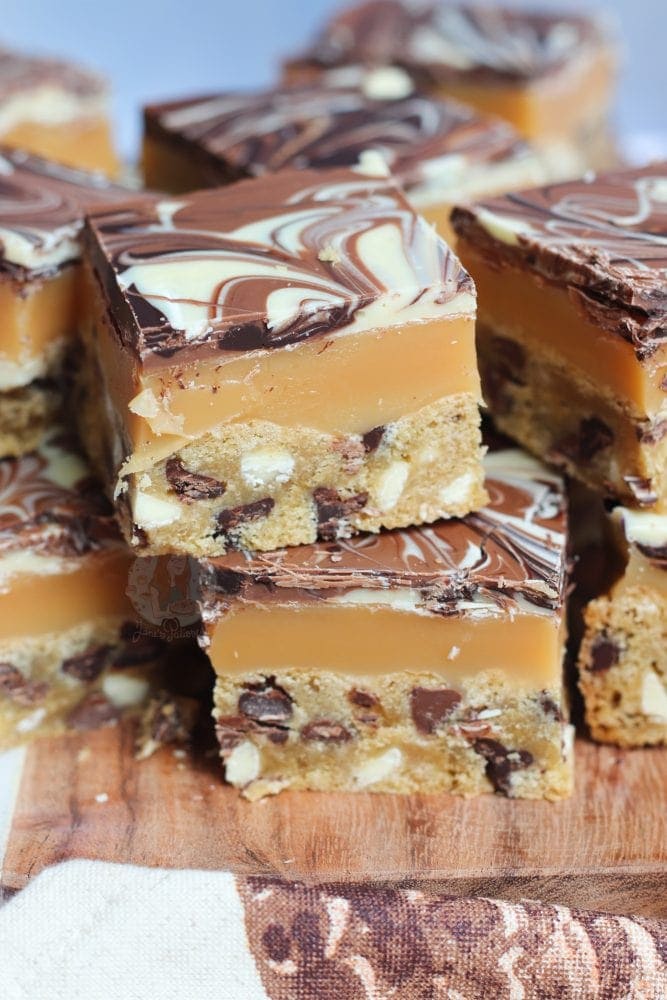 Other cookie bar recipes
You can tell by all my other recipes such as my Mini Egg cookie bars, Rolo cookie bars or even my Terry's chocolate orange cookie bars that I adore them so unbelievably much.
You can mostly use all of my cookie bar recipes for cookies instead of the bars, but for this particular recipe, they are a cracker. Who doesn't want to top their cookie with caramel and chocolate?! Literally my idea of heaven.
I just went for a simple chocolate chip cookie bar for this recipe, just to make it slightly simpler. However, as you can see from my other recipes, it is easy to alternate the chocolate you use in the cookie bars for other flavours!
Chocolate
I went for a mix of milk, white and dark chocolate chips, as I just adore how it looks, but you can use all white, all milk, or all dark! It really is preference based as all my readers are different!
Topping
Finally, for the chocolate topping, I thought I would do a bit of a swirl affect so it could represent the three types of chocolate in the cookie bars, but this is obviously optional as well.
Tin
For this recipe, I use a 9″ square cake tin, which I use for 95% of my other traybake recipes as well! I find 9″ cake tins are the best because it creates the perfect depth of bake!
I hope you all love this recipe as much as I do… ENJOY! x
Millionaires Cookie Bars!
Triple chocolate chip cookie bars, with homemade caramel, and a triple chocolate layer... millionaires cookie bars!
Print
Pin
Rate
Ingredients
Cookie Bars
275

g

plain flour

1

tsp

bicarbonate of soda

1/2

tsp

salt

1

tbsp

cornflour

115

g

unsalted butter

55

g

granulated sugar

135

g

light brown sugar

1

medium

egg

1

tsp

vanilla extract

100

g

white chocolate chips

100

g

milk chocolate chips

100

g

dark chocolate chips
Homemade Caramel
200

g

unsalted butter

3

tbsp

caster sugar

4

tbsp

golden syrup

397

g

condensed milk

(one tin)
Chocolate Decoration
100

g

white chocolate

100

g

milk chocolate

100

g

dark chocolate
Instructions
For the Cookie Bars
Preheat your oven to 190C/170C Fan and line a 9x9inch Square tin with parchment paper, and leave to the side for now.

Whisk/mix the plain flour, bicarbonate, salt and cornflour together so its evenly distributed – leave to the side.

In a larger bowl, melt the butter. Add in the two sugars, and whisk for about 2 minutes so the sugar starts to dissolve and the mixture is smooth. Add in the egg and the vanilla, and whisk again briefly until smooth. (I used an electric whisk)

Add in the dry ingredients and the chocolate chips and mix with a spatula until a thick cookie dough is formed.

Press the mixture into the bottom of the tin. Bake the traybake in the oven for 18-22 minutes, until the top of the cookie bake looks 'dry'!

Leave to cool whilst doing the next stages.
For the Caramel
In a large saucepan pour the condensed milk, unsalted butter, sugar, and golden syrup and melt on a medium heat until the sugar has dissolved – stir frequently to stop anything from catching.

Once the sugar has dissolved, turn the heat up high and let the mixture come to boiling point and boil for 5-7 minutes stirring constantly so that the mixture doesn't catch. BE CAREFUL as the mixture is VERY hot and can burn you if it splashes back! 

The mixture will be ready when it has changed to a slightly darker golden colour, and has thickened to a soft fudge texture!

Pour the caramel onto the cookie bars and leave to set for one-two hours on the side.
For the Chocolate
Melt your three chocoaltes carefully until smooth - I personally do this in the microwave.

Drizzle over the caramel in a swirly pattern, or however you fancy, and leave to set fully on the side, or in the fridge.
Notes
This will keep in an airtight container for at least 1 week – if they last that long!
**If you struggle to cut your shortbread and tray bakes without the chocolate cracking on top, set it at room temperature rather than in the fridge and it'll be softer so therefore won't crack when you cut it!
Using a tinned caramel in place of making your own, will NOT work. Tinned caramels do not set, so it'll be messy. 
I don't store these in the fridge as it dries the cookie out, but if you want to, you can just beware. 
I use this tin!
Find my other recipes on my Recipes Page!
You can find me on:
Instagram
Facebook
Pinterest
Twitter
Youtube
J x
© Jane's Patisserie. All images & content are copyright protected. Do not use my images without prior permission. If you want to republish this recipe, please re-write the recipe in your own words and credit me, or link back to this post for the recipe.