June 12, 2019
Chocolate Kinder Bueno Fudge!
*This post may contain affiliate links. Please see my disclosure for more details!*
Easy four ingredient chocolate Kinder Bueno fudge!
Fudge
So, it's been a while since I last shared a fudge recipe. According to my posts, it's been ONE ENTIRE YEAR. I genuinely question how this is possible?! I could have sworn I had posted one since then. Either way, I thought I would bring back Fudge with a bang.
Whenever I get requests for recipes, it's basically full of "More Kinder Bueno please?!" and I am more than happy to oblige about this… I adore Kinder Bueno.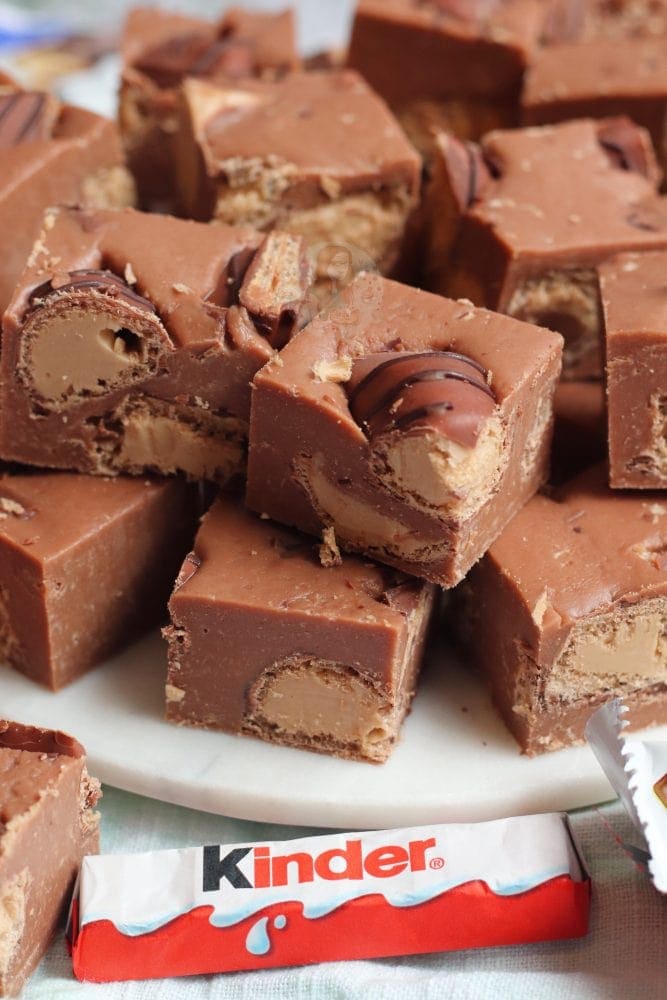 Kinder Bueno recipes
My most popular Kinder Bueno recipe by far is my Kinder Bueno Cheesecake – and I can understand why. Some people may moan that the Bueno goes soft in the middle – but literally, anything would, so suck it up, or leave it out.
This recipe is similar in a way – eventually, yes, the Bueno will go a smidge soft. IT'S NOT THE END OF THE WORLD. If you really don't like soft biscuits/chocolate bars etc, don't put them in the bake. I personally don't mind if they're soft because they still taste great.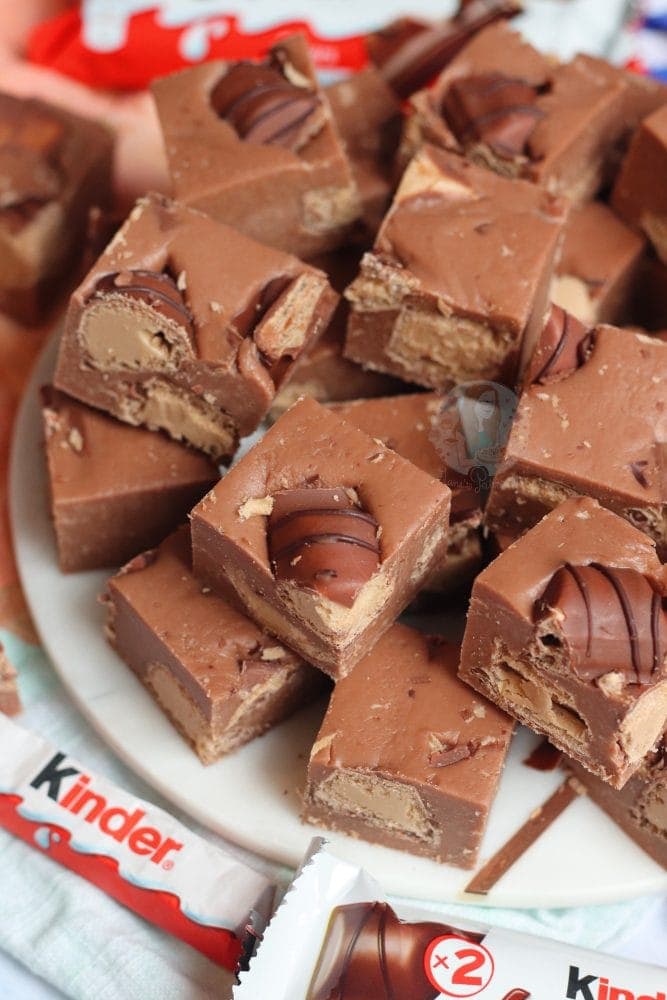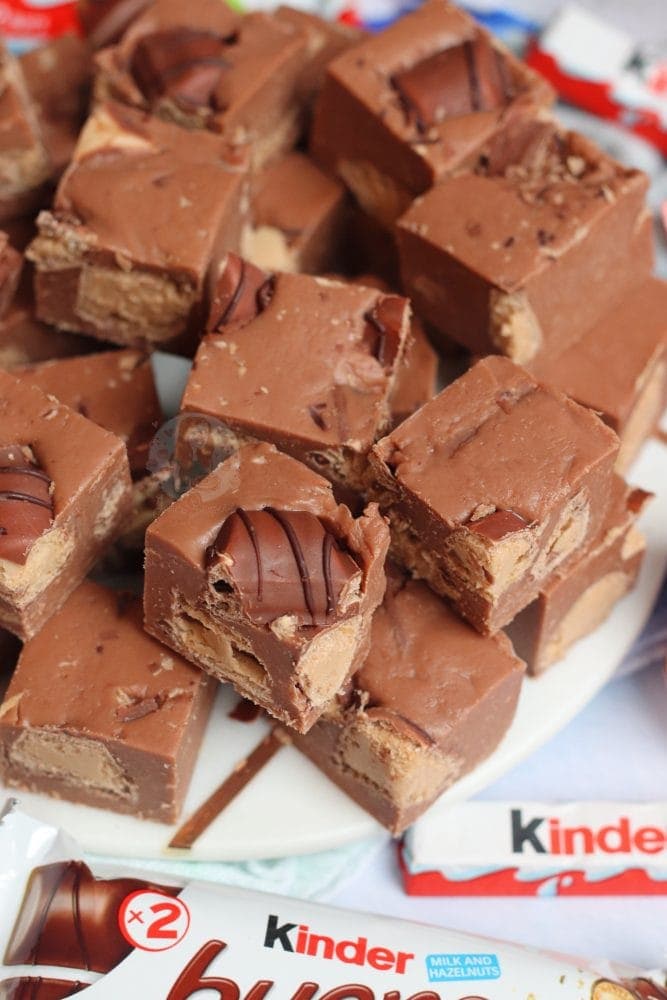 Simple recipe
This recipe is so incredibly easy to make, and I am on board with that. I will no doubt get someone saying "but it's not real fudge" and technically no, it's not, but it's quick fudge.
A classic fudge would be the kind you can buy in Cornwall, that you boil and use a sugar thermometer, and it is epic… but much more work. My condensed milk fudges are insanely popular, as they're just so easy! They are 'no-bake' and SO easy!
Chocolate
My Kinder Bueno cookie bars are on a whole new level, and probably my personal favourite Kinder Recipe… but this is now up there too.
With most of my condensed milk fudges I will use a dark/milk/white chocolate as the base, and then add a flavour or similar to it. For this one, I went with half milk chocolate, and then half Kinder Chocolate. This is optional, but gives SUCH a good flavour!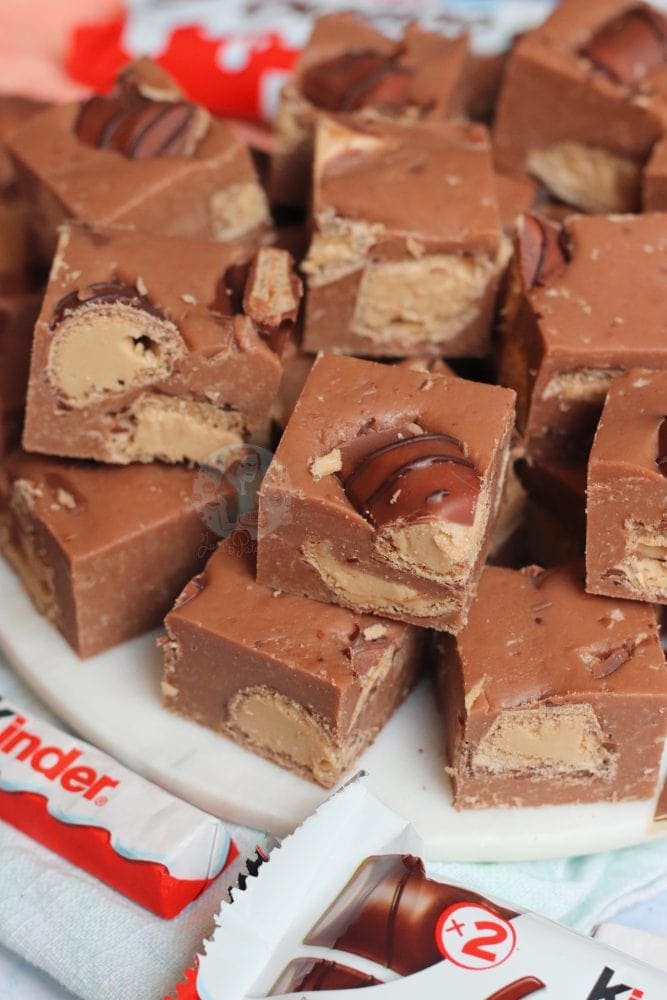 You can easily save money by just sticking with the milk chocolate (or switching to dark/white) if you prefer, but I looooove Kinder chocolate.
If you aren't sure about what Kinder chocolate is, it's the tiny mini kinder bars that you buy in multipacks! (I am not talking about melting down Kinder Bueno).
Kinder pieces
For the actual Kinder Bueno in this, I just chopped the bits into individual pieces, and then folded through the mix! It's so insanely simple. The only way this could go wrong is over mixing, and that's very hard as you just need to stir it with your arm and a spatula!
Honestly, if you are as much of a Kinder lover I am, then you will LOVE this bake! Four ingredients, and utterly delicious. Enjoy! X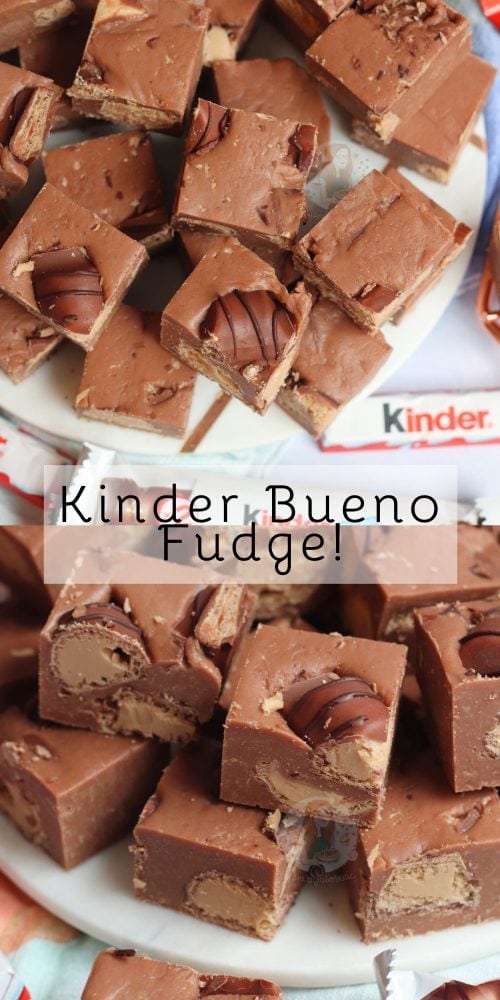 Chocolate Kinder Bueno Fudge!
Easy four ingredient chocolate Kinder Bueno fudge!
Print
Pin
Rate
Equipment
Microwaveable Bowl

Large Bowl

Spatula

7"x10" Tin

Parchment Paper
Ingredients
250

g

milk chocolate

250

g

Kinder chocolate

397

g

condensed milk

(one tin)

75

g

icing sugar

6

Kinder Bueno bars

(12 individual bars)
Instructions
Line a 7"x10" brownie tin with parchment paper and leave to the side.

Add your milk chocolate and Kinder chocolate to a microwaveable proof bowl, and melt carefully. I do it in bursts of 15-30 seconds in the microwave.

Alternatively, use a large bowl and a double-boiler, and melt that way.

Once melted, add your condensed milk, and stir until smooth. Add in your icing sugar and stir again!

Chop up your Kinder Bueno, and mix into the fudge.

Pour into the tin, and leave to set fully.
Notes
This will last in the fridge for 2 weeks!
You can use milk, dark or white chocolate along with the Kinder chocolate, or use all milk/dark/white. I wouldn't recommend using all Kinder. 
The Kinder Bueno will eventually go soft but it's not the end of the world. 
Recipe updated August 2019 - original used 350g milk and 350g kinder chocolate, but it was often splitting for readers. You can still make it, you just need to make sure it doesn't get too hot and it won't split!
Using icing sugar is optional - but without I would use 100g more milk chocolate!
Enjoy!
Find my other Recipes on my Recipes Page!
You can find me on:
Instagram
Facebook
Pinterest
Twitter
Bloglovin'
Youtube
J x
© Jane's Patisserie. All images & content are copyright protected. Do not use my images without prior permission. If you want to republish this recipe, please re-write the recipe in your own words and credit me, or link back to this post for the recipe.