July 13, 2019
Biscoff Drip Cake!
*This post may contain affiliate links. Please see my disclosure for more details!*
A three layer Biscoff drip cake with brown sugar sponges, Biscoff buttercream, white chocolate ganache, and a Biscoff drip!
New Biscoff recipe
Oh hey Biscoff, it's been a while… about six months to be exact which is far too long in my books. I love Biscoff, it will always have my heart, and I am here for a new recipe. It is THE Biscoff Drip Cake that you have all been asking for, for AGES.
Anyway. I thought I would make this beauty a complete and utter showstopper, by taking it to the next level. My Biscoff cake recipe has always been a popular one on my site, especially helped by Zoe Sugg using it a few years ago on Youtube, and it remains popular still.
Biscoff drip cake
I can't believe that the recipe for my Biscoff Cake if now three years old, but I thought it was high time I answer the calls and requests for a drip cake version. Oh hey, here it is!
Now, theoretically you can just use my Biscoff Cake Recipe as a drip cake, by adding on a bit more buttercream to the recipe (probably about another half), but I wanted to do a new post for it, and make it a little different.
One of the other requests I have been getting for *ages* now is to have a recipe for white chocolate ganache for cake decorating purposes. So, combining the two seemed ideal, and it worked well. Oh hello HEAVEN.
I personally find Biscoff quite savoury in a way, which makes sense as it's quite a spicy biscuit flavour. So combining the brown sugar sponges with Biscoff buttercream, and white chocolate ganache was the ideal marriage made in heaven!
Three layers
I thought going for a three layer cake just like all my other drip cakes probably was best as most of my readers have now invested in three cake tins to make their lives easier, and it would be a bit much to now say "you need four". When I have made ganache covered cakes in practices though, they have used four sponges as I love a tall cake.
White chocolate ganache shell
I realise that the white chocolate ganache shell of the cake might not be the ideal for some, and sound terrifying for others but I thought this cake would be the ideal time for it. I personally adore how it looks on the cake with the Biscoff drip creating such a good contrast!
Ganache ratios
When making ganache there is a basic rule… for dark chocolate you use equal quantities of dark chocolate and cream (1:1), for milk chocolate you use double the chocolate to cream (2:1), and for white chocolate you use triple quantities of chocolate to cream (3:1). It's the same for drips as it is for covering!
Make the white chocolate ganache I either use Callebaut chocolate as I utterly adore it, or I use the cheapest supermarket one I can find. Tesco is usually my go to as its 30p per 100g so lovely and cheap. I personally use the microwave method as I find it so easy!
Ganache method
Whack the chopped chocolate and cream in a bowl, and microwave on 15-30 second bursts at half power, stirring each time fully. Melt until its smooth, and leave to sit in the fridge, stirring it every few minutes. If the ganache is too soft, it'll be messy as hell decorating the cake, and if its too hard, you'll struggle.
The ideal consistency for the ganache is like peanut butter, or the Biscoff spread just out of the jar. You can leave it to sit at room temp to get there, but obviously that'll take longer! For decorating, you decorate in the same way that you would with buttercream drip cakes.
Applying the ganache
I slather it on the sides (on top of a crumb coat) with a small angled spatula, and then smooth around the edge with a large metal scraper. A chilled cake is the easiest to coat as it won't budge, and it'll make it so much easier! But honestly, just whack it on, and scrape around over and over until you have a smooth lovely finish.
If the ganache isn't quite the right consistency then it might be that it's still too soft still, and you just need to leave it a little longer. You can use the ganache for the crumb coat instead of the buttercream, but it just makes it so much easier if you have a crumb coat!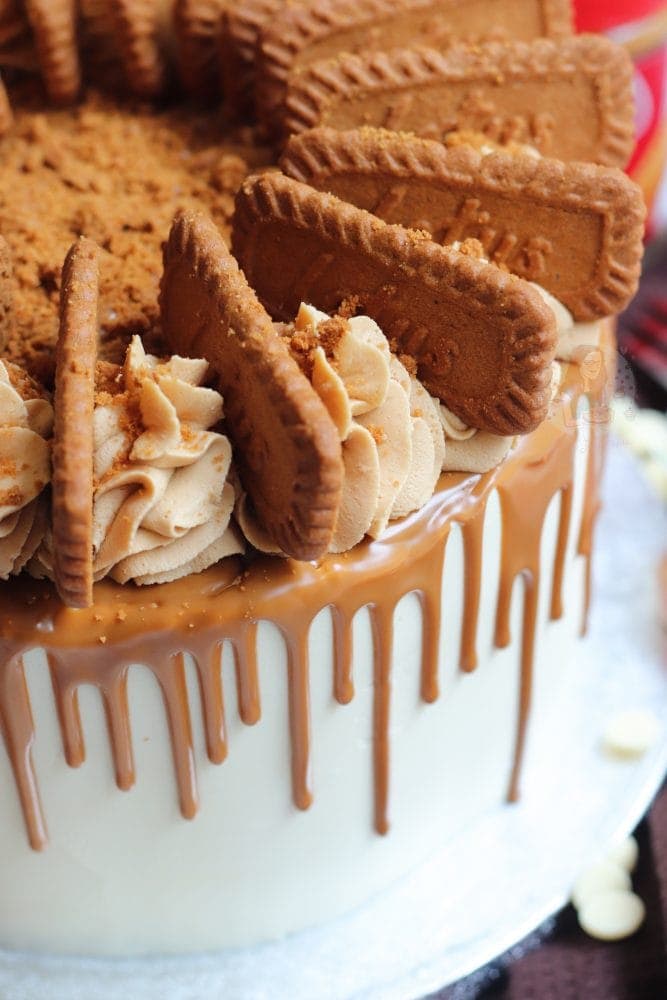 Decoration
Pop the cake in the fridge for 10 minutes or so once the ganache is on to fully set and the cake should feel rock solid afterwards! Melt the Biscoff spread slightly to drip it down, add some Biscoff buttercream swirls on top, and some biscuits, or decorate how you fancy!
For the sponges and buttercream, it's all the same as my Biscoff cake! The brown sugar gives such a lovely and natural caramel flavour to the cakes, and keeps them moist, and the buttercream is just delicious!
I hope you all love this recipe as much as I do! If you have any questions then leave a comment below! I am working on bringing my Youtube videos back and will do one on ganache, but until then… good luck!
Biscoff Drip Cake!
A three layer Biscoff drip cake with brown sugar sponges, Biscoff buttercream, white chocolate ganache, and a Biscoff drip! 
Print
Pin
Rate
Ingredients
Cakes
400

g

unsalted butter

400

g

light brown sugar

400

g

self raising flour

8

medium

eggs

2

tsp

baking powder
Buttercream
250

g

unsalted butter

(not stork) (room temp)

500

g

icing sugar

300

g

Biscoff spread
Ganache
450

g

white chocolate

(chopped)

150

ml

double cream
Decoration
200

g

Biscoff spread

Biscoff buttercream

(above)

Biscoff biscuits
Instructions
For the Cakes!
Preheat your oven to 180C/160C Fan, and line three 8"/20cm cake tins with parchment paper.

Add your butter and sugar to a bowl, and beat until light and fluffy. I use my Kitchenaid with the paddle attachment!

Add in your flour, eggs and baking powder and beat again until a lovely smooth cake mixture is formed.

Split evenly between the three tins and bake in the oven for 30-35 minutes (or until a skewer comes out clean!)

Once baked, leave to cool in the tin for 10 minutes, and then leave to cool fully on a wire rack.
For the Buttercream
Beat your butter on its own for a while in your mixer until it's smooth and supple.

Add in your icing sugar a little at a time and beat fully until its light and fluffy!

Add in your Biscoff spread and beat until combined. If its really stiff, add in 1-3tbsp of boiling water mixing fully each time.
For the Ganache
Add your chocolate and cream to a microwaveable bowl, and heat for 15-30 second intervals at half power. Keep going and stiring each time until a smooth ganache is formed.

Alternatively, add your cream to a pan and heat till just before boiling point. Pour over finely chopped chocolate and leave to sit for 5 minutes. Once sat, mix till smooth (Add back to the pan if its not quite melted).

Leave the ganache in a bowl and stir every few minutes till it forms a peanut butter like consistency - you can do this in the fridge as well, just make sure to stir it so it doesn't set too quickly!
For the Decoration
Spread a smidge of buttercream on the cake board, and add your first cake to a cake board (for an 8" cake, I use a 10" board). Spread over some of the buttercream.

Add on the second cake, and repeat!

Add on the third cake - spread some of the buttercream on top and around the edges till the sides are smooth and you have created a crumb coat. It doesn't need to be thick, it just needs to fill any gaps or holes that may be on the sides!

Refrigerate the cake for 10-15 minutes to set the crumb coat.

Keep repeating this till the sides of the cake are smooth and lovely. Set the cake in the fridge again for 10-15 minutes.

Carefully melt down the biscoff spread till drippable, and drip down the sides of the cake and over the top of the cake. Set the cake in the fridge again for 10-15 minutes.
Notes
This cake will last for 3-4 days once made.
I recommend using an angled spatula and a large metal scraper to make decorating easier! 
I used a medium 2d closed star piping tip for the swirls on top! 
I melted the Biscoff spread in the microwave in 15 seconds! 
The white chocolate ganache is optional - simply add on another half of the buttercream if you just want to use buttercream to make it! 
You can make a smaller version of the cake by using:

250g Butter/Sugar/Flour, 5 medium eggs and 1tsp baking powder and splitting between two 8" tins. Bake in the oven for 35 minutes or so!
Use half of the decoration ingredients!

I used the smooth Biscoff Spread so that the buttercream and drip were also smooth!
ENJOY!
Find my other Recipes on my Recipes Page!
You can find me on:
Instagram
Facebook
Pinterest
Twitter
Youtube
J x
© Jane's Patisserie. All images & content are copyright protected. Do not use my images without prior permission. If you want to republish this recipe, please re-write the recipe in your own words and credit me, or link back to this post for the recipe.
381 Comments