October 30, 2019
Bakers Christmas Gift Guide 2019
*This post may contain affiliate links. Please see my disclosure for more details!*
10 useful and fun product ideas for Christmas that I love for every baker, chef and anyone who loves the kitchen… the bakers Christmas gift guide 2019!
Bakers Christmas gift guide!
A few weeks ago I posted my first every Christmas gift guide with the foodie Christmas gift guide 2019, and now it's the turn of all things equipment, products and items that you could and would want to use in your kitchen!
As last time was literally all things edible, this time I have gone for a bit of variety in different products you may want to buy your loved one. Think everyday products like a kettle, and then go the opposite end to a beautiful Christmas cake tin! All different wonderful things that I love!
All items will be linked to where is best to buy them, and you will find a lot more product information on them through those links, but I've done my best to describe what I like about them and why!
Various items in this list are gifted, but all views are my own! They are posted in no particular order! x
1 – Nordic Ware Christmas Cake Tins
Can we just look at these beauties! Can we appreciate the intricate details in these cake tins for a second? They are all absolutely stunning, and I think completely and utterly sell themselves. I have always loved Nordic Ware tins, and they are the only Bundt Tins I will use – for a good reason!
They have such a wide variety, and whilst some people may think that they are expensive for a cake tin, they are 100% worth every single penny! The Christmas Cake tins are also just outstandingly beautiful – they have quite a wide range, so I have included four of their Christmas Range under one section of this Gift Guide and I love them all!
The four tins included in these photos are these ones – Holiday Wreath Pan, Gingerbread House Pan, Pine Forest Pan, and the Holiday Teacakes Cakelet Pan!
2 – Thermapen Thermometer
I don't have many recipes that require a thermometer on my blog at the moment, but I do plan to post more – a thermometer is the most useful thing for making classic fudges, some caramels, heating oil, checking a cake is done and so on… and the Thermapen thermometer (that was seen on this years GBBO series) is a wonderful one!
I've had the type of thermometer in the past that is meant to clip onto the pan, but I find them VERY annoying to use – whereas this one?! Simple fold out the thermometer, poke it into the pan or bake, and it will very quickly (And accurately) tell you the temperature in centigrade – so useful!
I use it all the time in my general cooking as well, and even though I am a fully trained chef… I do like to check the chicken is done sometimes ~just~ to be sure – and this is so easy to use for that too.
3 – Mason Cash Innovative Cake Tins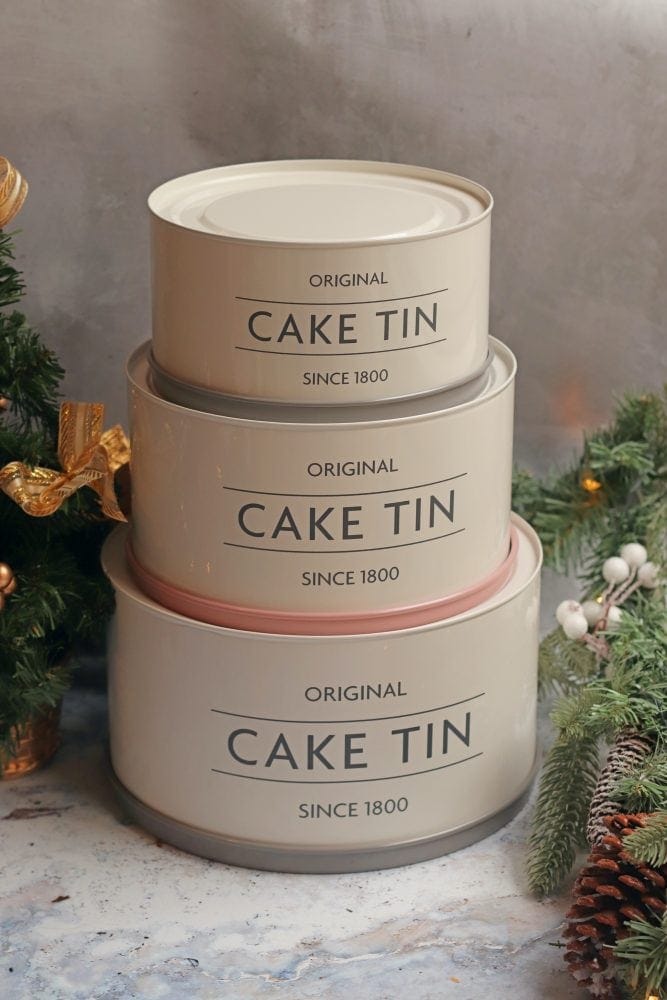 As I bake so often, I alllwaaayyyysss need storage for cakes – my only niggle about cake tins ever is that you have to awkwardly get the cake into the tin, and then it's even more awkward to get it back out again. That's where these beautiful cake tins come in – they are designed to have the 'lid' on the bottom, so it also works as a plate!
I know you can flip a regular tin upside down, but this doesn't always work – I have many a tin where the lid is too loose, or too awkward to use upside down because of handle, but these beautiful Mason Cash Cake Tins are beautiful to look at, and so perfect for what they do! Also, I just love all Mason Cash products as they're so pretty!
4 – Stasher Storage Containers
Stasher re-usable food containers are an amazing invention that I have started to use so often. They're an innovative alternative to your standard single-use plastic sandwich bags for example, that you can wash after usage and re-use thousands of times! As I am trying to be more conscious of certain things I am using, such as sandwich bags, these are great!
You can get all different types for general use, or baking, for small amounts, or for large amounts, and they come in different colours and sizes! They are suitable for the freezer, fridge, microwave and dishwasher which I also love, and are free from any nasty chemicals that can be found in some plastic containers! The ones featured are the Stasher stand up clear, Stasher half gallon aqua, Stasher Lime sandwich size, and the Snack bag raspberry!
If you are after more sustainable ways of storing your food, I would definitely recommend stasher products!
5 – Tower Black Glitz Kettle & Toaster
This is probably the most random and basic product you will find in this list, but I thought I would include it as I know many people who are moving house, moving into their first home, university students and so on, that still need a new toaster and kettle.
I have a particular theme in my kitchen at the moment (due to the decor) or black and silver products, and these Black Glitz Tower products are the happy middle. They're fun, they're pretty, and they're perfect for your kitchen. They come in a pink glitz version, and Tower also have many other types available including rose gold ranges with marble! The Black Glitz range also has many more items, such as four slot toaster, storage canisters and so on!
I know it's not your average Christmas gift, but at the same time… when I had just moved into my house in December a few years ago, it was something I needed and genuinely got as a gift.
6 – Mini Kitchenaid Food Processor
This is something that I treated myself to a few months ago, after a class with Juliet Sear at the Kitchenaid experience store in London – she was offered to use one of these Mini Food Processors for one of her bakes she was demonstrating, and we were all amazed at the mini-ness of it, and also how good it was!
I have a bigger food processor that you guys see all the time in my videos, but it can be annoying to get out when you just want to blitz up a small amount of something – This mini KitchenAid food processor has a nifty handle of pressing the lid down to use it rather than a button, and I am genuinely obsessed!
They come in a few different colours, and I think have a very decent price tag for what you can achieve with it!
7 – Copper Kitchenaid Stand Mixer
Say hello, to copper heaven. I have always wanted a Copper Kitchenaid, and after years of use, I finally decided to get a second one (I had an electric blue one for 5 years, and still use it) and invest in a Copper one. The copper mixers are more expensive as they're a part of the elite colour range in Kitchenaid, but honestly… I am still obsessed with it.
I thought this would have an ideal place on this Gift Guide as I have used mine for a few months now, and when I feature it in videos or on my instagram, I still get comments saying "IS THAT A COPPER KITCHENAID" – so the copper love is real still.
You can buy them online as I did, and they are 100% worth the price tag in my opinion!
8 – Kilner Sauce Press Set
This is a bit far away from Baking, but just so amazing. I love all things Kilner, and I store my main baking ingredients in them all of the time anyway. So when I found this Kilner Sauce Press Set I was slightly in awe… and I love it! You simply add all your ingredients for the sauce you want to make into the top, and then smush it into the jar!
For example, this is ideal for making tomato sauces… but also apple sauce! I often use apple sauce in savoury food, but I know a lot of you (like me) love using anything apple related for baking, so I thought you guys would love this too!
9 – Piping Bag/Nozzle Holder
This is the cheapest item on the list, and something I have used for soooo long. It is simple, it is cute, and it is awesome. This beautiful and cute Icing Bag and Nozzle from Iced Jems is so incredibly handy. I know so many bakers who have bought one of these themselves, and I am obsessed with mine.
In the past, I used to use a glass or similar to help fill my piping bags, but a few too many broken glasses later… this was the best. It's lightweight, and the fact that you can also store your piping tips in it whilst you are using is so much better! No more losing the piping tips. It really is the perfect gift for a baker!
10 – Nespresso Creatista Plus Coffee Machine
This is a wonderful and beautiful coffee machine.. which is also great for hot chocolates. That is something I thought I would emphasise on, because that is what I use it for a large amount of the time! This beautiful Nespresso Creatista Plus coffee machine (by Sage) is a beauty to use, and I think it's so nice to look at too!
I now a lot of people who already have this machine, and I 100% know that they would agree that its amazing. It's one of the few coffee machines I have found that has a really good quality milk frother, that actually gets the milk to be HOT, without a massive price tag. Sure, it's expensive… but it's nothing in comparison to some decent machines!
It fits Nespresso capsules, and any other that are also Nespresso compatible, and I adore it!!
SO.. there it is. My 10 picks for a bakers Christmas gift guide 2019! The prices can range somewhat, but they are some beautiful items to use in your kitchen at home!
Find my Recipes on my Recipes Page!
You can find me on:
Instagram
Facebook
Pinterest
Twitter
Youtube
J x
© Jane's Patisserie. All images & content are copyright protected. Do not use my images without prior permission.