November 16, 2019
Gingerbread Brownies!
*This post may contain affiliate links. Please see my disclosure for more details!*
Gooey chocolate gingerbread brownies with chocolate chips, a spiced brownie batter, and gingerbread men on top!
Gingerbread brownies
I love gingerbread. I love everything about gingerbread. I love a crunchy gingerbread biscuit that you can dunk in a hot drink, or a softer gingerbread cookie that you can just devour… cheesecake, cake, and so on. I love it. gingerbread brownies?! Oh my days.
It's been a good while since I have made anything gingerbread themed… just joking. It's been less than a week. I have a problem! I love eating gingerbread all year round don't get me wrong, but as soon as it's christmas I am just completely obsessed!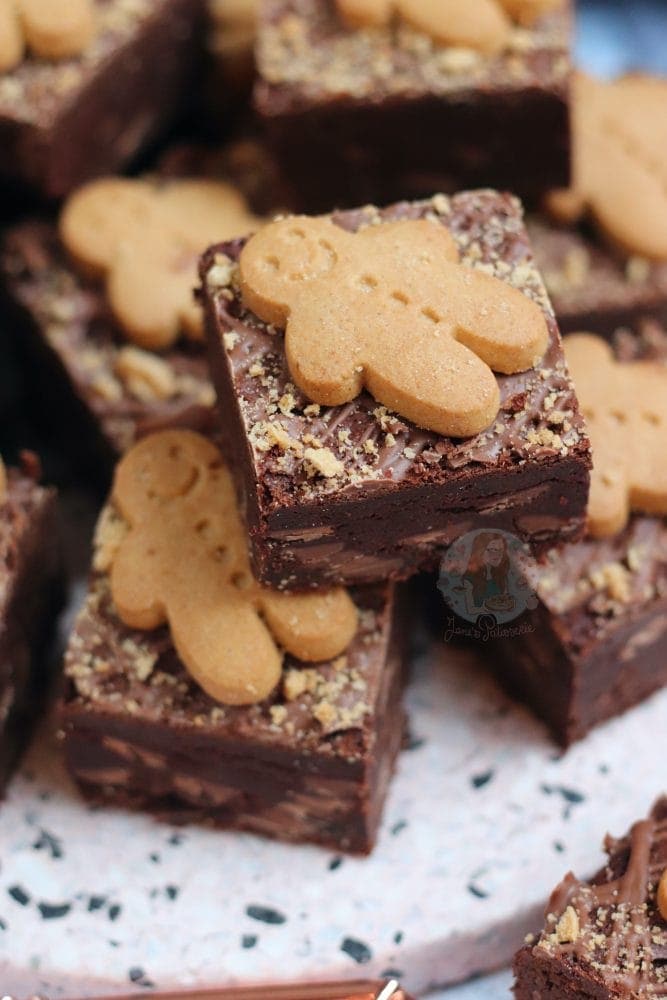 Gingerbread
Gingerbread can often be one of those things that people aren't a fan of because of the spiciness… it can be a little too much sometimes…but I have grown to love it.
When I was younger, I wasn't a massive fan of it all, or I preferred a much tamer version with a lot less spice. Now when I bake anything gingerbread themed it's got a whole lot more inside it, and so much more taste!
Gingerbread recipes
My gingerbread millionaires shortbread for example looks quite tame, but the shortbread is packed with flavour, bringing it to a whole new level! Gingerbread Men are delicious on their own, but with the added treacle and such like, they are so different again themselves!
I wanted to create some brownies that were super chocolatey, gooey and delicious.. but had that distinct flavour. I didn't want to mess with my favourite brownie recipe at all, so followed the same idea but just changed some bits ever so slightly.
Sugar
When I am making a flavoured brownie such as these, or my biscoff brownies, I like using light brown sugar. It works in the exact same way, but it enhances the flavour of the brownies. If making classic flavours though, I stick to caster sugar.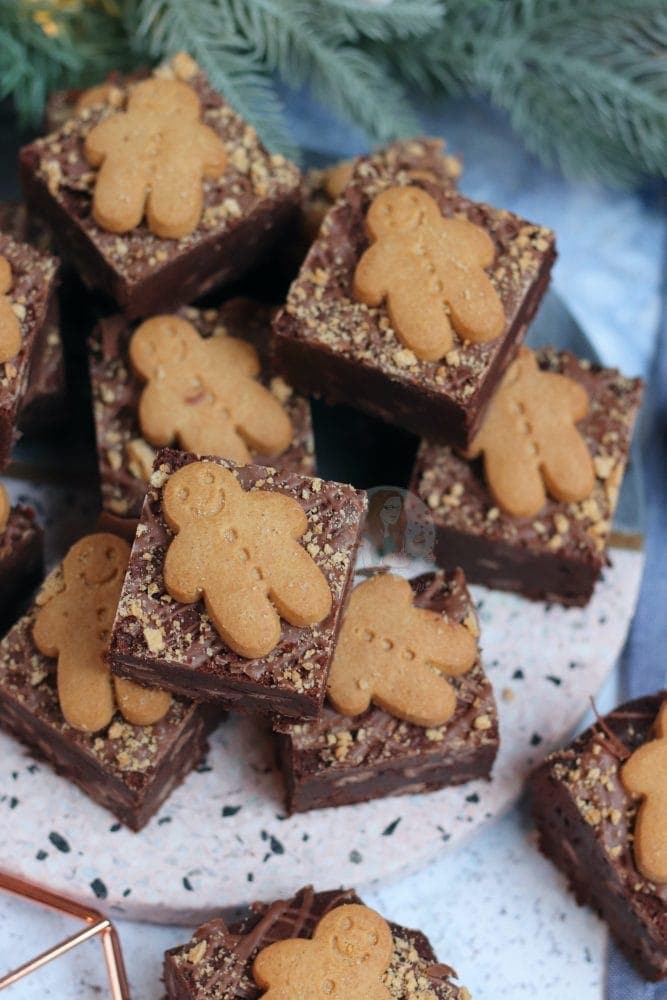 Brownies
The brownie itself is very easy to make – and explained much better in my triple chocolate brownies post (part of the back to basics series) and it's so easy!
Some people can struggle when baking brownies, but as long as you stick to the recipe (such as using dark chocolate, not milk), and you whip the mixture up enough, and fold it carefully, there is no reason your brownies won't work!
Sometimes ovens can cause a problem with brownies – but they can cause issues with a lot of bakes. When I rented my first house, the oven was out by nearly 50ºC which is INSANE. I had to buy a new oven because it was so bad and the landlord wouldn't!
Decoration
As always, the decoration on the top of my brownies is completely optional – I just wanted to make sure they looked gingerbread themed. It makes the bake 'sell' a lot easier as a recipe, when people know what it is in the photo!
I used shop-bought mini gingerbread men for the decoration, but you can make your own, or use whatever else you fancy instead! The possibilities are endless – and I hope you enjoy them! x
Gingerbread Brownies!
Gooey chocolate gingerbread brownies with chocolate chips, a spiced brownie batter, and gingerbread men on top! 
Print
Pin
Rate
Ingredients
200

g

unsalted butter

200

g

dark chocolate

3

large

eggs

(or 4 medium)

275

g

light brown sugar

90

g

plain flour

35

g

cocoa powder

3

tsp

ground ginger

2

tsp

ground cinnamon

1

tsp

nutmeg

250

g

chocolate chips

(I used Milk)
Optional Decoration
75

g

melted chocolate

Gingerbread men

Gingerbread crumbs
Instructions
Preheat your oven to 180C/160C Fan, and line a 9x9" square tin with parchment paper!

Add your butter and dark chocolate to a bowl, and melt until smooth - I use the microwave on 30 second bursts. Alternatively, add them to a pan and melt till smooth. Leave to cool.

Add your eggs and sugar to a large bowl, I use my stand mixer, and whisk for a few minutes until the mixture has doubled in size, is alot paler, and leave a trail for a few seconds when you lift the whisk out of it. It needs to be a thick mousse!

Carefully fold in your cooled chocolate mix, and then carefully fold in the flour, cocoa powder, and spices.

Once everything is folded in - add in your chocolate chips, and fold again.

Pour the mixture into the tin, and bake in the oven for 25-30+ minutes until baked through. Sometimes it can take a bit longer.

Once baked, leave to cool in the tin.

Once cooled, I drizzle on my melted chocolate, and add a mini gingerbread man for each slice, and some gingerbread crumbs!
Notes
These brownies are based on my triple chocolate brownies!
These will last for 5-7 days usually! 
I store these at room temperature so that they don't dry out!
The decoration is completely optional. 
Some brownies can take longer to bake in some ovens as mentioned in the post - if they are extremely under-done at 30 minutes though, you probably over mixed the mixture. 
ENJOY!
Find my other Recipes on my Recipes Page!
You can find me on:
Instagram
Facebook
Pinterest
Twitter
Youtube
J x
© Jane's Patisserie. All images & content are copyright protected. Do not use my images without prior permission. If you want to republish this recipe, please re-write the recipe in your own words and credit me, or link back to this post for the recipe.