December 4, 2019
Chocolate Box Cookie Bars!
*This post may contain affiliate links. Please see my disclosure for more details!*
Easy and delicious chocolate box cookie bars – your favourite chocolates, in cookie traybake form!
Leftover chocolates
Right.. roll with me here. Leftover chocolates DO EXIST. No doubt when I post this recipe, I will get comments saying "leftover chocolates?! what are they?!" as everyone thinks they are being funny… but in all honesty, nearly every house will have them.
Over a period like christmas, and easy and common gift is a box of chocolates. And if you are like me, and you get given a whole lot of chocolates such as Celebrations, Heroes, Roses and so on… you will have far too many to eat.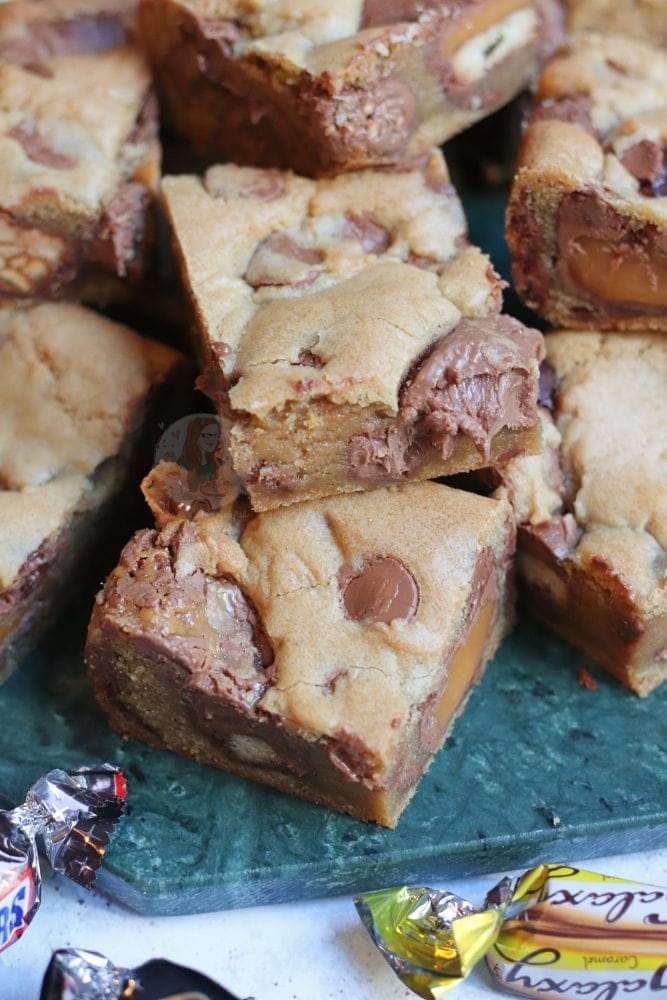 It's not so bad for a big family, and a family that don't receive too many chocolates… but I always get given loads. Whether they are gifted from companies because of my blog, presents from friends or family, or me buying another box as I was 'spontaneous'.. I have too many.
Chocolate box cookie bars
When you have over SEVEN tubs of chocolates, it's just too many. Therefore, the easiest thing to do is to shove them all in a bake! Whether its a no-bake treat such as rocky road, or something like this.. it's a much easier way of using them up, and being able to give them away!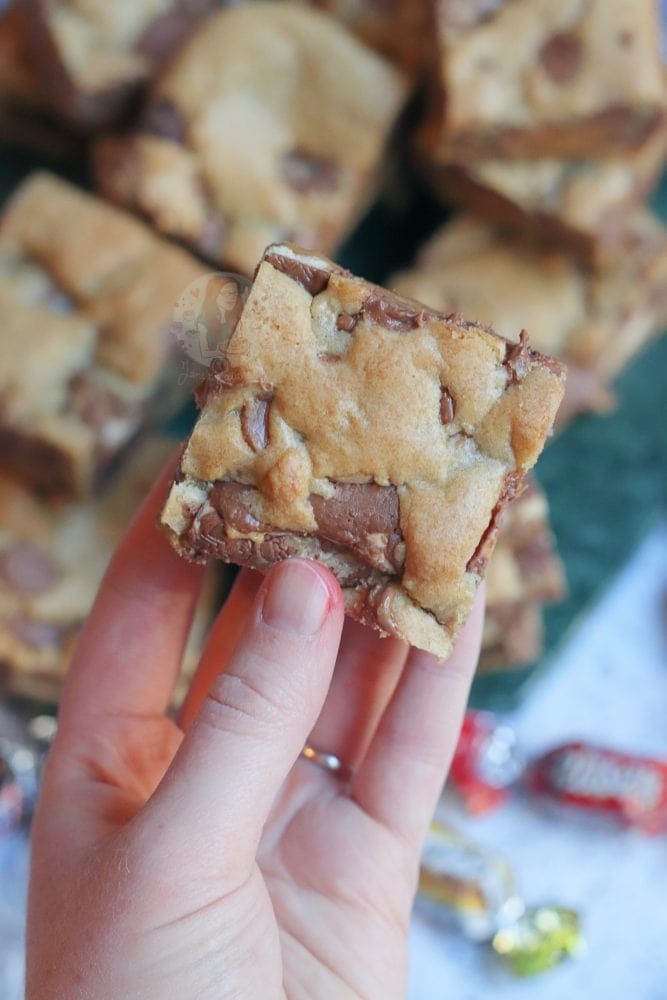 I love putting chocolates into a bake as I often prefer them that way – I don't often eat chocolates on their own as I have so much sweetness in my life already, and I feel like giving away a box of chocolates you got given yourself is a bit odd…
Recipe
For these, I used my regular and favourite cookie bar recipe that you can find in my other ones, such as my oh-so-popular mini egg cookie bars for example. You just take out the chocolates featured in that recipe, such as the Mini Eggs, and replace it with chocolates!
Cookie dough
If you fancied making this, but making it a chocolate cookie dough… take out 30g of the flour, and 1/2tbsp of cornflour, and add in 30g of cocoa powder instead! Both ways are utterly delicious!
Cornflour
Cookie bars as I will say again and again are delightful. The cornflour IS IMPORTANT TO THE BAKE. It changes the texture, changes the bake, and improves them tenfold. This is why cornflour is in a lot of my cookie recipes, so please don't leave it out!
Tips and tricks!
The good thing about this, is you can use all of the chocolates in the box, use up the ones you don't like if you are giving the cookie bars away, or use the ones you do like but if you fancy something a bit different!
This recipe is also great to use after christmas when you are a little fed up with all the food, as you can make the cookie bars and freeze them! You can defrost some when you fancy a cookie! Or, you can make up the cookie dough, and bake them as you please!
You can see from the photos that they are a tasty bake, with all the different chocolates poking through! If you use a lot of chocolates that have a runny centre such as Quality Street caramels, I would recommend freezing them before baking, but if you are using a large combination such as I have, I generally don't bother!
These really are such an adaptable and utterly SCRUMPTIOUS bake – They are a great bake for all sorts of occasions, and also a great way to use up all that ~leftover~ chocolate that DOES ACTUALLY EXIST!!! Enjoy! x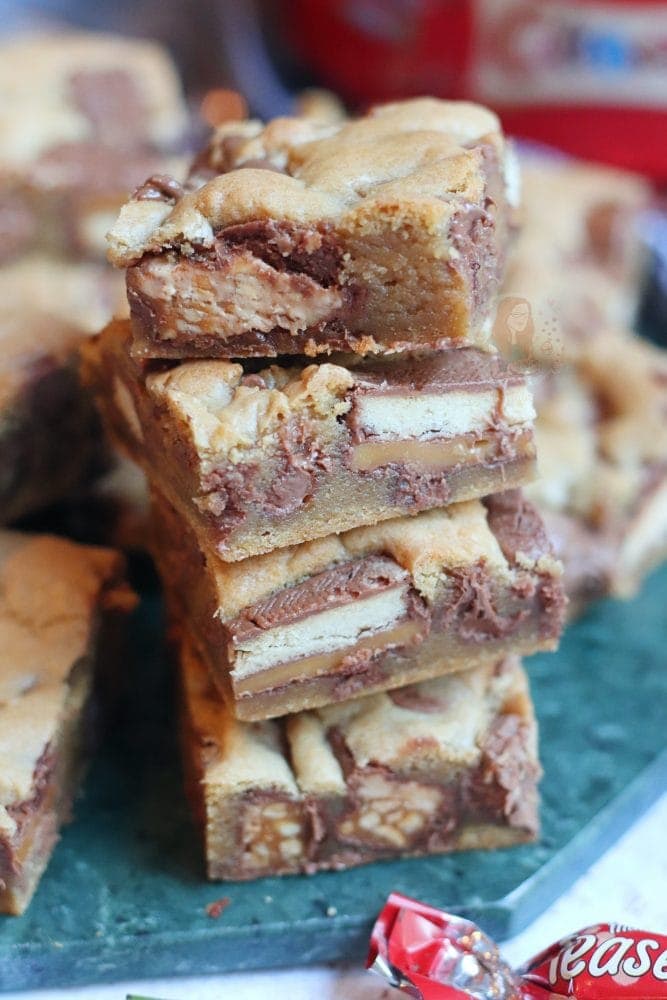 Chocolate Box Cookie Bars!
Easy and delicious chocolate box cookie bars - your favourite chocolates, in cookie traybake form!
Print
Pin
Rate
Ingredients
275

g

plain flour

1

tsp

bicarbonate of soda

1/2

tsp

sea salt

optional!

1

tbsp

cornflour

115

g

unsalted butter

55

g

granulated sugar

135

g

light brown sugar

1

medium

egg

1

tsp

vanilla extract

100

g

milk chocolate chips

300-400

g

chocolate box chocolates

(I used Celebrations!)
Instructions
Preheat your oven to 190C/170C Fan and line a 9x9inch square tin with parchment paper, and leave to the side for now.

Whisk/Mix the plain flour, bicarbonate, salt (if you are using) and cornflour together so its evenly distributed – leave to the side.

In a larger bowl, melt the butter. Add in the two sugars, and whisk for about 2 minutes so the sugar starts to dissolve and the mixture is smooth.

Add in the egg and the vanilla, and whisk again briefly until smooth. (I used an electric whisk)

Add in the dry ingredients and the chocolate chips and mix with a spatula until a thick cookie dough is formed.

Finally, add in the chocolates! I don't chop mine up. Fold through the mixture as best you can!

Press the mixture into the bottom of the tin and bake the traybake in the oven for 18-22 minutes, until the top of the cookie bake looks 'dry'!

Leave the cookie bake to cool for about 10 minutes, then leave to cool fully on a wire rack. Cut the bake into 4×4 for decent sizes, or 5×5 for smaller ones! Enjoy!
Notes
I used Celebrations as I bought SO many. I used all of them, as I'm not fussy when it comes to Celebrations.. but use your favourites if they're for you! Or even use up the ones you don't like and give them away!
You can easily use others such as Heroes, Roses, Quality street and so on - however, if you are using a lot of soft centre ones, I would recommend freezing them first. 
These delicious beings will last in an airtight container for up to 5 days, but honestly, they'll be eaten before then.
Try microwaving them when they've cooled if you want a gooey cookie, or even add a scoop of ice cream!
ENJOY!
Find my other Recipes on my Recipes Page!
You can find me on:
Instagram
Facebook
Pinterest
Twitter
Youtube
J x
© Jane's Patisserie. All images & content are copyright protected. Do not use my images without prior permission. If you want to republish this recipe, please re-write the recipe in your own words and credit me, or link back to this post for the recipe.