February 12, 2020
Funfetti Cookies!
*This post may contain affiliate links. Please see my disclosure for more details!*
Sweet, Delicious and Easy to Bake Funfetti Cookies Studded with White Chocolate Chips!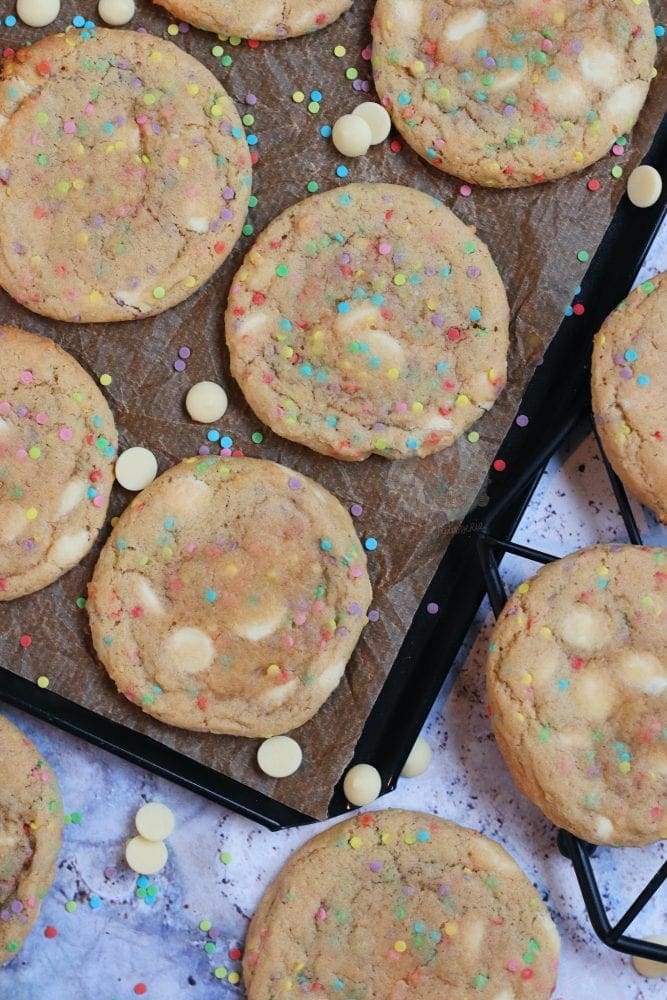 Oh hey Funfetti, it's been a while. Well, not that long really.. 7 months in total. To be honest, the fact that I am posting this recipe is a miracle because you all kept selling out the sprinkles from the last recipe!
So. Funfetti. Funfetti is typically a vanilla sponge cake, with rainbow coloured sprinkles dotted throughout! It's sweet, it's fun, and delicious. I love a good Funfetti related bake, but in the UK?! Our sprinkles SUCK.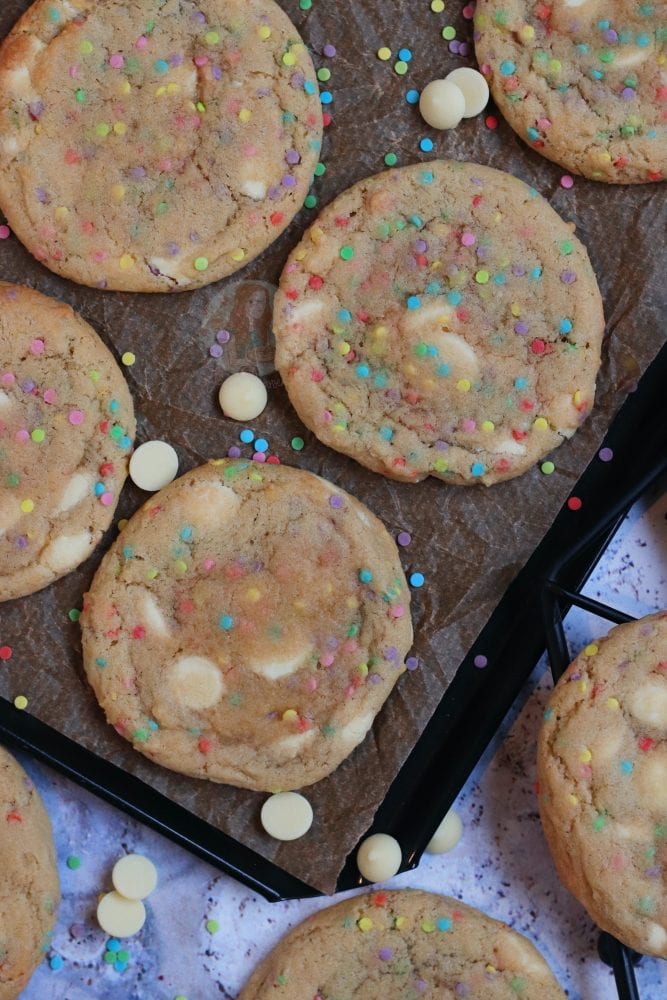 The problem we have over here in the UK, is that a lot of sprinkles just don't have the same colourings or additives to make the sprinkles bright enough to bake with – a lot of the colours used in the sprinkles in America are in fact banned over here, because there are just TOO many additives!
Therefore, because this is for my Funfetti Cookie Recipe, you still need some gorgeous sprinkles that I whole heartedly recommend, but as they're not baked for nearly as long as a Funfetti Cake is, it makes it a tad easier!
So, the sprinkles that I use for these Funfetti recipes? These glorious Funfetti Sprinkles from Iced Jems. These are the only ones I have tried so far… that work! You can try any supermarket ones, and they will either just disappear completely into the bake, or just turn green.
I realise that buying some sprinkles online just for a cake seems a bit OTT, but if you want a good funfetti related bake, and you're in the UK like me and don't have access to be best sprinkles ever, then it is SO worth it!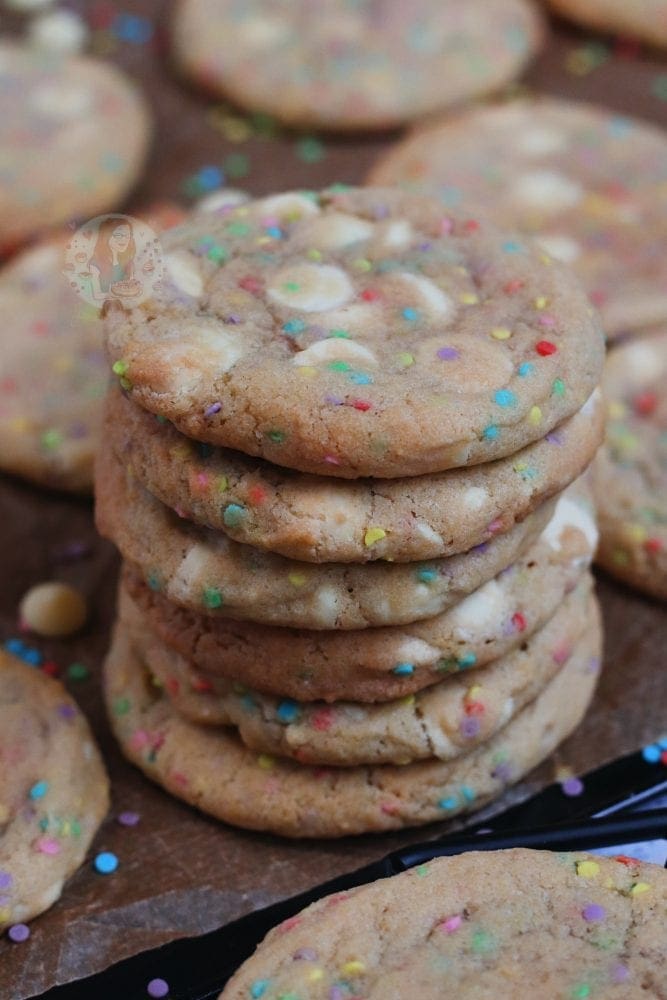 The amazing thing is, due to the popularity of her beautiful sprinkles, she now also offers a larger bulk size pack which is 100% worth it if you are into baking like I am! You can use these sprinkles as decoration, or in the bake like in these!
For the actual cookies, I've used the same recipe as I always do, because I absolutely adore it. My White Chocolate & Raspberry Cookies, my Rolo Cookies and so on. All have slight variations of course, but the basis is the same!
I decided White Chocolate Chips would work the best for these, along with a 'vanilla' cookie dough, so that you could really see the colours coming through. You can of course do whatever you fancy, but I wanted these to have little rainbow spots of colour and I am OBSESSED.
Yes, you may worry about the e-numbers or amount of sugar in these – but proportionally the amount of sugar per cookie is normal for a cookie. They just look exciting, delicious and fun for everyone. I hope you love these cookies as much as I do! Enjoy! X
Funfetti Cookies!
Sweet, Delicious and Easy to Bake Funfetti Cookies Studded with White Chocolate Chips! 
Print
Pin
Rate
Ingredients
300

g

Plain Flour

1/2

tsp

Bicarbonate of Soda

1/2

tsp

Salt

1

tbsp

Cornflour

115

g

Unsalted Butter/Stork

100

g

Light Brown Sugar

100

g

Granulated Sugar

1

medium

Egg

1

tsp

Vanilla Extract

250

g

White Chocolate Chips

75

g

Funfetti Sprinkles
Instructions
Preheat the oven to 180C/160C Fan and line two/three large baking trays with parchment paper, leave to the side.

Whisk the Plain Flour, Bicarbonate of Soda, Salt, and Cornflour together in a bowl and leave to the side.

Melt your butter carefully, and then add to a bowl. Add in the Sugars, and whisk the mixture together for two minutes. (I used my electric whisk, if whisking by hand, whisk for 3 minutes)

Add in the Vanilla and Egg and whisk again till combined.

Add in the flour mixture and beat till everything is evenly distributed and a cookie dough is formed.

Add in the White Chocolate Chips and the Funfetti Sprinkles and beat until distributed well!

Scoop the cookie dough using a cookie scoop for even portions, then roll into balls. Bake in the oven for 10-13 minutes.

Leave the cookies to cool on the trays for 5 minutes, then transfer to a rack to cool completely! Enjoy!
Notes
These cookies can last for 4-5+ days easily, but they rarely do in my house!
I used white chocolate callebaut chips to make these - but any white chocolate will do!
10 Minutes of baking = Soft Cookies
12 Minutes of Baking = Crunchy and Gooey
14 Minutes of Baking = Crunchy
ENJOY!
Find my other Recipes on my Recipes Page!
You can find me on:
Instagram
Facebook
Pinterest
Twitter
Youtube
J x
© Jane's Patisserie. All images & content are copyright protected. Do not use my images without prior permission. If you want to republish this recipe, please re-write the recipe in your own words and credit me, or link back to this post for the recipe.