April 4, 2020
Salted Caramel Easter Tart!
*This post may contain affiliate links. Please see my disclosure for more details!*
An Easy No-Bake Salted Caramel Easter Tart with a Biscuit Base, Salted Caramel Filling, Chocolate Ganache, and all the Easter Treats!
So say hello to your new obsession… this recipe is glorious. My No-Bake Salted Caramel Easter Tart. Honestly, I am genuinely obsessed with it. It's luscious, indulgent, and heavenly!
I have been toing and froing between sharing this recipe on the day it's published, or at the beginning of my Easter Bakes. I decided more towards Easter, in-fact the week before, because it's just so quick and easy to make!
This beautiful non-bake is definitely something that most people will love – if you don't like salted caramel, just use regular caramel. If you don't like dark chocolate, just use milk! It's definitely versatile enough, but using just milk will make it set softer, so you need about 150g more chocolate.
I decided for this I basically wanted to morph my Salted Caramel Chocolate Tart, and my Billionaires Tart. It is more towards my Billionaires Tart, but just with a regular biscuit base rather than chocolate.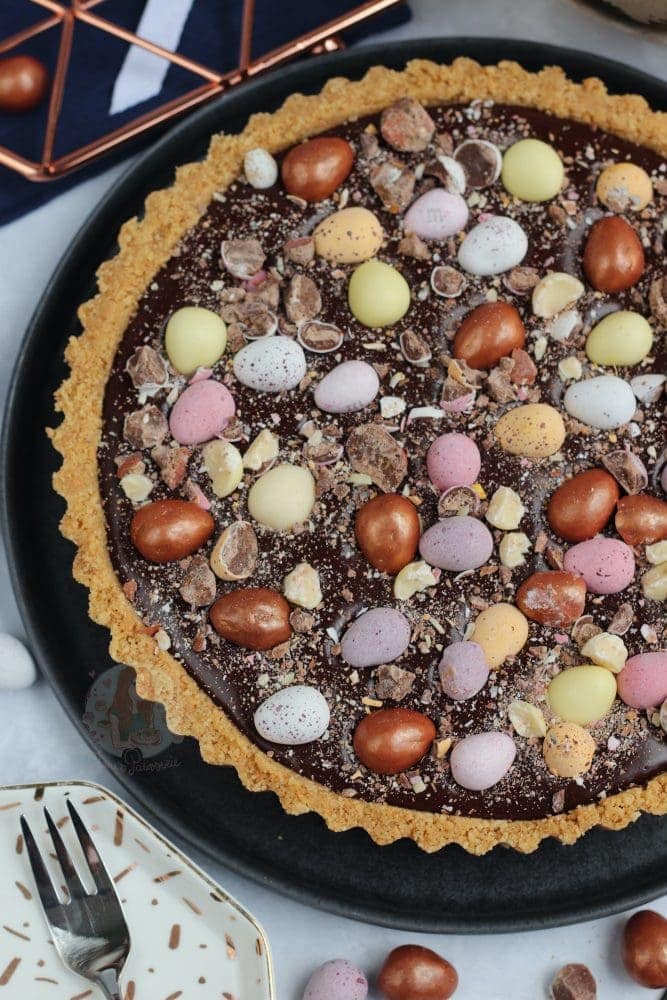 I love a chocolate biscuit base, don't get me wrong, but I didn't want the recipe to be the exact same with a different topping. I also love the contrast between a plain biscuit base, and the chocolatey filling! Along with the caramel it's perfecto.
For the ganache filling, I use a mix of dark chocolate and milk chocolate. I often do this with other no-bake chocolatey treats like my Malteser Tiffin, because I think it's the perfect balance. Not too bitter, not too sweet!
However, I understand that some people will think dark chocolate isn't for them, and others will worry that milk chocolate is too sweet! With this no-bake luckily though, you can use all dark, or all milk if you prefer! Luckily it's a different type of ganache, with different ratios than you would use for truffles – plus the butter! For example, when using just milk chocolate, you need to use at least 150g more chocolate.
I tend to heat the cream till it's just before boiling point in a pan over the hob, and then pour over the chocolates and butter. You really need to make sure the chocolate is in small pieces, like a chocolate chip size, so that you don't have to mix it too much. It also makes sure that it melts properly!
For the salted caramel – I used a batch of my Homemade Caramel Sauce – but you can easily use shop bought! I always recommend using sea salt flakes when salting caramel, as it often tastes better, and it means you're far less likely to add too much. I tend to use Maldon sea salt!
If you're using shop bought, you can use pretty much any that you can buy – tinned caramel, caramel in a jar and so on. Of course, if you don't want it, you can just leave the caramel out entirely! I know caramel isn't everyones thing. You can even use a different type of spread entirely too!
When it comes to the Easter Chocolates, you can use any you fancy. This particular time, I used a mix of Cadbury's Mini Eggs, Galaxy Eggs, Milkybar Eggs, and micro Eggs! I think a mixture is always lovely – but definitely just one type will do!
Now finally, when it comes to eating this bad boy… just enjoy it. Devour it. Love it. And remember – you should never ever feel guilty for enjoying a piece of pudding! xx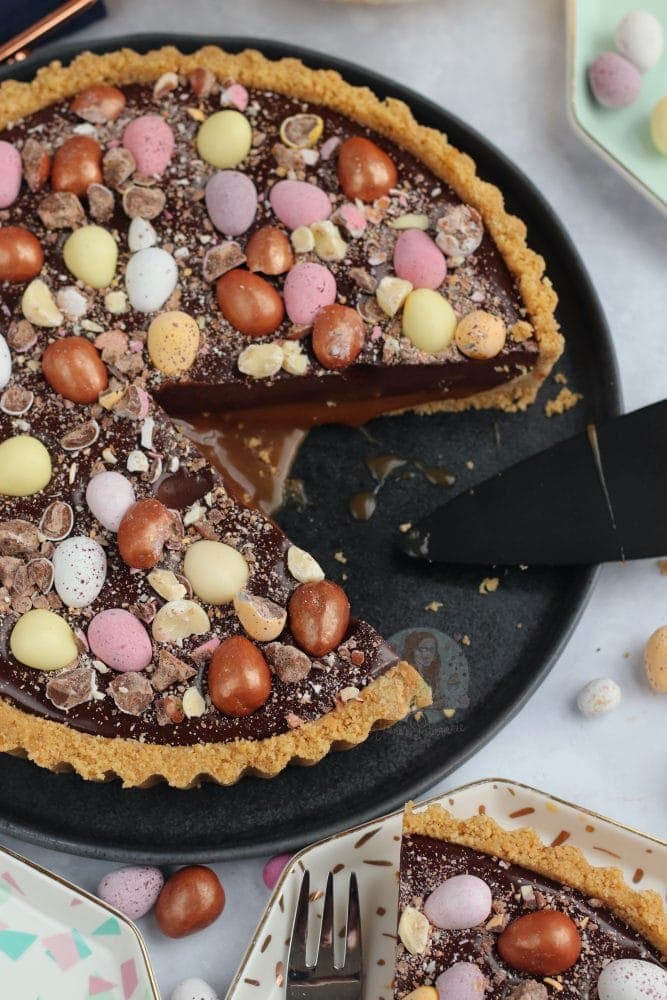 Salted Caramel Easter Tart!
An Easy No-Bake Salted Caramel Easter Tart with a Biscuit Base, Salted Caramel Filling, Chocolate Ganache, and all the Easter Treats!
Print
Pin
Rate
Ingredients
Biscuit Crust
300

g

Digestives/Shortbread

150

g

Unsalted Butter/Stork
Filling
250

g

Homemade Caramel

(Or shop bought)

Pinch

Sea Salt

300

ml

Double Cream

125

g

Dark Chocolate

125

g

Milk Chocolate

50

g

Unsalted Butter/Stork
Decoration
200

g

Easter Chocolates

(some crushed)
Instructions
For the Biscuit Crust!
Using a food processor, blitz all of the biscuits to a fine crumb and mix in the melted butter. Press this into the sides and base of a 23cm Pie/Flan tin (mine was 3cm deep). 

It might be easier to use your hands and fingers for this! Make sure that the side parts are thick enough to hold once removed. Refrigerate for now.
For the Filling!
Spread the caramel sauce onto the biscuit base. Sprinkle over some sea salt!

In a heatproof pan, add your double cream and heat till just boiling.

In a separate bowl, add your chocolate (chopped up) and butter, and pour on the hot cream. Whisk together till smooth!

If the Chocolate is still slightly not melted, heat for 10 second bursts in the microwave till combined well.

Pour the Chocolate Mixture onto the caramel and refrigerate for an hour.
For the Decoration!
After an hour of setting, add on your Easter Chocolates - some whole, some crushed - and set in the fridge for another hour! 
Notes
I used my homemade caramel sauce for the filling - but you can use any shopbought one such as Carnations Caramel, Dulce de Leche, or use anything similar. It just needs to be a thick Caramel type sauce/spread!
You can easily double up the recipe to make a bigger & deeper pie – add another half of the base recipe (I.e. use 450g biscuits, and 200g butter) and double the filling recipe! Use a 25cmx5cm deep tart tin!
This dessert will last in the fridge for 3 days, covered.
I used a mix of Milkybar Eggs, Cadbury's Mini Eggs, Micro Eggs and Galaxy Eggs! 
You can use all dark chocolate, or all milk if you prefer - I just prefer the balance of half and half!
Using just milk will make it set softer, so you need about 150g more chocolate at least!
ENJOY!
Find my other Recipes on my Recipes Page!
Instagram
Facebook
Pinterest
Twitter
Youtube
J x
© Jane's Patisserie. All images & content are copyright protected. Do not use my images without prior permission. If you want to republish this recipe, please re-write the recipe in your own words and credit me, or link back to this post for the recipe.