May 2, 2020
How to Make Cream Cheese Frosting – Back to Basics!
*This post may contain affiliate links. Please see my disclosure for more details!*
An easy 'how to' guide on how to make homemade cream cheese frosting! Another in my series of back to basics!
Cream cheese frosting
This is probably a first on my blog – a complete and utter how-to guide, on just a frosting. Not even a cake itself! Don't worry, I will be doing more classic 'Jane' style recipes, but things like cream cheese frosting need their own post.
Cream cheese frosting, in case you weren't aware, is a mixture of butter, sugar, and cream cheese. Occasionally, like with this one, some other bits will be added in… but those are the basics.
The reason I thought that cream cheese frosting needed its own post, is because it can be infuriatingly annoying to make, especially when you live in the UK. If you don't understand how on earth it could be a problem… just believe it's true.
Cream cheese forms
Cream cheese in America for example, comes in two forms. Spreadable, and a block. When Americans then make cream cheese frosting, they use the block form. It has a lot less water in it, it's a hell of a lot firmer, and it's perfect for the job.
When you live in the UK? We only have spreadable. Spreadable cream cheese is what we use for cheesecakes, so I can't be sad about it… but my god I wished we had a block version. Like so much.
So! When it comes to making cream cheese frosting in the UK… it's difficult. I have had a few recipes on my blog now, with slightly different methods on how to make it, and yeah… they will all be replaced with this version now.
Difficulties with cream cheese
The reason cream cheese frosting can be so difficult, is when the cream cheese is beaten on it's own, it gets runnier. It's not something that thickens up really. This isn't helped by the added water content that you can sometimes see, and sometimes not see inside it.
I tend to stick to using Philadelphia full fat original cream cheese, because I find it works best. The cream cheeses in Aldi and Lidl are also good.. but for example, other supermarket own cream cheeses have a lot more water just floating on the top.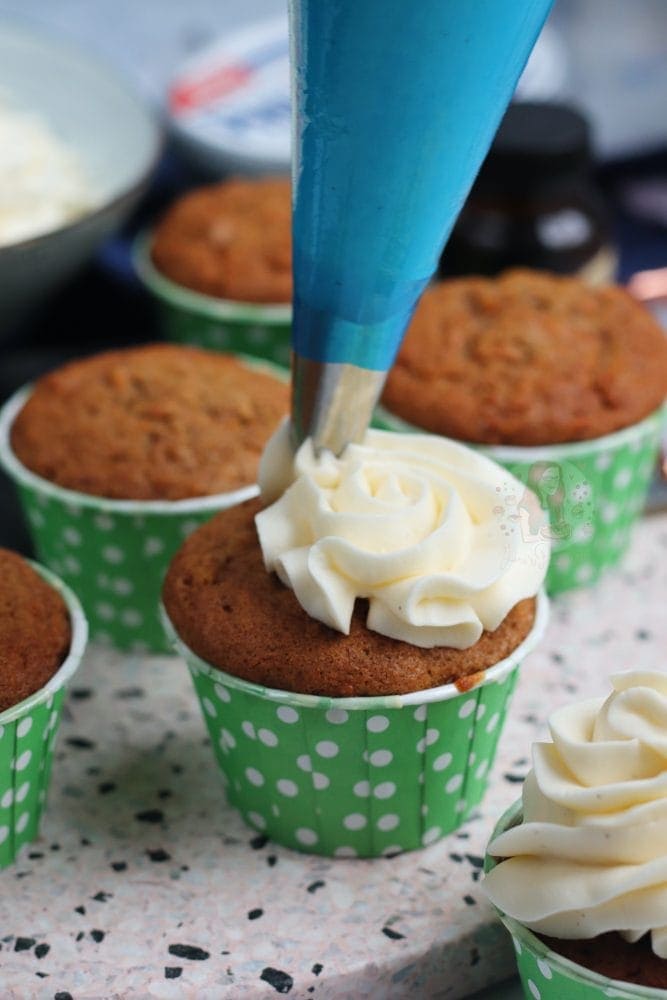 When you open up a tub, sometimes you can see a little water just sort of sitting there, but if you actually got your cream cheese, and squeezed it through a muslin cloth, a lot more can come out. This is the killer. However, if you use a good quality cream cheese, you don't HAVE to remove it. It's just something that could be good to do if you usually struggle with cream cheese frosting!
Butter
When it comes to the butter for cream cheese frosting, just like ANY OTHER FROSTING, you want to use actual real butter. The butter tubs you get too spread on your toast on the morning, is not real butter. The kind you want is wrapped in foil, and is absolutely solid when you get it out of the fridge.
You want to use real butter, as once that is cold again, it's much much firmer. It will help the cream cheese frosting so so much. The only thing though is you have to make sure it's at room temperature to make the frosting, otherwise it could go lumpy.
Icing sugar
For the icing sugar… you just need icing sugar. There isn't anything fancy here – I personally use Tate & Lyle at the moment because it's my personal favourite, but any will do. The vanilla is also optional, but I just love the little vanilla bean specks through the frosting!
Beating cream cheese
When it comes to making the cream cheese frosting – you have to find the happy medium between beating it enough, and not over beating. I was genuinely shocked and surprised that this worked SO WELL. You can see from the photos just how thick and lovely it is!
Add in the cream cheese, and vanilla, and using the beater (not the whisk), you beat the mixture together. I use colder cream cheese, not room temperature, and it can look a little funny at first. Beating them can make it seem like there are lumps, but just keep on beating. I beat mine for about two minutes, and suddenly the lumps disappeared and the frosting thickened up beautifully.
You want to beat your equal amounts of butter and icing sugar together until light and fluffy. For a typical American buttercream you would use double the icing sugar to butter, but this time you want equal. The amount you want is based on the amount of cream cheese you have. You want to keep on beating it until it's really lovely, before you go anywhere near adding the cream cheese!
Helpful quantities
Say you have 300g of cream cheese, you want half the amount for the butter and sugar. Therefore, you want 150g of Unsalted Butter, and 150g of Icing Sugar. If you have 250g of Cream cheese, you want 125g of butter and sugar. Make sense? I hope so!
Once the buttercream has been beaten for at least 3-4 minutes, and is light and fluffy and smooth, you add in the cream cheese. If there is a lot of water on the top, you want to get rid of that, but generally I don't squeeze it out.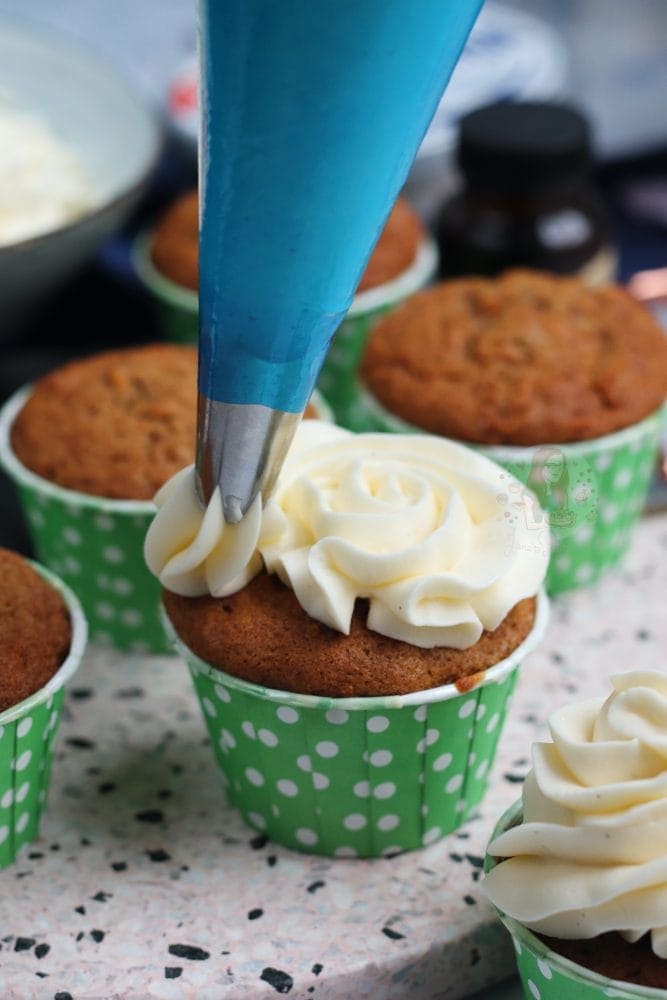 Top tips!
My past recipes, and lots of other recipes can sometimes suck – and now I realise why. The order of the ingredients was wrong, the ingredient quantities was wrong, and so on! Honestly, this cream cheese frosting is life changing.
I will say though, I will never call this foolproof. I don't believe any cream cheese frosting is foolproof – because sometimes it will go wrong. Too much water in the cream cheese, the wrong butter as people won't read my notes on using the correct butter, different mixers etc. However, it's damn close!
If you have any problems with the frosting – please comment below! Sometimes, as I have mentioned, it will still end up runny. There isn't much you can do about runny cream cheese frosting once it's got to that stage.
Adding more icing sugar won't help the situation – but you can probably still use the mix in something else! Make some cream cheese truffles, or use the mix in an ice cream or something – it definitely won't go to waste! Just try your best to use the correct ingredients, and try and use an electric mixer if you can! Happy cream cheese frosting making! x
How to Make Cream Cheese Frosting!
An Easy How-To Guide on How to Make Homemade Cream Cheese Frosting! 
Print
Pin
Rate
Ingredients
150

g

unsalted butter

(room temp)

150

g

icing sugar

300

g

full fat cream cheese

(I use philadelphia)

1

tsp

vanilla extract

(optional)
Instructions
Make sure your unsalted butter is at room temperature. I leave mine out overnight when it's cold weather, but in the hotter months this can take as little as 30 minutes!

Beat your butter on it's own for a few minutes to loosen it.

Add in the icing sugar, and beat again - I beat this for about 5 minutes, to make it really smooth.

Make sure your cream cheese doesn't have any excess water - I find it best to add it to a bowl first just to make sure.

Add in the cream cheese, and vanilla and beat. At first, it may look a little weird, but just keep on beating.

I end up beating it for a few minutes - it can go through a lumpy stage first, but eventually the lumps beat out and it's smooth and thick!

Once beaten - it should be lovely and thick. If it's not - read the blog post!

Store the cream cheese frosting in the fridge if you are not using it straight away!

This is enough to pipe onto 12 cupcakes, or for a 2 layer cake for filling on top and inside!
Notes
This is enough to pipe onto 12 cupcakes, or for a 2 layer cake for filling on top and inside!

If you want more, use the same ratios of half the amount of butter/sugar for the amount of cream cheese!
You can use any full fat cream cheese - but make sure to remove any excess water. I find some supermarket own ones can have more water than others. 
The vanilla is optional - but I love using Nielsen Massey Vanilla bean Paste to get the lovely vanilla flecks!
The cream cheese frosting lasts about 3 days in the fridge.
You can freeze the cream cheese frosting. 
Any questions - comment below!
ENJOY!
Find my other Recipes on my Recipes Page!
You can find me on:
Instagram
Facebook
Pinterest
Twitter
Youtube
J x
© Jane's Patisserie. All images & content are copyright protected. Do not use my images without prior permission. If you want to republish this recipe, please re-write the recipe in your own words and credit me, or link back to this post for the recipe.
294 Comments