June 5, 2021
Jammy Coconut Loaf Cake!
*This post may contain affiliate links. Please see my disclosure for more details!*
A simple coconut loaf cake sponge topped with raspberry jam and coconut – the best jammy coconut loaf cake!
Jammy coconut loaf cake
This is yet another insanely highly requested recipes, and it is FINALLY here! I honestly question why I didn't post this recipe sooner as it is such a classic bake and everyone adores it… so apologies that it took so long!
I have baked this recipe many times just for myself because I love the combination of raspberry jam and desiccated coconut, but I just never got round to posting the recipe for it! It's such a simple bake but so insanely good!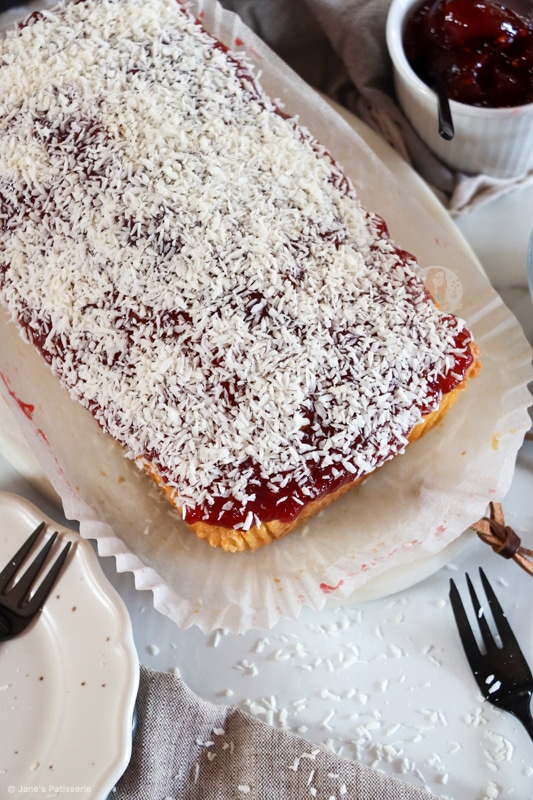 Loaf tin
I used the Tala 2lb loaf tin for this jammy coconut loaf cake, as always with my loaf cake, as I just love it. It's the perfect tin for loaf cakes, for bread, and even for ice creams! I utterly love it. It's heavenly. And.. bonus.. it can go in the dishwasher which is always good in my eyes!
I wasn't sure what form of cake bake to do for this because there are so many… cupcakes, round cakes, drip cakes, tray bakes etc… but I went for loaf cake. I still adore loaf cakes so so much and I knew this would go down well with it too!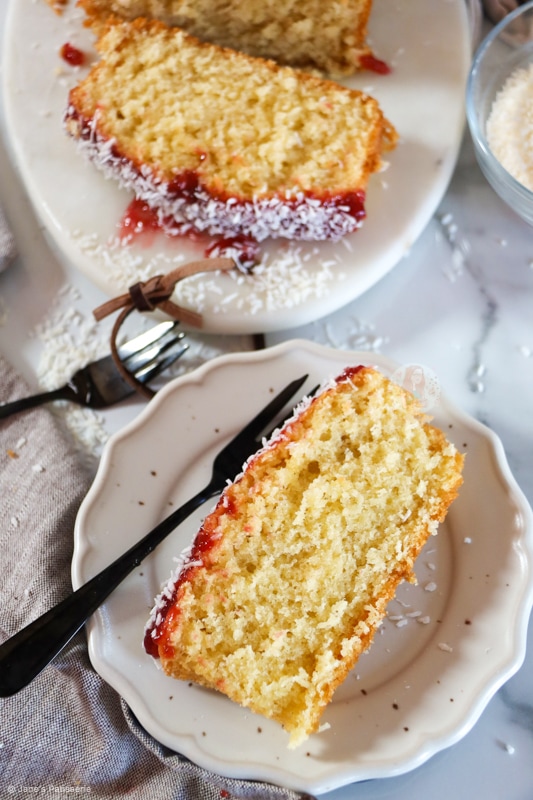 Sponge
The actual sponge for this jammy coconut loaf cake recipe is incredibly simple – for eggs (I nearly always use medium in my house), with self raising flour, baking spread/unsalted butter, and sugar. As this is meant to be a light cake, I used caster sugar for a lighter flavour!
When I am creating the base sponge mix, I weigh my 4 medium eggs in their shells to get a weight. Say its 211g, I then use 211g of self raising flour, baking spread, and caster sugar for the sponge – then, I add in the desiccated coconut and mix!
Coconut
The coconut for this comes from the desiccated coconut – sometimes it can be a bit of a weird one as it's so light, it doesn't sound like you are going to use enough – but you really do!
The desiccated coconut bulks out the cake ingredients perfectly. I use it in both sponge and topping however if you wanted a more subtle flavour of coconut, you can leave it off the top if you prefer.
Decoration
The good thing is with this bake is once the sponge has been baked and cooled… it's SO EASY TO DECORATE! Honestly all you have to do is top the cake with your chosen jam (like I said, I use raspberry), and then sprinkle on some desiccated coconut!
I didn't mind posting this jammy coconut loaf cake even though it's fairly similar to my coconut loaf cake, but as that post is so so old I thought this one would be good new! Serve this beauty as it is, or with some custard for the ultimate dream! If you have any questions about the recipe, then leave them below in the comments!! Enjoy! x
Jammy Coconut Loaf Cake!
A simple coconut loaf cake sponge topped with raspberry jam and coconut - the best jammy coconut loaf cake! 
Print
Pin
Rate
Ingredients
Cake
200

g

unsalted butter

200

g

caster sugar

200

g

self raising flour

4

medium

eggs

75

g

desiccated coconut
Decoration
200

g

raspberry jam

25

g

desiccated coconut
Instructions
For the Cake
Preheat the oven to 180ºC/160ºC Fan, and line your 2lb loaf tin with parchment paper!

Beat together the unsalted butter or baking spread and the caster sugar until light and fluffy.

Add in the self raising flour, eggs and desiccated coconut and beat again until smooth and combined.

Pour the mix into the tin, and bake the cake in the oven for 50-55+ minutes! Test the cake with a skewer (and also listen for a bubbling/crackling sound as this noise means its not finished baking)

Leave the cake to cool in the tin.
For the Decoration
Once the cake has cooled fully, carefully spread the jam on the top of the cake.

Sprinkle on the desiccated coconut and enjoy!
Notes
I recommend using this 2lb loaf tin! 
Use a cake skewer to see if it's done - it should come out clean. Also listen to the cake for a bubbling/crackling sound as this sound means its not finished baking and needs a bit longer! 
Loaf cakes can sometimes take slightly longer to bake in some ovens (if the oven temp is off) as they act similarly to bundt cakes!
You can use any flavour jam you like!
This cake lasts 4-5+ days at room temp! 
ENJOY!
Find my other Recipes on my Recipes Page!
You can find me on:
Instagram
Facebook
Pinterest
Twitter
Youtube
J x
© Jane's Patisserie. All images & content are copyright protected. Do not use my images without prior permission. If you want to republish this recipe, please re-write the recipe in your own words and credit me, or link back to this post for the recipe.