June 19, 2021
Rainbow Cake!
*This post may contain affiliate links. Please see my disclosure for more details!*
A delicious and bright rainbow cake with vanilla buttercream frosting, a pink drip and sprinkles!
Rainbow cake
Oh hellooo most requested recipe OF ALL TIME. I am not even joking, this recipe has been requested over and over again and I am ~finally~ posting it on to my blog! It's taken a fair old time as I wanted to get it right!
I love all things cake, we all know this, but a rainbow cake is something else. The absolutely insanely bright colours, the sweet taste, and all things cute take it to a different level entirely! It is just glorious.
Disclaimer
So… I will say from the beginning that this recipe uses lots and lots of ingredients, and it is a humongous cake! Like, its 6 layers of cake, and all the buttercream in-between the layers, and all the decor on top!
And I will also say from the beginning… YES I KNOW THE RAINBOW HAS SEVEN COLOURS. This cake, is only six. When baking this cake, I just find making 6 colours so much easier, and you can see the obvious differences. I am not bothered about the seventh!
Red, orange, yellow, green, blue and purple… the main colours you need in your life. I did slightly compensate for the lack of seven colours by adding in a pink drip on the outside but we will get to that later.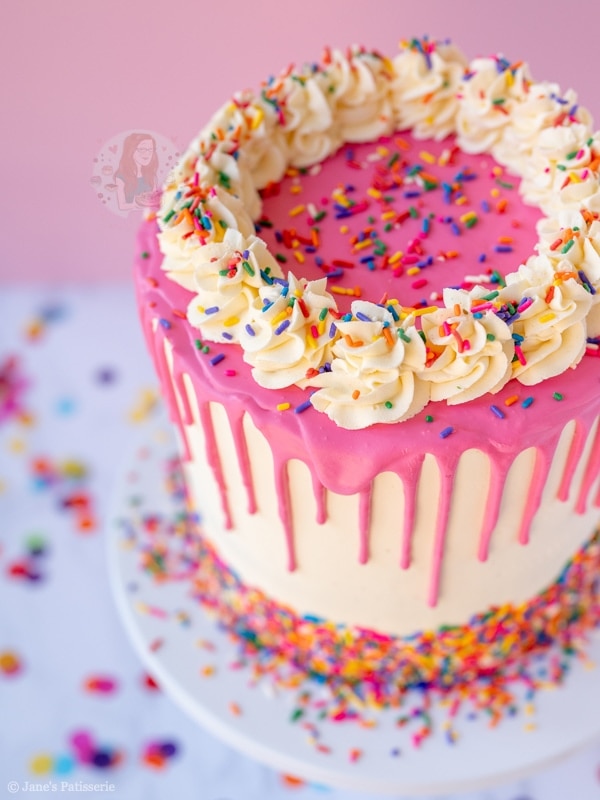 Sponge
For this cake, I did make probably the biggest one tier cake ever. It's about 8-9" in height, and uses so many ingredients. Because it is a six layer cake I decided to make it in two batches. So three layers at a time, so therefore you still only need three tins!
I made the cake a 600g mix, so that it's super easy to split into two batches. The best way is to weigh 5-6 medium eggs, and get as close to 300g as you can, for example 312g, and then match the butter, sugar and flour to that weight.
Colour
Then, you mix it all together like normal, and then split into three bowls. It doesn't matter which colours you do first, but I did red, orange, and yellow together, and then green, blue and purple.
The oven temperature is a bit lower than normal, as I don't want the sponges to brown too much. This also comes somewhat from the brands of colours that you use! Red food colouring, orange food colouring, yellow food colouring, green food colouring, blue food colouring and purple food colouring. for the sponge mixtures!
Buttercream
Once my sponges are baked, I leave them to cool completely and freeze them wrapped in clingfilm over night so that they are easier to decorate the next day – but this bit is completely optional of course!!
For the buttercream, you do use 750g unsalted butter and 1500g icing sugar, which technically is a little obscene but the amount of servings from this cake is huge so please don't be a negative Nelly about the sugar content!
I make my buttercream like normal by beating room temperature unsalted butter on its own for several minutes to make it really loose and supple, and then I gradually add in the icing sugar! I make sure to beat this for quite a long time.
White food colouring
You can do several methods to get whiter buttercream, by beating the butter on its own for a lot longer, or using a smidge of purple buttercream to counter act the yellow, but I love using this white food colouring! It looks amazing on my white chocolate drip cake and I haven't looked back since.
I add a little at a time and keep beating it very well to make sure its really white and bright to contrast against the colours of the sponge! Making the buttercream whiter is completely optional of course though.
Decoration
When I am starting to decorate the cake, I dollop a few tablespoons of buttercream onto each sponge and smooth over, making sure to get the order of the colours in the sponges correct of course…!
Once you have layered each sponge you need to do a crumb coat by using as little buttercream as possible around the edges to seal in the spare crumbs from the sponges! I then chill the cake for a while to firm it up before adding another layer of buttercream on top.
I use a large metal scraper to decorate the sides of the cake, and a small angled spatula to also help cover the sponges – and its much easier and you are going to get a smoother finish using these as well!
Sprinkles and drip
Just as I have finished the buttercream I carefully press in some rainbow sprinkles to the bottom of the cake for a bit of colour and I just love the design – be warned, sprinkles will fall off at this point so beware! After this, I chill the cake again!
For the pink drip, I use white chocolate ganache with this pink food colouring added in. Its a super bright colour so you don't need add too much and it means you get the best coloured drip ever!
Finishing touches and tips
I then pipe on the leftover buttercream and add on some more rainbow sprinkles and the best cake ever is finished! I am in love with the sponges and how bright and pretty it is – but the key point to make, YOU NEED TO USE GOOD QUALITY COLOURS.
Using supermarket colourings, will NOT work as well, or maybe at all… so please don't waste ingredients by doing this! The colourings are 100% worth the investment as they last for so long! Any questions, leave them below in the comments and happy baking! x
Rainbow Cake!
A delicious and bright rainbow cake with vanilla buttercream frosting, a pink drip and sprinkles! 
Print
Pin
Rate
Ingredients
Cake
600

g

eggs

(weigh eggs in shell) (about 10-12 medium eggs)

600*

g

unsalted butter

600*

g

caster sugar

600*

g

self raising flour

1/2

tsp

red, orange, yellow, green, blue, purple food cololuring
Buttercream
750

g

unsalted butter

(room temp, not stork)

1500

g

icing sugar

1

tsp

vanilla extract

1-2

tsp

white food colouring
Decoration
180

g

white chocolate

75

ml

double cream

1/2

tsp

pink food colouring

Rainbow sprinkles
Instructions
Notes
This cake lasts 4-5+ days once made!
The colours that you use and what order are up to you, this recipe is just how I did it! You can swap up the order or whatever you prefer!
You should avoid supermarket colours as they are not strong enough. 
In this recipe use:
ENJOY!
Find my other Recipes on my Recipes Page!
You can find me on:
Instagram
Facebook
Pinterest
Twitter
Youtube
J x
© Jane's Patisserie. All images & content are copyright protected. Do not use my images without prior permission. If you want to republish this recipe, please re-write the recipe in your own words and credit me, or link back to this post for the recipe.