September 18, 2021
Toblerone NYC Cookies!
*This post may contain affiliate links. Please see my disclosure for more details!*
Easy delicious and chocolatey Toblerone NYC cookies – with a chocolate cookie dough base, chunks of chopped Toblerone, and even more goodness.
Toblerone NYC cookies
Can we just take a moment to realise… Toblerone NYC cookies. That's all we need to say to be honest because oh my gosh these are just insane. Toblerone chunks and chocolate cookie dough make the most amazing combination ever!
We all know that NYC-style cookies are probably my favourite bake ever now… and they are maybe even overtaking cheesecakes in what I like to bake the most of. I just can't help it – if you haven't tried these yet, you are missing out!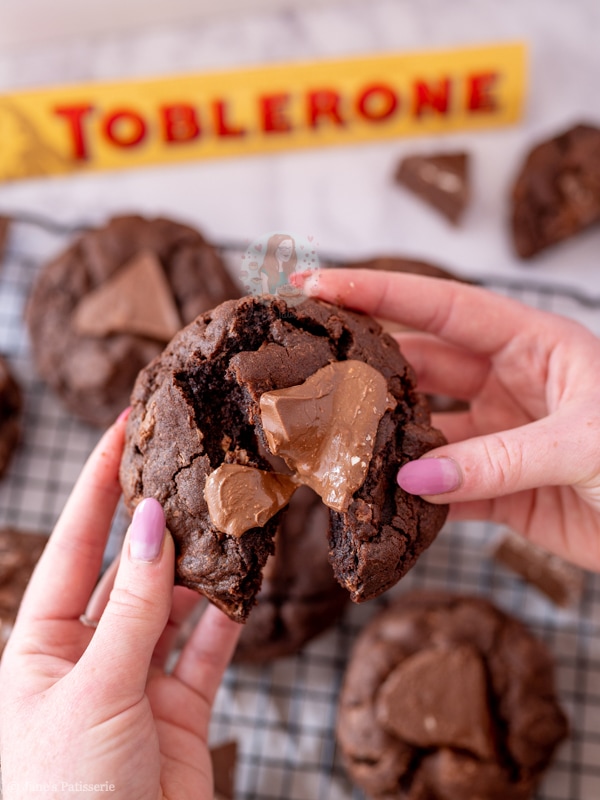 NYC cookies
My original NYC chocolate chip cookies are out of this world insane if I can say so myself. They are quickly becoming the most popular recipe on my blog ever, I have made them live on TV on This Morning, and they are a book favourite.
Some people may say 'what's the difference between an NYC cookie, and a normal cookie' and the answer is…. They are giant, they are chunky, they are slightly softer and gooey in the middle, and they are insane.
Smaller cookies
If I were to describe a normal cookie, I would say smaller, crunchy, and thinner. There is nothing wrong with a classic cookie – I still absolutely adore them! However, New York style is just another level of delicious in comparison.
I always explain on my NYC Cookie recipes that you can make them smaller – 60g, and bake for 8-9 minutes – but this just makes them a cookie in my opinion. They are still utterly delicious, and you can definitely do that – but they aren't new york style anymore.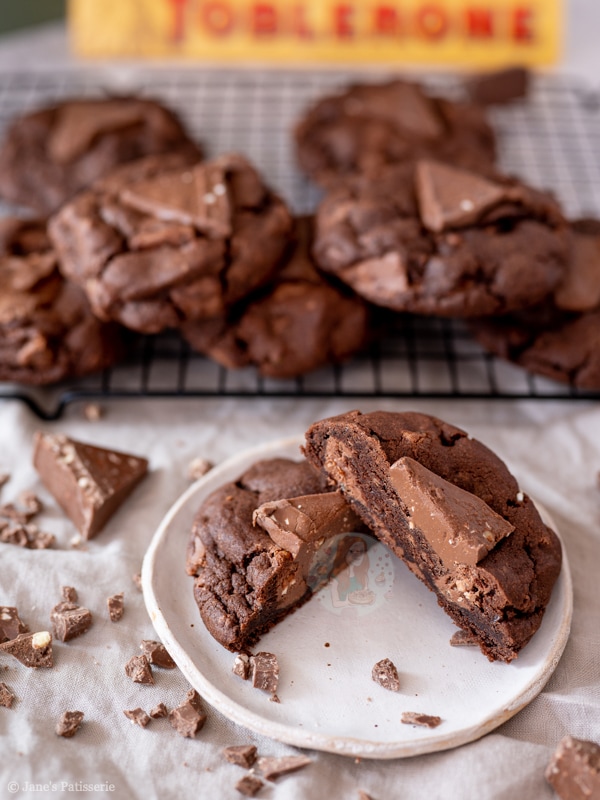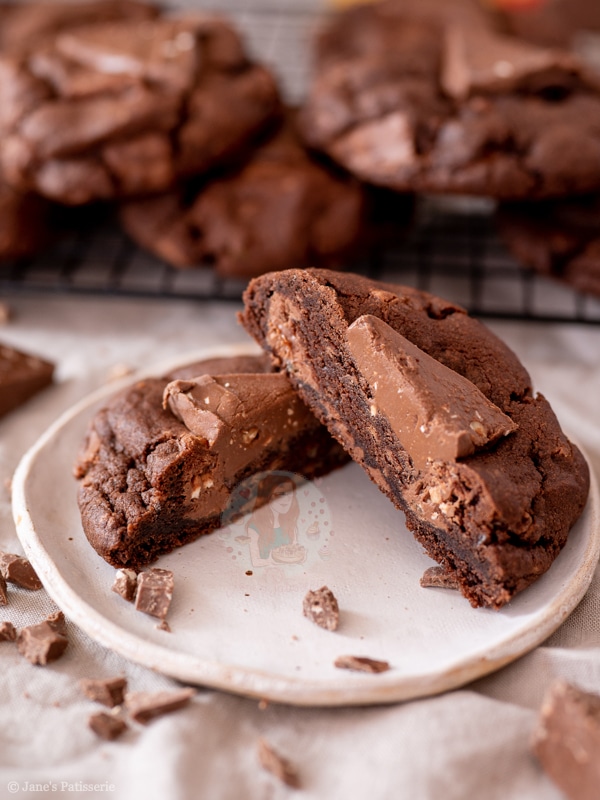 Chocolate cookie dough
For this Toblerone NYC cookies recipe, I decided to stay similar to my NYC chocolate orange cookie recipe and have a chocolate based cookie dough because it just seems right for Toblerone – you can of course make the dough 'plain' by using 300g plain flour, and no cocoa powder.
I used my classic mix of plain flour and baking powder (along with the bicarbonate of soda) to make the cookie dough – if you don't have plain flour though, you can use self-raising flour and then remove the baking powder.
Toblerone
I used classic milk Toblerone, but you can use any – the slightly smaller ones, the larger classic bars or whatever – I did use the smaller size Toblerone to add a piece to each cookie after baking though. They melted slightly into the cookie and were heavenly.
The chocolate chunks from the chopped Toblerone and then the bigger piece on top makes it slightly overloaded with Toblerone – but that's no bad thing in my eyes. It makes it better! You can of course reduce the chocolate, but I definitely wouldn't add any more so they still bake okay. I hope you love this recipe! Enjoy! x
Toblerone NYC Cookies!
Easy delicious and chocolatey Toblerone NYC Cookies - with a chocolate cookie dough base, chunks of chopped Toblerone, and even more... 
Print
Pin
Rate
Ingredients
125

g

unsalted butter

100

g

light brown soft sugar

75

g

white granulated sugar

1

large/medium

egg

1

tsp

vanilla extract

250

g

plain flour

35

g

cocoa powder

1 + 1/2

tsp

baking powder

1/2

tsp

bicarbonate of soda

1/2

tsp

sea salt

300

g

Toblerone

(chopped)
Instructions
Add the unsalted butter, light brown soft sugar, white granulated to a bowl and beat until creamy - I use my stand mixer with the beater attachment!

Add in your egg and vanilla extract and beat again.

Add in the plain flour, cocoa powder, baking powder, bicarbonate of soda, and salt and beat till a cookie dough is formed!

Add in your chopped Toblerone and beat until distributed well!

Weigh your cookies out into eight cookie dough balls - they're about 115-120g each!

Once they're rolled into balls, put your cookie dough in the freezer for at least 30 minutes, or in the fridge for an hour or so!

Whilst the cookie dough is chilling, preheat your oven to 180ºC Fan, or 200ºC regular! If your oven runs hot, go for 160ºC-170ºC.

Take your cookies out of the freezer/fridge and put onto a lined baking tray. I put four cookies per tray!

Bake the cookies in the oven for 12-14 minutes. I don't personally flatten the cookies, as they flatten enough during baking - however, if you like flat cookies, flatten them a bit before baking.

Once baked, add on another piece of Toblerone and press down slightly to stick to the cookie. Leave the cookies to cool on the tray for at least 30 minutes, as they will continue to bake whilst cooling!
Notes
I used milk chocolate Toblerone but you can use any! 
These are best eaten on the day of baking, but can be revived by microwaving for 15-30 seconds, or putting into a hot oven for 2-3 minutes!
You can freeze the raw cookie dough easily, and bake from frozen if you don't want to bake the entire batch! If you are baking straight from frozen you may need to bake for 1 or 2 extra minutes.
Once baked, these will last for 4-5+ days!
If you can't access one of the sugars, use all of the other one - i.e. all granulated, or all light brown sugar. Using other sugars can change the texture. 
You can make the cookies half size (60g) and bake for about 8 minutes. 
You can make the cookies slightly smaller (about 80g) and bake for about 9-10 minutes! 
ENJOY!
Find my other Recipes on my Recipes Page!
You can find me on:
Instagram
Facebook
Pinterest
Twitter
Youtube
J x
© Jane's Patisserie. All images & content are copyright protected. Do not use my images without prior permission. If you want to republish this recipe, please re-write the recipe in your own words and credit me, or link back to this post for the recipe.