November 17, 2021
Caramel Gingerbread Cookie Bars!
*This post may contain affiliate links. Please see my disclosure for more details!*
White chocolate chip salted caramel stuffed gingerbread cookie bars – the easiest delicious festive cookie bar recipe!
As we all know, I am an absolute cookie maniac and I am obsessed. I always want to bake them, I always want to explore new flavour ideas, and I basically just cannot stop. I would borderline say they are my favourite type of bake these days!
The other day I posted my Christmas pudding cookie recipe and you guys went absolutely mad for them – and I can totally understand why. They are delicious, easy, but also so festive and fun for the winter season.
One of the other most popular cookies I have done is my gingerbread NYC cookies, and I have had SO MANY REQUESTS since last year to make a cookie bar version… so here it is… but with a delicious caramel twist.
My cookie bars are probably amongst the most popular things I have ever posted – my kinder bueno cookie bars are so popular I've made them on national live tv now, and they continue to be baked by you guys every single day.
The idea of doing an alternative festive cookie bar to my Christmas cookie bars was just a little bit too exciting – but I wanted to take it up a notch and stuff them with caramel. This, is another request I have had for far too long so here they are!
The base cookie dough for these is just like my other cookie bar base recipes – but with the spices from my gingerbread NYC cookies. Even though they are being stuffed, I wanted to use the same ratios of cookie dough so I wasn't going too over board with ingredients.
For this recipe, I thought white chocolate chips would go the best as they always do – but you can use milk chocolate, or dark chocolate if you prefer… or even a mix! I just love the sweetness of the white chocolate in contrast to the ground ginger, ground cinnamon and ground nutmeg.
For the stuffing of the caramel, it's actually so easy! You have to use half of the cookie dough on the base of the 9×9" square tin – and spread it evenly. I use a very lightly floured spatula as the dough can be a smidge sticky and you want an even layer of the cookie dough.
You then add in the caramel – I used pre-made caramel to make this far easier. Caramel out of a tin is quite thick, and that makes this much easier! Spread the caramel onto the cookie base, trying not to go to the edge.
I then sprinkle over some chunky sea salt because I adore it – but this is optional. The sea salt chunks cut through the sweetness perfectly though – so definitely consider it! However, you can use salted caramel spread, or even a chocolate spread if you prefer! This bake works with them all.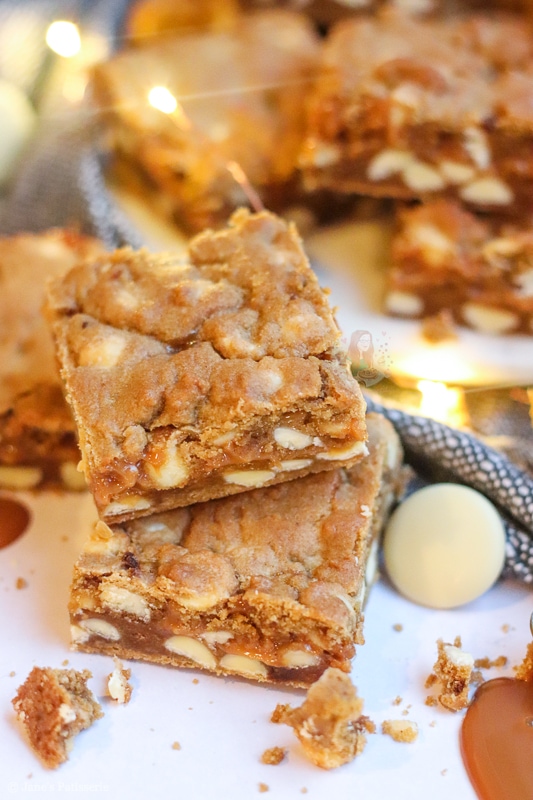 After you have added the 'stuffing' to the base – you can add the topping. It wont work just trying to spread the cookie dough on top like you did the base, so I add the topping on in small little chunks and it then covers it the same way. You may see little bits of caramel poking through, but you want the caramel as covered as possible.
This is obviously the part where you bake it – and it is worth the wait. Oh my daaaaays these caramel gingerbread cookie bars are INSANE. It honestly is best to let these cool fully in the tin, because when you portion them up you will see the sticky delicious caramel in the middle!
Let me know if you try these beauties out in the comments – or tag me in a photo on social media!! I hope you love them! Jane x
Caramel Gingerbread Cookie Bars!
White chocolate chip salted caramel stuffed gingerbread cookie bars - the easiest delicious festive cookie bar recipe! 
Print
Pin
Rate
Ingredients
115

g

unsalted butter / stork

190

g

dark brown soft sugar

1

medium

egg

1

tsp

vanilla extract

275

g

plain flour

1

tsp

bicarbonate of soda

1/2

tsp

sea salt

(plus extra for the caramel)

1

tbsp

cornflour

1.5

tsp

ground ginger

0.5

tsp

ground cinnamon

0.5

tsp

ground nutmeg

300

g

white chocolate chips

200

g

caramel
Instructions
Preheat your oven to 190ºc/170ºfan, and line a 9x9inch square tin with parchment paper, and leave to the side for now. 

Melt the unsalted butter, and add to a bowl.

Add in the dark brown soft sugar and whisk the mixture together for two minutes.

Add in the egg and vanilla extract and whisk again until combined. 

Add the plain flour, bicarbonate of soda, sea salt, cornflour, ground ginger, ground cinnamon and ground nutmeg together to the bowl.

Mix together until a thick cookie dough is combined.

Add in the white chocolate chips and mix.

Push half of the mixture into the 9x9inch tin - I find it easier to use a lightly floured spatula to spread this evenly.

Spread the caramel over the base cookie, leaving a small gap around the edge with no caramel. If you want it salty, sprinkle over the extra sea salt chunks now.

Add the second half of the cookie dough to the tin - I find it easier to place it on in small lumps until its covered the caramel - as pushing it around the tin will ruin the caramel.

Bake the caramel gingerbread cookie bars in the oven for 18-22 minutes. I usually do 19 minutes so they stay reasonably gooey. 

Once baked, leave in the tin to cool, and then enjoy!
ENJOY!
Find my other recipes on my Recipes Page!
You can find me on:
Instagram
Facebook
Pinterest
Twitter
Youtube
J x
© Jane's Patisserie. All images & content are copyright protected. Do not use my images without prior permission. If you want to republish this recipe, please re-write the recipe in your own words and credit me, or link back to this post for the recipe.