December 4, 2021
Christmas Traybake Cake!
*This post may contain affiliate links. Please see my disclosure for more details!*
A delicious and moreish chocolate cake, topped with beautiful american buttercream frosting, in all the different festive patterns!
Traybake cake
So, when I think of a cake, there are so many options it is slightly insane. You have normal two-layer cakes, my usual three-layer cakes, drip cakes, loaf cakes, and so on. However, one of my favourite?! And one of the easiest? Traybake cakes! Honestly, they are just amazing!
I love traybake cakes if you haven't noticed already – my chocolate fudge traybake is one of my all time favourite cakes to make as it is just so utterly delicious. And as a complete contrast, my gin & tonic traybake is just as delicious – and so simple to make! This Christmas traybake cake is a mix of all my traybake cakes together.
Tin
For this bake I wanted to use a classic traybake tin because when I think of a traybake cake, I think the large rectangle cakes that you can buy in a supermarket. To be fair, I would still happily absolutely devour one of those instead of making it myself, but this is a festive bake – so this recipe is amazing!
As the tin I use is 9×13″, it's the perfect traybake size – some tins vary to 9×12″ in the traybake world, so ideally use the correct size for the baking time to be accurate. Any smaller it may take a smidge longer to bake! If you want a smaller traybake cake, you can use a ratio of 250g, and bake into a 9″ square tin – its up to you.
Chocolate sponge
I went for a chocolate base, and just a regular sponge – I have done quite a few fudge like chocolate traybakes (with my Malteser traybake cake, and my chocolate orange traybake cake) – so I thought it was about time I did a normal chocolate cake sponge for a cake like this. And it's just so easy!! Five ingredient sponges are always appreciated.
I classically use light brown soft sugar in my chocolate cakes these days because I absolutely adore it – it brings a natural caramel like flavour to the sponge that I utterly adore. You can use caster sugar instead, or you can even use dark brown soft sugar for a naturally deeper flavour! The rest of the other ingredients are fairly straight forward with self raising flour, eggs, butter and cocoa powder.
Buttercream
For the decoration – it basically requires an extremely easy to make buttercream, but then lots of bowls and piping tips to make the colours you want! I tried to reduce the amount of colours to make it easier to wash up, but at the end of the day – with a cake like this, you will have the washing up.
I wanted to basically make something that was easy to make ingredients wise, but looked impressive – and a varied piping technique like this is always the way! You can have so much fun with a cake like this. I used so many piping tips though, I thought it would be easier to list them all.
Piping tips and food colouring
For this cake I used; a medium 1M open star tip, a medium 2D closed star tip, a medium leaf tip, a petal piping tip, a cactus piping tip, a jumbo open star tip, a jumbo French piping tip, a snowflake piping tip, and a rose piping tip! These are all entirely optional though, my piping tip collection is fairly large so I just had fun with it!
I wanted to stick to festive colours, so I thought red, green and white would work! I used the same green food colouring for both shades. I used a tiny, half a pea size amount of green food colouring for the lighter green, and almost half a tsp for the darker green colour. I used a deep red food colouring as I find it best, then lightened the rest with a little white food colouring.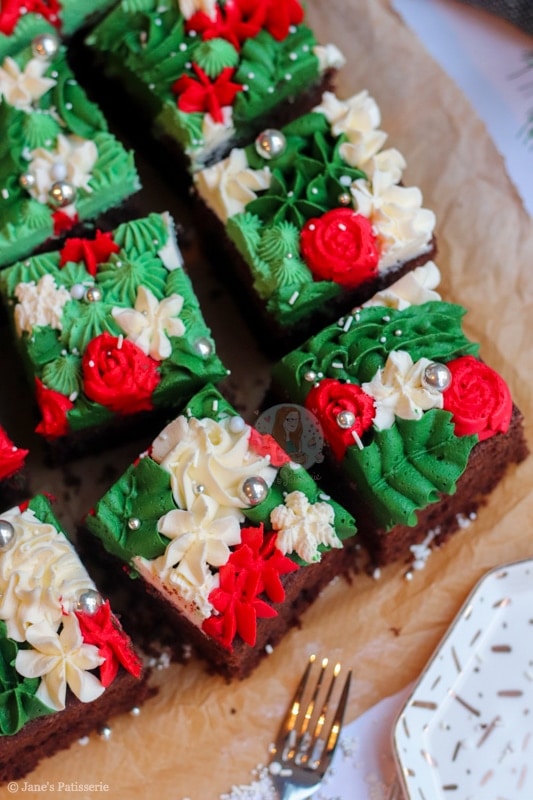 Decoration
When you are decorating a cake like this, you need to not really think about it! I know that may sound weird to some people, but you just want to be as random as possible and have fun with it! The different shades of buttercream, along with the different piping tips means you can create something beautiful like I have.
I tended to start off the larger piping tips with some of the colours, and then add in the smaller piping tips to fill the gaps. Annoyingly you do end up having to use a fair amount of piping bags, or you can try using a piping tip coupler if your piping tips all fit to make it easier!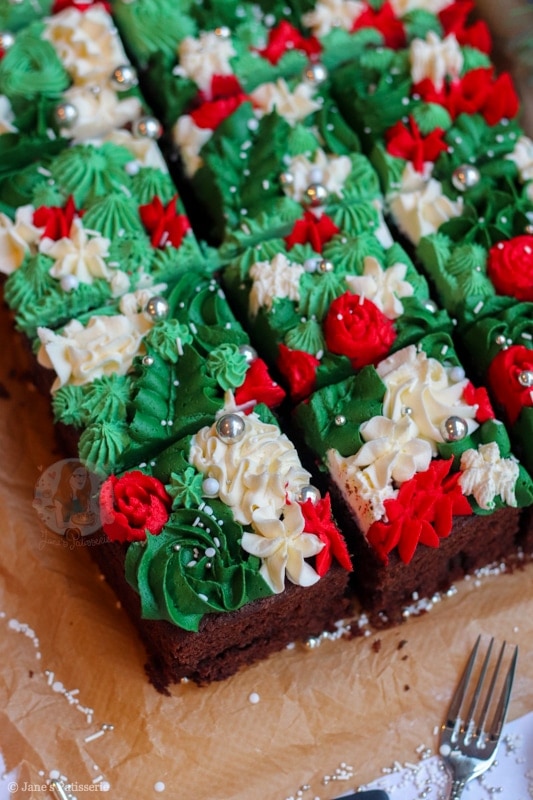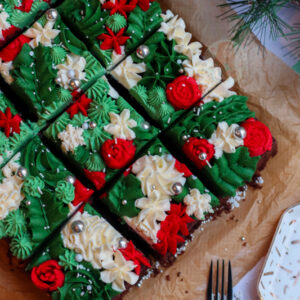 Christmas Traybake Cake!
A delicious and moreish chocolate cake, topped with beautiful American buttercream frosting, in all the different festive patterns! 
Print
Pin
Rate
Ingredients
The Cake
400

g

unsalted butter

400

g

light brown soft sugar

325

g

self raising flour

75

g

cocoa powder

7

medium

eggs

1

tsp

vanilla extract
Decoration
200

g

unsalted butter

(room temp)

400

g

icing sugar

1

tsp

vanilla extract

green food colouring

white food colouring

sprinkles
Instructions
For the Cake
Preheat your oven to 180ºC/160ºC fan and grease and line a 9x13" traybake tin (or 9x12" if that's what you have!) with parchment paper.

In a large bowl, beat together the butter and sugar until light and fluffy.

Add in the eggs, self raising flour and cocoa powder and vanilla extract and beat again until smooth.

Pour into the tin and bake in the oven for 45-50 minutes, or until baked through.

Once baked, leave to cool in the tin fully.
For the Decoration
Beat your unsalted butter on it's own for a few minutes to loosen it and make it lovely and soft!

Add in the icing sugar, and the vanilla extract, and beat again! Continue beating until the buttercream is lovely and fluffy and perfect!

Split the mixture between four bowls (or whatever colours/ratios you fancy!) and colour. I did a dark green, light green, red and white.

Using various piping tips, randomly pipe onto the cake to create a beautiful pattern!

Add any sprinkles on that you fancy. Enjoy!
ENJOY!
Find my other recipes on my Recipes Page!
You can find me on:
Instagram
Facebook
Pinterest
Twitter
Youtube
J x
© Jane's Patisserie. All images & content are copyright protected. Do not use my images without prior permission. If you want to republish this recipe, please re-write the recipe in your own words and credit me, or link back to this post for the recipe.