June 15, 2019
Malteser Traybake Cake!
*This post may contain affiliate links. Please see my disclosure for more details!*
Thick and fudgey Malteser traybake cake with a malt fudge sponge, malt buttercream frosting and Maltesers!
Traybake cake
It's been a while since I shared a traybake cake recipe, and all in all, I've only ever posted a few on my blog… It's definitely an underrated type of bake, and I need to rectify my lacking in recipes urgently.
The last traybake cake I shared was my chocolate cake traybake back in August, and even though it's been a long old while since then, that cake is still SO popular these days!
The cake has been so popular because it's essentially a traybake form of my chocolate fudge cake, and who doesn't love a traybake cake for a party?!Think about those chocolate traybake cakes you can buy from the supermarket (which are epic), and then multiply the epic-ness by 100.
Malteser traybake cake
I'm not trying to blow my own trumpet here, but the cake really is epic and utterly DELICIOUS. However, I have had requests and requests for more traybake cakes, just like that one! So… here is the Malteser version.
Yeah, that's right, the Malteser version. I am utterly head over heels in love with this beauty, and I can't stop the love. It's based on my Malteser cake, and then also the chocolate cake traybake. The morphing of the two, into heaven in a bite.
Malt everything!
The premise of the bake is essentially the exact same, but just better. I went for a Malt Chocolate sponge, and a Malt Buttercream Frosting because it just tastes sooo good along with the Malteser, and I can't get enough.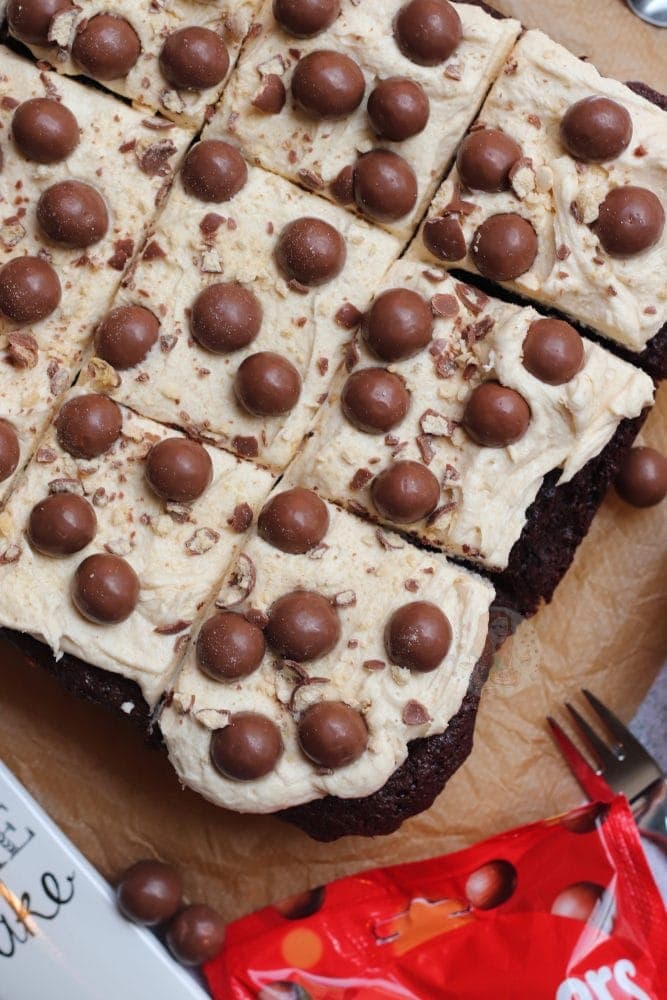 Malt powder
Whenever in recipes I say "malt powder" I mean Horlicks or Ovaltine – I'm not sure what the equal to these are in other countries like America, but here they are a delicious warming drink that's kinda like hot chocolate, but not chocolate. If you like Maltesers, I'd be surprised if you didn't like malt drinks.. but you know, weird things can happen!
The one thing I wouldn't recommend for the cake or buttercream though is the Malteser hot chocolate as that's not the best for baking.I've tried using the Malteser hot chocolate in bakes a few times, but it's structure and ingredients are just completely different, and it's designed to be mixed with water rather than milk so can work out oddly. If you use an actual malt drink such as Horlicks or Ovaltine, you will get a much much better flavour!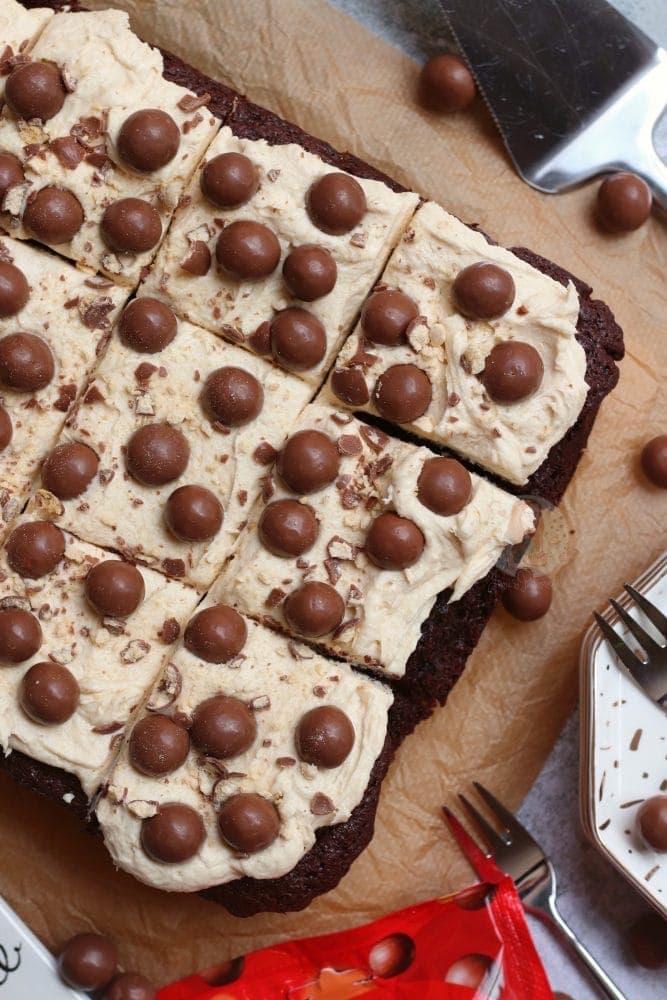 Coffee
One thing I will say AGAIN with this fudgey type cake recipe is that the coffee is IMPORTANT. Don't worry, you can NOT taste the coffee in the cake, but it just enhances the richness of the chocolate in the sponge and takes it to the next level.
Please, for the love of god, don't take out the coffee. People I know aren't the biggest coffee drinkers, and some even hate it, but they all say they can't taste it in the recipe and it is delicious.
This recipe is wonderful, it is Malteser heaven, and I hope you all love it too! Enjoy! x
Malteser Traybake Cake!
Thick and fudgey Malteser traybake cake with a malt fudge sponge, malt buttercream frosting and Maltesers! 
Print
Pin
Rate
Ingredients
Cake Ingredients
250

g

dark chocolate

250

g

unsalted butter

2

tsp

coffee granules

125

g

malt powder

(Horlicks/Ovaltine)

200

g

plain flour

35

g

cocoa powder

1.5

tsp

baking powder

1/2

tsp

bicarbonate of soda

250

g

golden caster sugar

250

g

light brown sugar

4

medium

eggs

100

ml

buttermilk
Decoration Ingredients
200

g

unsalted butter

(room temp)

400

g

icing sugar

75

g

malt powder

(Horlicks/Ovaltine)

2-4

tbsp

boiling water

200

g

Maltesers
Instructions
For the Cake!
Preheat your oven to 160C/140C Fan and line a 9x13" tin with parchment paper.

In a heatproof bowl, microwave the dark chocolate and butter until melted - I do mine in 30 second bursts!

Add your coffee granules and malt powder to a small bowl, and add in 150ml boiling water. Whisk until smooth!

Add this to your chocolate/butter mix and whisk again until smooth.

In a large bowl, add your plain flour, cocoa powder, baking powder, bicarbonate of soda, golden caster sugar and light brown sugar and whisk until distributed evenly!

Whisk the eggs and buttermilk together until smooth.

Add your melted chocolate mix to the bowl, and your egg/buttermilk mix, and fold all the ingredients together till they are combined - I use my hand and a spatula, and not an electric mixer as I don't want the ingredients to over mix.

Pour the mixture into the lined tin, and bake in the over for 50-60 minutes, or until baked through.

Leave to cool in the tin for 10-15 minutes, and then on a wire rack fully!
For the Decoration!
With an electric mixer, beat your butter on it's own for a few minutes so it's lovely and supple.

Add in your icing sugar 1/2 at a time and beat for a few minutes!

Add in your malt powder, and beat again - if its stiff, add in 1tbsp of boiling water at a time and beat fully each time till its a thick but spreadable and smooth consistency!

Spread over the cake with an angled spatula, and then sprinkle over some Maltesers and some crushed Maltesers!
Notes
This cake will last for 3-4 days+ at room temperature in a cake box!
If you don't want to use Malt Powder, up the coffee to 1tbsp, and lower the water to 125ml - and just leave it out of the frosting!
The cake can take longer to bake in some ovens if they're not the correct temperature - or if the mixture is over mixed!
You can make your own buttermilk by using the same quantity of WHOLE milk, and 2tbsp of Lemon Juice - but I prefer the actual buttermilk you can buy!
ENJOY!
Find my other Millionaires & Malteser Recipes on my Recipes Page!
You can find me on:
Instagram
Facebook
Pinterest
Twitter
Bloglovin'
Youtube
J x
© Jane's Patisserie. All images & content are copyright protected. Do not use my images without prior permission. If you want to republish this recipe, please re-write the recipe in your own words and credit me, or link back to this post for the recipe.