January 31, 2022
Valentine's Cheesecake!
*This post may contain affiliate links. Please see my disclosure for more details!*
The perfect no-bake dessert for Valentine's… a biscuit base, chocolate cheesecake, chocolate coated strawberries making the perfect Valentine's cheesecake!
It is nearing the day of love, and I thought I would post a recipe that is really very indulgent, but also super easy to make – Valentines cheesecake! I understand Valentine's is usually about two people… you and your other half, but it doesn't mean you can't make a full-size cheesecake!
I have recipes for my cheesecake for two, my microwave brownies, microwave cookies etc… but I wanted to do a little bit of a showstopper of a recipe, and this beauty is that! A delicious chocolate cheesecake topped with chocolate-coated strawberries.
Valentines cheesecake
I have never been a massive one to celebrate valentines day if I am honest because everything always seems a little overpriced, but it's also because I just utterly adore homemade gifts, and this 100% counts as that.
Imagine making your loved one a cheesecake for the end of your meal – or if you are with your family, making it for them! Or even if you are having an evening with your friends instead… this beauty of a cheesecake is just delightful.
Tin
I use a heart-shaped tin because it is, obviously, valentine's day themed – but it would work in a normal 8" round cake tin as well. I just like to fit into a theme if I can, and I loveeeee using this heart-shaped cake tin so much!
Cheesecake base
I started the base of the cheesecake off with a digestive biscuit base as it is my favourite – but you can use any biscuit you want! If you are using a filled biscuit such as an oreo, a chocolate-coated biscuit, or even a 'lighter' version of a biscuit, you may want to reduce your butter by a third as they require less.
I just press the biscuits into the bottom of my tin with a spatula, and then smooth the edge over with a spoon slightly. If you usually find your cheesecake base is crumbly, you need to make sure the biscuits are a super-fine crumb before adding in the butter, and you need to press them down more firmly.
If you find your cheesecake base is rock solid, you need to press it down slightly less, but also maybe try reducing your butter slightly. It's all about balance! If you want a chocolate base for this one though, you can just add 25g cocoa powder to the base.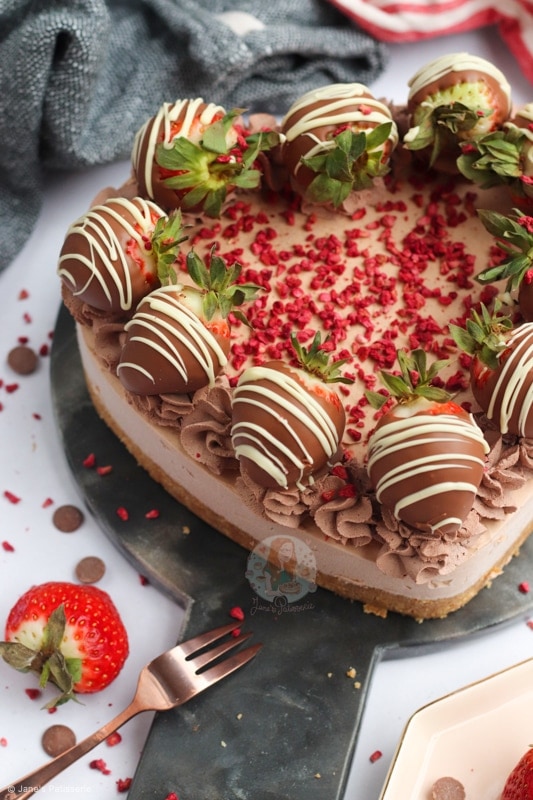 Filling
For the cheesecake filling, it is so important as always to use full-fat soft cheese in the recipe. I usually use Philadelphia original, full-fat mascarpone, or anything similar. Some supermarket own brands can have quite a bit of excess water, so you just need to drain that off if you can before using it.
If you prefer a more classic cheesecake flavour I would recommend using Philadelphia as it has a naturally more sharp and tart edge to it, whereas if you prefer something sweeter, you can use the mascarpone. You can also use a mixture – you just need the same total weight.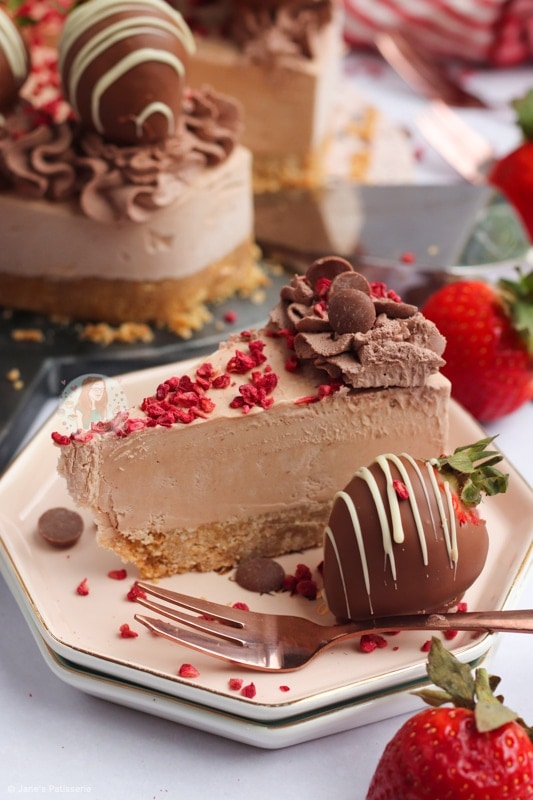 Double cream
As I am based in the UK, I use double cream in my cheesecakes – it has a fat content of about 47%, so it works REALLY WELL. If you are based elsewhere and your cream fat content is any lower, you may want to whip the cream to stiff peaks first, and then fold into the mixture, or use a setting agent such as gelatine to help the cheesecake set.
Chocolate
I used milk chocolate to flavour the cheesecake, but you can use white chocolate, dark chocolate, flavoured chocolate… whatever you guys prefer! Just go for it. If you wanted to have a vanilla one, you may want to increase the rest of the ingredients by about 1/4 at least so the cheesecake isn't too shallow, but that is up to you.
Flavour and set
I always flavour my cheesecakes with a little vanilla as well as I love the flavour it brings, but again this is optional – or you can change it. Peppermint, coffee, almond, orange, lemon etc… any flavourings work really well!
There is so much importance in letting the cheesecake set overnight, so please try and stick to this! It is worth the wait – you will get an utterly delicious cheesecake at the end of the rather tortuous wait!
Decoration
I decorated my cheesecake with chocolate whipped cream (a little cocoa powder instead of just icing sugar as normal), some freeze-dried raspberries, and some chocolate coated strawberries. These are super easy to make with just dunking the strawberries in chocolate and letting them set.
You can then drizzle on some more chocolate as I did, add some sprinkles, or leave them as they are! Or, you can even decorate your cheesecake with some plain strawberries – or anything else! Raspberries would be delicious.
I hope you all have the most wonderful and loving valentines day – enjoy! Jane x
Valentine's Cheesecake!
The perfect no-bake dessert for Valentine's... a biscuit base, chocolate cheesecake, chocolate coated strawberries making the perfect Valentine's Cheesecake!
Print
Pin
Rate
Ingredients
Base
300

g

digestives

150

g

unsalted butter
Cheesecake
600

g

full-fat soft cream cheese

100

g

icing sugar

1

tsp

vanilla extract

250

g

milk chocolate

300

ml

double cream
Decoration
10-12

strawberries

150

g

milk chocolate

25

g

white chocolate

150

ml

double cream

1

tbsp

icing sugar

1

tbsp

cocoa powder
Instructions
Base
Melt the unsalted butter in the microwave in short bursts or in a small pan over a medium heat.

Blitz the biscuits in a food processor to a small crumb, add the melted butter, and pulse a few times until it is combined well.

Tip into a 8″/20cm deep springform tin and press down firmly.
Cheesecake
Melt the milk chocolate in the microwave in short bursts until fully melted – leave to cool slightly whilst doing the rest.

In a large bowl, whisk the full fat soft cheese, icing sugar and vanilla extract until combined.

Pour in the melted and cooled milk chocolate and whisk again until smooth.

Pour in the liquid double cream and continue to whip the mixture until it is starting to thicken a lot like a mousse does. Or, whip the cream separately in another bowl, and fold into the mixture.

Spread the mixture on to the biscuit base, smooth over, cover, and chill in the fridge for at least 5-6 hours hours or preferably overnight.
Decoration
Whilst your cheesecake is setting - make the chocolate coated strawberries.

Melt the two chocolates in separate bowls - once melted, dunk the strawberries into the milk chocolate, and place onto a lined tray.

Once finished, drizzle over the melted white chocolate and leave to set in the fridge.

Remove the cheesecake from the tin and place on your serving plate.

Whip the double cream, icing sugar, cocoa powder together to soft peaks. Add to a piping bag with a piping nozzle.

Pipe on the whipped cream, and top the swirls of cream with the chocolate coated strawberries.

Sprinkle on some freeze dried raspberries and enjoy.
Notes
I use this heart-shaped tin for this recipe, but if you just want a regular shape I would recommend this round tin instead. 
This recipe will last for 3+ days in the fridge!
You can use dark chocolate, white chocolate, or any other flavour you fancy really!
ENJOY!
Find my other recipes on my Recipes Page!
You can find me on:
Instagram
Facebook
Pinterest
Twitter
Youtube
J x
© Jane's Patisserie. All images & content are copyright protected. Do not use my images without prior permission. If you want to republish this recipe, please re-write the recipe in your own words and credit me, or link back to this post for the recipe.