April 8, 2022
Chocolate Hot Cross Buns!
*This post may contain affiliate links. Please see my disclosure for more details!*
Delicious homemade chocolate hot cross buns with a chocolate dough filled with chocolate chips, perfect bake for Easter – and perfectly toasted and served with a little butter!
So.. bread… I love you. I love bread. Honestly, bread is one of my favourite things in the world! And if you make it chocolate based?! Oh it is even better by absolute far.
I thought it was high time that I post another utterly delicious hot cross bun recipe for you all to enjoy after the success of my first Hot Cross Bun recipe and oh my actual days I am in love.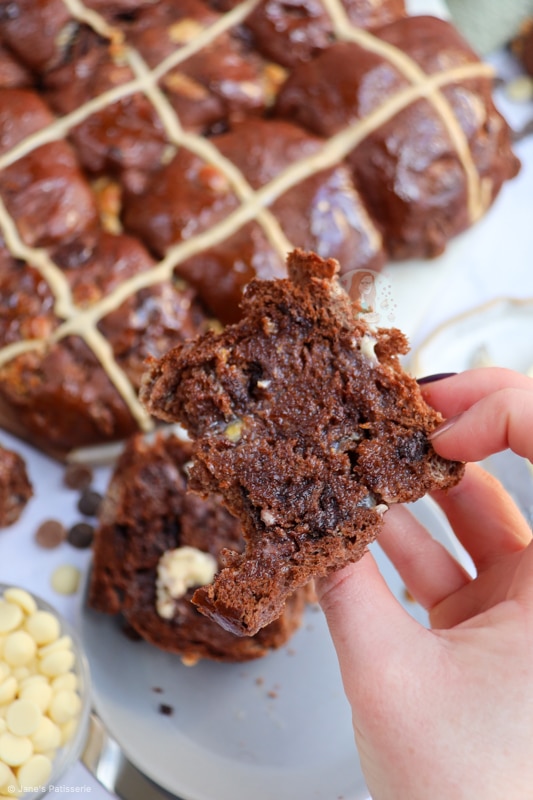 Chocolate hot cross buns
Are these chocolate hot cross buns better? There is a big potential for that to be true – but I get that not everyone loves a chocolate bread bake! However, if you do, I 100% recommend that you try these out asap.
For the bread dough, I really did do a similar dough to my first hot cross buns – why change it if it works am I right?! The basics stayed really similar, but I essentially swapped the spices for the cocoa powder and changed the flour slightly.
The basic bread dough
So the basics of my hot cross bun dough is full-fat milk (always… ALWAYS… go full fat!), strong white bread flour, caster sugar, dried yeast, salt, unsalted butter and eggs. These ingredients are the best start.
The dough itself can be a little 'wet' but you really do need to roll with it – if it is soaking, likely there was too much liquid added – but please try to stick to the recipe. Give the bread dough time to prove in its shapes before baking so you get the lightest and fluffiest texture ever.
Cocoa powder
For these, you add in the cocoa powder to get the flavour – if you have baked my other hot cross buns you will notice that the flour levels are less, but it's not completely replaced by cocoa powder.
I find in baking that cocoa powder is more drying – even in my triple chocolate NYC cookies compared to my regular NYC cookies, there isn't the same level of dry ingredients; you often need a smidge less like in these!
Fruit and spices
Don't worry as well – there is no dried fruit in these – I have a large raisin hating following, so no worries, you can bake these! However, if you did want to add them in, you can substitute some of the chocolate chips for the raisins.
I decided to not use any spices at all, but you can add some if you like – ginger would be delicious with the chocolate, but my favourite thing to add is orange zest or extract – chocolate orange hot cross buns anyone?! Oh yes please that would be heaven.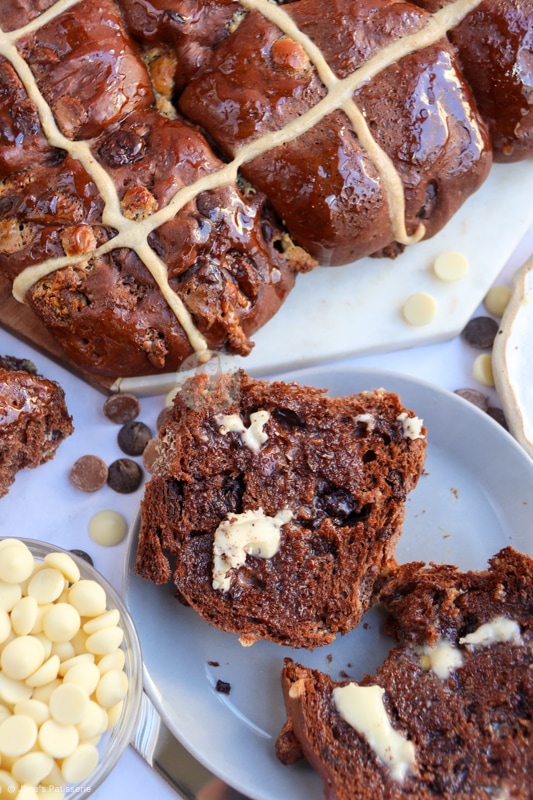 Chocolate Chips
However, as I decided to not any fruit or nuts, I did decide to use a tonne of chocolate chips in these beauties – and ohhhhh my days it was glorious! 100g each of dark chocolate, milk chocolate and white chocolate – and it was the best decision ever.
I have also tested these with 200g of chocolate chips, and 100g fudge chunks (the kind you get in a bag near sprinkles in the supermarket), and that was insane – I have used Terrys chocolate orange chocolate, peppermint chocolate, and so on – have fun with the flavours honest!
Baking and finish
I used a larger 6cm cookie scoop to help portion my hot cross buns to roughly 95g each, and placed slightly spread out on a lined tray after lightly rolling into a ball shape. After proving, they lightly touched, and I carefully piped on the 'cross'.
Annoyingly the proving process can take a while, and often will take longer in the winter and spring months as the general environment is colder – but that's okay. It's a process of time, but it is worth it entirely.
They bake until beautiful, and then you carefully brushing over some melted honey for the classic hot cross bun shine – but this is optional. I just love how it looks! Honestly, these are epic, and I hope you love them. Jane x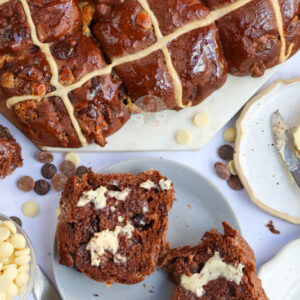 Chocolate Hot Cross Buns!
Delicious homemade chocolate hot cross buns with a chocolate dough filled with chocolate chips, perfect bake for Easter
Print
Pin
Rate
Ingredients
Hot Cross Buns
250

ml

whole milk

425

g

strong white bread flour

50

g

cocoa powder

65

g

caster sugar

8

g

dried active yeast

1/2

tsp

sea salt

50

g

unsalted butter

(cold and cubed)

100

g

dark chocolate chips

100

g

milk chocolate chips

100

g

white chocolate chips

2

medium

eggs
Topping
30

g

flour

30

ml

water

1

tbsp

honey
Instructions
Warm the whole milk in a pan until it's just steaming.

In a large bowl, add the strong white bread flour, cocoa powder, sea salt, caster sugar and dried active yeast

Add in the cold and cubed unsalted butter and rub between your fingers so the mixture resembles bread crumbs. 

To the bowl, add the warmed milk, and the eggs and mix it all together. 

Knead for 5-10 minutes until the mixture is smooth, elastic and springy to touch. I use my stand mixer with the dough hook to make this easier! 

Towards the end, add in the chocolate chips and continue to knead to distribute them well.

Once ready, transfer the dough to a clean but lightly oiled bowl, and cover the bowl with clingfilm. Leave to rise until doubled in size - usually takes 1-2 hours. 

Once risen, remove from the bowl and knead lightly on a floured surface to 'knock it back'. 

Split evenly into 12 balls (Mine weighed roughly 95g each) and add on to a lined tray with about a centremetre gap between the balls. 

Cover with lightly oiled cling film, and leave to rise whilst your oven preheats to 200C/180C fan. I usually leave them 45-60 minutes!

Once at the temperature - whisk together the flour and water, and carefully pipe on to form the crosses.

Bake in the oven for 20-25 minutes at 200ºc/180ºfan! 

Once baked - brush lightly with honey if you like them sticky and shiny and then leave to cool fully. 
Notes
This recipe will make 12 medium/regular sized Hot Cross Buns! 
You can flavour the chocolate hot cross buns with

Zest of 1-2 oranges
Dried spices such as ground ginger 

These are best on the day of baking, but will last a couple of days at room temperature but covered. 
You can substitute the chocolate chips all or partially for

Raisins
Nuts
Fudge chunks

I used
ENJOY!
Find my other recipes on my Recipes Page!
You can find me on:
Instagram
Facebook
Pinterest
Twitter
Youtube
J x
© Jane's Patisserie. All images & content are copyright protected. Do not use my images without prior permission. If you want to republish this recipe, please re-write the recipe in your own words and credit me, or link back to this post for the recipe.