May 6, 2020
Triple Chocolate NYC Cookies!
*This post may contain affiliate links. Please see my disclosure for more details!*
Giant gooey triple chocolate NYC cookies based on the famous cookies from New York City!!
NYC cookies
As explained before… NYC Cookies are a breed of their own. They are huge, they are chunky, they are crunchy and soft at the same time, and they are beyond epic. Think Levain Bakery from New York, or Creme from London and so on. This type of cookie is insanity in every bite.
It has been less than two weeks since I posted my NYC chocolate chip cookies.. and all I have been getting are requests for a triple chocolate version…. SO HERE IT IS! It was already on its way, but I like to spread my recipes a little bit… I didn't want to post several cookie recipes in a row! Also, who doesn't love a recipe tease?!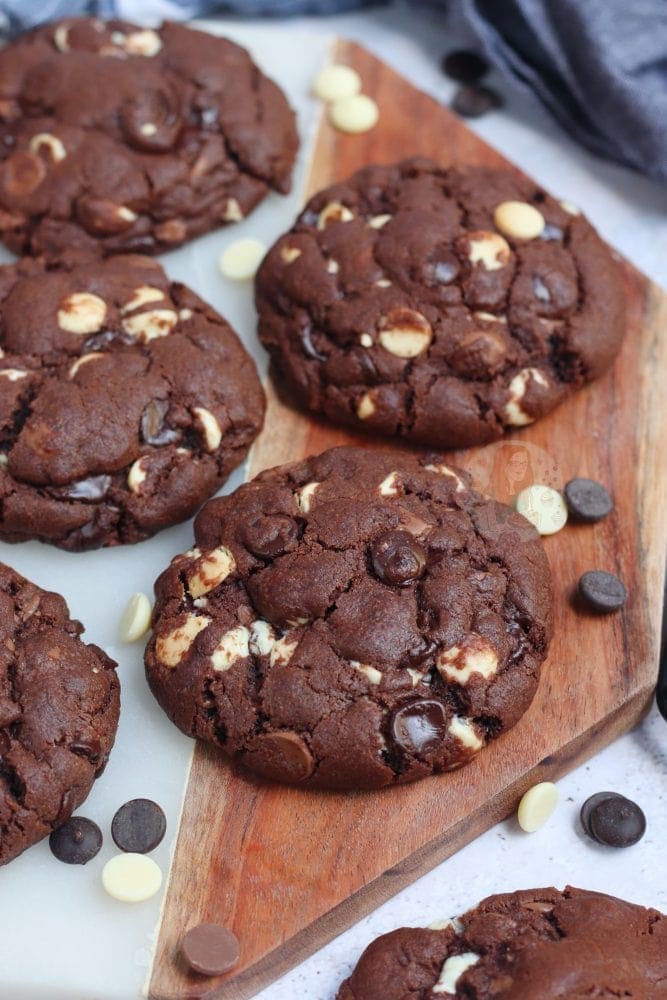 Triple chocolate NYC cookies
These beauties, as you can see, are SO good. Let's be honest though, can you beat a gooey cookie?! Honestly, I don't think you can. I am biased as I have eaten so many batches of cookies this past couple of months that I think I am now 50% cookie, but here we are. I love them so much.
So! These are, obviously, based on my NYC chocolate chip cookies. I genuinely don't think I have ever had so many people bake a recipe so quickly compared to them, so I was never going to change the recipe too much. The recipe works so perfectly for everyone, I wanted to follow the same premise for these!
Cocoa powder
When baking with cocoa powder though, things do change slightly. Sometimes, it's a simple switch of adding more flour, or cocoa powder, or taking out some flour and adding cocoa powder… but when I tried this with these, I just wasn't 100% sure. I do use very good quality cocoa powder because I buy a large bag, but even so!
I took out 50g of the plain flour and added in 35g of cocoa powder. This 15g difference in dry ingredients is fine, and you should roll with it! One thing I would say is though, don't substitute the cocoa powder for hot chocolate powder. They are very different things in the baking world!
You can see my cookies are a lovely deep colour, so I really do recommend a good quality cocoa powder – but any will do! It's there to help you get the really gooey triple chocolate texture and taste and I love it!
Flour
As with my other recipe, I use all plain flour and add in the baking powder to get the texture, and I love it. You want the rise from the raising agents to create the perfect texture.. and it really works! You want a decent amount of flour, and to help it raise to get the classic texture so that when you bite into it… heaven.
If you can't access plain flour, you can use self-raising – but this means you will want to remove the baking powder from the recipe and keep the bicarbonate of soda! Sometimes they can dome a smidge more, but they are still so so tasty!
Cornflour?
In my other cookies, I often recommend using cornflour – which is optional in my NYC chocolate chip cookies – but they don't need them in these. Along with my other chocolate-based cookie doughs – the cocoa powder has the same sort of effect as the cornflour can have so I don't use it!
Sugar
For my cookies, I use a mix of two sugars… light brown sugar (soft), and white granulated sugar. This is similar to my other recipes, such as my Mini Egg cookie bars – in the fact that it gives the best flavour and texture. You really want to stick to these if you can – but you can use all brown, or all white if you have to.
Switch the sugars to caster sugar can really change the texture. I'm not the biggest fan of caster sugar in cookies anymore – and if you try this recipe as listed, you will agree with me! If you can't access one or the other, you can use all granulated, or all light brown sugar. Dark brown soft sugar is also a good sugar, and gives a much more caramel flavour!
Chocolate
As my other cookies are a plain cookie as you could call it, these are obviously going to be chocolate. You can, of course, use triple chocolate chips in the other ones, but when I hear that something is 'triple' chocolate, it always has to have a chocolate base! This does technically make it quadruple chocolate.. but oh well. Triple sounds better.
I use chocolate chips, like these ones because I always buy in bulk! You can use shop-bought chocolate chips, you can chop up a chocolate bar into chip size… and so on! You can add in nuts like macadamia, pecans, walnuts and so on. You can basically do anything you want! I do like my cookies very chocolatey though, so 300g is quite a lot. If you don't like them as chocolatey, you can use less!
Other recipes
One thing I feel like I must point out is that I do have my other triple chocolate crinkle cookie recipe on my blog. This recipe is similar, and has been on my blog for years – but it's probably a lot more classic cookie. The ingredients do differ slightly, and you don't chill those ones, and they are smaller. But don't worry, they aren't the exact same.
If you have any recipe questions, do leave them below! I do have notes in the recipe card which may answer any questions you already have as well! If you enjoy the recipe, please leave a review below! Happy triple chocolate NYC cookie baking!! X
Triple Chocolate NYC Cookies!
Giant gooey triple chocolate NYC cookies based on the famous cookies from New York City!! 
Print
Pin
Rate
Ingredients
125

g

unsalted butter

100

g

light brown sugar

75

g

white granulated sugar

1

medium

egg

1

tsp

vanilla

(optional!)

250

g

plain flour

35

g

cocoa powder

1 + 1/2

tsp

baking powder

1/2

tsp

bicarbonate of soda

1/2

tsp

sea salt

100

g

white chocolate chips

(or chopped chocolate)

100

g

milk chocolate chips

(or chopped chocolate)

100

g

dark chocolate chips

(or chopped chocolate)
Instructions
Add your butter and sugars to a bowl and beat until creamy - I use my stand mixer with the beater attachment!

Add in your egg, and beat again. If using the vanilla, add it in now!

Add in the plain flour, cocoa powder, baking powder, bicarbonate of soda, and salt and beat until a cookie dough is formed!

Add in your chocolate chips and beat till they're distributed well!

Weigh your cookies out into eight cookie dough balls - they're about 115-120g each!

Once they're rolled into balls, put your cookie dough in the freezer for at least 30 minutes, or in the fridge for an hour or so!

Whilst the cookie dough is chilling, preheat your oven to 180C Fan, or 200C regular! If your oven runs hot, go for 160C-170c.

Take your cookies out of the freezer/fridge and put onto a lined baking tray. I put four cookies per tray!

Bake the cookies in the oven for 12-14 minutes. I don't personally flatten the cookies, as they flatten enough during baking - however, if you like flat cookies, flatten them a bit before baking.

Once baked, leave them to cool on the tray for at least 30 minutes, as they will continue to bake whilst cooling!
Notes
These are best eaten on the day of baking, but can be revived by microwaving for 15-30 seconds, or putting into a hot oven for 2-3 minutes!
You can freeze the raw cookie dough easily, and bake from frozen if you don't want to bake the entire batch! 
If you are baking straight from frozen after some time, I usually bake for the same 12-14 minutes, at the same temp, but an extra couple minutes won't hurt!
Once baked, these will last for 4-5+ days!
If your oven runs hot you will want to reduce the temp slightly as mentioned in the method!
If you prefer your cookies flatter, you can squish them down slightly before baking but I don't do this personally!
If you can't access one of the sugars, use all of the other one - i.e. all granulated, or all light brown sugar. Using other sugars can change the texture. 
You can make them smaller by splitting the mixture into 12, and bake for 9-10 minutes!
ENJOY!
Find my other Recipes on my Recipes Page!
You can find me on:
Instagram
Facebook
Pinterest
Twitter
Youtube
J x
© Jane's Patisserie. All images & content are copyright protected. Do not use my images without prior permission. If you want to republish this recipe, please re-write the recipe in your own words and credit me, or link back to this post for the recipe.
267 Comments