July 8, 2022
Vegan Biscoff Cake!
*This post may contain affiliate links. Please see my disclosure for more details!*
A two-layer delicious chocolate cake, with biscoff buttercream, biscoff decoration and more… the perfect vegan biscoff cake!
It's been a while since I posted a vegan bake, and I know that needs to change… so here is one of the best cakes I will probably make ever, a vegan biscoff cake!
I have a few delicious bakes so far; my vegan biscoff cupcakes and my vegan chocolate cake always get rave reviews and I don't know why I didn't just think of combining the both together!
Honestly, just look at this bake – it's heavenly. All of that chunky delicious chocolate cake topped with a silky smooth frosting, and all the biscoff I could muster at the time. YUM.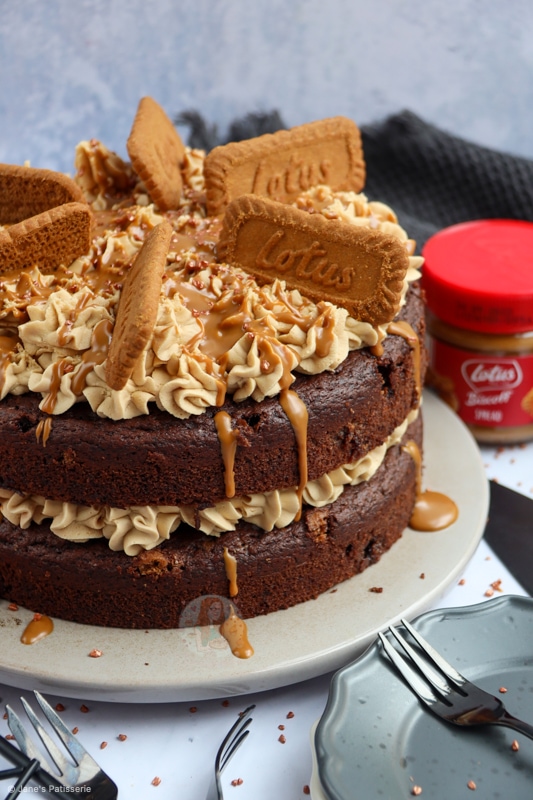 Cake
A regular cake is usually eggs, flour, butter and sugar. Unfortunately that doesn't quite work with vegan baking in my books! I tried endlessly hard to create a bake with as few ingredients possible, and/or as easy to buy ingredients… and this vegan biscoff cake is it!
Flour – As much with classic bakes, I use self raising flour for this cake. It makes it delicately light and delicious.
Cocoa powder – most cocoa powders are vegan naturally, but it's always worth checking – the stronger the better in my opinion.
Sugar – to get a delicious flavour, I use light brown soft sugar – I find it works best with vegan bakes! You can use dark brown soft sugar though, caster sugar or even golden caster sugar for this one.
Raising agents – the raising agents in this bake vary quite a smidge to a regular cake; baking powder, bicarb and white wine vinegar. The bicarb and vinegar react together to create the best texture.
Milk – My favourite vegan milk to use in baking is almond – it's the dairy free milk I drink the most as well! You can use oat or soya though as good alternatives.
Oil – I switch up and change between sunflower oil and vegetable oil, they both work super well! You want to avoid olive oil or similar however though as they can have a taste.
Flavouring – I used vanilla extract because I love the flavour in amongst bakes, as you are all well aware of now haha!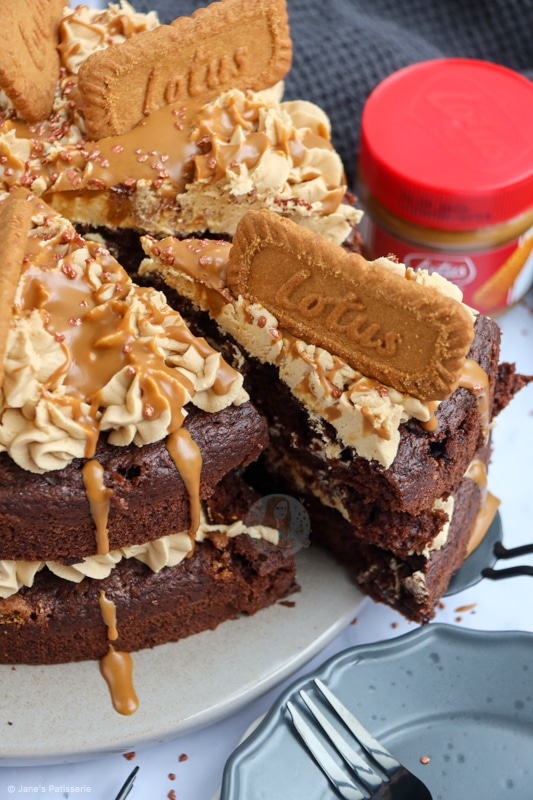 Buttercream
The buttercream is so simple, and all it requires from a regular buttercream is swapping the dairy unsalted butter to a vegan alternative! There is a trick to this though as some are far better than others.
As unsalted butter that contains dairy is a very firm ingredient, you want a dairy free alternative that is as firm as possible – my favourite at the moment is flora plant butter.
Mix the butter on its own, whack in the icing sugar and mix, and then add the biscoff. You want to avoid adding any liquid as you don't want the buttercream to soften too much (which is a risk as the butters are naturally softer).
Decoration
Decoration on a cake like this is completely up to you and what you want to do! I decided to pipe the buttercream onto my cakes because it made it look pretty, but you can slather it on with a spatula if you wanted, or do a different style of piping.
I layered the cake with buttercream, then added some melted Biscoff Spread, biscuits and sprinkles to the top of the cake. I melted my biscoff in the microwave in 10 second bursts until it was runny, and just drizzled it on with a spoon – nothing precious.
If you wanted to level up the decoration you could do whatever you want – but I love this cake the way it is!
Tips and Tricks
When you are mixing this cake mixture, you really do not want to overmix it. I just use a bowl and a hand whisk, no electrics in sight. If you over mix the mixture, it could make the cake dense which we don't want. For the buttercream however, and electric mixer is always easier.
If you can't have alcohol you can use lemon juice as an alternative to the vinegar, but best results really do come from using a white wine vinegar, or even apple cider vinegar.
Biscuits do naturally soften if they're placed on a cake, so if this is something you are fussy about, put them on last minute!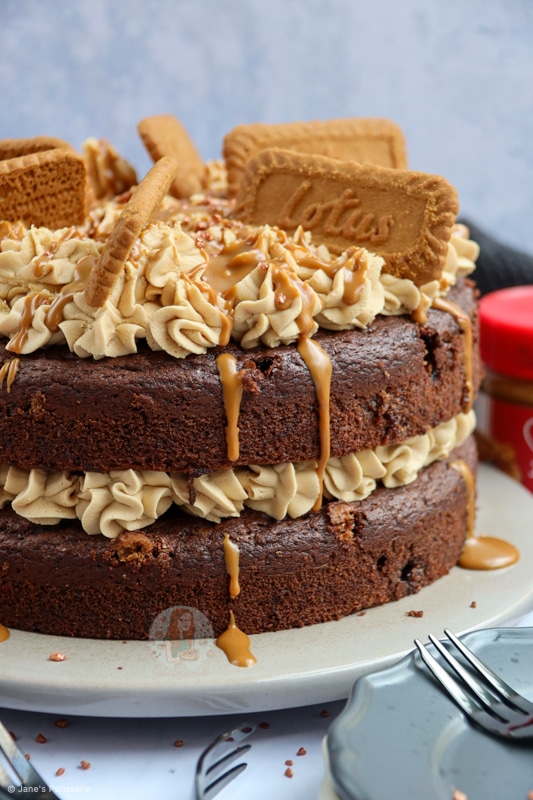 Vegan Biscoff Cake!
A two-layer delicious chocolate cake, with biscoff buttercream, biscoff decoration and more... the perfect vegan biscoff cake!
Print
Pin
Rate
Ingredients
Vegan Chocolate Cakes
400

g

Self Raising Flour

50

g

Cocoa Powder

300

g

Light Brown Sugar

1

tsp

Baking Powder

1

tsp

Bicarbonate of Soda

400

ml

Almond Milk

(or other dairy free milks)

1

tsp

Vanilla Extract

175

ml

Vegetable Oil

1

tbsp

White Wine Vinegar
Biscoff Frosting
150

g

Dairy Free Butter

300

g

Icing Sugar

125

g

Biscoff Spread
Decoration
Biscoff Biscuits

Biscoff Spread

Sprinkles
Instructions
For the Cakes!
Preheat your oven to 180ºc/160ºfan, and line two 8"/20cm cake tins with parchment paper on the bottom.

In a large bowl, add the flour, sugar, cocoa powder, baking powder and bicarbonate of soda.

Whisk them together so they're evenly distributed.

Pour in the milk, vanilla, oil and vinegar.

Mix the mixture until smooth - try not to over mix however. I just use a spatula/whisk.

Split evenly between the two tins, and bake for 30-35 minutes.

Once baked, leave to cool in the tins for 10-15 minutes, and then move on to a wire rack to cool fully. Be careful when handling the sponges as they will be very soft and could break easily.

Once cooled, refrigerate the cakes for 10-15 minutes before decorating to make them easier to handle.
For the Frosting!
Beat your butter on its own briefly to smooth it.

Add in your icing sugar and beat again until smooth.

Add in the biscoff, and beat again!
To Decorate!
Add your first sponge to a plate/boad, and pipe/spread 1/2 of the frosting onto the first cake.

Add the second cake and pipe on the rest of the frosting

Decorate with biscoff biscuits, spread and sprinkles! Enjoy!
Notes
This recipe will last for 3 days! Can be kept at room temperature, but fridge will do - it will just go quite solid!
You can use any dairy free milk, and any dairy free spread!
I used this piping tip for decoration
I use these 8" tins in the bake
Find my other recipes on my Recipes Page!
You can find me on:
Instagram
Facebook
Pinterest
Twitter
Youtube
J x
© Jane's Patisserie. All images & content are copyright protected. Do not use my images without prior permission. If you want to republish this recipe, please re-write the recipe in your own words and credit me, or link back to this post for the recipe.