August 15, 2022
Chocolate School Cake!
*This post may contain affiliate links. Please see my disclosure for more details!*
A deliciously yummy chocolate school cake with a really easy-to-make chocolate cake, icing, and homemade chocolate custard!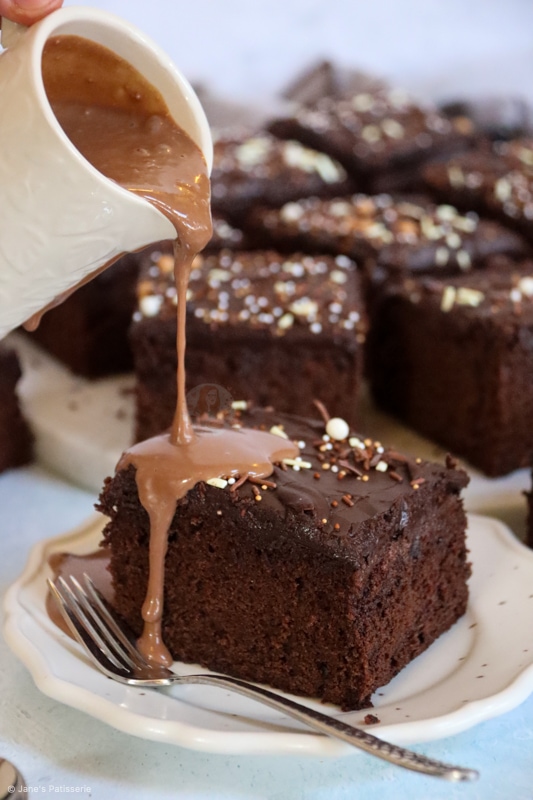 Oh, helloooo, you utterly delicious recipe that I just cannot get enough of already. Honestly, this chocolate school cake is a little life-changing for me, because I am just obsessed and I would like to eat it all day every day!
As always, this was a recipe that had been endlessly requested, so here it is! It's a yummy chocolate version of the ever classic school cake recipe that is already on my blog
Classic Bakes
Now I have nearly 700 recipes on my blog, and many many more in my first book and second book, but classic bakes often win out above anything and I cannot blame you for that. There is something about the simplicity and classic flavours that will just give you a whack of nostalgia and it's all you want to eat.
I am all for so many delicious recipes and baking ideas, but there is something about what you used to eat when you were younger, such as the classic school cake, butterfly cupcakes, jammy coconut cake, rhubarb, and custard-themed bakes and so on – they are all just so scrumptious.
This beauty comes under the ever-amazing category of school-related bakes from your past, that you will want to recreate asap.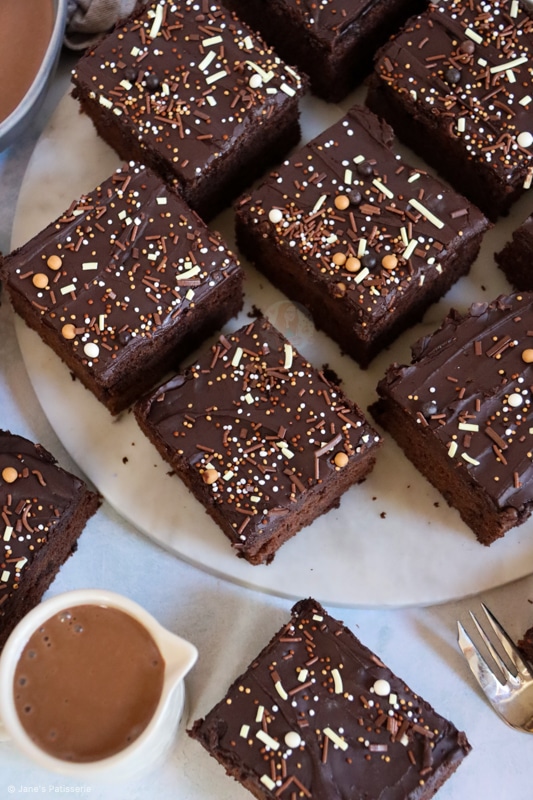 Cake
The cake is simple as always as it should be; it's basically a chocolate victoria sponge-style recipe because that's all you need to create something this good. It comes under the idea of a classic bake for me where you don't need anything fancy at all, and it's often ingredients that are already in the cupboard.
Butter – As always with a classic sponge, you can use a block of proper unsalted butter at room temperature, or you can use a baking spread!
Sugar – Caster sugar is my go-to for a cake like this as it's often the sugar that's most used for people, but light brown sugar would work well, also!
Flour – I use self-raising flour because you want the raising agent to create a lighter texture that is delightful
Cocoa – The cocoa powder is obviously fairly important because it's the quickest and easiest way to get to a chocolate-based bake.
Vanilla – The vanilla is optional, but I find it so so delicious in this bake.
Baking
I tend to cream my butter and sugar together until light and fluffy, and then add the other ingredients. Some people do the all-in-one method, but I find this can be risky because if your butter is too cold for example, you could end up with a split mixture or lumps of butter throughout the mix which is then hard to fix.
For a cake like this, it's not small… but that's okay, as it's only one layer! I use a classic 9×13″ traybake tin because it's the ideal size, and the amount of cake mix is ideal.
You never want a cake like this to be in too small a tin as the cake slices are going to be too deep, whereas the 9×13″ is perfection.
You want to bake the cake until there is no cake mix on a skewer that you poke into the middle of a cake so that you know it's not going to sink or anything once taken out of the oven. Another method to test if you are still unsure is to listen to the cake; if it's making a bubbling or crackling sound, it still needs a bit longer in the oven.
Icing
When I was originally making this cake, it didn't have icing… and that may be what some people are expecting. I found when it came to a chocolate school cake, some had it plain with the chocolate custard as that is often enough, but others had a simple icing.
I decided to do a chocolate school cake recipe WITH icing so if you want to make it, you can, or you can just leave it off. It's such a simple icing though it's worth trying as it's just so so SO easy to make!
A normal water icing consists of icing sugar and water, and that's it. I use the addition of cocoa powder to make a rich and delicious-looking icing that is still sweet and tasty, with a sprinkling of sprinkles all over of course. Let this set somewhat, and then portion and enjoy.
Custard
So when it comes to custard, you can 1000000% cheat and buy a shop-bought custard – we don't judge here at Jane's Patisserie (sometimes, you just don't have the time to make something from scratch and that is totally okay.
An easy way to make a chocolate custard is to buy a shopbought custard whether it's a fresh one from the chilled aisle, or a long-life custard is to heat it up in a pan, and add chopped chocolate! You can let the chocolate melt into the custard and it leaves it thick and delicious.
If you want to make your own, however, this custard is so easy to achieve and I make it so often now.
Milk – You need to use FULL-FAT milk to achieve the thick goodness of the custard.
Egg yolks – when you make a custard from scratch it is a classic to only use egg yolks as you want the richness of the yolk (the white has no place here)
Sugar – I use caster sugar because it's what I used in the sponge, but again you can use light brown soft sugar if you fancy.
Flour – This may sound weird, but it's important as it helps thicken the custard and make it delicious.
Flavour – Again, I use a little vanilla because yum
Chocolate – I decided to use an equal split of milk chocolate and dark chocolate to get a good balance, but you can use all of one or all of another.
Tips and Tricks
So after all of that, you should be able to make a deliciously easy chocolate school cake with no worries (but as always, any questions? leave them below in the comments!).
The most important thing with a bake like this, especially if you are involving your kids over the summer holidays, is HAVE FUN!!! Jane x
Chocolate School Cake!
A deliciously yummy chocolate school cake with a really easy-to-make chocolate cake, icing, and homemade chocolate custard!
Print
Pin
Rate
Ingredients
Cake
400

g

unsalted butter

400

g

caster sugar

8

medium

eggs

325

g

self raising flour

75

g

cocoa powder

1

tsp

vanilla extract
Icing
400

g

icing sugar

50

g

cocoa powder

4-5

tbsp

water
Chocolate custard
4

egg yolks

30

g

caster sugar

30

g

plain flour

300

ml

full-fat milk

1

tsp

vanilla extract

50

g

milk chocolate

50

g

dark chocolate
Instructions
For the Cake
Beat together your butter and sugar until light and fluffy.

Add in the eggs, self raising flour, cocoa powder and vanilla extract and beat again until combined well. 

Pour into the tin and bake in the oven for 45-50 minutes, or until baked through. 

Once baked, let the cake cool fully in the tin.
For the Icing
Add the icing sugar and cocoa powder to a medium sized bowl, and gradually add the water, mixing well each time, until a thick icing paste is made.

Carefully spread the icing over the cake evenly.
Sprinkles
Sprinkle over your favourite chocolate sprinkles!
Custard
Add the egg yolks, sugar, and flour to a large pan and whisk until smooth. Start to heat the egg yolk mixture on a low heat

Pour in the milk gradually whilst whisking, and pour in the vanilla extract

Whilst whisking continuously, heat the mixture to a simmer and let it simmer for several minutes until it starts to thicken

Once starting to thicken, add the milk chocolate and dark chocolate and let this melt whilst still stiring

Continue to heat the custard until you reach your desired consistency

Serve with the cake immediately if you want it hot, or let it cool for cold custard!
Notes
I recommend using a 9x13" Traybake tin for this recipe. 
This cake will last for 3-4 days once made. 
For a 9" square tin - I would recommend a 5 egg/250g sugar/butter/200g flour/50g cocoa mixture. Baked for 35 minutes
Find my other recipes on my Recipes Page!
You can find me on:
Instagram
Facebook
Pinterest
Twitter
Youtube
J x
© Jane's Patisserie. All images & content are copyright protected. Do not use my images without prior permission. If you want to republish this recipe, please re-write the recipe in your own words and credit me, or link back to this post for the recipe.