October 21, 2022
S'mores Cookies
*This post may contain affiliate links. Please see my disclosure for more details!*
Easy to bake chocolate chip s'mores cookies stuffed with a homemade marshmallow and chocolate spread – YUMMY!
So when I say I am obsessed with baking cookies, I am not exaggerating… it's an absolutely obsession that I don't think will ever end. And these cookies?! Well they just about top it.
When I posted my raspberry cheesecake cookies and my banoffee sandwich cookies you guys went absolutely mad for them, so I thought I'd jazz it all up s'mores styley.
S'mores
So according to wikipedia "A s'more is a campfire treat popular in the United States and Canada, consisting of one or more toasted marshmallows and a layer of chocolate sandwiched between two pieces of graham cracker." and there it basically means its something utterly delicious. Biscuit, chocolate and marshmallow?! What more could you want?!
I have a few s'mores based bakes on my blog so far such as my s'mores cookie bars, and even my s'mores cake, but I wanted to level things up slightly and do a s'mores cookie with a homemade marshmallow stuffed inside.
It's obviously not classic s'mores, but it's the idea behind it of a biscuit, marshmallow and chocolate just levelled up so much and I am utterly in love – and I am sure you will all love these too.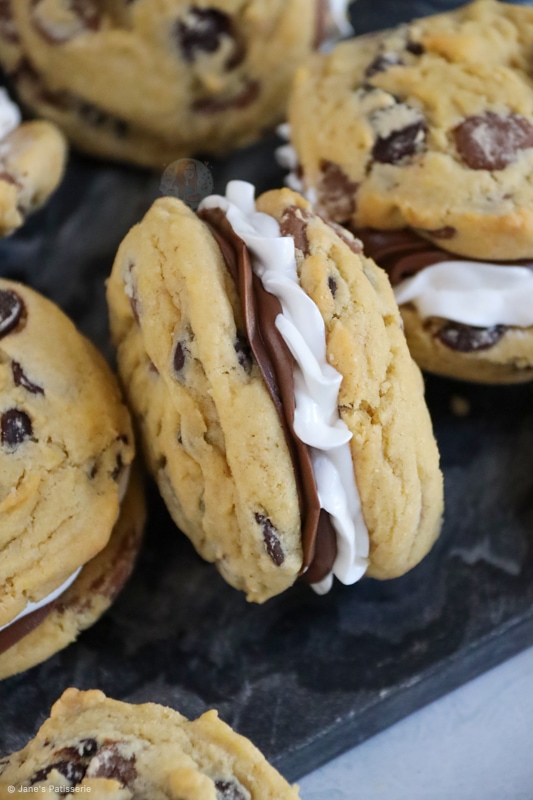 Cookie dough
The cookie dough is a basic chocolate chip cookie that you can get from my NYC chocolate chip cookie recipe, or other cookies on my website. They're measured with a 5cm scoop to bake to get a consistent size of cookie. You don't want them too large as you have to sandwich two cookies together and that really would be overload if you used NYC size.
As you don't need the giant chunky size of cookie, I don't chill the cookie dough. I make it, scoop it, and bake it and cool. I just want them to spread ever so slightly to be a good sandwich size.
Chocolate chips
For the chocolate chips I just went for a mix of milk and dark chocolate chips as they are my favourite. I know you don't need to use chocolate chips in a cookie, but they just bring it up to a new level for me and I can't help myself.
You can of course, just like always, use whatever chocolate chips you fancy in this part of the recipe – use milk, white, dark, a mixture or whatever! I don't judge – you do you, boo.
Marshmallow
The marshmallow is probably the most important part of this recipe as the cookie is similar to my other cookies, and this is the bit that makes up the s'mores. In my s'mores cookie bars I use marshmallow fluff, which is still very good to use, but I wanted to make a homemade marshmallow this time.
The quantity this makes can be too much – but it's harder to make a small amount. You can enjoy it on so many other bakes as well, or just devour it with a spoon which I will also recommend. You can half the recipe, but you just have to be conscious of the fact that the ingredients are such a small amount it may not work perfectly.
I know it sounds faffy, but it's worth it. It's like a marriage of a meringue recipe, and an Italian meringue – make a delicious marshmallow. I have a marshmallow recipe in my first book which is completely different and set – this is meant to be piped more like a frosting.
Using a thermometer makes this so much easier and so much more guaranteed to work. Also, electric whisks will absolutely save your arms. You need to whisk the meringue and then continue to whisk it whilst your sugar syrup heats up, and then you need to whisk whisk whisk to make the marshmallow and let it cool slightly.
Chocolate
So in a classic s'more, you have a solid piece of chocolate that melts. In these cookies, you have the chocolate chips already, so I decided to use a chocolate spread to add a softer chocolate element to the s'mores cookies.
You can use any chocolate spread really – nutella, chocolate, or even go wild and use biscoff – its completely up to you! I don't mind, and I have tried basically all combinations at this point. I piped my chocolate spread on, but you can of course just slather it.
Tips and Tricks
In this recipe I used:
These are indulgent cookies, but they are worth it. The marshmallow is best fresh, but can go into the fridge for 2 days or so.
The cookies on their own can last 4-5+ days, or freeze 3+ months.
S'mores Cookies!
Easy to bake chocolate chip s'mores cookies stuffed with a homemade marshmallow and chocolate spread - YUMMY!
Print
Pin
Rate
Ingredients
Cookies
125

g

unsalted butter

100

g

light brown soft sugar

75

g

granulated sugar

1

medium

egg

1

tsp

vanilla extract

300

g

plain flour

1.5

tsp

baking powder

1/2

tsp

bicarbonate of soda

1/2

tsp

sea salt chunks

150

g

milk chocolate chips/chunks

150

g

dark chocolate chips/chunks
Marshmallow
3

medium

egg whites

100

g

caster sugar

(for meringue)

1

tsp

vanilla extract

100

g

caster sugar

(for syrup)

65

ml

water
Instructions
Cookies
Preheat your oven to 200ºc/180ºfan, and line two-three trays with parchment paper.

Add the unsalted butter, light brown soft sugar and granulated sugar to a bowl and beat until creamy.

Add in the egg and vanilla extract and beat again.

Add in the plain flour, baking powder, bicarbonate of soda and sea salt and beat until a cookie dough is formed.

Add in the chocolate chips and beat until they are distributed well.

Scoop the cookies using a 5cm scoop onto lined trays.

Bake in the oven for 11-13 minutes, or until golden.

Remove the trays from the oven and leave the cookies to cool fully on the trays.
Marshmallow Frosting
Add the egg whites to a large bowl and start to whisk to stiff peaks

Add the 100g of caster sugar, 1 tsp at a time, whilst whisking.

Once all the sugar is in, whisk in the vanilla and leave the meringue to whisk on a slow speed just to keep it moving and stop it from sitting.

Whilst this is whisking, add the other 100g of caster sugar to a pan with the water. Heat this on a low heat to dissolve the sugar.

Once the sugar is dissolved, turn up the heat and boil the mixture to 113ºc.

Once heated, turn the whisk up high again and trickle the syrup into the meringue to make the marshmallow. Once all the syrup is in, whisk for a further 5 minutes.
Assembly
Pipe the chocolate spread onto half of the cookies, and then pipe the marshmallow on top.

Sandwich the cookies together and enjoy!
Notes
You can freeze the raw cookie dough easily, and bake from frozen if you don't want to bake the entire batch - add 1-2 minutes to the baking time. 
Once baked, these will last for 3-4+ days, in the fridge. 
Find my other recipes on my Recipes Page!
You can find me on:
Instagram
Facebook
Pinterest
Twitter
Youtube
J x
© Jane's Patisserie. All images & content are copyright protected. Do not use my images without prior permission. If you want to republish this recipe, please re-write the recipe in your own words and credit me, or link back to this post for the recipe.