October 24, 2022
Bread & Butter Pudding!
*This post may contain affiliate links. Please see my disclosure for more details!*
Deliciously easy and classic bread & butter pudding with a quick homemade custard, chocolate chips, and raisins!
So I always base the recipes that I post on follower and fan requests, and to say that I am late to the party on posting this delicious bread & butter pudding recipe is an understatement!
I get it guys, I do – it's delicious and you all want to make it as the weather is getting colder – so here you go!! My delicious bread & butter pudding.
Classic Bakes
When it comes to the classics you have so many things – school cake, concrete cake, spotted dick, jammy coconut sponge, and so on. However, if you really do want a true classic, bread & butter pudding is where it's at.
it's one of those bakes that I sorta hated as a child because I couldn't understand the concept of bread being soggy in a dish – needless to say, I was just stubborn and refused to try it because now I understand… now I love it.
This is one of those bakes that is so easy to throw together, and you can also really adapt it to what you have, which is a massive help!
Pudding
I would class this as the cosiest of puddings, and I am here for it. It's a pudding that you can prep in advance, or actually, just bake straight away if you need and it can't really go wrong!
I already have my baileys bread & butter pudding on my blog which is a deliciously festive version – or even my hot cross bun pudding for easter.. but for your everyday sort of pudding, here you go.
I would serve this fresh out of the oven, with a drizzle of cream, or even extra custard or ice cream! It is entirely up to you.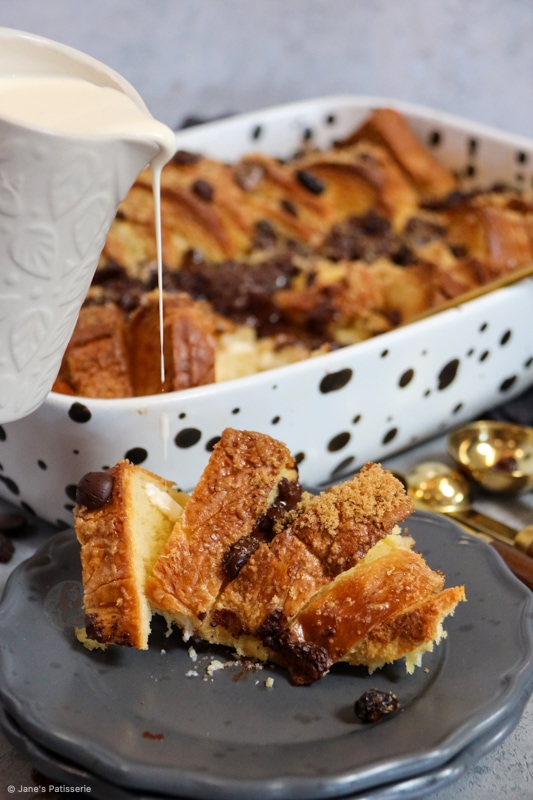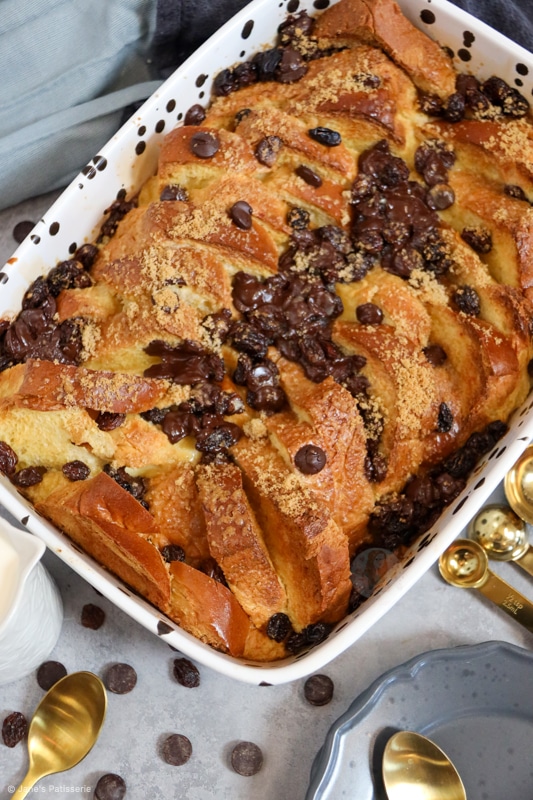 Bread
So, you can kind of go a bit wild with the 'bread' part here. I actually decided to use a loaf of brioche because it's what I had mistakingly bought for something else, and I wanted to use it up.
You can of course just use actual slices of bread – the classic white bread slice works wonders. Or, you can jazz it up even more and use croissants – anything bread-like works!
I sliced my brioche into triangles to make it fit into the dish well, so I would suggest doing the same with slices of actual bread, and croissants I would simply open in half.
The idea of bread & butter pudding is that it uses up bread that is going slightly stale – but you can still use fresh if you just fancied it anyway.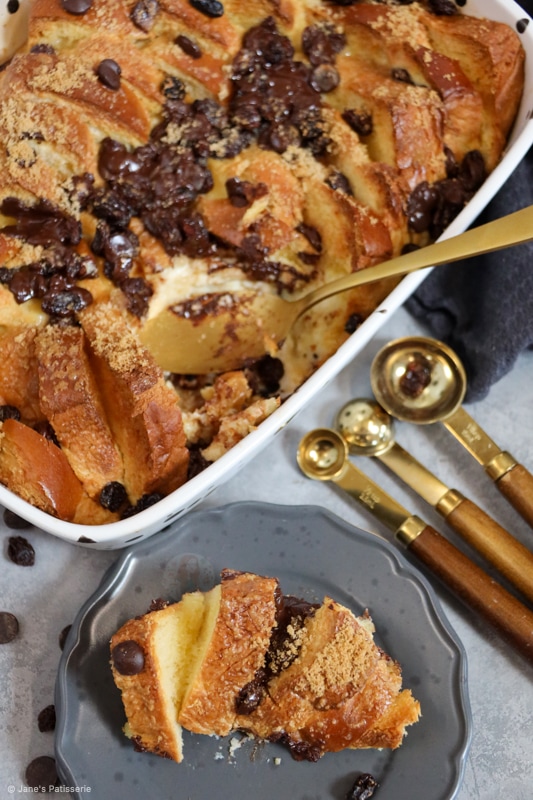 Butter
I know it might seem a slightly odd concept to people who haven't really been around bread & butter pudding before… but you really do just add blobs of butter to every slice. Yeah, I know, brioche is already quite intense, but I still put butter on every slice!
It's hard to say a quantity here as people may want more or less, so that's up to you. I just spread an amount of room temp butter onto my triangles and layered them in as I went.
Filling
I may have strayed slightly from the classic here using chocolate chips, but I did still use raisins as well. You can of course use a mixture of what you prefer – all raisins, all chocolate chips, mixed fruit, this that and the other… or nothing at all!
I just like the extra flavour that the filling bits bring. You can of course use chocolate chip brioche, or even pain au chocolat which already has the chocolate in it!
Raisins on their own is the main classic however, so obviously feel free to just use raisins if that's what you want.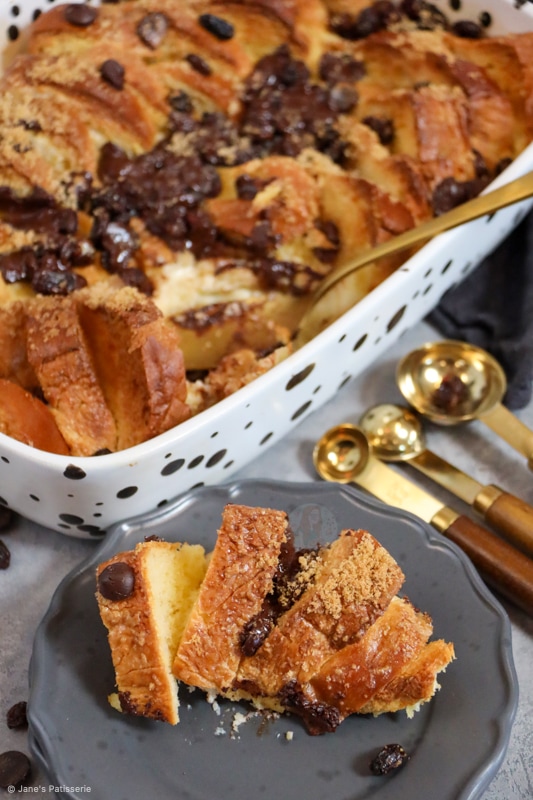 Custard
The custard I use for this is a quick, super easy method that isn't designed to be used for anything else. I mean that as it's designed to be thin, soak into the bread and create the pudding – it's not a custard you would use to serve with the pudding – that's a different one.
The mixture of milk, cream, eggs, and a little bit of caster sugar creates a wonderful mix that you can just whisk together, pour over the buttered bread, chocolate chips, and raisins and let it soak in a little before baking.
I finish it off with a little sprinkling of brown sugar to create a nice texture and flavour which finishes it off perfectly. It really is such a simple dessert to make, so I hope you love it! x
Bread & Butter Pudding!
Deliciously easy and classic bread & butter pudding with a quick homemade custard, chocolate chips, and raisins! 
Print
Pin
Rate
Ingredients
400

g

brioche loaf

50-100

g

unsalted butter

75

g

raisins

75

g

chocolate chips

4

medium

eggs

300

ml

double cream

300

ml

whole milk

50

g

caster sugar

50

g

light brown sugar
Instructions
Preheat your oven to 180C/160C Fan.

Start by prepping your ingredients. I slice my bread into 2cm thick slices, and then also in half to get them to be shorter!

Spread a small amount of unsalted butter onto each piece of bread, and then put the bread into your dish.

Sprinkle on your raisins and chocolate chips!

In a jug, whisk together your eggs, cream, milk, and sugar!

Pour over the bread evenly.

If you have time, sit the pudding in your fridge for 20-30 minutes before baking to let it all soak in, but this is not essential.

Sprinkle over the brown sugar, and bake in the oven for 35-40 minutes, or until baked. You want it to be nice and golden on top, and perfectly stodgy.
Notes
I was using up a slightly stale loaf of brioche for this, but you can use any bread type object you fancy. 
You can use all raisins, or all chocolate chips. 
This is best served on the day of baking when it's fresh, but can easily be reheated once! 
Serve with cream, ice cream, custard or more! 
Find my other recipes on my Recipes Page!
You can find me on:
Instagram
Facebook
Pinterest
Twitter
Youtube
J x
© Jane's Patisserie. All images & content are copyright protected. Do not use my images without prior permission. If you want to republish this recipe, please re-write the recipe in your own words and credit me, or link back to this post for the recipe.