November 21, 2022
Mince Pie Crumble Bars
*This post may contain affiliate links. Please see my disclosure for more details!*
Delightfully delicious mince pie crumble bars with an oat crumble base and topping, and homemade mincemeat filling!
As we really are truly into the festive season now, I wanted to post a recipe that SO MANY OF YOU have asked for!
Honestly, these beauties are just so delicious and festive, and I'm sure you will all adore them as well!
Mince Pies
Last year I posted my mince pie recipe and it went down an absolute storm. Mince pies are such an iconic classic in the festive season, that I am not surprised.
I also have a gingerbread mince pie recipe in my second book, which yet again has proved so popular. There is something about the delicious crunch of a pastry and the sweet but so fully of flavour filling.
Even if you aren't a fan of mince pies, you have probably tried them. They are much easier to make than you think – and I think far better than the shop bought versions.
Mincemeat
So when it comes to the mincemeat part of a mince pie or these crumble bars, no there is no actual meat involved. I know so many of you will know that, but some people really don't.
The recipe does involve quite a lot of bits and bobs, but it really does create a wonderfully cosy and delicious mincemeat filling.
I use a mixture of raisins, currants, sultanas, and dried cranberries as my main fruit, and then add in mixed peel and chopped up cooking apple.
A hint of flavour from ground cinnamon, mixed spice and lemon brings it up a notch, with a little sweetness from the light brown sugar.
Yes, this recipe does have brandy in it because it should! It's a classic mincemeat, so there is booze. You can however swap the brandy for orange juice or apple juice for a tame version.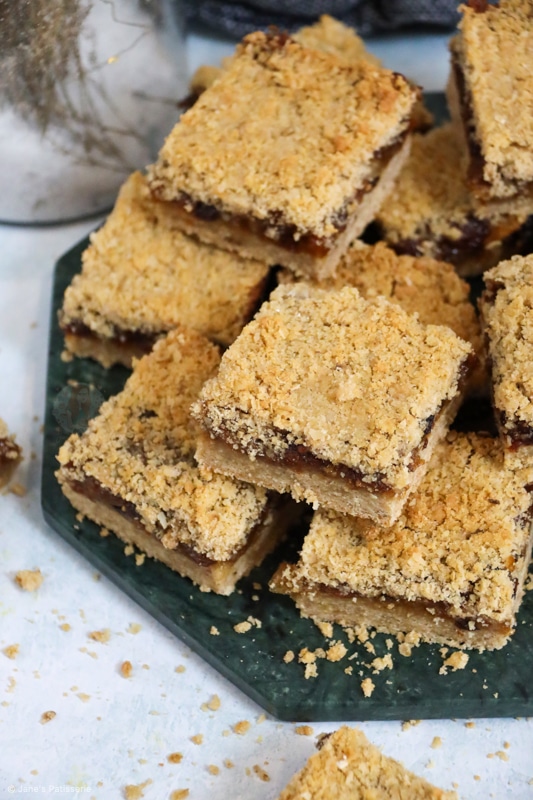 Crumble
As with my raspberry crumble bars, I stuck to the same recipe. This is partly because nearly all of the requests after seeing the raspberry version asked for the mincemeat one – so here you go.
Oats – I used rolled oats, as I do in all my baking. Jumbo ones work as well as regular size.
Flour – Plain flour as always!
Sugar – I decided to use light brown soft sugar, but this would work well with other sugars such as caster sugar, or even dark brown soft sugar.
Raising agents – A little bit goes a long way – the baking powder provides a nice little lift.
Butter – I use unsalted butter as always, and avoid baking spreads of margarines as they are too soft for the crumble mixture.
Baking & Assembly
When it comes to these, they are pretty simple to make. You obviously have to prep ahead and make the mincemeat first. Don't worry, it doesn't take too long – I'd say you need to allow at least an hour so that the mincemeat has a chance to cool.
You can also make the mincemeat ahead, and store it in sterilised jars until you are ready to bake – it works well! Or, of course, you can use shop bought mincemeat. There is absolutely no judgement here if you wanted to!
For the baking, I used a 9″ square tin as always because it creates the perfect depth and size of bake. You split off 500g of the crumble mix into the base of the lined tin, press down firmly. Top with the cooled and ready mincemeat, and then gently tap on the rest of the crumble mix!
As always, bake into a preheated oven. These take on the dot of 30 minutes in a preheated fan oven at 180ºc – you want the oats to look golden on top, and the mixture not be wobbling about the place. Make sure to cool fully before portioning.
Tips & Tricks
As mentioned above, you can make homemade mincemeat like in this recipe, or you can use shop bought – either works well. You just want the same total amount to make it work!
The crumble recipe is best made by rubbing the ingredients together with your finger tips – if you use a food processor you will blitz the oats into a fine powder which you don't want!
These beauties last 4-5+ days at room temp, but do also freeze well for 3+ months.
Mince Pie Crumble Bars!
Delightfully delicious mince pie crumble bars with an oat crumble base and topping, and homemade mincemeat filling! 
Print
Pin
Rate
Ingredients
Mincemeat
75

g

raisins

75

g

currants

75

g

sultanas

75

g

dried cranberries

50

g

mixed peel

150

g

cooking apple

(finely chopped)

75

g

unsalted butter

125

g

light brown soft sugar

1

tsp

ground cinnamon

1

tsp

mixed spice

Zest of

1

lemon

150

ml

brandy

(or apple juice for alcohol free)
Crumble
175

g

rolled oats

200

g

plain flour

(plus extra for dusting)

150

g

light brown soft sugar

175

g

unsalted butter

(cold & cubed)

1/2

tsp

baking powder
Instructions
Mincemeat
Add the raisins, currants, sultanas, dried cranberries, mixed peel, chopped cooking apple, unsalted butter, light brown soft sugar, ground cinnamon, mixed spice and lemon zest to a large pan.

Heat the mixture together on a low heat until the unsalted butter has melted and the mixture has mixed together.

Turn up the heat to a medium heat and simmer the mixture for about 10 minutes.

Remove the pan from the heat and let the mixture cool.

Once cooled, stir through the brandy.
Crumble
Preheat the oven to 200ºc/180ºfan and line a 9x9" square tin with parchment paper.

In a large bowl, add the rolled oats, plain flour, light brown soft sugar, baking powder and unsalted butter.

Rub the ingredients together with your fingers until the mixture resembles bread crumbs and there are no large lumps of butter left.

Pour 500g of the oaty crumble mix into the lined tin and press down firmly.

Pour the mincemeat onto the base crumble and spread

Sprinkle over the rest of the crumble mix

Bake the bars in the oven for 30+ minutes, or until golden and beautiful.

Leave the bars to cool fully before portioning. Refrigerating them can sometimes make this easier.
Notes
The mincemeat will last in sealed and sterilised jars for up to six months. 
You can also use shopbought mincemeat instead! You'll need the same total amount - 600-800g works well. 
For alcohol free, use something such as apple juice. 
Find my other recipes on my Recipes Page!
You can find me on:
Instagram
Facebook
Pinterest
Twitter
Youtube
J x
© Jane's Patisserie. All images & content are copyright protected. Do not use my images without prior permission. If you want to republish this recipe, please re-write the recipe in your own words and credit me, or link back to this post for the recipe.