January 23, 2023
Air Fryer Brownies!
*This post may contain affiliate links. Please see my disclosure for more details!*
Deliciously fudgy and chocolatey easy to make air fryer brownies with chocolate chips!
So lets just say that after I posted my air fryer chocolate chip cookies a few weeks ago, I didn't expect the response that they got. I can't cope! The amount of people asking for more air fryer sweet recipes was insane!
When I did actually ask, 1000s of you asked for an air fryer brownie so… HERE YOU GO!! They are SO fudgy as you can see, they are chocolatey, and they are incredibly easy to make.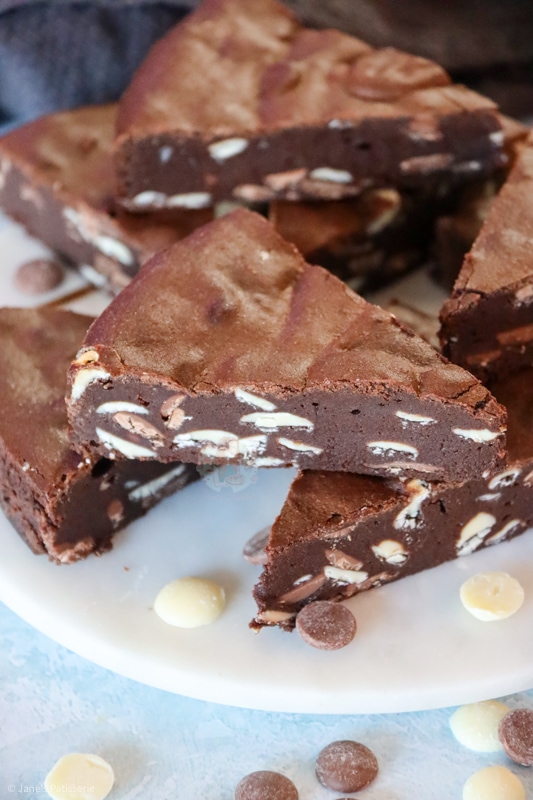 Air fryers
I have always loved cookie in an air fryer because it's just so easy! Shove chicken in there, veggies, chips… all sorts! It's so much less faff for certain foods, but I didn't really think about baking in them for a long time.
However, when air fryers were on the rise I was determined to create some utterly scrumptious sweet air fryer recipes, as I think they are a bit lacking at the moment. These beauties? Oh holy smokes.
I know some people think the air fryer phase is a bit of thing, but personally… if people ask for the recipes, and people want them, I will do them!!
The tin
I use this air fryer, and I love it. However, this recipe is catered for this particular sized air fryer, in terms of the size of the tin I use. This recipe uses a 7″ round tin because it fits perfectly inside the basket of the air fryer. As air fryers come in different shapes and sizes, the tin you need to use may vary depending on what will fit.
If it fits, 1lb loaf tins would work, or even a square tin. If you had a square tin instead of a round tin, you would want to use a 6″ square tin. Or, if your air fryer comes with any form of bakeable inserts – use that!
It may sound slightly faffy, but the best way to explain the tin size you need is to get one that is about 39 square inches in size. Nothing will be exact, but go for a similar bake time and give it a go! The baking time will only change by 1-2 minutes, and even if its slightly under the first time, you can always enjoy an incredibly delicious fudge brownie.
Brownies
For the actual brownies, I tried so many different recipe and method ideas – and in the end, its pretty darn close to my normal chocolate chip brownies anyway.
My base recipe uses dark chocolate, butter, flour, cocoa powder, eggs and sugar – and then you add in chocolate chips. This recipe, is the same. Because the size of the tin you can use in the airfryer is quite a bit smaller in comparison to my normal brownie sized tin, I decided to half the recipe.
100g dark chocolate – it really is best to use 70%+ cocoa content for the best brownie
100g butter – this can be actual real butter, a baking spread, or even a margarine
150g sugar – I tend to switch between caster sugar and light brown soft sugar, but either work perfectly
2 medium eggs – my normal recipe uses four!
50g flour – you do need some dry, and a small amount of flour works wonders.
25g cocoa powder – it really does increase how chocolatey the brownies are
150g chocolate chips – you can of course either leave these out, or swap up what chocolate chips or chunk flavours you use.
Baking in an air fryer
As mentioned above, the tin you need to use may vary depending on the air fryer you have. I have tested this in the air fryer that I own, and to be honest it's hard to get them wrong luckily!
The mixture of the brownies is simply mixed together in a bowl with a spatula so it's incredibly easy – and then you pour them into your lined tin. I only ever tend to line the bottom of my tins, but I am a smidge lazy.
I set my air fryer to the regular air fry function, and baked for about 16 minutes. I have put the cook time as 14-16+ minutes because it may vary depending on how you like your brownies.
Once baked, you MUST chill them! They will be a gooey mess at this stage – which is no bad thing – but if you want to portion them… please chill them! I let the tin cool down, and then shove the tin in the freezer for two hours, or the fridge for 3-4 hours.
Top tips
Keep an eye on the size and shape of your air fryer – the tin you need to use may vary so timings may vary slightly
For best results chill the brownies in their tin and then set them in the freezer/fridge for best results
These brownies will last 5-7 days at room temp or in the fridge, or they will freeze for 3+ months
Make sure to use dark chocolate in the base brownie, but the chips can be whatever flavour you fancy
Air Fryer Brownies!
Deliciously fudgy and chocolatey easy to make air fryer brownies with chocolate chips! 
Print
Pin
Rate
Ingredients
100

g

dark chocolate

100

g

unsalted butter

150

g

light brown sugar

2

medium

eggs

50

g

plain flour

25

g

cocoa powder

150

g

chocolate chips

(75g white, 75g milk)
Instructions
Add the dark chocolate and butter to a bowl and melt together until smooth. let this cool slightly.

Add in the eggs and sugar and mix

Add the plain flour and cocoa powder and mix again

Add the chocolate chips and beat until they're distributed well!

Pour into a lined 7" round tin (See blog post for notes!)

Place the tin inside your air fryer

Air fry the brownies on the air fry function for 14-16+ minutes at 160ºc

Once baked, let the tin cool and then place in the freezer for 2 hours, or the fridge for 3-4 hours, until the brownies have set.
Notes
Please see the blog post about tin sizes if you have a differently shaped air fryer. 
These brownies will last 5-7+ days or freeze for 3+ months 
ENJOY!
Find my other recipes on my Recipes Page!
You can find me on:
Instagram
Facebook
Pinterest
Twitter
Youtube
J x
© Jane's Patisserie. All images & content are copyright protected. Do not use my images without prior permission. If you want to republish this recipe, please re-write the recipe in your own words and credit me, or link back to this post for the recipe.