February 17, 2023
Mini Egg Brownies!
*This post may contain affiliate links. Please see my disclosure for more details!*
Deliciously chocolate mini egg brownies with a thick fudge brownie, stuffed with mini eggs and chocolate chips, topped with even more!
Say hello to your new easter obsession… aside from all of my other easter bakes which are also amazing. Honestly, these are just simple, easy and yet utterly spectacular and they are sure to please everyone you bake them for.
Easter bakes
We all know and love my easter bakes by now… some of them are cult classics across the world if I do say so say myself (mini egg NYC cookies anyone?!) and I just couldn't resist doing another beauty of a recipe that I know will be utterly life changing for a lot of people… MINI EGG BROWNIES!
My easter bakes range quite a lot from a lot of Creme Egg recipes such as my Creme Egg stuffed cookies, my Creme Egg fondants, and even my hot cross bun pudding… but the mini egg bakes are always pulling it out the bag. I love easter baking because of the colours, the flavours, and everything interesting about it.
I think easter bakes are the type that everyone will always go to, just like christmas, because you have more of a reason to bake something indulgent and oh so chocolatey, and you know everyone is going to want to devour a slice.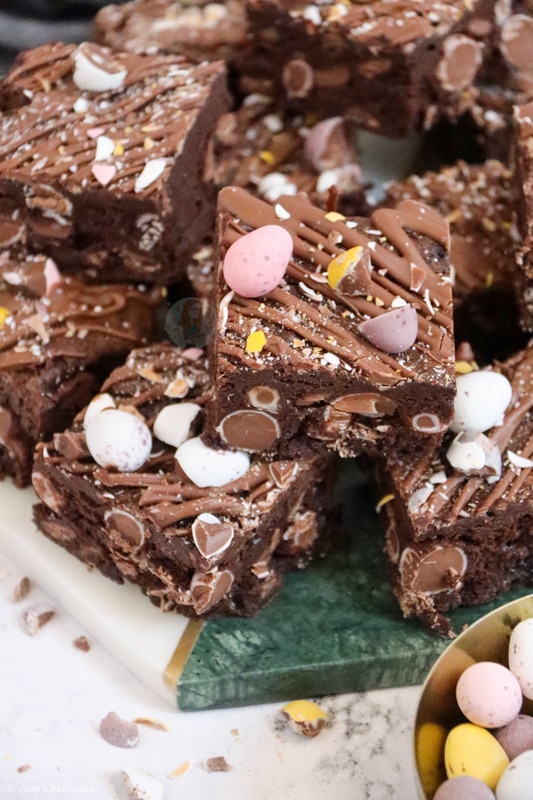 Brownies
When it comes to brownies, I don't like to change what I trust. My base brownie mix is the same and it will likely never change. The marriage of the ingredients creates the most fudgy and perfect brownie that I can make off by heart by now, bake for the exact right amount of time, and always have the perfect bake at the end.
I am a firm believer in the process of making these brownies, and I need you to trust me with it. You have to melt the dark chocolate (always, always 70%+ cocoa content dark chocolate for best results) with the butter. The butter can be real butter, or a baking spread – either or works absolutely fine and I don't tend to notice a different as it's all melted together anyway.
After the chocolate and butter is melted together and cooled, you can whisk the eggs and the sugar together. I do tend to use my stand mixer when making this part of the brownie as I am lazy, but you can. 100% use an electric hand whisk, or even a balloon whisk and you arms; it'll just take you a bit longer. You want the eggs and sugar to have doubled in volume and be much paler in colour before carrying on with the next steps.
Fold through the melted chocolate mixture, and then fold through the plain flour and cocoa powder. It may seem like not that many dry ingredients, but trust me, it's the perfect amount. You do not want to use the electric mixer for this bit as you really do want to carefully fold everything together so you don't deflate the air too much.
Chocolate
When it comes to the chocolate, you obviously have to use the dark chocolate as mentioned above in the base brownie mixture. If you don't like dark chocolate, then don't worry – it doesn't taste bitter or dark. If you like things dark however, use an extra dark chocolate like 90-100% for an even more indulgent brownie.
When it comes to the chocolate chips, or decoration chocolate however, in all brownies, you can use whatever you like. You don't HAVE to add chocolate chips to the brownies if you don't want to, as you are already adding in mini eggs, but I just can't help myself.
Also, when I say chocolate chips, you can use chunks of chocolate, chopped chocolate bars, chips from the supermarket or wholesale chocolate like I do – but they all work well.
Mini Eggs
When I search mini eggs on my blog its been nearly a year since my last new recipe with them, my mini egg cookie pie, and this needed to change. I am entirely and absolutely obsessed and have used approximately 8kg of them so far this year, purely filming recipe videos for social media. Yes, most were also snacks, but that's okay.
People often ask how much chocolate I eat, and the answer really isn't that much… I think because I bake so much, I end up just snacking as I go, but I rarely just sit and eat a bag of chocolate. However… if its mini eggs? I will eat many, many bags each Easter. It's probably my favourite snack chocolate that exists, and it makes me so sad that it's not available all year around.
I think mini eggs taste delicious, and they also look cute with the pastel colours for the look of the bake. of course, over the years I think the colours of the shells have changed, and it's always bugged me there isn't an even number of each colour in each bag (why is this a thing?!), but all the same… MINI EGGS ARE SO GOOD. And, they are even better in these mini egg brownies.
Decoration
So, I know brownies are fairly indulgent as they come, and if you don't want to decorate them I don't judge… you do you! However, I just couldn't resist a little bit of delicious chocolate decoration for these beauties.
I used some melted milk chocolate to drizzle all over the brownies, and then sprinkled on some mini eggs. I often find crushed and chopped mini eggs are really pretty 'sprinkles' because they almost create a colourful chocolatey dust and it looks and tastes great.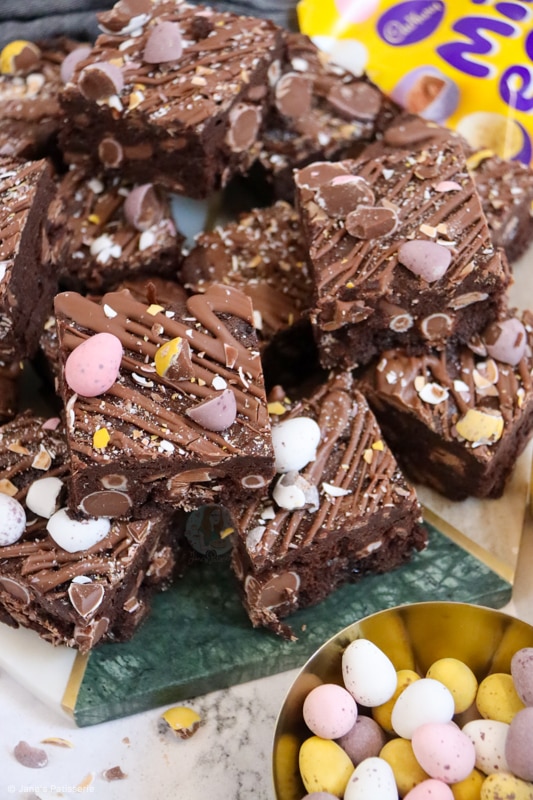 Tips & Tricks
If you struggle to bake brownies it really is worth double checking the method and making sure to follow the steps of cooling the chocolate, whisking the eggs and sugar, and carefully folding the rest. Also make sure you are using the correct chocolate in the base mixture.
It can be worth grabbing an oven thermometer as I once had an oven that was 50ºc wrong, and it obviously explained why my bakes were failing miserably.
It's also worth making sure to use the correct size tin, as bake times and end results do change if you use the wrong tin. This is the tin I use!
These will last 5-7+ days once made, or they can freeze for 3+ months.
Mini Egg Brownies!
Deliciously chocolate mini egg brownies with a thick fudge brownie, stuffed with mini eggs and chocolate chips, topped with even more! 
Print
Pin
Rate
Ingredients
Brownies
200

g

dark chocolate

200

g

unsalted butter

4

medium

Eggs

275

g

light brown soft sugar or caster sugar

100

g

plain flour

50

g

cocoa powder

150

g

chocolate chips

250

g

mini eggs
Instructions
Preheat your oven to 180ºc/160ºfan and line a 9x9" baking tin with parchment paper

Melt together the dark chocolate and unsalted butter until smooth in the microwave or in a bowl over a pan of simmering water. Leave to cool for a few minutes

In a new bowl, whisk the eggs and sugar together for a few minutes until the mixture has doubled in volume, is alot paler, and leaves a trail for a few seconds when you lift the whisk out.

Pour the chocolate/butter mix into the whisked sugar and eggs and fold through very carefully.

Add in the flour and cocoa powder and fold through carefully again.

Finally, fold through the chocolate chips and mini eggs.

Pour the brownie mixture into the lined tin

Bake in the oven for 25-30+ minutes or until there is a very slight wobble in the middle.

Leave to cool in the tin!

Drizzle the brownies with melted milk chocolate, and then sprinkle over some crushed mini eggs for decoration

Optional but worth it - set the brownies in the fridge for 2+ hours (or even better, overnight) after they have cooled to create a lovely fudgy texture!
Notes
These will last for 5-7 days at room temp, or in the fridge
You can use any flavour chocolate chip or chopped chocolate. 
If your brownies are taking much longer than stated to bake, your oven may have been the wrong temperature, or you overmixed your batter. Keep adding on 5 minutes till they're done and cover with foil if need be! The mixture should wobble ever so slightly in the middle, but if it all wobbles it needs longer. 
ENJOY!
Find my other recipes on my Recipes Page!
You can find me on:
Instagram
Facebook
Pinterest
Twitter
Youtube
J x
© Jane's Patisserie. All images & content are copyright protected. Do not use my images without prior permission. If you want to republish this recipe, please re-write the recipe in your own words and credit me, or link back to this post for the recipe.