March 3, 2023
Hot Cross Scones!
*This post may contain affiliate links. Please see my disclosure for more details!*
Delicious hot cross scones, a twist on a classic buttery scone, mixed with hot cross buns – what more could you want?
Now we all know how much I love mashing up baking ideas… I have many recipes already such as my carrot cake cheesecake, mince pie brownies, cheesecake loaf cake and so on! So when it came to Easter, I HAD to combine two of my favourites: scones + hot cross buns = heaven.
These little beauties are fun to make, delicious to eat, and are 100% something to get you into the Easter baking spirit.
Scones
Scone as in cone, or Scone as in gone? How do you say it? I will happily admit that I switch between the two throughout talking about them as I don't stick to one side… however, surely it's scone as in cone as it spells the same?!
We all know the debate of jam first or cream first as well, but which one are you? Having loved holidaying in Cornwall, but schooling in Devon again I can sit on the divide, but it's all about jam first right!? The cream has to sit on top!
My classic buttery scones are absolutely delightful, and all of my variations from my lemon and blueberry scones to my apple crumble scones, I wanted to create another beauty. The flavours in this recipe just take them to another level.
Hot Cross Buns
I alway adore a hot cross bun, and I will eat them over and over again, especially throughout the easter period. I know it may seem a bit much to be so obsessed, but whether they are shop bought, or even my homemade ones like the classic flavour, or my chocolate ones, I adore them.
There is something about a toasted hot cross bun with a slathering of butter on top that is absolutely irresistible, and turning that into a hot cross bun pudding is another delightful treat.
I love adding 'bits' to my hot cross buns, and in the classics it's all about raisins and mixed peel, so I thought they'd transfer really well to the hot cross scones.
Hot Cross Scones
So, for these DELICIOUS scones, you marry all my favourite things about hot cross buns and scones. I wanted to get the flavours across by using the classic scone base, but with a light brown sugar instead of caster sugar, and the mixed peel and raisins for the additional ingredients. I add mixed spice to these scones so that there is a spice there, as most easter bakes have a little something and I just adore it.
The butter should be nice and cold and added to the flour, salt, baking powder, spice and sugar – rub these together to make a breadcrumb like mixture. The milk and lemon creates its own buttermilk for the scone mix, and then a little bit of vanilla for a touch of sweetness.
You want to work the dough as little as possible, so it's best to just use a bowl with a spatula to mix the dough. When rolling out the dough, you can just pat the dough onto a floured surface so that it doesn't get moved about too much, helping to prevent a tough scone.
Flavours
You can jazz these up by making them even more flavoursome buy using different spices or even just more spices – I love adding ground cinnamon, ginger or nutmeg to these as they are deliciously warming flavours that suit the easter vibe, and also compliment the raisins and mixed peel as well.
If you don't like raisins, or mixed peel, you can leave them out and add in some other goodies, such as chocolate chips. I do the same in my chocolate hot cross buns as I wanted them chocolatey, and they are delicious.
Tips & Tricks
Mix with a spoon and bowl for best results, mixers can over work the dough
Try patting out the dough onto a floured surface rather than rolling
Flour your cutters before trying to cut out the scones – try not to twist it too much in the proces
These are best on the day of baking by last 2-3 days at room temp
They can freeze after baking for 3+ months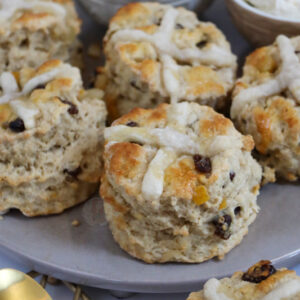 Hot Cross Scones
Delicious hot cross scones, a twist on a classic buttery scone, mixed with hot cross buns - what more could you want?
Print
Pin
Rate
Ingredients
scones
350

g

self-raising flour

(plus extra for dusting)

1/4

tsp

sea salt

1

tsp

baking powder

1

tsp

mixed spice

50

g

light brown soft sugar

90

g

unsalted butter

(cold & cubed)

1

tsp

lemon juice

1

tsp

vanilla extract

180

ml

full-fat milk

75

g

mixed peel

75

g

raisins

1

egg, beaten, for glazing.
cross
50

g

plain flour

1-2

tsp

water
Instructions
Preheat your oven to 220ºc/200ºfan, and place a lined tray in the oven to preheat. 

Tip the self-raising flour, sea salt, baking powder, mixed spice, light brown soft sugar and cold and cubed unsalted butter into a large bowl.

Rub the mixture together with your fingertips until it resembles bread crumbs

Heat the full-fat milk in the microwave or on the hob so it becomes warm, but not hot.

Add the milk into the rest of the mixture, along with the lemon juice and vanilla extract and stir with a spatula as it'll be very wet at first. 

Make sure the dough is starting to mix well, and add in the mixed peel and raisins and finish mixing

Sprinkle some extra flour onto the work surface, and turn the dough out onto it and gently roll it out, or press it down, to be about 4/5cm thick. 

Using a 5cm cutter, cut out the scones - you'll have to re-roll the mixture a couple of times to get them all out of the mix. 

Take the tray out of the oven, and put the scones onto it.

Mix the flour and water together to a thick paste, and then pipe onto the scones to make a cross shape

Brush the top of the Scones with the beaten egg mixture and bake in the oven for 10 minutes. 

Leave to cool for at least 10 minutes once they're out so you don't burn yourself. And then, enjoy! 
Notes
You could easily make smaller or bigger scones if you wanted, but adjust the baking times accordingly. 
These are best on the day of baking, but they will last for two days after. 
See the blog post about different flavour ideas
ENJOY!
Find my other recipes on my Recipes Page!
You can find me on:
Instagram
Facebook
Pinterest
Twitter
Youtube
J x
© Jane's Patisserie. All images & content are copyright protected. Do not use my images without prior permission. If you want to republish this recipe, please re-write the recipe in your own words and credit me, or link back to this post for the recipe.