April 14, 2023
Coronation Cake!
*This post may contain affiliate links. Please see my disclosure for more details!*
A delicious vanilla traybake cake topped with freshly whipped cream and berries, the perfect coronation cake for King Charles!
I wanted to make a cake that really would suit making and serving for any celebrations for King Charles coronation, and this one is perfect. It's easy, delicious, light and fun to make! It's a showstopper, but still easy to serve.
The Coronation
It's the King's coronation in a few weeks time, so it seems appropriate to start planning the celebrations. Street party? Watching it on TV? Having a lovely bank holiday? Well a few bakes will always be a popular idea.
I wanted to make something that suited the theme – and with a giant Union Jack of fruit on top, it's hard to miss why this one is ideal. It's a simple idea, but as it's quite a basic cake with basic flavours, it's easy to make for the occasion, and will always be the first thing snapped up from the table.
The cake
For the cake I decided to stay super basic, and go for a popular sponge base. My school cake sponge is always very popular as it's a basic sponge, and I add vanilla to it. This is of course optional, you can flavour it any way – but I went vanilla.
Butter – For the sponge you can use either a baking spread, or a block unsalted butter at room temp. Either work well.
Sugar – I used caster sugar as I wanted the colour and flavour to stay light, but you an swap it to light brown soft sugar if you want a more caramel flavour naturally.
Eggs – I used medium eggs, but if you have other sizes, weigh them in their shells and then match the other ingredients – get to as close to 400g as possible.
Flour – I use self raising flour as per usual – it's the best for cakes
Vanilla – Always use extract, bean paste, or pods – essence is nasty.
Whipped Cream
As I wanted this to be slightly different to the other traybake recipes on my blog already, and I really wanted to make something light and delicious, I used whipped cream. This consists of double cream, icing sugar and a little vanilla to flavour the cream, whipped to peaks and then spread and piped on.
I spread half of the cream onto the cake to make a surface that the strawberries and raspberries can stick to with a small spatula, right to the edge. Then, after adding the start of the flag, I piped the rest of the whipped cream on so that the blueberries were sat up slightly (As they are much smaller than the other fruit). You can then of course just pipe it all on, or spread it all on – I just wanted a pretty pattern.
You can obviously use a buttercream instead if you want – but I would avoid an icing like on the school cake as that may cause the fruit to run off slightly. A standard buttercream would be 175g unsalted butter mixed with 350g icing sugar.
The fruit & flag
When it came to the fruit for this coronation cake, it had to be quite particular due to the flag. I went for strawberries, raspberries and blueberries, all of which are starting to come into season when the coronation happens so it's the perfect time to use them.
Strawberries made the main cross of the flag, with the raspberries doing the other part. I then used blueberries to fill in the rest of the flag on top of the cream – and look at how pretty it its!
I would recommend using fresh fruit for this cake as frozen berries will not look as nice and will thaw/leak in a weird way onto the cream. If you are worried, decorate the cake somewhat last minute before serving, but it does last a couple of days in the fridge.
Tips & Tricks
If you wanted a chocolate based cake, use my chocolate school cake as a base sponge. Or you can even jazz it up slightly and use my gin & tonic traybake – or even my chocolate orange traybake cake.
This cake is best served fresh on the day because of the fruit and cream, but can last 1-2 days in the fridge if needed!
Flavour the sponge with any flavour you fancy – 1-2tsp extract such as lemon, orange, almond etc!
How much fruit you need may vary depending on size of the berries so buy a little extra if you are worried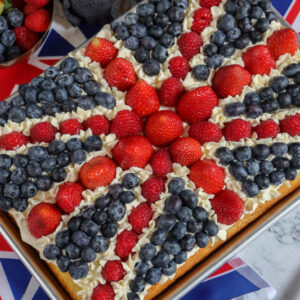 Coronation Cake!
A delicious vanilla traybake cake topped with freshly whipped cream and berries, the perfect coronation cake for King Charles! 
Print
Pin
Rate
Ingredients
Cake
400

g

unsalted butter

(or baking spread)

400

g

caster sugar

7

medium

eggs

400

g

self raising flour

2

tsp

vanilla extract
Cream
450

ml

double cream

2

tbsp

icing sugar

1

tsp

vanilla extract
Fruit
300-400

g

strawberries

150-250

g

raspberries

300

g

blueberries
Instructions
For the Cake
Beat together your butter and sugar until light and fluffy.

Add in the eggs, self raising flour, and vanilla extract and beat again until combined well. 

Pour into the tin and bake in the oven for 45-50 minutes, or until baked through. 

Once baked, let the cake cool fully in the tin.
For the cream
Add the double cream to a large bowl with the icing sugar and vanilla

Whisk until thick and spread half onto the cooled sponge

Arrange the strawberries and raspberries for the red part of the flag

Piper spread the rest of the cream in-between and then arrange the blueberries on top
Notes
I recommend using a 9x13" traybake tin for this recipe. 
This cake is best served fresh but will last for 1-2+ days in the fridge once made. 
For a 9" square tin - I would recommend a 5 egg/250g sugar/butter/flour mixture. Baked for 35 minutes
ENJOY!
Find my other recipes on my Recipes Page!
You can find me on:
Instagram
Facebook
Pinterest
Twitter
Youtube
J x
© Jane's Patisserie. All images & content are copyright protected. Do not use my images without prior permission. If you want to republish this recipe, please re-write the recipe in your own words and credit me, or link back to this post for the recipe.