October 3, 2016
M&M Cookie Cake!
*This post may contain affiliate links. Please see my disclosure for more details!*
A super chocolatey two-layer M&M cookie cake made out of two giant cookies with vanilla buttercream frosting!
The other week I posted my M&M Cookie Bars recipe and they were such a massive hit – Like, so many of you had made them on the same day I posted the recipe, and this continues to happen every single day.
However, when it was one of my closest friends birthdays recently, I knew I had to make her something AMAZING and delicious that would be a little 'next level'… Hello Giant M&M Cookie Cake.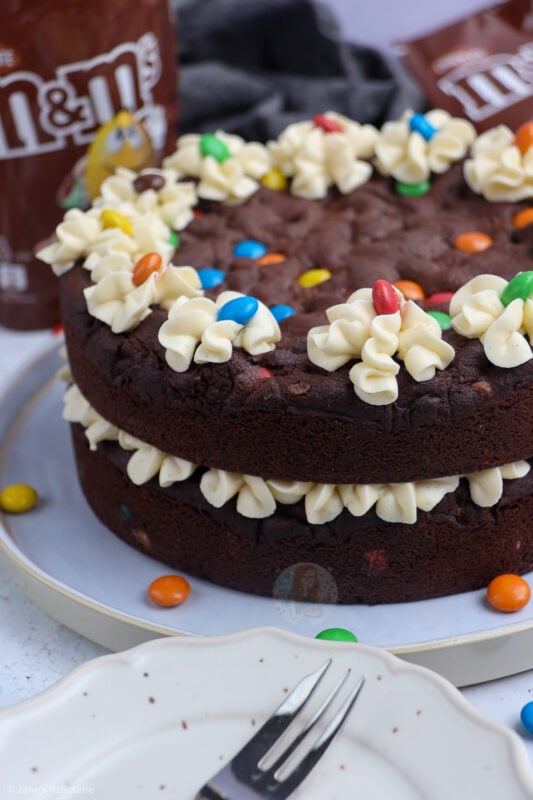 Cookie Dough
I used the recipe for my M&M Cookie Bars as it was just such a success and was just SO delicious I couldn't actually cope. Cookie dough generally stays the same whether its as a NYC Cookie, cookie bar or cookie cake.
You want the dough to be quite chocolatey, so I use cocoa powder to flavour it – but if you want a plain cookie, you can take out the cocoa powder, and add in 100g more of the flour.
Or, you can flavour the cookie dough with flavourings such as peppermint extract, orange extract, coffee extract and so on.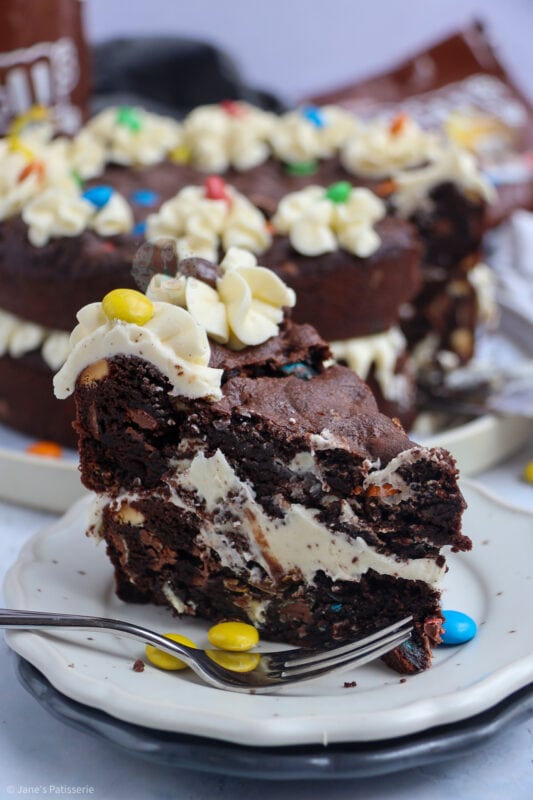 Chocolate Chips
I added in some milk chocolate chips and white chocolate chips to make it even more chocolatey and delicious. However, the main feature here is of course the M&Ms.
I used the regular chocolate M&Ms, but you can use any type of M&Ms you fancy. You can also switch to other chocolates, but I do sometimes find chocolates such as smarties can fade more during baking.
Some people may say that the chocolate chips are not necessary, but I like the difference between the normal chocolate chips and the M&M's. They create a different texture and flavour and just make it heavenly.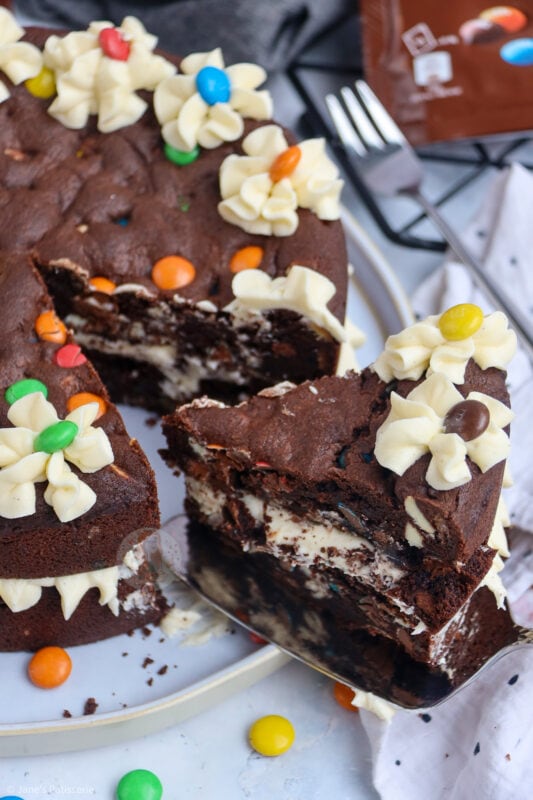 Cookie Cakes
As it was my friends birthday, I wanted to make the treat look like a cake so I simply doubled the M&M Cookie Bars recipe, and split between two 8″/20cm tins and baked for a bit longer.
They can end up sinking a little in the middle, but its because its such a large cookie that that is often the case, and it ended up being the perfect little area for the buttercream to be on the bottom layer, and just looked delicious on the top.
Like seriously, just look at all those bright and colourful M&Ms just there in the cookie… YUMMY. It's best to use 8″ tins so the cookie bakes correctly and you don't have a raw middle. If you want to use 6″ tins, you need to use 2/3 of the recipe.
I seriously hope you guys love this beauty as much as I and the birthday girl did… enjoy!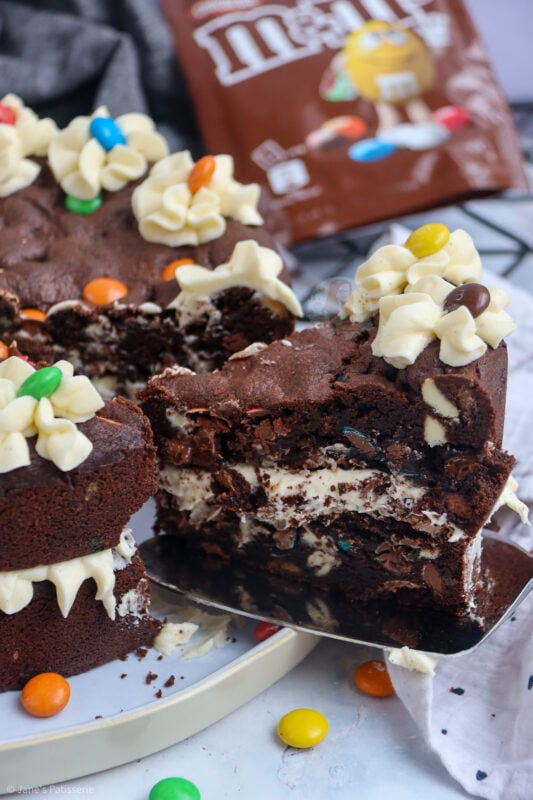 M&M Cookie Cake!
A super chocolatey two-layer M&M cookie cake made out of two giant cookies with vanilla buttercream frosting!
Print
Pin
Rate
Ingredients
Giant Cookies
400

g

Plain Flour

100

g

Cocoa Powder

2

tsp

Bicarbonate of Soda

1

tsp

Salt

2

tbsp

Cornflour

230

g

Unsalted Butter/Stork

110

g

Granulated Sugar

270

g

Light Brown Sugar

2

Medium

Eggs

1

tsp

Vanilla Extract

150

g

Milk Chocolate Chips

150

g

White Chocolate Chips

300

g

Chocolate M&Ms
Decoration
150

g

Unsalted Butter

300

g

Icing Sugar

1

tsp

Vanilla Extract
Instructions
Preheat your oven to 190C/170C Fan and line Two 8″ Circle Cake Tins with parchment paper, and leave to the side for now.

Whisk/Mix the Plain Flour, Cocoa Powder, Bicarbonate, Salt and Cornflour together so its evenly distributed – leave to the side.

In a larger bowl, melt the butter. Add in the two sugars, and whisk for about 2 minutes so the sugar starts to dissolve and the mixture is smooth. Add in the Egg and the Vanilla, and whisk again briefly till smooth.

Add in the Dry Ingredients, the two different chocolate chips, the M&M's, and mix with a spatula till a thick cookie dough is formed.

Press the mixture into the bottom of the two different tins – I weighed it out so they were the same as it made baking them easier and more even.

Bake in the oven for 25 minutes, until the top of the cookie bake looks 'dry' and a skewer comes out basically clean, bar a few crumbs. (Can take up to 30-35 minutes depending on your oven and the mix)

Leave the cookies to cool in their tins for about 10 minutes, then leave to cool fully on a wire rack.

In a stand mixer, beat your butter for a couple of minutes till really smooth and supple. Add in the Icing sugar 1/2 at a time and fully beat in before you add the other half.

Add in the Vanilla Extract and beat the buttercream for about 4-5 minutes until smooth and fluffy. If you think its still a little stiff, add in a couple of tbsps of whole milk, or boiling water and beat till you have the texture you want.

On top of your favourite cookie, pipe little 'stars' of buttercream frosting around the edge and sprinkle on some cute sprinkles (like you can see in the pictures).

Spread or pipe the rest of the frosting on top of the other cookie. Put the better cookie with the frosting stars on top and you're done! Enjoy!
Notes
This delicious recipe is based on a recipe by Crunchy Creamy Sweetwhich I have adapted to grams, and swapped up slightly from my M&M Cookie Bars post to create a double layer cookie cake.
I used oodles of Chocolate M&Ms in this recipe, and the colour on them stayed perfect even after baking, but I'm sure it would work with the Crunchy M&M's, the Peanut M&M's, or even smarties for example, and you could just use all chocolate chips, or all M&Ms if you wish – but as I explained earlier on, I liked the mixture.
This amazing Cookie Cake will last for 3 days after baking, but I won't be surprised if it lasts less than a day.
ENJOY!
Find my other Cookie, Chocolate & Cake Recipes on my Recipes Page!
You can find me on:
Instagram
Facebook
Pinterest
Twitter
Bloglovin'
Youtube
J x
© Jane's Patisserie. All images & content are copyright protected. Do not use my images without prior permission. If you want to republish this recipe, please re-write the recipe in your own words and credit me, or link back to this post for the recipe.