August 19, 2016
M&M Cookie Bars!
*This post may contain affiliate links. Please see my disclosure for more details!*
Super chocolatey cookie dough full of M&M's, making THE most delicious M&M cookie bars ever!
These are deliciously easy bakes that you can make in an afternoon and enjoy so quickly.. cookie bars are 100% one of my favourite bakes to make and I adore them.
M&M recipes
I love M&Ms more than most chocolates, because I just want to snack on them all of the time. They tend to bake well and stay so bright and colourful, making sure anything looks perfect. The chocolate style cookie base marries so well with the M&M's. If you eat the cookie bars when they're still slightly warm, the M&Ms are gooey, crunchy and amazing.
So far I don't have masses of M&M related recipes because everything would be so similar, but my M&M cheesecake is a curveball amongst these cookie bars along with my M&M cookies and M&M cookie cake.
I find that M&Ms always keep their colour well when baking, and you can use any of the M&Ms that you fancy. I tend to just use the regular M&Ms as I prefer them, but don't worry about even using a mixture!
Cookie Bar recipes
I have been after a cookie traybake recipe for SO LONG. I have struggled so many times as a majority of the recipes are american, and therefore in 'Cup' measurements, and no offence to anyone… but I hate cup measurements. I just find them so unreliable and it just doesn't make sense too me.
I did have to spend plenty of time however googling each weight of 'cup' measurement to find out what it was in grams, and when it didn't entirely make sense I took a random stab at scaling up or down so make it a whole amount, and oh my days THESE ARE SO GOOD.
Cookie bars are genuinely just cookies baked into traybake form and I adore it. They are different to brownies and aren't cake bars… they are COOKIE bars. The amount of love for a cookie bar is insane. My mini egg cookie bars are always super popular, as well as my caramel gingerbread cookie bars.
Cookie Dough
A cookie dough like this is super similar to other cookie bar recipes as well as cookies on my blog – I have endless amounts of cookie dough related recipes now that you will not be lost for ideas. Maybe, there are too many… but the cookie dough is always super similar.
Butter – Whether its baking spread, butter, or a margarine – they all work for cookie bars
Sugar – I use a mixture of white granulated sugar and light brown soft sugar for these
Egg – I tend to use medium eggs in my bakes, but you can use one large egg instead of a medium
Vanilla – it is always optional, but adds a delicious flavour.
Flour – Always use plain flour in your cookies!! You don't want self raising flour as it will create a cake like cookie. I do also use cornflour as it adds a nice texture, but you can remove it and add 25g more flour.
Cocoa – I use a strong cocoa powder when baking because I like a really rich chocolate flavour in my chocolate bakes
Raising agents – For these, I use bicarbonate of soda… it's a key ingredient in a lot of cookie bakes because it creates a good texture
Salt – I always add sea salt to my cookie dough related bakes because it's delicious, but you can definitely leave it out, or use salted butter
Tips & Tricks
I always bake my M&M cookie bars into a 9″ square tin as it creates the perfect bake for me. I bake for the same amount of time each time and it creates a delicious slightly soft cookie bar. If you prefer a crunchier cookie however, you just need to bake for a few extra minutes.
These will last for 4-5+ days at room temp, but you can freeze them for 3+ months after baking.
If you want to make these but with a plain vanilla cookie dough, you can remove the cocoa powder and add on 100g more plain flour.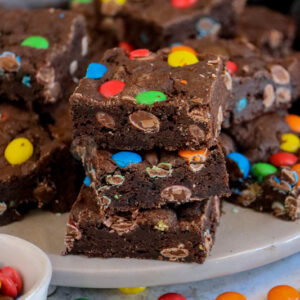 M&M Cookie Bars!
Super chocolatey cookie dough full of M&M's, making THE most delicious M&M cookie bars ever!
Print
Pin
Rate
Ingredients
200

g

plain flour

50

g

cocoa powder

1

tsp

bicarbonate of soda

1/2

tsp

salt

1

tbsp

cornflour

115

g

unsalted butter/baking spread

55

g

granulated sugar

135

g

light brown sugar

1

Medium

egg

1/2

tsp

vanilla extract

300

g

M&Ms
Instructions
Preheat your oven to 190ºc/170ºc fan and line a 9x9inch square tin with parchment paper, and leave to the side for now.

In a larger bowl, melt the butter. Add in the two sugars, and whisk for about 2 minutes so the sugar starts to dissolve and the mixture is smooth.

Add in the egg and vanilla extract, and mix

Add the plain flour, cocoa powder, bicarbonate, salt and cornflour and mix to a cookie dough

Add in the dry Ingredients, and all but a small handful of M&Ms, and mix until a thick cookie dough is formed.

Press the mixture into the bottom of the tin and press in the handful of M&Ms into the top for decoration.

Bake the traybake in the oven for 18-20 minutes, until the top of the cookie bake looks 'dry'

Leave the cookie bake to cool for about 10 minutes, then leave to cool fully on a wire rack. Cut the bake into 4×4 for decent sizes, or 5×5 for smaller ones! Enjoy!
Notes
I used oodles of Chocolate M&Ms in this recipe, and the colour on them stayed perfect even after baking, but I'm sure it would work with the Crunchy M&M's, the Peanut M&M's, or even smarties for example!
These delicious beings will last in an airtight container for up to 4-5 days, but honestly, they'll be eaten before then.
You can find a cookie version of this recipe here! 
ENJOY!
Find my other Cookie & Traybake Recipes on my Recipes Page!
You can find me on:
Instagram
Facebook
Pinterest
Twitter
Youtube
J x
© Jane's Patisserie. All images & content are copyright protected. Do not use my images without prior permission. If you want to republish this recipe, please re-write the recipe in your own words and credit me, or link back to this post for the recipe.