July 24, 2017
Millionaires Cake!
*This post may contain affiliate links. Please see my disclosure for more details!*
A three-layer caramel sponge millionaires cake with chocolate buttercream frosting, gooey caramel, and mini shortbread bites!
So I adore anything millionaires themed… how can I not?! Biscuit, caramel and chocolate are basically THE BEST COMBINATION in the world. Ever. Honestly, I love it! My millionaire's cupcakes post has been so popular since I posted it, and I can see why.
I adore the secret caramel centre, with the naturally caramelly sponge using light brown soft sugar with chocolate buttercream on top. The photos look so good on that post because they show the caramel oozing out so it never surprises me that they're a hit!
My salted caramel millionaires shortbread has always been a massive hit as well because its a salty twist on the classic. I adore it! I love the salted caramel, which you can easily add to this recipe as well. You could simply add a tsp of salt to the tin of caramel, and it would be delicious!
With this recipe, I did base it quite heavily on my millionaire's cupcakes as I adore it so much. I used the light brown sugar recipe again as I just adore the flavour of the sponges, and it keeps it so moist and lovely. Unsalted butter, light brown soft sugar, eggs, self-raising flour and an optional bit of baking powder are the dream.
I say the baking powder is optional because self-raising flour already contains a raising agent, so some people never fancy adding any more – you can though, as long as you don't overmeasure, for a lighter texture in the sponge which I personally love.
This recipe is a three-layer cake so I bake the sponges into three 8″/20cm round tins for best results – I get that it is quite an intensely tall cake if there aren't many of you, but trust me it is worth doing. If you want to make a two-layer cake, however, I would use 250g butter, sugar and self-raising flour, 5 medium eggs and 1/2 tsp baking powder split between two tins, baked for 30 minutes.
For the frosting, I then went with an easy chocolate buttercream using unsalted block butter (never use a spread for buttercream!), icing sugar and cocoa powder, but you can easily swap to using actual chocolate if you wanted instead.
I tend to use cocoa powder because I simply use whatever I find easier sometimes (and whatever I have in the cupboard!) – whereas with melted chocolate it is another bowl to clean and something to remember to do – but if you do want this, I would recommend 200g dark chocolate, melted and cooled.
If you are baking the cake in the middle of winter or cold weather you may need to add 1-3tbsp of boiling water to your buttercream to smooth it out slightly. This is a common thing and something I do often – however, if it is the middle of summer, the chances of needing to do this are slim as the ambient temperature of your kitchen will naturally soften the buttercream.
I decided to pipe the buttercream onto my cake using my all-time favourite 2d closed star piping tip, because I am in love with it. You can of course pipe the buttercream on however you like, or even just slather it on if you fancy – there is no shame in that. Honest!!
For the caramel I used a shop-bought caramel for ease, and don't hate anyone for wanting to do that. Shop bought ingredients are there for a reason, and there is no issue in using them. If you want to make your own caramel sauce, you can try my homemade caramel sauce recipe!
I love layering the naturally caramel flavoured sponges with buttercream and then plenty of caramel sauce – it drizzles out the sides of the sponges, looks AMAZING when you cut into the slices and is generally utterly irresistible.
Yes, I did use shop bought mini-shortbread bites for the top – you can just use shortbread if you like, or even make some mini homemade shortbread bites with one of my many millionaires recipes but that is entirely up to you!! Enjoy!
I went for a big three layer cake as I just love the look of them, and it certainly makes them a showstopper. But honestly, this is one of my favourite bakes in a long time and I hope you all love it too! Enjoy! x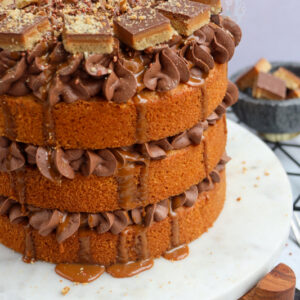 Millionaires Cake!
A three-layer caramel sponge millionaires cake with chocolate buttercream frosting, gooey caramel, and mini shortbread bites! 
Print
Pin
Rate
Ingredients
Cake Ingredients
400

g

Unsalted Butter/Stork

400

g

Light Brown Sugar

8

Medium

Eggs

400

g

Self Raising Flour

1

tsp

Baking Powder

(optional)
Chocolate Buttercream Frosting
350

g

Unsalted Butter

(room temp)

650

g

Icing Sugar

75

g

Cocoa Powder

1-2

tbsp

Boiling Water
Decoration
350

g

Caramel

(carnations)

Shortbread Bites

Sprinkles

Crushed Shortbread
Instructions
For the Cake!
Heat the oven to 180C/160C Fan and line three 20cm/8inch sandwich cake tins with baking parchment – leave to the side.


In a stand mixer, beat together the butter and light brown sugar for a few minutes until light and fluffy. Add in the flour, eggs, baking powder and beat again briefly till combined – try not to overbeat!


Divide the mixture between the three tins and smooth it over – bake for 25-30minutes until the cakes are golden and when the cake springs back (skewer should also come out clean)!

Once baked, leave the cakes to cool in their tins for 10 minutes or so, and then remove and leave to cool fully on a wire rack. If the cake has domed slightly, leave the cake to cool upside down to flatten it slightly so its easier to decorate later!
For the Decoration!
Beat the butter with an electric mixer for a couple of minutes to loosen it – Gradually add the icing sugar on a slow speed until it is combined then speed the mixer up and mix for 3-4 minutes until thoroughly combined and smooth.


Add the Cocoa Powder to the buttercream and continue mixing. If its really stiff, add in 1tbsp of Boiling Water at a time until you reach the desired texture.

When its summery I don't usually need to add any, when its colder weather its usually 1-3tbsps! Keep on beating for 5 minutes until whipped and silky smooth!


On the first layer of the cake, pipe your buttercream using a 2D Closed Star Piping Tip, and then drizzle/spread some of the caramel on top. Repeat again with the next layer.

For the top layer, pipe on the rest of the buttercream, and add some little swirls. Drizzle over some more caramel. On top of each swirl, add a mini Millionaires Shortbread Bite, or a piece of Shortbread.

Sprinkle on some crushed shortbread, some sprinkles, and ENJOY!
Notes
I love this style of cake as you can tell from the few I have made, and I happen to have 3 8″ tins, if you don't have 3 tins you can make a smaller version of the cake, use 300g of everything in the cake mixture rather than 400g, 1.5tsps of baking powder, 6 medium eggs (and it might take an extra 5-10 minutes to bake) and use 2/3 of the decoration recipes!
I used Carnations Caramel which is like the condensed milk you can buy, but you can realistically use any caramel sauce you like or Dulce de Leche.
This cake will last in an airtight container for 3 days!
ENJOY!
Find my other Cake, Chocolate & Caramel Recipes on my Recipes Page!
You can find me on:
Instagram
Facebook
Pinterest
Twitter
Youtube
J x
© Jane's Patisserie. All images & content are copyright protected. Do not use my images without prior permission. If you want to republish this recipe, please re-write the recipe in your own words and credit me, or link back to this post for the recipe.