October 15, 2018
Halloween Cookie Bars!
*This post may contain affiliate links. Please see my disclosure for more details!*
Spooky and terrifyingly tasty halloween cookie bars with a black cookie dough, and stuffed with chocolate halloween M&Ms!
Halloween
It's October, it's nearly Halloween… and I have been a bit poor on the Halloween scale so far this year. I've been so busy I have barely had the time, but I thought I would do something quick, easy and deliciously spooky for you guys to bake for the kids, or just because you're craving cookies!
I have my pumpkin spice cookies, or even many halloween cakes such as my Halloween drip cake, or even my slime cupcakes.. but I know, there's something about cookie bars that are just super easy and a go-to bake.
Cookie Bars
This recipe is basically a copy of my M&M cookie bars because I just adore M&Ms, and they bake so well for cookies. Personally, I find that Smarties lose their colour quite a bit… and in general, I prefer M&Ms anyway. Are you the same?! Smarties or M&Ms? I feel like there is quite a divide on the internet about this!
Cookie bars are literally a recipe for cookie dough, just baked into a 9″ square tin instead of individual cookies. This makes it easier as you can just whack the mix into the tin, and portion how you like.
M&Ms
I went to London to see Harry Potter and the Cursed Child recently, and if you go to Soho/Leicester Square quite often you'll know that M&M world is there… and I couldn't resist it. I bought all the themed chocolate sweets I could afford. That's a bit of a lie, I just didn't want to spend toooooo much as it would be a bit ridiculous.
When you go downstairs in M&M world, you basically find a GIANT pic'n'mix of M&Ms and it just looks amazing as well. All the colours perfectly separated, or themed ones dotted about… and I bought some Halloween ones just for these. They were mainly orange, a few yellow, and then some black/brown ones.
Of course, if you can't go to an M&M world so casually, you will probably just have to pick out the colours from regular packets. It's no bad thing, just eat the rest!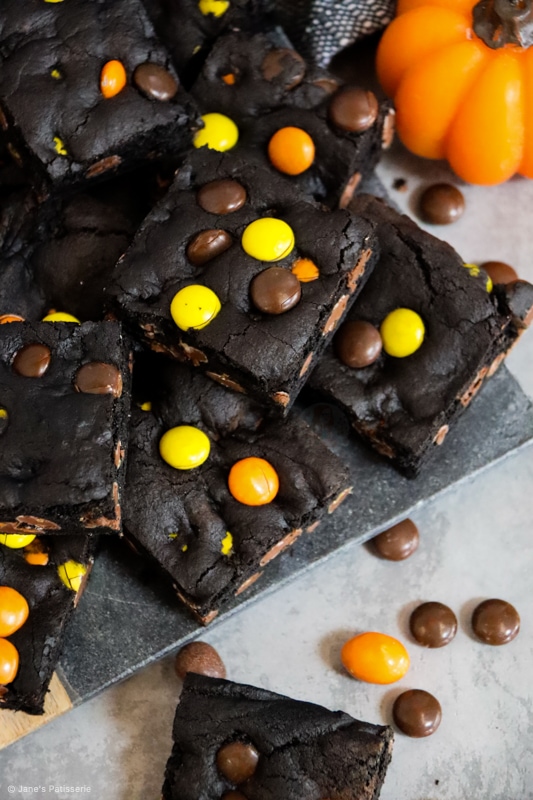 Cookie Dough
I thought, why not make the actual cookie black? Like to really contrast with the orange and yellow. I realise some people can get a bit funny about using food colouring, but when you use really good quality food colouring, it doesn't matter even nearly as much because you use so little. I 100% recommend the Sugarflair Extra Black, as I just used half a teaspoon, and it made the bake completely black.
I haven't personally ever coloured fondant black, as I usually just buy it, but for buttercreams, macarons etc, this Sugarflair Extra Black, is ideal. It really is insane. You can see from the pictures just how well it worked, and I am obsessed. The actual cookie bars don't taste any different, they just taste deeeelightful and I am obsessed with cookie bars as you may know.
Baking
I personally bake these for 17/18 minutes because I like them to be quite gooey. The longer you bake, the dryer they will be. I've had people ask questions in the past about why their cookie bars are dry, and it literally is just overbaked.
If you use a different tin size, it can affect the bake, but keep an eye! These don't really matter so much if they're 'underdone' because they continue to bake when cooling! Enjoy!
Halloween Cookie Bars!
Spooky and terrifyingly tasty halloween cookie bars with a black cookie dough, and stuffed with chocolate halloween M&Ms!
Print
Pin
Rate
Ingredients
115

g

unsalted butter

55

g

granulated sugar

135

g

light brown sugar

1/2

tsp

Sugarflair Extra Black food colouring

200

g

plain flour

50

g

cocoa powder

1

tsp

bicarbonate of soda

1/2

tsp

salt

1

tbsp

cornflour

1

medium

egg

1

tsp

vanilla extract

300

g

Halloween M&Ms
Instructions
Preheat your oven to 190C/170C Fan and line a 9x9inch square tin with parchment paper, and leave to the side for now.

In a large bowl, melt the butter.

Add in the two sugars, and whisk for about 2 minutes so the sugar starts to dissolve and the mixture is smooth.


Add in the black food colouring and whisk again.

Add in the egg and the vanilla, and whisk again briefly until smooth.

Whisk/mix together the plain flour, cocoa powder, bicarbonate, salt and cornflour together so it's evenly distributed.

Add in the dry ingredients, the M&Ms (leave back a handful), and mix with a spatula until a thick cookie dough is formed.

Press the mixture into the bottom of the tin and press in the handful of into the top for decoration. Bake the traybake in the oven for 18-20 minutes, until the top of the cookie bake looks 'dry' and a skewer comes out basically clean, bar a few crumbs.

Leave the cookie bake to cool for about 10 minutes, then leave to cool fully on a wire rack. Cut the bake into 4×4 for decent sizes, or 5×5 for smaller ones! Enjoy!

Notes
This delicious recipe is based on a recipe by Crunchy Creamy Sweet which I have adapted to grams, and swapped up slightly!
I used oodles of chocolate M&Ms in this recipe, which I bought from M&M World in London - which is how they are so easily colour specific!
You can buy themed M&Ms online, or pick colours out of packets, or try other Halloween chocolates like orange smarties (but M&Ms hold their colour better)
These delicious beings will last in an airtight container for up to 5 days, but honestly, they'll be eaten before then.
If you want to bake these into cookies you can, but add in 50g more plain flour. They may still spread a smidge. 
ENJOY!
Find my other Recipes on my Recipes Page!
You can find me on:
Instagram
Facebook
Pinterest
Twitter
Youtube
J x
© Jane's Patisserie. All images & content are copyright protected. Do not use my images without prior permission. If you want to republish this recipe, please re-write the recipe in your own words and credit me, or link back to this post for the recipe.
This post may contain Affiliate Links.