November 5, 2018
Milkybar Cheesecake!
*This post may contain affiliate links. Please see my disclosure for more details!*
A sweet, delicious and creamy no-bake Milkybar cheesecake!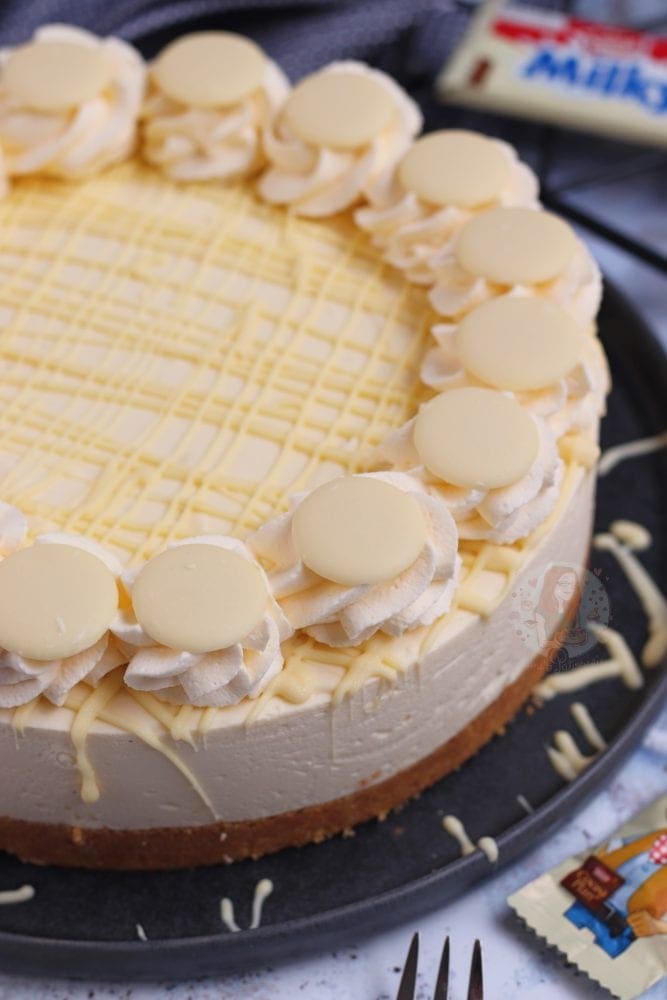 Milkybar cheesecake
Oh, heyyyyyy probably one of the most requests recipes EVER on my blog! I never fail to get surprised by ideas and recipes that people ask to see on my blog, but when many people say the same thing, I feel like I should oblige.
This has probably been requested since I started the blog, to be honest, and I have made it several times myself, but genuinely didn't think to post it on my blog!
White chocolate recipes
I've made a few white chocolate-related cheesecakes before, such as my white chocolate & strawberry cheesecake, my white chocolate pistachio cheesecake, and my triple chocolate cheesecake… but never anything specifically Milkybar themed.
Milkybar
This is genuinely the first Milkybar recipe on my blog, and since it's been going four years now I don't know what happened! It's madness! How on earth have I gone FOUR YEARS without posting a single thing that is milkybar related?! Either way, it's now happened.
It'll probably happen again soon, too. Soon you will be sick of milkybar, but that's okay. I'll still be here baking Milkybar goodies for years to come.. as I love it. If you've never had a milkybar however, you are certainly missing out. It is its own kind of white chocolate.
Milkybar has a particular taste, that you can't mistake. Kind of how Cadbury's tastes like Cadbury's, and Galaxy tastes like Galaxy. Any white chocolate will technically do for this recipe, but after seeing how many people input 'milkybar' into my blog search bar and then come up with nothing, made me realise it MUST be milkybar.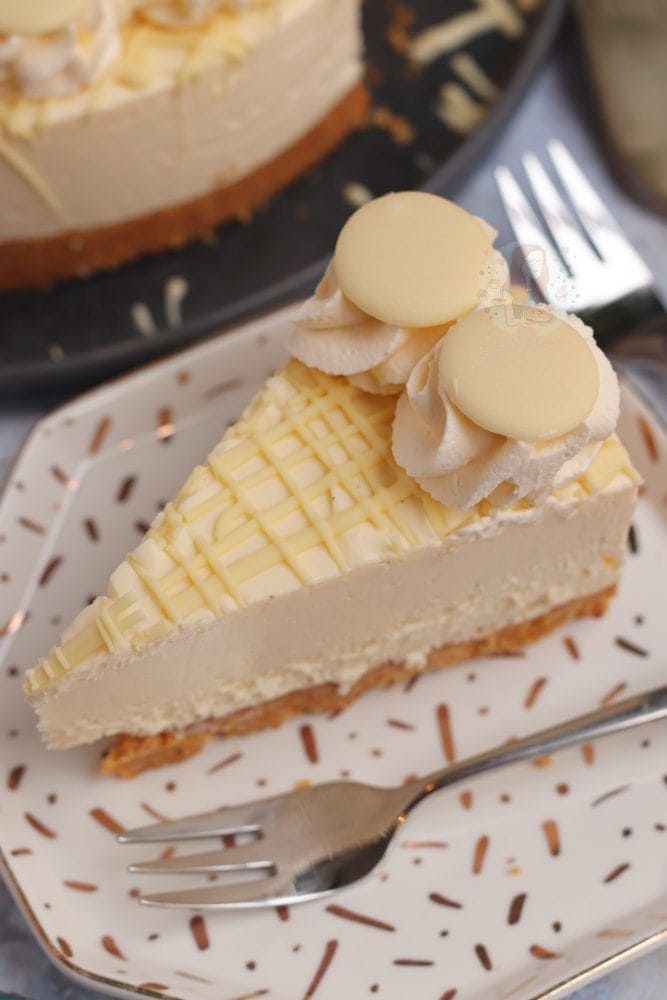 Cheesecake
This is basically a basic vanilla cheesecake, with additional white chocolate. It's quite simple, but delicious. My other recipes such as my white chocolate pistachio cheesecake are a smidge more complicated with other bits in, but sometimes it's nicer to have something simple yet tasty. Why mess with something if you are after a particular flavour.
Like any cheesecake, I wouldn't recommend using lower fat anything for this, as it just doesn't work as well. The only thing you can maybe get away with is using 'light' biscuits in the base, but it's just not the same.
FULL FAT EVERYTHING!
Full-Fat eeeeverything is needed for the cheesecake filling, and if you're not okay with that? Live a little. It's better to have a smaller 'full-fat' slice, compared to a larger not-as-nice lower fat slice. It's worth it.
Decoration
As per ALL my other cheesecake recipes ever, I went a smidge overboard some might say, especially decoration wise. Chocolate in the cheesecake, a drizzle, and even more on each cream swirl. Yes, a little other the top perhaps, but how can you resist it?! Look at the slice of cheesecake in the pictures, heaven in each bite.
Chocolate
Yes, as I've said in this post, you can use other white chocolate. But Milkybar, is milkybar. Such a destinct and delightful flavour. If you do want to switch it out, I recommend the more expensive supermarket own white chocolates, purely because they have such a delicious flavour, but any white chocolate will do! Enjoy it!!
Milkybar Cheesecake!
A Sweet, Delicious and Creamy No-Bake Milkybar Cheesecake!
Print
Pin
Rate
Ingredients
Biscuit Base
300

g

Digestives

150

g

Unsalted Butter
Cheesecake Filling
300

g

Milkybar Chocolate

500

g

Full-Fat Cream Cheese

75

g

Icing Sugar

1

tsp

Vanilla Extract

300

ml

Double Cream
Decoration
150

ml

Double Cream

2

tbsp

Icing Sugar

50

g

Melted Milkybar Chocolate

Milky Bar Buttons
Instructions
For the Biscuit Base
Blitz you biscuits in a food processor to a fine crumb, or bash them up in a large bowl with the end of a rolling pin!

Melt your butter till runny, and mix into the biscuits.

Press the mixture down into the bottom of an 8"/20cm Springform Tin!
For the Cheesecake Filling
Melt your Milkybar Chocolate carefully, either in the microwave or over a double boiler, and leave to the side for now.

Whisk together your Cream Cheese, Icing Sugar, and Vanilla until smooth. I use my Kitchenaid Stand Mixer with the whisk attachment.

Add your melted Milkybar Chocolate to the mix, and stir to combine!

Add in your double cream and whisk till thick, or whisk the cream separately and fold through the mixture till combined.

Spread the mixture over the biscuit base, and refrigerate for 5-6 hours, or preferably overnight!
For the Decoration
Once the cheesecake is set, remove it from the tin carefully!

Melt some extra Milkybar chocolate and drizzle over the cheesecake

Whip together your Double Cream and Icing Sugar until soft peaks are formed, and pipe onto your cheesecake!

Add a piece of Milkbar to each swirl, and enjoy!
Notes
I obviously used Milkybar, because that was the theme of the cheesecake, but you can use any white chocolate you want. 
Depending on how you make your cheesecakes, you can either whip the cream cheese, icing sugar and vanilla together, and then fold in the white chocolate, and then fold in pre-whipped cream, or do it the way I do!
This cheesecake will last for 3 days in the fridge, once made. 
I recommend using an 8"/20cm deep springform tin! 
All of the decorational bits are optional, I just like my cheesecakes to look fancy!
ENJOY!
Find my other Recipes on my Recipes Page!
You can find me on:
Instagram
Facebook
Pinterest
Twitter
Bloglovin'
Youtube
J x
© Jane's Patisserie. All images & content are copyright protected. Do not use my images without prior permission. If you want to republish this recipe, please re-write the recipe in your own words and credit me, or link back to this post for the recipe.
This post may contain Affiliate Links.
266 Comments