March 2, 2019
Chocolate Fudge Cupcakes!
*This post may contain affiliate links. Please see my disclosure for more details!*
Easy, delicious and super insane chocolate fudge cupcakes with the ultimate chocolate buttercream frosting!
Chocolate fudge cupcakes!
So the time has come, to morph my chocolate fudge cake into the very sort after chocolate fudge cupcakes! Honestly, this has been SO requested that I apologise that it's taken so long. These are the most incredible cupcakes, so here they are!
From the start I will say that these are quite a bit more intense than the classic 'chocolate cupcake'. If you are after something delicious, but easier and more basic, then check out my chocolate cupcakes recipe! They're more chocolate Victoria sponge based, whereas these beauties are intense and wonderful.
Dark chocolate
The dark chocolate in the cake sponge is part of what makes it so fudgey, so PLEASE don't switch it to milk chocolate. If you don't like dark chocolate, these probably aren't for you… but if you like a rich and delicious chocolate cake, then you are in luck.. because they are INCREDIBLE.
Cake mixture
This sort of cake mixture is a lot thinner once you have made it, in comparison to a normal cake batter like a chocolate Victoria sponge. When I make it, I really just use my hand and a whisk and a spatula… there is no need for an electric mixer with this cake! Yeah you need three different bowls, but its 100% worth it!
Simple method
Melt the chocolate and butter, add in the coffee, whisk all the dry ingredients together, and whisk the eggs, vanilla and buttermilk together and you have a cake! The best thing I did for this sponge was to bake the full cake at 140C Fan, so I stuck with it for these cupcakes. It does mean that they take longer to bake, 30 minutes in reality, but it makes them so ~moist~ and soft.
Buttercream
For the frosting, it's just basically a cocoa powder buttercream frosting, but mixed with evaporated milk. This is basically all that makes it special, but IT IS WORTH IT. I tend to buy the mini tin size, so as there isn't as much wastage, but with this recipe there is about half a tin left. I then use it up in another batch of cupcakes or use it in another recipe!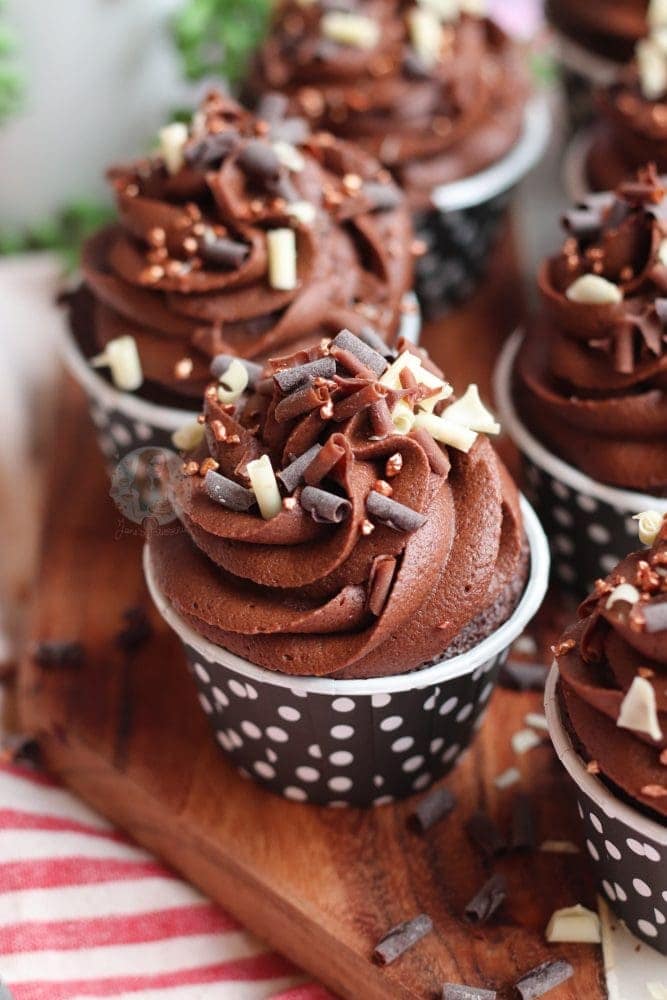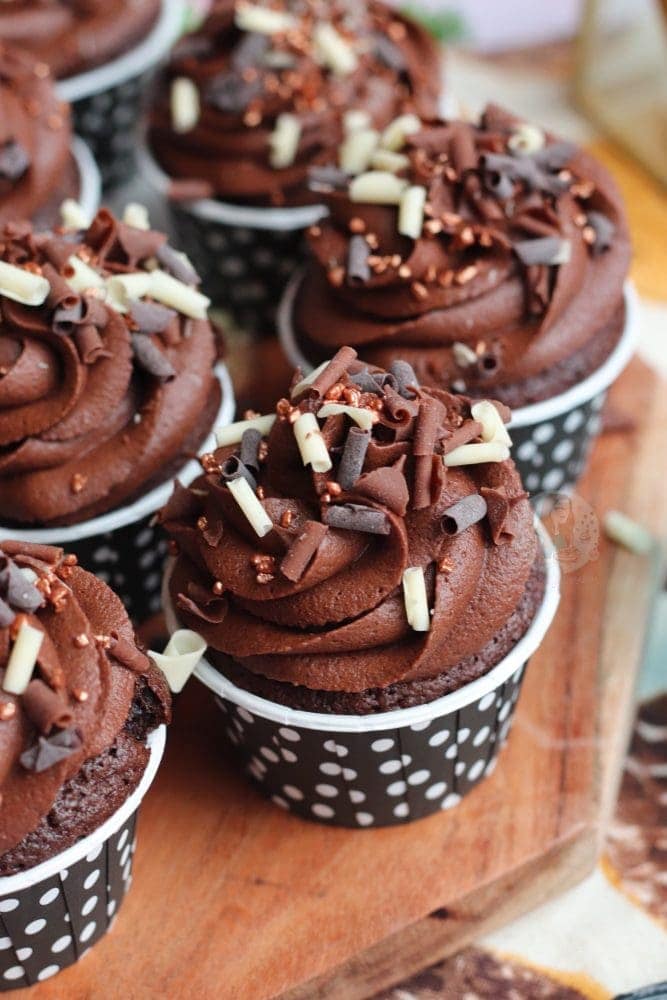 Buttermilk
For the buttermilk, it's worth buying (or making), but if you have any leftover, make some buttermilk scones! HEAVEN. Especially if you spread some of the frosting on, because it is just honestly the best and I would eat it with a spoon. All day long.
I hope you love these seriously fudgey and delicious chocolate fudge cupcakes, as they are my new favourite. ENJOYYYY! xxx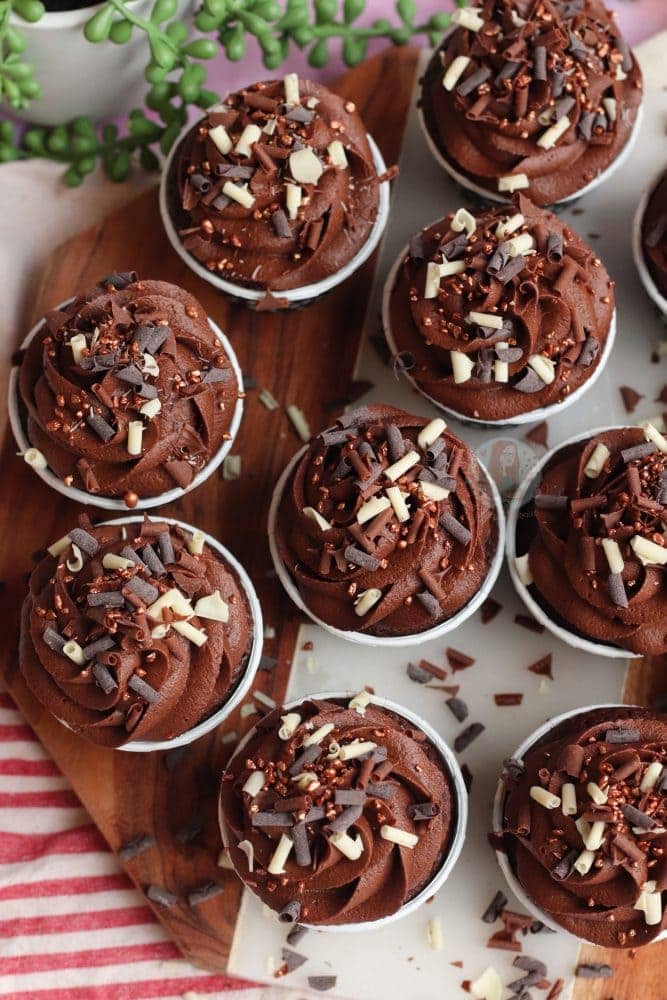 Chocolate Fudge Cupcakes!
Easy, delicious and super insane chocolate fudge cupcakes with the ultimate chocolate buttercream frosting! 
Print
Pin
Rate
Ingredients
For the Cupcakes!
100

g

dark chocolate

100

g

unsalted butter

1

tsp

instant coffee

75

ml

boiling water

100

g

plain flour

20

g

cocoa powder

1

tsp

baking powder

200

g

light brown sugar

2

medium

eggs

75

ml

buttermilk

(or soured cream)

1/2

tsp

vanilla

(optional)
For the Frosting!
150

g

unsalted butter

(room temp - not stork/spread)

300

g

icing sugar

35

g

cocoa powder

1/2

tsp

vanilla

(optional)

75-100

ml

evaporated milk
Instructions
For the Cupcakes!
Preheat your oven to 160C/140C fan, and get your cupcake cases ready. 

In a microwave proof bowl, add your chocolate and butter and heat and mix until melted. I usually do 30 second bursts! 

Pour the boiling water onto the coffee granules and mix until smooth - add the coffee mix into the chocolate/butter mix until smooth. 

Add the flour, cocoa powder, baking powder and sugar to a large bowl and whisk until distributed. 

Mix together the buttermilk, eggs and vanilla. 

Add the three mixes together - I pour the chocolate/coffee mix and the egg/soured cream mix into the dry ingredients and fold until smooth. 

Split the mixture evenly between the baking cases. I use regular baking cups from Iced Jems, and I fill them 2/3 full.

Bake in the oven for 28-32 minutes, or until baked.

Leave to cool fully once baked!
For the Frosting!
Make sure your butter is at room temperature!

Beat the butter on it's own for a few minutes to soften!

Add in the icing sugar and cocoa powder 1/2 at a time, and beat until combined.

Add in the vanilla if using, and then the evaporated milk a little at a time beating fully in-between each go!
Decoration!
Pipe onto your cupcakes how you please! I used a medium 2D closed star piping tip. 

Sprinkle on your favourite sprinkles and enjoy!
Find my other recipes on my Recipes Page!
You can find me on:
Instagram
Facebook
Pinterest
Twitter
Youtube
J x
© Jane's Patisserie. All images & content are copyright protected. Do not use my images without prior permission. If you want to republish this recipe, please re-write the recipe in your own words and credit me, or link back to this post for the recipe.