May 18, 2019
Twix Rocky Road!
*This post may contain affiliate links. Please see my disclosure for more details!*
Easy no-bake Twix rocky road with all the delicious chocolatey trimmings!
A little break
Oh heyyy blog, its been a while. Two weeks to be exact, but I don't think I've had a two week gap for recipes since I started this blog… so apologies for the mini absence!
My family and I went for a mini-break to St Ives in Cornwall, which we do every year, and I just thought I would ignore my blog a little bit to actually have a holiday. Quite frankly, it was wonderful.
Twix rocky road
However, I am back, and I am ready to share oodles and oodles more delicious recipes, starting with this Twix rocky road. Yeah thats right, Twix. Rocky. Road. HELLOOOO there!
I bloody love a Twix bar. I think that they are such an underrated bar, and I don't even know why! These days, you can buy WHITE CHOCOLATE Twix Bars from a few shops such as Tesco and B&M and they're the best thing ever.
White Twix
The white Twix is something to behold, because it's still got the classic delicious caramel and biscuit, but the sweet sweet incasing of white chocolate all over. Using the classic, and white in this recipe, was the best decision.
Other Twix recipes
I've done a couple of recipes with Twix's now, with my Twix Cheesecake and my Twix Cupcakes, but I really don't post enough with the good ol' Twix involved!
I wanted to do a quick and easy traybake, that was utterly full of chocolate after posting my latest two recipes (lemon & raspberry cheesecakes, and my lemon blueberry bundt cake), were very fruity.
Rocky road
I feel like this is a bit of a silly choice seeing as it's really not that been long since Easter, but how can you resist something as delicious as this?! It's so quick to make and shove into a tin, and then devour every little morsel yourself once it's set!
I find making rocky road bars very easy, and very delicious to do. I make them in a variety of ways, but the best bet is to add your butter and golden syrup to a pan and heat until the butter has melted, and then stir in the chocolate until melted.
You can do it other ways where you just add the butter, syrup and chocolate all to the pan, or you can add them all into the microwave! I personally use supermarket own chocolate, or callebaut, and it's never split on me! If you use chocolates such as Cadburys, that can lead to a split if you're not careful!
Top tips!
Make sure to not make your syrup mixture, or the mixture in general get too hot, because that isn't the best. However, with a little faith, you will have the most delicious traybake.
One other tip however, make sure to let the chocolate mix cool a smidge if you can before mixing in, otherwise the chocolate around the Twix's will just melt as well.
I hope you all love this delicious, quick, and easy no-bake recipe! Enjoy! x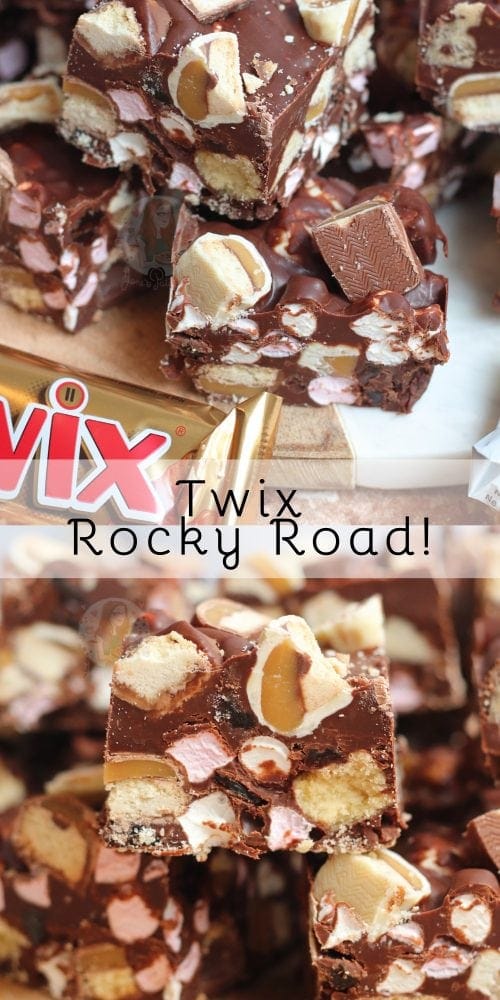 Twix Rocky Road!
Easy no-bake Twix rocky road with all the delicious chocolatey trimmings! 
Print
Pin
Rate
Ingredients
175

g

golden syrup

125

g

unsalted butter

250

g

milk chocolate

250

g

dark chocolate

350

g

Twix

(Classic/White)

125

g

mini marshmallows

200

g

shortbread

100

g

raisins/glace cherries/anything

(optional)

Extra Twix for decoration
Instructions
Line your 9" square tin with parchment paper and leave to the side for now.

Chop up your Twix and shortbread into bitesize pieces, and add to a large bowl with your mini marshmallows and raisins/glace cherries.

In a pan, add your golden syrup and unsalted butter and melt on a medium heat, until your butter has melted.

Take your pan off the heat, and add in your chocolate, and stir together till smooth! If you chocolate doesn't quite melt, put it back on the heat for a few seconds and stir, etc!

Let the mixture cool for a couple of minutes, and then pour into your bowl.

Stir the mixure together, and then pour into the tin.

Add any extra Twix on top, and then leave to set in the fridge until solid!
Find my other recipes on my Recipes Page!
You can find me on:
Instagram
Facebook
Pinterest
Twitter
Youtube
J x
© Jane's Patisserie. All images & content are copyright protected. Do not use my images without prior permission. If you want to republish this recipe, please re-write the recipe in your own words and credit me, or link back to this post for the recipe.