October 26, 2019
Caramel Cookie Cups!
*This post may contain affiliate links. Please see my disclosure for more details!*
Sweet & delicious chocolate chip and caramel cookie cups! Perfect with a scoop of ice cream, and an extra caramel drizzle!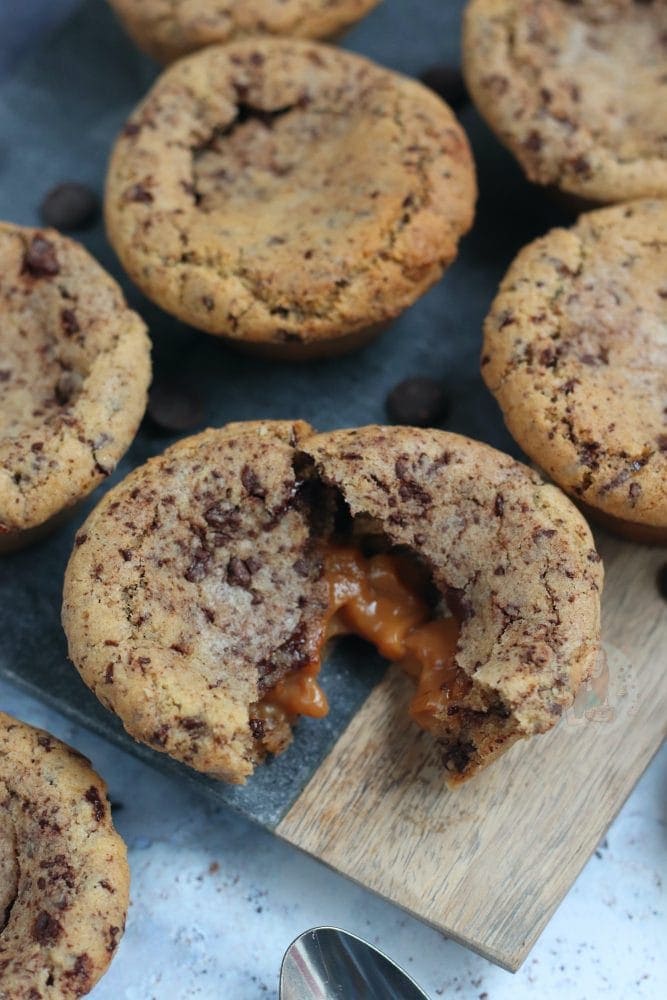 Caramel cookie cups
Cookies? Love them. Cookie bars? Love them. Cookie cups? Oh my actual days I LOVE them. Honestly, they are life changing little cups of beauty. And, here is the recipe for these ones… caramel cookie cups!
So! I've had this blog for nearly five years now, and I have posted cookie related recipes since the beginning… some of my favourites being my Terry's chocolate orange cookies, and my Mini Egg cookie bars!
Anyway… request after request after request later… here is my first cookie cup post. Yeah, I apologise that it's taken nearly five years, and a lot of badgering, but it's happened now! And my god… you're going to love it.
Recipe
For this recipe, it basically is just the same as my cookie bars, because why would you mess with something that isn't broken. The only difference, is the tin you bake them into. For this, instead of making the regular 16 pieces from a cookie bar, I made 12!
Tin
I used your standard cupcake/muffin tin. It's quite easy – spray the with a little cake release spray, and shove that cookie dough in. It really is THAT simple! You can of course line each of the cups, but I found it far too much effort. Each to their own though!
Dough
The dough itself is easy enough to make – I just use a mixer with the beater attachment, and create the wonderful dough. The wonderful thing about using more flour than usual, and the cornflour, means you don't have to chill the dough!
Chocolate
For the chocolate, I use the finely chopped chocolate! If you use a chocolate bar that you have chopped up, or chocolate chips… you need to make sure that you chop them up quite finely. Where you are shaping the dough somewhat, you need small bits of chocolate!
Caramel
For the caramel centre… it was easy. Carnations caramel. Because of the size of these being regular cupcake size, I used a slightly heaped teaspoon of caramel! You can however use sweets such as Rolos instead if you wanted – notes below! If you wanted to make mini versions – simply use one frozen Rolo per cup! SO easy.
Seal
You just have to make sure when you are sealing all the cookie dough together, that you don't leave any gaps for the caramel to seep out! If it gets out, you may get a sticky mess everywhereeee. It is easy enough once you get the hang of it though!
Serve
These beauties really are very simple, but so so so so SO delicious! I love them. They're so good as they are, drizzled with extra caramel, or with ice cream. Or even more. Indulgent, and DELICIOUS.
Caramel Cookie Cups!
Sweet & delicious chocolate chip and caramel cookie cups! Perfect with a scoop of ice cream, and an extra caramel drizzle!
Print
Pin
Rate
Ingredients
275

g

plain flour

1

tsp

bicarbonate of soda

1/2

tsp

salt

1

tbsp

cornflour

115

g

unsalted butter

55

g

granulated sugar

135

g

light brown sugar

1

medium

egg

1

tsp

vanilla extract

200

g

finely chopped chocolate

12

heaped tsps

Carnations caramel
Instructions
Preheat your oven to 180C/160C Fan and grease and lightly flour a 12 hole cupcake/muffin tin.

Whisk/Mix the plain flour, bicarbonate, salt and cornflour together so its evenly distributed – leave to the side.

In a larger bowl, melt the butter. Add in the two sugars, and whisk for about 2 minutes so the sugar starts to dissolve and the mixture is smooth.

Add in the egg and the vanilla, and whisk again briefly until smooth. (I used an electric whisk)

Add in the dry ingredients and the finely chopped chocolate and mix with a spatula until a thick cookie dough is formed.

Take out 240g worth of dough and leave to the side. Split the rest of the dough evenly between the 12 cups - I used a 5cm cookie scoop.

Using the end of a floured rolling pin/pie mould/etc press each ball of dough into the cup and create a hole in the middle.

Add in the caramel, I use a heaped teaspoon per cookie cup - don't over fill the hole with caramel though.

Split the 240g into 20g each, flatten, and add on top of each cup and press down slightly to seal!

Bake in the oven for 12-14 minutes - leave to cool fully in the tin as they're easier to get out!
Notes
These beauties are best served warm, but as you have used a caramel such as Carnations caramel, it will stay soft even when the cookies have cooled. 
You do NOT want to over-fill the cookie cups, otherwise it will be an exploded mess. 
I use Carnations caramel, but any thick caramel sauce will do - if you don't want to use caramel sauce however, you can freeze caramel sweets such as Rolos and use those! I would use two Rolos per cup. 
These will last for 3-4 days once made!
You can make them a chocolate cookie mix by taking out 25g of flour and 1/2tbsp of cornflour and using 25g of cocoa powder!
I really WOULD use the cornflour. 
I use a 5cm cookie scoop to evenly distribute my cookie dough! 
I also use a pie moulder to make the shape for the cookies to sit in! 
I use one of these trays for the cookie cups! 
ENJOY!
Find my other Recipes on my Recipes Page!
You can find me on:
Instagram
Facebook
Pinterest
Twitter
Youtube
J x
© Jane's Patisserie. All images & content are copyright protected. Do not use my images without prior permission. If you want to republish this recipe, please re-write the recipe in your own words and credit me, or link back to this post for the recipe.