March 11, 2020
White Chocolate Raspberry Cupcakes
*This post may contain affiliate links. Please see my disclosure for more details!*
Delicious, sweet and fruity white chocolate raspberry cupcakes with a white chocolate and raspberry sponge, white chocolate buttercream frosting, and more!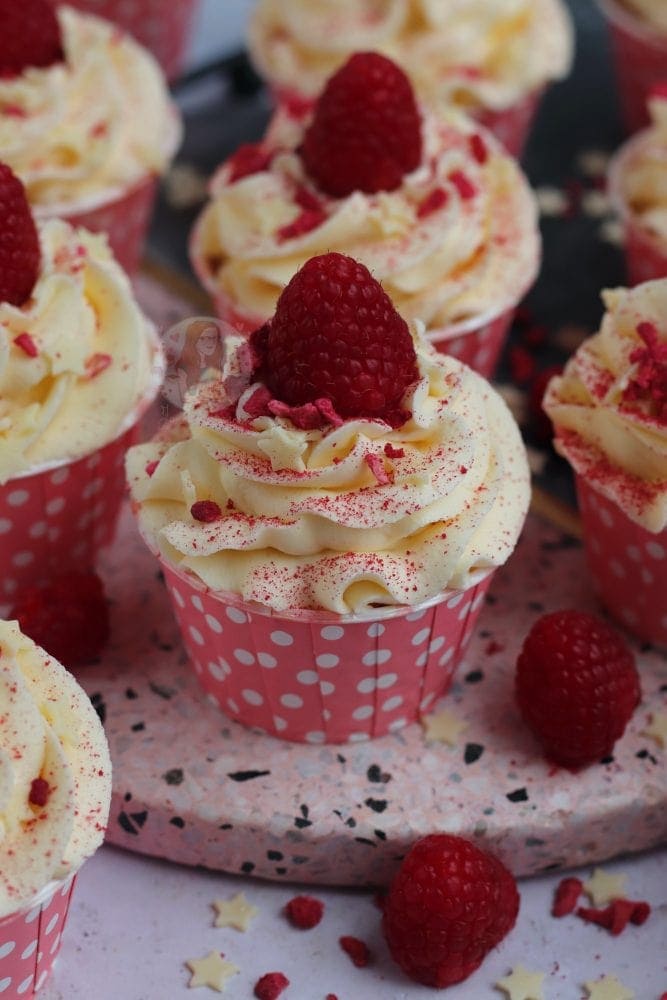 White chocolate and raspberry cupcakes
One thing that I love about this blog, is how passionate about baking my readers are… but one thing I cannot cope with?! The amount of people who have asked for this recipe! Honestly… I can't cope!
I get it, you all love the combination of white chocolate and raspberries as much as I do… but wow! After the downright crazy successes of my white chocolate & raspberry loaf, and my white chocolate & raspberry cheesecake, I'm not surprised!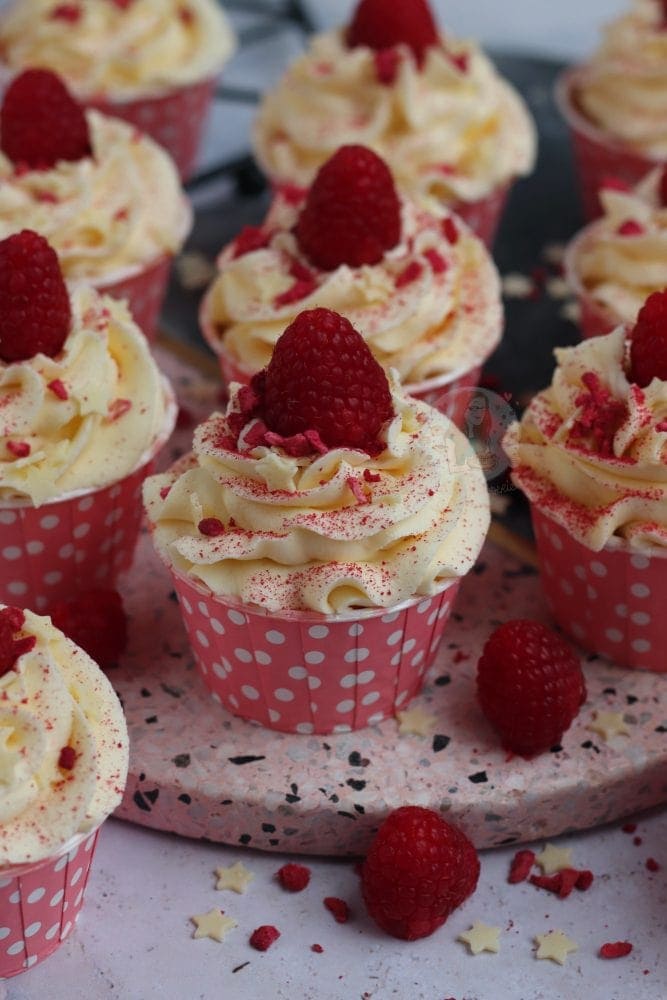 If you want to make this recipe into a layer cake, you'll have to work it out yourself! I won't be giving away my secrets haha!
Cupcakes
Anyway… back to the cupcakes. As always, I used a standard sort of cupcake recipe – because why mess with something right?! A 150g cake mix, with fresh raspberries and white chocolate chips = heaven in every cup.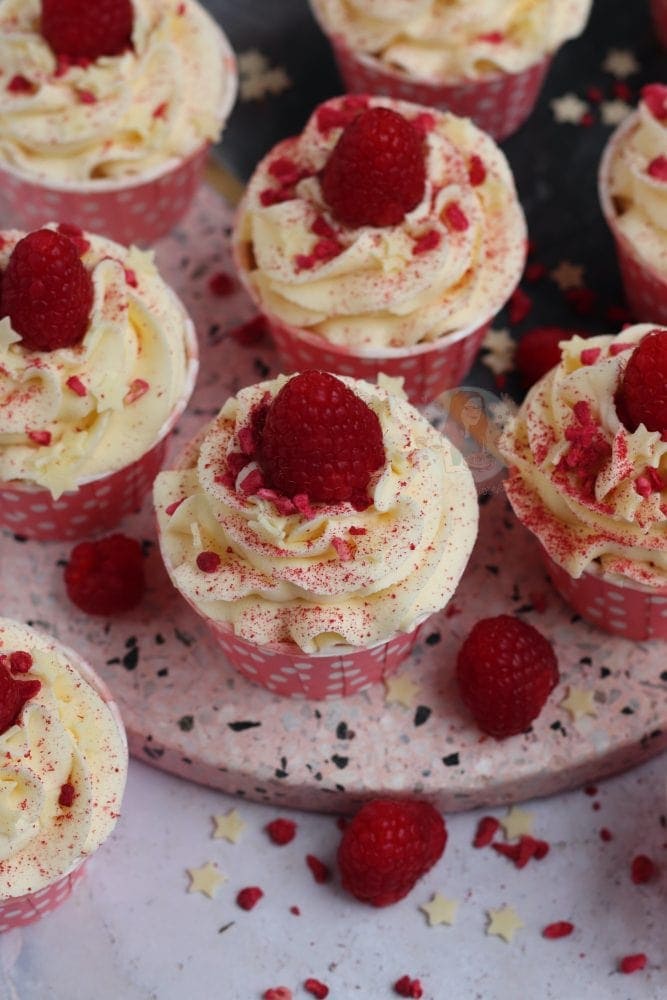 I used a 150g mix of butter, sugar, flour and eggs because the weight of the raspberries and chocolate made quite a bit more mix than usual! So much so, that this recipe actually makes more like 15 cupcakes, rather than the usual 12!
Baking cups
I use my favourite Iced Jems baking cups for this because it means you can fit more on one tray, compared to if you were using a cupcake tray which typically have 12 holes! Alternatively, with the extra bit of mix, you can make some mini versions of them! (Mini ones take about 12 minutes to bake!)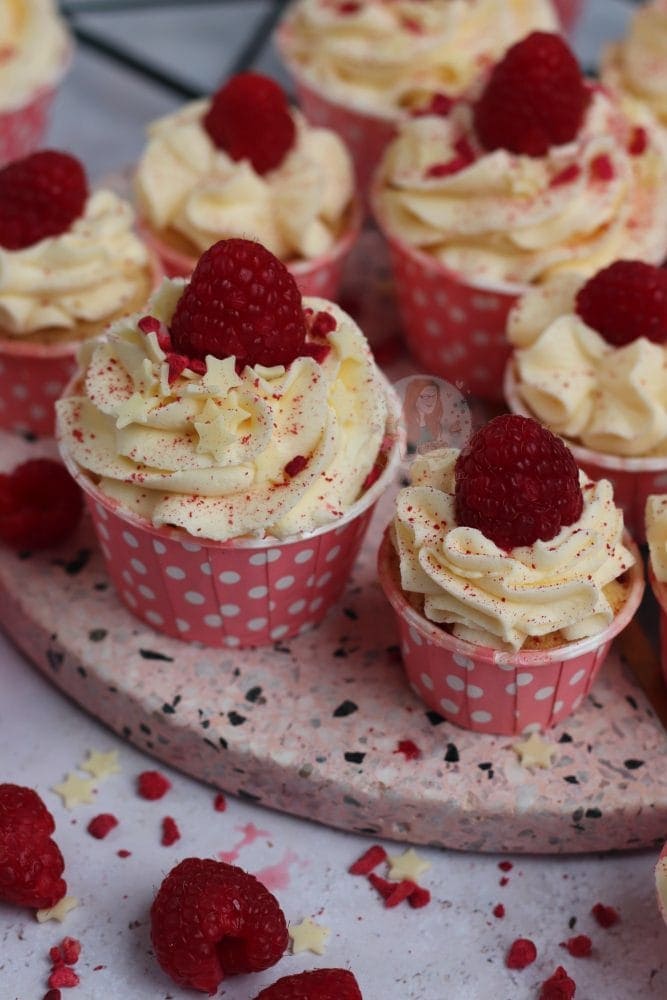 Buttercream
For the buttercream, I used the same recipe as in my white chocolate cupcakes – because I just adore it! It's such a simple buttercream! I use Callebaut white chocolate because it is my favourite – perfect for the sponge and frosting!
You can realistically use any white chocolate you fancy – the key is just to make sure it's not too hot before adding it into your buttercream! You also want the buttercream to be silky and smooth first, so little mixing is required!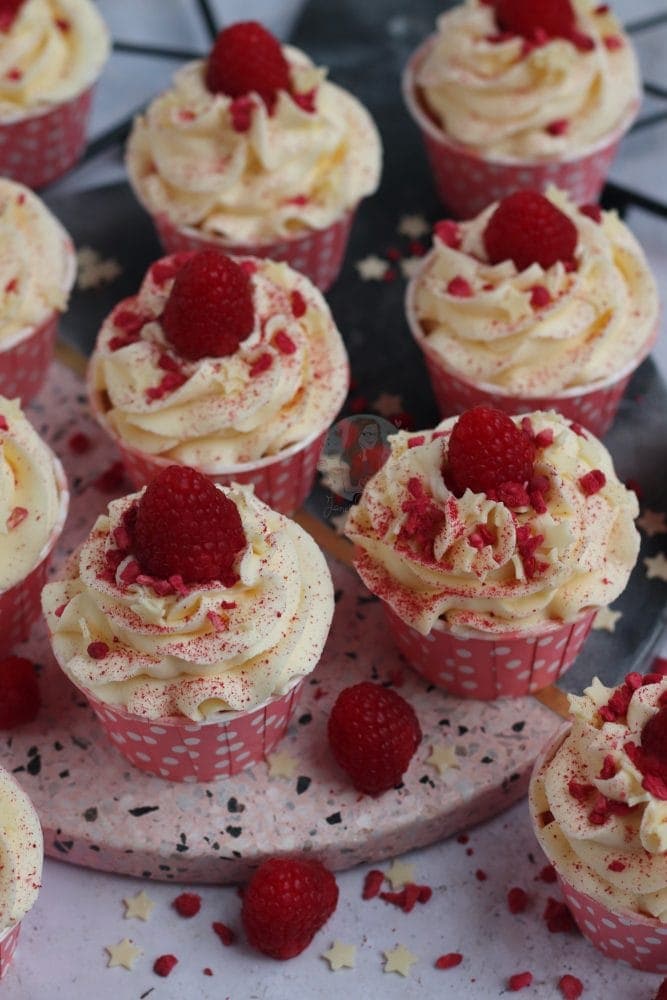 Piping and topping
As a standard these days, because I can't seem to break a really ingrained habit… I used my FAVOURITE 2D closed star piping tip! I am just OBSESSED with the swirl it creates! Just look at how beautiful it is!!
Also, because this is the classic White Chocolate & Raspberry combo… I had to use my favourite freeze dried raspberries on the top! I just think it's a beautiful way to finish the cupcake, whilst looking delicate, and tasting delicious!
I hope you love this recipe as always! Enjoy!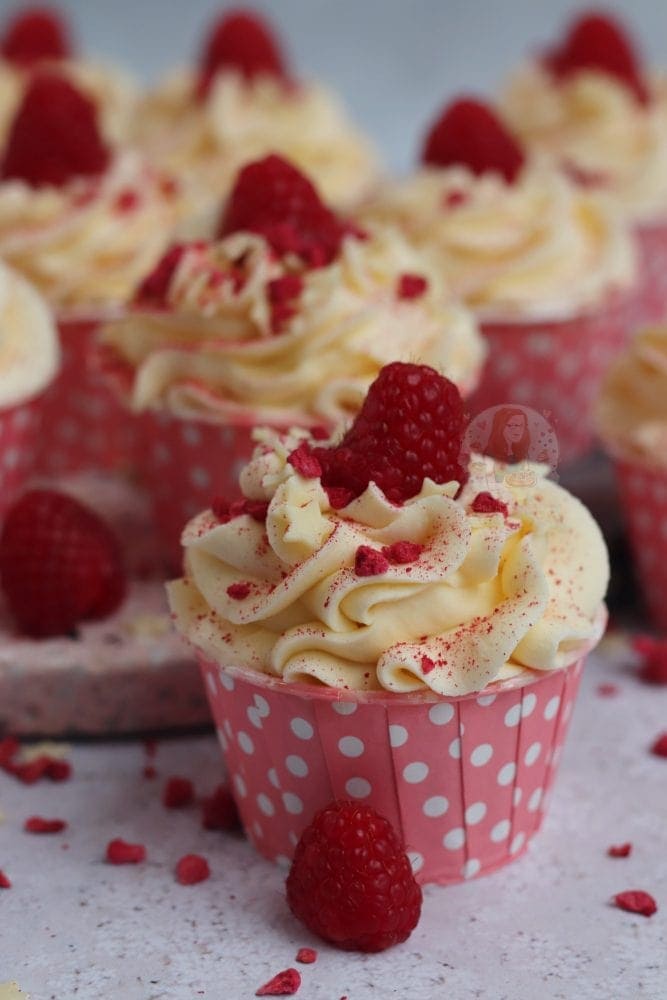 White Chocolate Raspberry Cupcakes!
Delicious, sweet and fruity white chocolate raspberry cupcakes with a white chocolate and raspberry sponge, white chocolate buttercream frosting, and more!
Print
Pin
Rate
Ingredients
Cupcakes
150

g

unsalted butter

150

g

caster sugar

3

medium

eggs

150

g

self raising flour

150

g

white chocolate chips

150

g

raspberries
White Chocolate Buttercream
125

g

unsalted butter

(room temp)

250

g

icing sugar

150

g

white chocolate

(melted)
Decoration
White chocolate sprinkles

Raspberries
Instructions
Preheat your oven to 180C/160C fan and get your 12-15 Iced Jems baking cups onto a flat tray (Or whatever cupcake cases you are using in a cupcake tray!)

Cream together the butter and caster sugar until light, fluffy and smooth!

Add in the beaten eggs and self raising flour and beat again for about 20-30 seconds on a medium speed – it really doesn't take too long, you don't want to overdo it!

Add in your white chocolate and raspberries and fold through!

Spoon you cupcake mix into your baking cups and bake in the oven for 18-20 minutes or until cooked through! Leave to cool on a wire rack.

Once the cakes are cool, make the buttercream frosting – melt your white chocolate until smooth and leave to cool.

Beat the softened butter until smooth – this can take a couple of minutes. Add in the icing sugar 1/3 at a time, making sure the sugar is fully incorporated until moving on!

Once all of the sugar is in the mix and it's smooth and lovely, add in your white chocolate and beat again until smooth!

Using a 2D closed star piping tip, pipe the buttercream onto the cupcakes!

Decorate your cupcakes how you like – I use sprinkles, freeze dried raspberries, and a fresh raspberry – ENJOY!
Notes
YOU MUST USE ACTUAL BUTTER FOR BUTTERCREAM – I can't stress this enough. I get comments often about 'why is my buttercream so runny' and 9/10 times its because the incorrect butter was used. You can't use stork, or a spread, or a substitute for buttercream.
I say this recipe makes 15 cupcakes as there often is more mix (due to the added chocolate chips and raspberries.)
I buy my cupcakes cases/baking cups from Iced Jems – here!
I always use callebaut white chocolate because it's my favourite! 
These cupcakes will last in an airtight container for 3 days at room temperature!
If you want to make mini ones with the leftover mix (As this mix often makes more than 12 cupcakes) they take 10-12 minutes to bake!
ENJOY!
Find my other Cupcake & Chocolate Recipes on my Recipes Page!
You can find me on:
Instagram
Facebook
Pinterest
Twitter
Youtube
J x
© Jane's Patisserie. All images & content are copyright protected. Do not use my images without prior permission. If you want to republish this recipe, please re-write the recipe in your own words and credit me, or link back to this post for the recipe.