August 31, 2019
White Chocolate Raspberry Loaf Cake!
*This post may contain affiliate links. Please see my disclosure for more details!*
A simple and delicious white chocolate raspberry loaf cake with white chocolate buttercream frosting and fresh raspberries!
White chocolate and raspberry
So… white chocolate and raspberry… it's been a while. The last time I posted a white chocolate and raspberry related recipe was 10 months ago, and quite frankly… that's far too long. It's one of the best marriages of flavours in the world.
The sweetness of white chocolate with the freshness and sharpness of raspberry makes such a wonderful combination that I just can't avoid.
I've done several recipes with it already, including my white chocolate & raspberry rolls, my white chocolate & raspberry cheesecake and also my white chocolate & raspberry blondies just to name a few!
White chocolate and raspberry loaf cake
Either way, it was time to post another recipe. I thought I would go all out, and do a recipe that has been requested over and over for the longest time… this beauty. My white chocolate raspberry loaf cake. Oh heyyyyy huns, it's heaven time.
This beauty is a marriage of various different ideas. I always think loaf tin cakes are similar to bundt tins in a way, as they take an age to bake, but are so easy to decorate! This beauty takes an hour to bake in the oven, and it's not even that big in size!
Tin
I used the Tala 2lb loaf tin for this, as I just love it. It's the perfect tin for loaf cakes, for bread, and even for ice creams! I utterly love it. It's heavenly. And.. bonus.. it can go in the dishwasher which is always good in my eyes!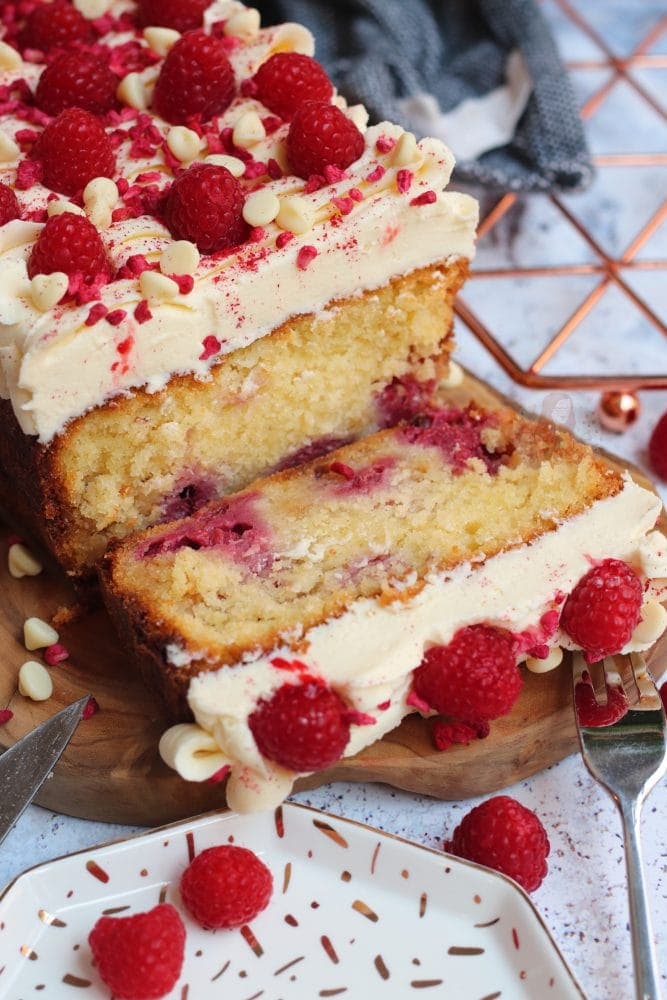 For reference, the Loaf Tin I have used is 24.4 x 14.4 x 6.9 cm in size. I've noticed when shopping that some '2lb loaf tins' are TINY and I have no idea how they're all meant to the same size.
Raspberries
For this cake, I used fresh raspberries, as I just love to bake with them. Also, it's summer, so they're in peak season which means they taste amazing! You can try frozen raspberries, but they can often make the cake take a little longer to bake!
Sponge
The cake mix itself is just a regular basic cake sponge. It's the best kind of sponge to use, and why mess with what isn't broken?! Add in the raspberries, and white chocolate and boom you're done. It's so easy and so delicious!
Decoration
For decoration, you can do pretty much anything you want. I went for a white chocolate buttercream because I wanted a swirling/ribbon effect on the top with the buttercream. I used a medium leaf tip to get the effect, and I am obsessed!
For the decoration, I just used some fresh raspberries, some freeze-dried raspberries, and some mini white chocolate chips. I just adore how the freeze-dried raspberries look on all my bakes, which is why I use them so often! They're pretttyyyyy.
You can buy the freeze-dried raspberries online, or in stores such as Waitrose, Lakeland, or Sainsburys!
Requests!
Anyway, this recipe has been very sought after for a very long time, so I hope it's a hit for you guys. The latest recipe that I posted that was SO unbelievably requested was my bakewell blondies, and they went a little crazy, so ENJOYYYY! x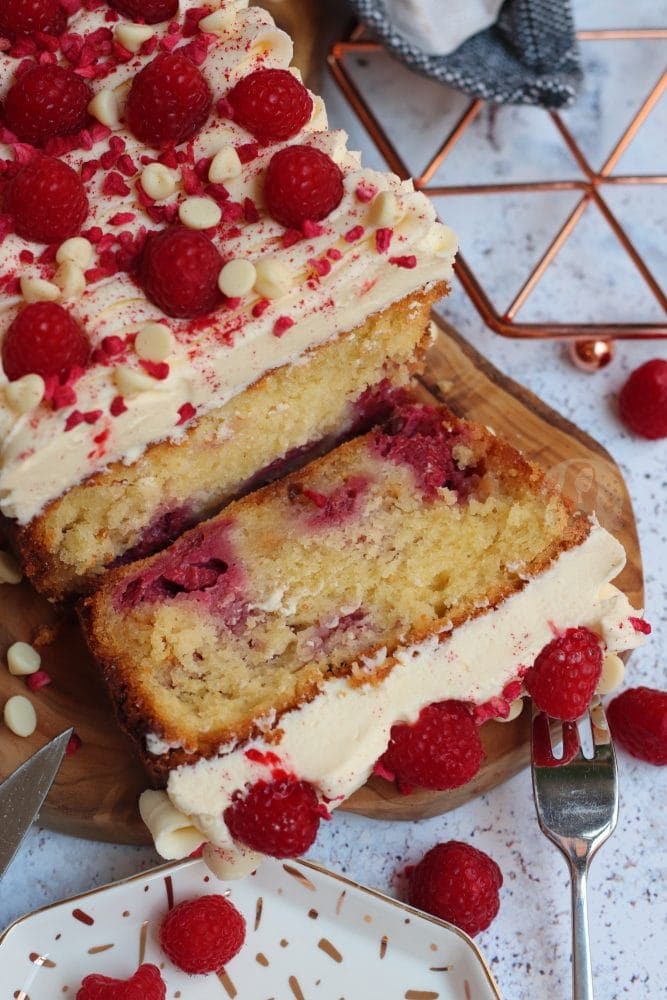 White Chocolate Raspberry Loaf Cake!
A simple and delicious white chocolate raspberry loaf cake with white chocolate buttercream frosting and fresh raspberries!
Print
Pin
Rate
Ingredients
Cake
200

g

unsalted butter

200

g

caster sugar

200

g

self raising flour

4

medium

eggs

200

g

raspberries

150

g

white chocolate chips/chunks
Decoration
125

g

unsalted butter

(room temp)

250

g

icing sugar

125

g

white chocolate

Raspberries

White chocolate chips
Instructions
For the Cake
Preheat your oven to 180C/160C Fan, and line your 2lb loaf tin with parchment paper!

Beat together your butter and sugar until light and fluffy.

Add in your self raising flour and eggs and beat again until smooth and lovely!

Fold through your raspberries and white chocolate!

Pour the mix into the tin, and bake the cake in the oven for 55-65 minutes!

Leave the cake to cool in the tin for 10 minutes, and then turn onto a wire rack to cool fully!
For the Decoration
Melt your white chocolate until smooth, and leave to cool.

Beat your butter in a mixer for a few minutes so it's really smooth.

Add in your icing sugar and beat again until smooth!

Add in the white chocolate and beat again.

Ready your piping bag and nozzle, and pipe your buttercream onto your cake however you fancy!

Add some fresh raspberries, freeze dried raspberries and white chocolate chips and enjoy!
Notes
I recommend using this 2lb loaf tin! 
I use these freeze-dried raspberries!
Use a cake skewer to see if it's done - it should come out clean. 
You can store this in the fridge due to the fresh fruit in the sponge and on top, but if its a really cold day I would keep it outside the fridge as it could dry out. 
If you struggle with chocolate in buttercream, add 1-2tbsp of whole milk to smooth it out, but only do this IF it has split.
Sometimes the raspberries can sink... and it's not the end of the world. It happens. You can try coating them in a couple tablespoons of flour, if you wish. 
Loaf cakes can sometimes take slightly longer to bake in some ovens (if the oven temp is off) as they act similarly to bundt cakes!
If you find your cake is a little greasy, it's most like the chocolate that's melted and started to react during baking - don't worry, you can just pat it off - it won't affect the cake at all, just the outside of it can feel a little greasy. 
ENJOY!
Find my other Recipes on my Recipes Page!
You can find me on:
Instagram
Facebook
Pinterest
Twitter
Youtube
J x
© Jane's Patisserie. All images & content are copyright protected. Do not use my images without prior permission. If you want to republish this recipe, please re-write the recipe in your own words and credit me, or link back to this post for the recipe.
245 Comments