April 18, 2020
White Chocolate Biscoff Swirl Cheesecake!
*This post may contain affiliate links. Please see my disclosure for more details!*
A delicious no-bake white chocolate and Biscoff swirl cheesecake with a buttery biscuit base, white chocolate cheesecake filling swirled with Biscoff spread, topped with whipped cream, and even more Biscoff!
White chocolate Biscoff swirl cheesecake
So say hello to my new favourite cheesecake. Honestly? I am OBSESSED WITH IT. I realise that this is something that I say often about a cheesecake, or something biscoff related, but it's true! I am genuinely obsessed with my latest cheesecake recipe!
Biscoff is something that has been always highly regarded in my opinion, and especially on my blog – with so many of you baking my Biscoff recipes daily – so I thought I would take something to the next level. Combine white chocolate and make something utterly beautiful.
Base
For the biscuit base, you can use pretty much any biscuit you want – however, I will obviously recommend using Biscoff biscuits! For the cheesecake photographed I used about 2/3 biscoff biscuits, and 1/3 digestives as that's what I had – but just biscoff is better.
The caramelised and slightly spiced flavour of the lotus biscoff biscuits is just utterly dreamy – and its the perfect base for a cheesecake. Honestly, it's one of the reasons I adore my Biscoff cheesecake and my Biscoff millionaires so much!
Filling
For the cheesecake part, I basically took inspiration from my white chocolate & raspberry cheesecake, and my Milkybar cheesecake, and thought why mess with something that isn't broken.
The rest is quite straight forward really – I just added in the biscoff, and then folded a few times, and it made the perfect swirled mixture. You don't want to do this bit by a machine – you want to do this by hand, and with a spatula. It needs to only be lightly folded through, so it doesn't ruin the effect!
Chocolate
You can of course use whatever flavour chocolate you want – whether its white chocolate, or milk chocolate, or even dark chocolate… but I think white chocolate works the best. Not only does it mean that you can still see the biscoff swirl, I think the flavour balance is perfection.
White chocolate is typically quite sweet, whereas biscoff isn't so sweet – it creates the ideal balance on flavours. You can use the smooth spread, or the crunchy spread – it doesn't make a difference other than the texture of the spreads!
Decoration
For the decoration, you can basically do whatever you fancy. I drizzled over some biscoff spread that I have microwaved for 20 seconds or so, then added some whipped cream, some white chocolate shavings, and the lotus biscuits!
One quick tip I must say – if you don't want to decorate it with whipped cream, that's fine! However, don't use canned whipped cream if you think it's going to be easier. Already whipped cream out of a can will deflate every quickly and basically melt! It doesn't look the best..!
Top tips!
One of my main top tips for this cheesecake though is to use FULL-FAT INGREDIENTS. It's so important to let a cheesecake set, you need the fat content. If you use lower fat, you will want to use gelatine, and then it will have a jelly texture which is never pleasant in cheesecakes in my opinion.
When you are whisking the ingredients together you can do it a number of ways. I whisk my cream cheese and vanilla until smooth, add in the melted and cooled white chocolate and whisk again, and then add in the double cream and whisk again. You can whisk the cream separately to soft peaks and fold it through, but I prefer the first method!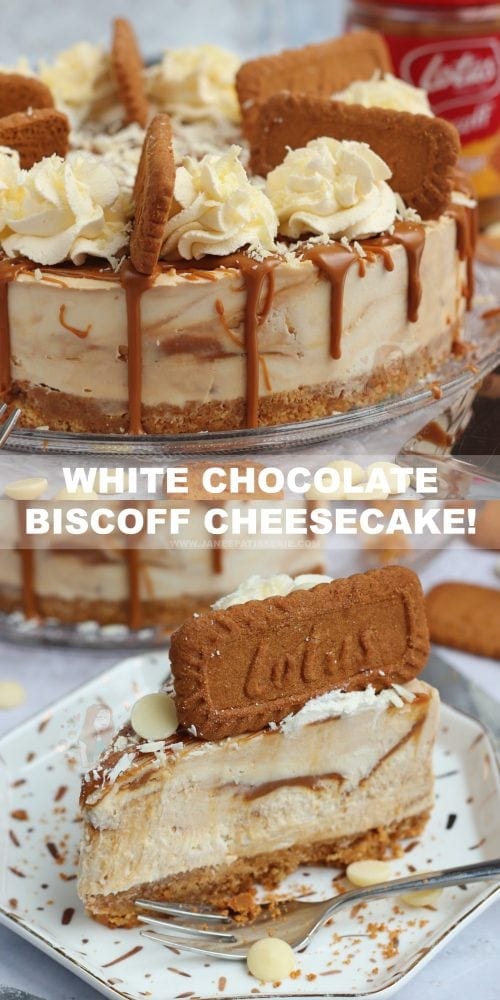 White Chocolate Biscoff Swirl Cheesecake!
 A delicious no-bake white chocolate and Biscoff swirl cheesecake with a buttery biscuit base, white chocolate cheesecake filling swirled with Biscoff spread, topped with whipped cream, and even more Biscoff!
Print
Pin
Rate
Ingredients
Biscuit Base
300

g

Biscoff biscuits

**

125

g

unsalted butter

(melted)
Cheesecake Filling
200

g

white chocolate

500

g

full-fat cream cheese

(room temp)

75

g

icing sugar

1

tsp

vanilla

300

ml

double cream

200

g

Biscoff spread
Decoration
50

g

Biscoff spread

(melted)

150

ml

double cream

2

tbsp

icing sugar

White chocolate shavings

Biscoff biscuits
Instructions
Biscuit Base
Blitz your biscuits to a fine crumb in a food processor.

Add in your melted butter, and mix again.

Press into the bottom of a 20cm/8" deep springform tin.
Cheesecake Filling
Melt your white chocolate until smooth - I do this in the microwave. Leave it to cool for about 10 minutes.

Add your cream cheese, icing sugar and vanilla to a bowl and whisk until smooth.

Add in your cooled white chocolate, and whisk again.

Add in your double cream, and whisk again until thick. Alternatively, whisk your cream separately to soft peaks, and fold into the other mixture.

Once thick, dollop in your biscoff spread - fold through with a spatula briefly so it swirls through the mixture!

Spread the mixture onto your base, making sure to fill the tin properly around the edges to avoid any gaps.

Set the cheesecake in the fridge for a minimum of 6-8 hours, but preferably overnight.
Decoration
Once your cheesecake has set, carefully remove it from the tin.

Drizzle over your melted biscoff spread.

Whip together the double cream and icing sugar to soft peaks - and pipe in swirls! I used a 2D closed star piping tip.

Add on some white chocolate shavings, and some biscoff biscuits.
Notes
** if you want to use less biscuits, you will need less butter.
This cheesecake will last for 3 days in the fridge. 
Please use full-fat ingredients to help make sure it sets. 
You can use smooth or crunchy spread!
If you struggle with your cheesecakes setting or mixing, try having your cream cheese at room temperature before starting!
To shave the white chocolate, I used a cheese grater!
All the decoration is optional!
If you want to make a smaller cheesecake, you can half the mixture - and use a 6" deep tin! 
ENJOY!
Find my other Recipes on my Recipes Page!
Instagram
Facebook
Pinterest
Twitter
Youtube
J x
© Jane's Patisserie. All images & content are copyright protected. Do not use my images without prior permission. If you want to republish this recipe, please re-write the recipe in your own words and credit me, or link back to this post for the recipe.
199 Comments