December 1, 2021
Giant Christmas Cookie!
*This post may contain affiliate links. Please see my disclosure for more details!*
An easy and sweet giant Christmas cookie, stuffed with chocolate chips, chocolate chunks, and decorated for the festive period!
My obsession!
So we all know about my obsession with cookies, NYC cookies, and even my cookie bars… but my giant cookies?! Oh they are just a whole new level of absolutely delicious and heavenly. I am in love with them, and that why this year you are getting a festive version for Christmas – GIANT CHRISTMAS COOKIE!
I wanted to bake something that is super easy to make, but is also still very fun – we all love cookies, such as my Christmas pudding cookies that I posted recently, or even my Christmas cookie bars, but I wanted to do a giant christmas cookie because… well… look at it! How could I not?!
Cookie
For this giant christmas cookie, I wanted to do a vanilla cookie, really similar to my giant birthday cookie. It is basically the same recipe, I am not going to lie to you – however, there are slightly flavour changes as I couldn't resist adding in some spices, or some Christmas colours! The spice themes very heavily come from my gingerbread nyc cookies.
If you wanted to make the cookie a chocolate cookie, you need to remove 50g of the plain flour, and use 35g of cocoa powder. Cocoa powder is quite drying so you need to use less compared to straight replacing the flour – but trust me, it works!! My M&M cookie cake is chocolate, and it's delicious – and that's double layered!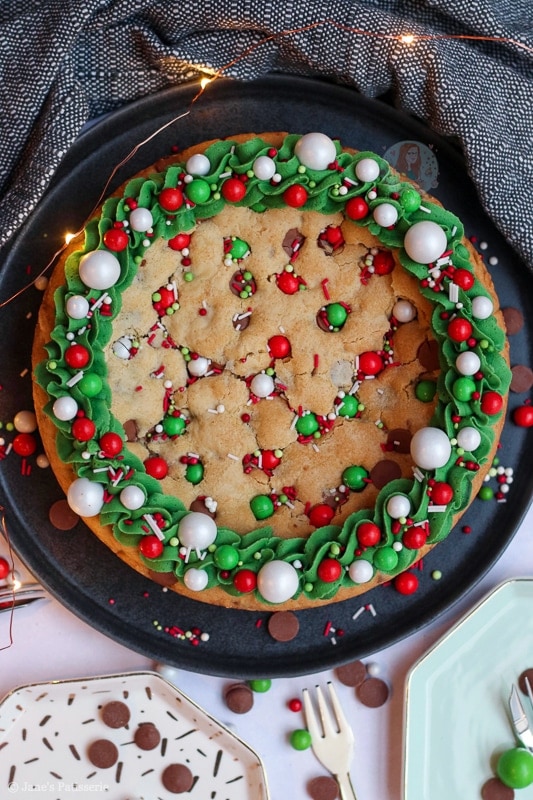 Spices/flavours
I love using spices festive bakes, but if you don't want to use them, that is completely fine! I loved using some ground ginger, ground cinnamon and nutmeg in this giant Christmas cookie – but you can easily just use vanilla extract if you wanted!
You could even flavour the cookie with peppermint, orange, lemon, almond, coffee etc… it's up to you! Sometimes it can heavenly depend on the sprinkles or chocolate you use too as some can be flavoured – chocolate orange snowballs for example, sometimes they are enough flavour for you cookie!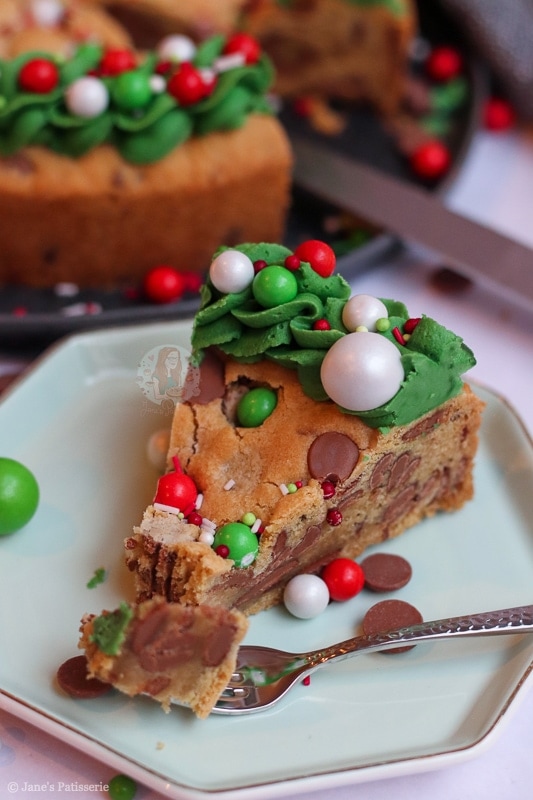 Chocolate
I used a milk of milk chocolate chunks, and dark chocolate chunks in my giant christmas cookie because I just love the combination of a 'plain' cookie dough, with these flavoured chocolate chunks. You can of course use whatever flavours you want though! You can even make them triple chocolate with some white chocolate.
I also used some small red and green chocoballs, and large red and green chocoballs for decoration in the cookie, and on the buttercream – I just wanted to stick to the colour theme, and it was handy to lightly press the chocoballs into the cookie after baking. I didn't want to bake with them in the cookie, just in case they dissolved.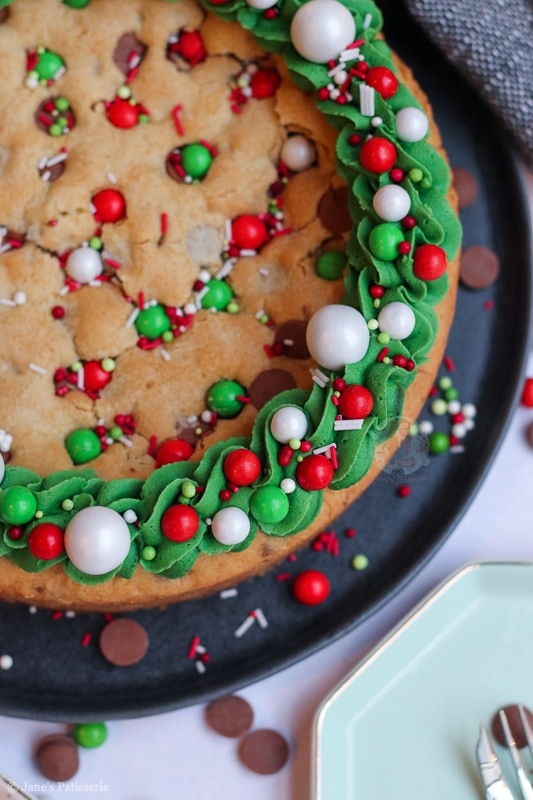 However, if you want to use M&Ms, or smarties or anything you fancy that is similar, they can be added in before baking. I find M&Ms hold their colour much better but that is entirely up to you.
If you find your chocolates or decorations colour too much in the oven, your oven may be too hot and need turning down slightly. I know it is hard to be patient with a recipe like this as it is DELICIOUS but trust me, it is well worth following the process!
Decoration
For the decoration, I wanted to change the buttercream piping slightly to create for of a rope (or at a push… tinsel?) look, compared to my normal star or swirl piping. I still used my favourite 2d closed star piping tip. The technique is worth practicing if you are nervous, but it is so much easier than it looks!
When experimenting with decorating, make sure to have fun with it – it's always work having a go. Always just enjoy it! I literally pipe the rope by piping with one hand, and turning the plate at the same time, to make it much easier. But you can whatever you want! The colour is a lovely deep festive green, so either way, it will look amazing.
Tips!
You can change the colour to other colours if you wanted, such as red, or even white! You could create a combination even. I just like the contrast with the small red and green chocoballs, and large red and green chocoballs, and then finally some other cute sprinkles! As always, the decoration is up to you.
I used an 8″/20cm tin for this giant Christmas cookie, to get it slightly smaller but deeper. If you wanted to make thinner and larger cookie, use a 9″ circle tin, but bake for 20 minutes instead! You don't need to change any of the ingredients. Simple as that! Enjoy x
Giant Christmas Cookie!
An easy and sweet giant Christmas cookie, stuffed with chocolate chips, chocolate chunks, and decorated for the festive period! 
Print
Pin
Rate
Ingredients
Cookie Cake
115

g

unsalted butter

55

g

white granulated sugar

135

g

light brown soft sugar

1

medium/large

egg

1

tsp

vanilla extract

275

g

plain flour

1

tsp

bicarbonate of soda

1/2

tsp

sea salt

1

tbsp

cornflour

1

tsp

ground ginger

1

tsp

ground cinnamon

1/2

tsp

ground nutmeg

150

g

milk chocolate chips/chunks

150

g

dark chocolate chips/chunks
Buttercream
75

g

unsalted butter

(room temp)

150

g

icing sugar

1/2

tsp

vanilla extract

1/2

tsp

green food colouring
Instructions
Preheat your oven to 180ºC/160ºC fan and line a 8"/20cm round tin with parchment paper, and leave to the side for now.

In a large bowl, melt the butter. Add in the two sugars, and whisk for about 2 minutes so the sugar starts to dissolve and the mixture is smooth.

Add in the egg and the vanilla extract, and whisk again briefly until smooth.

Add the plain flour, bicarbonate, salt, cornflour, ground ginger, ground cinnamon, and ground nutmeg.

Mix the mixture until a cookie dough is formed.

Add the chocolate chips/chunks and mix again.

Press the mixture into the bottom of the tin and press down.

Bake the cookie in the oven for 25-27 minutes, until the top of the cookie looks 'dry' and it's not wobbling!

If you want, carefully press in some decoration now, such as some sprinkles like I did.

Leave the cookie to cool in the tin for about 30 minutes, then leave to cool fully on a wire rack.

Once the cookie has cooled, beat the unsalted butter for a minute or two to loosen and soften.

Add the icing sugar, vanilla extract and green food colouring and beat again until smooth.

Pipe around the edge of the cookie however you want, I did a rope piping using a 2d closed star piping tip.

Add some sprinkles and anything else you fancy.
ENJOY!
Find my other recipes on my Recipes Page!
You can find me on:
Instagram
Facebook
Pinterest
Twitter
Youtube
J x
© Jane's Patisserie. All images & content are copyright protected. Do not use my images without prior permission. If you want to republish this recipe, please re-write the recipe in your own words and credit me, or link back to this post for the recipe.