December 9, 2021
Candy Cane Cheesecake!
*This post may contain affiliate links. Please see my disclosure for more details!*
A delicious no-bake candy cane cheesecake with a chocolate biscuit base, peppermint cheesecake filling, ganache, candy canes and more! Heaven!
Christmas treat!
When I think of Christmas I think of various flavours… and you guys know most of what I love! However, probably the main one?! Mint. I don't know why, considering my obsession with chocolate orange, I am fully into the mint game!
This year, I wanted to do a bit of a showstopper cheesecake… A CANDY CANE CHEESECAKE!! Yesss, that's right! I just couldn't resist posting something I utterly love and adore… a candy cane cheesecake!!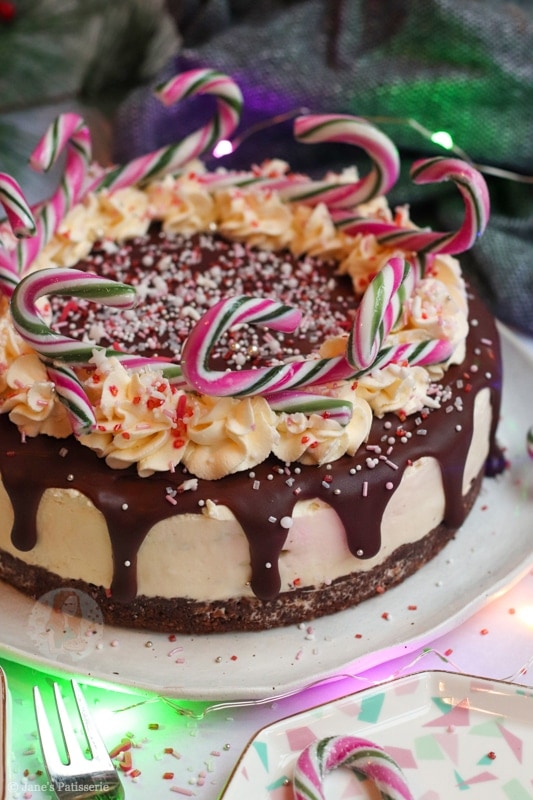 Candy cane cheesecake
This beauty of a recipe is a combination of many things such as a chocolate biscuit base, a mint cheesecake filling, a chocolate ganache topping, whipped peppermint cream, and some candy canes! It's a bit OTT, but utterly worth every gram of ingredients.
I was trying to work out whether to do a chocolate cheesecake filling, and you definitely can if you want – feel free to add 200-300g melted and cooled chocolate, by folding into the cheesecake mixture.
I didn't put chocolate into the mix for this one as my After Eight cheesecake is a marriage of chocolate cheesecake and mint cheesecake swirled together, so for this one I just stuck with mint. I used a delicious peppermint extract, as it's the easiest way to get a delightful flavour.
As an option, you could fold through some candy cane pieces – the issue with this is that they are very solid pieces of sugar, so it would be a little crunchy! However, if you don't mind the crunch, it would be amazing! You all know how I am obsessed with fitting a theme.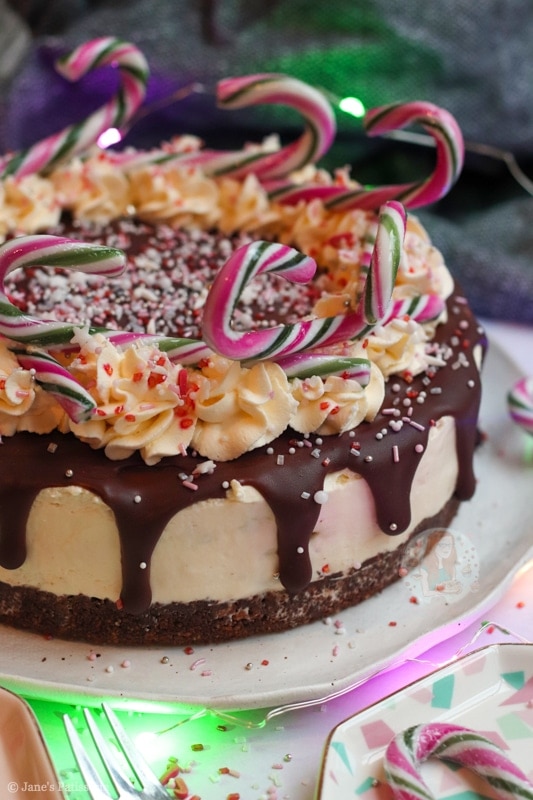 Cheesecake filling
When making a cheesecake, it is SO important to use full-fat ingredients. I am not joking in this, I am not saying it because whatever… I am saying it because it is vitally important! The best start is to use full-fat soft cream cheese, whether that is Philadelphia which is a classic cheesecake flavour, or mascarpone which is naturally sweeter.
Using double cream (heavy cream in other countries) is very important as it's the fattiest liquid cream there is. You can whip the cream into the cheesecake mixture as I do, or you can whip the cream separately and fold it into the cheesecake mixture. It is completely up to you! If you have an electric whisk, then you can do either – without, you may want to whip the cream separately to make sure the mixture stays stiff.
I sweeten my cheesecake mixture with icing sugar, but you can use caster sugar. I just find that if you use caster sugar, you may be left with a grainy texture – and then also the peppermint extract I used earlier! Four ingredients and you have a delightful cheesecake filling.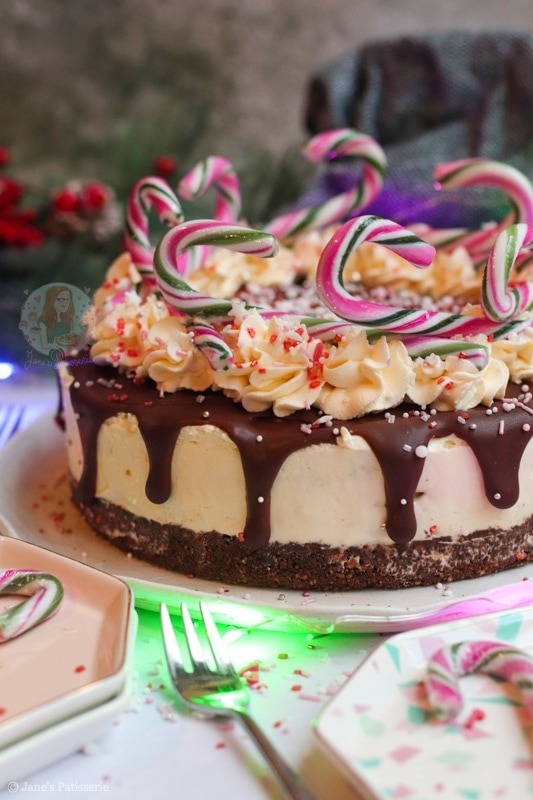 Ganache
I decided to use a ganache topping and decoration for my candy cane cheesecake because I haven't done this in a while – I've done this before with my creme egg cheesecake, and my twix cheesecake – and it is just so delicious!!
I used the same milk and dark chocolate ganache style as on my mini egg drip cake because I adore it. You can of course just do a drizzle of chocolate like on most of my other cheesecakes – such as my galaxy cheesecake, lindt chocolate cheesecake, or even my terry's chocolate orange cheesecake.
Decoration
Topping the cheesecake with some homemade whipped cream (just double cream and icing sugar whipped together) and piped on with my usual favourite piping tip – you can definitely leave this off if you don't like whipped cream, but don't cheat and use canned squirty cream because it deflates really quickly!
You can use mini candy canes, or whole candy canes – or even chop up whatever!! You basically need something candy cane themed to make sure this is a candy cane cheesecake, but you do you and use what you like! I hope you love this cheesecake. Enjoy! Jane x
Candy Cane Cheesecake!
A delicious no-bake candy cane cheesecake with a chocolate biscuit base, peppermint cheesecake filling, ganache, candy canes and more! Heaven! 
Print
Pin
Rate
Ingredients
Biscuit base
300

g

digestives

25

g

cocoa powder

135

g

unsalted butter

(melted)
Cheesecake filling
600

g

full-fat soft cream cheese

75

g

icing sugar

1

tsp

peppermint extract

300

ml

double cream
Ganache
75

g

milk chocolate

75

g

dark chocolate

150

ml

double cream
Decoration
150

ml

double cream

2

tbsp

icing sugar

candy canes

sprinkles
Instructions
Biscuit base
Blitz the biscuits to a fine crumb - I used a food processor to do this, but you can use a large bowl with the end of a rolling pin.

Add the cocoa powder, and mix to combine.

Add the melted butter, and mix to a wet sand texture - press into the bottom of a deep 8"/20cm deep springform cake tin.
Cheesecake filling
Add the full-fat soft cream cheese to a large bowl, and add the icing sugar and the peppermint extract.

Whisk the mixture together until smooth.

Pour in the double cream and whisk the mixture together until thick - or, you can whip the cream to firm peaks in a separate bowl, and then fold the two mixtures together.

Spread the cheesecake mixture onto the biscuit base, making sure to pack it into the sides of the tin to prevent air gaps.

Set the cheesecake in the fridge for a minimum of 6 hours, but preferably overnight.
Ganache
Once the cheesecake has set, carefully remove it from the tin.

If you need to, you can smooth the sides of the tin with a small knife or palette knife.

Add the milk chocolate, dark chocolate and double cream to a jug/bowl and heat in the microwave on a low heat until smooth. It's best to do this in short bursts such as 20-30 seconds, stirring well each time so you don't accidentally overheat the mixture.

Once melted, let the ganache cool for a minute or two.

Carefully pour the ganache onto the cheesecake, and carefully push it over the edges of the cheesecake to create the drip.

Let the cheesecake set for 10 minutes in the fridge.
Decoration
Add the double cream and icing sugar to a bowl, and whisk to soft peaks and pipeable.

Pipe onto the cheesecake to decorate - I used a 2d closed star piping tip.

Add some candy canes, and sprinkles. Enjoy!
Notes
For this recipe I used
This cheesecake will last for 3+ days in the fridge
You can freeze this cheesecake for 3+ months, once set. 
It's so important to use FULL-FAT ingredients!
ENJOY!
Find my other recipes on my Recipes Page!
You can find me on:
Instagram
Facebook
Pinterest
Twitter
Youtube
J x
© Jane's Patisserie. All images & content are copyright protected. Do not use my images without prior permission. If you want to republish this recipe, please re-write the recipe in your own words and credit me, or link back to this post for the recipe.