December 18, 2021
After Eight Tart!
*This post may contain affiliate links. Please see my disclosure for more details!*
A delightful no-bake After Eight tart with a chocolate biscuit base, mint filling, chocolate ganache topping and after eights! Mint heaven.
Chocolate + mint = obsession!
I have mentioned a few times now how obsessed I am with the chocolate and mint combination… and I am not stopping anytime soon. I can only apologise if you don't like anything mint themed, because you aren't going to have enjoyed this festive season too much!
I wanted to make a delicious and showstopping no-bake dessert that would be ridiculously easy to make and create one of my absolute favourite recipes ever! Honestly, I can't actually cope with how much I love this one?! Seriously!
After Eight tart
I took inspiration from many recipes for this absolute beauty, such as my no-bake biscoff tart, and my easter salted caramel tart – just with a bit of a mint after eight twist! The idea of the bake is to be a giant biscuit based after eight, and it works!!
I have genuinely made this dessert countless times over the last few weeks, and will be making it twice over Christmas itself – I genuinely love it that much! Something about the chocolatey base, topped with the world's easiest mint filling, and the most delicious chocolate topping… Oh my days.
Tart base
For this recipe I used the same base as in my Baileys chocolate tart and billionaires tart because something about the cocoa powder mixed with digestives and butter creates the perfect base! I prefer the cocoa powder in the base compared to using chocolate digestives.
I tend to blitz my biscuits up to a fine crumb in a food processor, and then blitz again quickly with the cocoa powder. I then add the melted butter, and mix again. I then just tip all of the biscuit mixture into the tart tin.
If you did however want to use a chocolate digestive, you will want to use two thirds of the butter – using a biscuit with a filling, a 'light' alternative, or a chocolate coating requires less butter. You want the mixture to have enough butter though to combine with the biscuit crumbs and compress into the bottom and sides of the tart in.
Tin
I used this tart tin for this recipe, as I do with all my other tart recipes. I know I normally use 8"/20cm round tins for my cakes and cheesecakes, but using a 9"/23cm tart tin works so much better for the ratio of ingredients. It creates the perfect depth of dessert.
I start by pressing the biscuits into the side of the tin, making it about 5mm thick – but this is only rough. I find it easier to do the sides to make sure they are sturdy enough. You can then press the biscuit base into the bottom of the rest of the tin. I find it easiest to refrigerate the tart quickly at this point, whilst you do the rest of the tart. Just means you can let it set briefly to prevent accidentally ruining the biscuit base later.
Mint and chocolate filling
For the mint filling, it's very similar to my mint slice filling – just without the colouring. I wanted it to literally look like the middle of an after eight, so I used icing sugar, water and peppermint extract. You really want to GRADUALLY add the water 1 tsp at a time, as you want the icing to be really thick and a paste; not runny!
For the chocolate filling, I used the same as my Easter salted caramel tart – because I just love it. A mixture of milk chocolate, dark chocolate, butter and cream! It's quite a runny mixture once melted, but perfect.
The ratios for the ingredients perfectly fitted my tin, so if your mixture overflows you might have had a slightly more shallow tin, or not compress your biscuit base enough – if you are worried, you can pour the mint icing over the base, and then put the tart in the fridge. You could then pour the chocolate mix over the mint, in the fridge to prevent spilling it when you move the dessert.
Setting and decorate
Because the mixture is quite thin, it's best to leave the tart to set for at least one hour, before you add the after eights. I used nearly an entire packet to decorate my tart as I wanted to go overkill – but you can obviously use less. I gently pressed them in, gently enough to not break the after eight.
Once set, you can carefully remove the tin (always best to use the one I recommend as it's a loose bottomed tin) – and then serve! You can add the fresh mint for decoration if you fancy, and even some sprinkles or chocolate curls but that is just for the look. ENJOY!!! x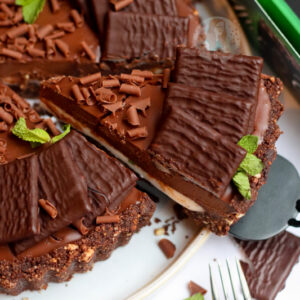 After Eight Tart!
A delightful no-bake after eight tart with a chocolate biscuit base, mint filling, chocolate ganache topping and after eights! Mint heaven. 
Print
Pin
Rate
Ingredients
Biscuit Crust
300

g

digestives

25

g

cocoa powder

100

g

unsalted butter
Filling
250

g

icing sugar

1

tsp

peppermint extract

1-2

tbsp

water
Ganache
300

ml

double cream

125

g

dark chocolate

125

g

milk chocolate

50

g

unsalted butter
Decoration
1

packet

after eights

Fresh mint

Sprinkles/chocolate curls
Instructions
Biscuit base
Using a food processor, blitz all of the biscuits to a fine crumb and add the cocoa powder.

Add in the melted butter and mix until it is a wet sand texture.

Press this into the sides and base of a 23cm pie/flan/quiche tin (mine was 3cm deep). 

I press into the sides first, then the base. Refrigerate for now.
Filling
In a bowl, add the icing sugar and peppermint essence

And enough water, 1 tsp at a time, until it forms a thick paste – spread across the biscuit base carefully.
Ganache
In a heatproof pan, add your double cream and heat until just before boiling point.

In a separate bowl, add the milk chocolate, dark chocolate, and unsalted butter and pour on the hot double cream. Whisk together until smooth!

If the chocolate is still slightly not melted, heat for 10 second bursts in the microwave until combined well. Alternatively, add all ingredients to a large bowl and microwave/whisk until smooth.

Pour the chocolate mixture onto the mint filling and refrigerate for an hour.
Decoration
After the hour, carefully decorate with the after eights. You want the ganache to be starting to firm, but not be completely set. This is so that they don't sink, but also soft enough that they stick.

Set again for another hour or two until set.

Add on some fresh mint leaves, and chocolate curls/sprinkles. Enjoy.
Notes
This dessert will last in the fridge for 3 days, covered.
If you want to use all dark chocolate, use 200g!
If you want to use all milk chocolate, use 350g! 
I used this tart tin
I used this dark chocolate
I used this milk chocolate
I used this peppermint extract
You can use as many or as few after eights - I used nearly an entire packet!
If you want a regular biscuit base, remove the cocoa powder. 
ENJOY!
Find my other recipes on my Recipes Page!
You can find me on:
Instagram
Facebook
Pinterest
Twitter
Youtube
J x
© Jane's Patisserie. All images & content are copyright protected. Do not use my images without prior permission. If you want to republish this recipe, please re-write the recipe in your own words and credit me, or link back to this post for the recipe.