March 12, 2022
Chocolate Guinness Cake!
*This post may contain affiliate links. Please see my disclosure for more details!*
A fudgey and delicious chocolate Guinness cake – a delightful sponge with chocolate and Guinness, with a cream cheese frosting and more.
One of the requests I have had over and over recently is chocolate cakes made differently… whether that's with courgette, mayonnaise, or anything else… there are so many ways to make them. However, as it's St Patricks day next week, I thought I'd give the chocolate Guinness cake a go!
When you add 'random' ingredients to a sponge, it can create the most wonderful texture. Mayonnaise cake works as mayonnaise is essentially just eggs and oil, so ingredients you often find in a cake anyway! Courgette can bring a level of moisture… Guinness brings all of it. It creates a delicious sponge that I adore.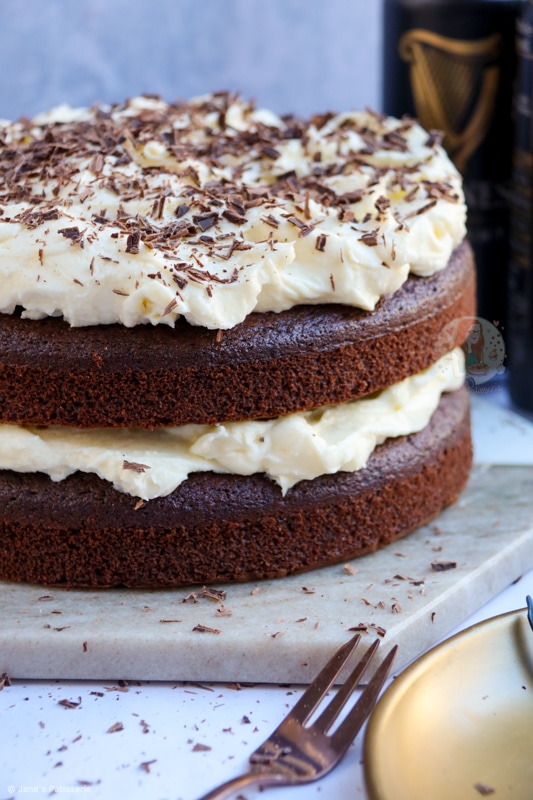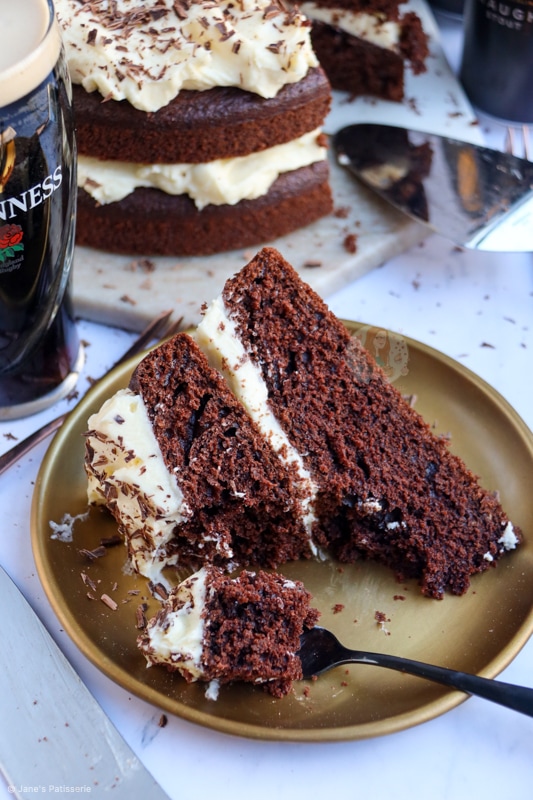 Chocolate Guinness cake
I will admit that I am not the biggest fan of drinking Guinness, but in cake?! oh my days – an absolute winner. But just as a quick one, if you don't like Guinness or want something that isn't alcoholic, replace the Guinness with full-fat Coca Cola.
When you think of this cake, you basically need to think of my chocolate fudge cake, with a couple of changes. My fudge cake uses ingredients such as melted chocolate, buttermilk, and so on, but this cake does not need that. It's not quite a standard chocolate cake either, but it's in the middle!
Sponge mixture
The mixture for my chocolate Guinness cake contains butter (I usually use a baking spread in the sponge, but not for the frosting!), the Guinness itself, cocoa powder, light brown soft sugar, whole milk (never use less than whole milk!), eggs, plain flour and bicarb. This may all sound a bit of a jumble, but TRUST ME, it works.
As I often do these days, I use light brown soft sugar in my chocolate cakes because I love the flavour that it makes. You can use caster sugar if you want, or if it's what you have though – or even dark brown soft sugar for an even deeper flavour. The Guinness does bring a flavour itself though, so make sure to remember that.
Core ingredients
I always use the same cocoa powder when baking because its 100% powder and it's delicious – but any work really! Generally hot chocolate powder should be avoided as it doesn't behave the same, and often has sugar added in so tastes different. I try and always be consistent these days with my eggs, so I always use medium. If you need to use large, use two!
Now one bit that may confuse you the most, is the plain flour and the bicarbonate of soda. This is not the same as using self raising flour – as the bicarbonate is there for a reason. Baking powder and bicarbonate of soda are different ingredients, and cannot simply be switched – so make sure to use the plain flour.
Bake and cool
The mixture for this chocolate Guinness cake is quite runny once made, but trust me, it's meant to be. Split the mixture evenly between two lined tins, and bake until beautiful. Make sure to cool the cakes fully before going anywhere near the decoration as otherwise the frosting will melt off almost straight away! And no-one wants that.
Frosting decoration
I decided to use a cream cheese frosting for this recipe as it would compliment the cake so well, and make a change to a normal chocolate buttercream frosting. If you are unsure on cream cheese frosting, please don't be scared – I have a back to basics post on my cream cheese frosting here which explains it completely to help you out!
The little dash of vanilla in the frosting is so complimentary of the cake, and some chocolate shavings on top just finish the cake off perfectly. Obviously, if you love Guinness, have a glass on the side… or just devour an enormous slice of this stunning chocolate Guinness cake like I do! Enjoy!!
Chocolate Guinness Cake!
A Fudgey and delicious chocolate Guinness cake - a delightful sponge with chocolate and Guinness, with a cream cheese frosting and more. 
Print
Pin
Rate
Ingredients
Cake
175

g

unsalted butter

150

ml

Guinness

50

g

cocoa powder

250

g

light brown soft sugar

125

ml

whole milk

3

medium

eggs

250

g

plain flour

1

tsp

bicarbonate of soda
Decoration
150

g

unsalted buter

(room temp)

150

g

icing sugar

300

g

full-fat soft cream cheese

1

tsp

vanilla extract

Chocolate shavings
Instructions
Cake
Preheat the oven to 160ºc/140ºfan and line two 20cm/8" round tins.

In a pan, add the butter, and heat until melted.

Take the pan off the heat, and pour in the Guinness, cocoa powder, sugar, milk and eggs.

Whisk the mixture together until smooth.

Add the plain flour, and bicarbonate of soda, and mix briefly until smooth.

Split the mixture evenly between the two tins, and bake in the oven for 40-45 minutes, or until baked through.

Once baked, leave to cool full in the tins.
Decoration
Beat the room temp unsalted butter on it's own in a bowl for a few minutes to loosen it.

Add in the icing sugar, and beat again - I beat this for about 5 minutes, to make it really smooth.

Make sure the cream cheese doesn't have any excess water - I find it best to add it to a bowl first just to make sure.

Add in the cream cheese, and vanilla and beat. At first, it may look a little weird, but just keep on beating until it is smooth, and creamy.

Spread half of the frosting onto the first layer of the cake, then add the second layer of cake.

Add on the rest of the frosting, then sprinkle over some grated chocolate and enjoy!
Notes
This cake will last for 3+ days in the fridge (it must be kept in the fridge due to the cream cheese frosting).
If you want to go alcohol free, use full-fat Coca Cola 
You must use full-fat ingredients in this bake for best results. 
I use this cocoa powder.
I use this stand mixer.
ENJOY!
Find my other recipes on my Recipes Page!
You can find me on:
Instagram
Facebook
Pinterest
Twitter
Youtube
J x
© Jane's Patisserie. All images & content are copyright protected. Do not use my images without prior permission. If you want to republish this recipe, please re-write the recipe in your own words and credit me, or link back to this post for the recipe.