December 2, 2022
Gingerbread Bundt Cake!
*This post may contain affiliate links. Please see my disclosure for more details!*
An easy but beautiful gingerbread bundt cake with the most delicious warming sponge, dusted with icing sugar – perfect for the festive season.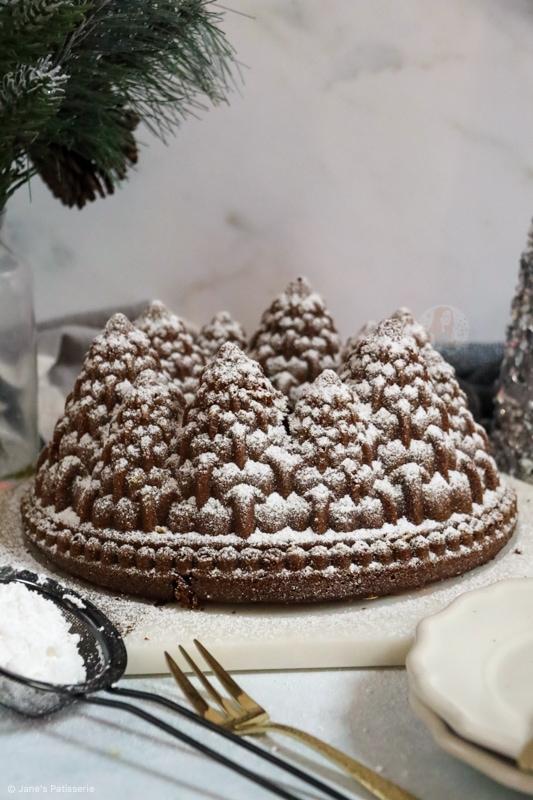 A deliciously warm and festive gingerbread bundt cake, that is a simple yet elegant showstopper for the Christmas baking season.
Gingerbread bakes
As we are now into December I feel like I can really push the idea of gingerbread even further than normal, and I hope you guys don't mind. I am of course obsessed like always, but I just wanted to post something that is simple, yet elegant; and this cake achieves that.
My gingerbread NYC Cookies and my gingerbread millionaires are some of my favourite ginger bakes, but let's be honest now – they're all good. I recently made my caramel gingerbread cookie bars on stage, and they are a little life changing.
I'm not sure what it is, but I just adore the warm spiced flavour. It brings everything up a notch and just creates something wonderful.
Ginger cake
When it comes to ginger cakes, I have a variety on my blog. Usually they vary due to fitting different sized tins, such as my christmas gingerbread cake, my caramel ginger cake, and my gingerbread cupcakes. All the sponges are similar, but this gingerbread bundt cake is the same as my gingerbread loaf cake.
When you work with bundt tins, they can look quite big, and the sizes do vary slightly. However, because of the detail in the tins, the quantities of the loaf cake worked perfectly, and I didn't want to mess with it. In the recipe you use:
Butter – I used block butter for this bake, but a baking spread does work well.
Sugar – I love the deep flavour of ginger cake, so used dark brown soft sugar, but light brown sugar works as well.
Treacle – just like the sugar, I prefer using black treacle for my gingerbread for a deeper flavour, but you can use golden syrup.
Flour – I use plain flour in this bake because the raising agent comes later with the bicarb and milk
Spices – ground ginger and cinnamon create the intensely delicious flavour
Eggs – medium eggs as always guys – but if you want to use large, you can use two large
Milk – I use whole milk to prevent any splitting – full-fat products are always best in baking
Raising agent – the bicarb reacts with the warm milk to create the perfect rise
Spices
As mentioned above I use ground ginger, and some ground cinnamon. You can of course use what you prefer though. Some gingerbread bakes work with some ground nutmeg added in, as it brings a new flavour of dreams, but I like this cake without.
I always use more ground ginger than anything in a 'ginger'bread bake, but the cinnamon really does work wonders. If you want the flavours stronger or weaker, that's totally fine and you can adapt to your preferences. If you like things even strong, you can add in some really finely chopped crystallised ginger if you wanted.
The Tin
When it comes to bundt cakes, the tin is SO IMPORTANT. And as you can see from the images, I have used a beauuuutiful forest bundt tin – which you can find here. I used the forest tin because I thought with a little dusting of icing sugar for decoration it looked very festive so easily.
The other tin I have used though is this gingerbread house bundt tin. Both work wonders. When baking with these tins, I always put them onto a tray in the oven just to make sure that they are level when baking.
To prep my bundt tin I spray a thick spray of 1cal oil spray all over the inside of the pan making sure not to miss anywhere. Then, I heavily dust the inside of the tin with flour. I tend to tap the flour through a sieve into the tin to make an even fine dusting of flour. Once all parts are covered, I turn the tin over and tap out any excess, and then the tin is ready.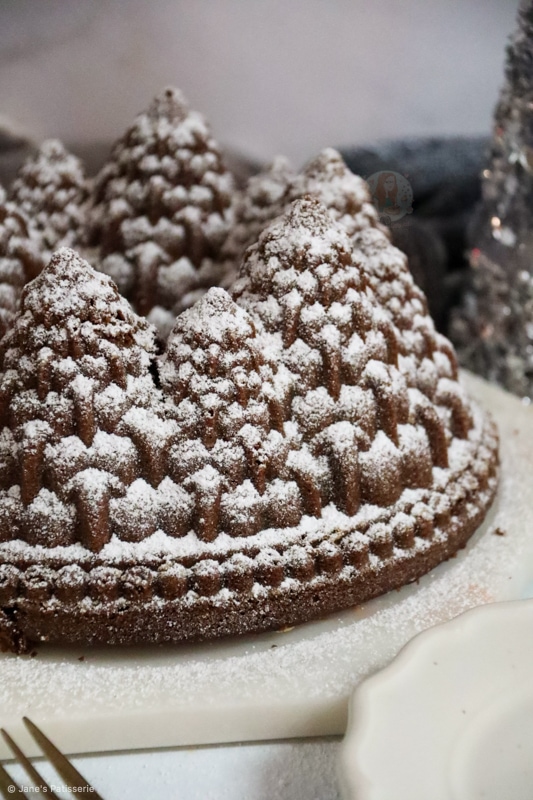 Baking
Once you have poured your cake mix into the prepared tin, the baking is relatively easy – you just have to be patient as always. The bake timings are similar to a loaf cake as well, so it does take a fair amount of time to bake.
Once baked, the cake should be starting to come away from the edge of the tin, and if you carefully listen to the cake, it shouldn't make a sound. If cakes need a bit of further baking, you can often hear bubbling and crackling sounds – this usually means it needs 5 more minutes.
Once baked, I leave the cake facing the same way up, to cool for 10 minutes, and then I turn it out. You don't want to turn it out too quickly as it may fall apart, and you don't want it to cool too much as it may get stuck.
Once out of the tin, let it cool, and then dust finely with icing sugar and enjoy.
Tips & Tricks
For this cake I used this cake tin – and it's stunning.
This cake will last for 3-4+ days at room temp. It freezes well for 3+ months.
If you want a lighter flavour, use light brown soft sugar, and golden syrup, instead of the dark brown sugar and treacle.
Gingerbread Bundt Cake!
An easy but beautiful gingerbread bundt cake with the most delicious warming sponge, dusted with icing sugar - perfect for the festive season. 
Print
Pin
Rate
Ingredients
The Cake
225

g

unsalted butter

225

g

dark brown sugar

125

g

black treacle

375

g

plain flour

4

tsp

ground ginger

2

tsp

ground cinnamon

3

medium

eggs

225

ml

whole milk

(warmed)

2

tsps

bicarbonate of soda
Instructions
For the Cake
Preheat your oven to 180ºc/160ºfan and grease and flour a 9 cup bundt tin (I used this one)

In a pan, gently heat the butter, sugar and treacle together in a pan until smooth, allow to cool for 10 minutes!

In a large bowl, add the flour, ginger and cinnamon together and pour in the treacle mix – stir to combine.

Add in the eggs and stir to combine.

Mix in the bicarbonate of soda and the warm milk

Pour the mixture into the prepared tin.

Bake in the oven for 50mins-1 hour, or until baked through

Once baked, leave to cool in the tin for 10 minutes, and then turn out to fully cool on a wire rack.
For the Decoration
Dust the cooled cake with icing sugar and serve.
Notes
This cake will keep in an airtight container for 3-4 days! The flavour keeps on getting better as the days go on.
You could add some stem ginger to the recipe if you like when you beat in the egg!
This cake is beautiful with a bit of custard, or a drizzle of cream, or just as it is. 
Find my other recipes on my Recipes Page!
You can find me on:
Instagram
Facebook
Pinterest
Twitter
Youtube
J x
© Jane's Patisserie. All images & content are copyright protected. Do not use my images without prior permission. If you want to republish this recipe, please re-write the recipe in your own words and credit me, or link back to this post for the recipe.